No Change for Obama
LGBT activists launch a boycott of Barack Obama and the Democratic Party.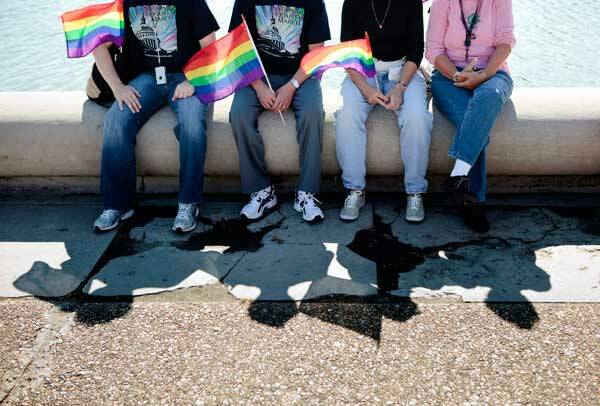 One year ago, many mem­bers of the LGBT com­mu­ni­ty, their fam­i­lies and friends were over­joyed at Barack Obama's elec­tion. Today mem­bers of that same com­mu­ni­ty find their fer­vor has faded.
On Novem­ber 9, AMER­I­CA­blog edi­tors John Aravo­sis and Joe Sud­bay launched a boy­cott of Oba­ma and the Demo­c­ra­t­ic Par­ty. Those who sign their online peti­tion take a pledge to with­hold all dona­tions to the Demo­c­ra­t­ic Nation­al Com­mit­tee and Orga­niz­ing for Amer­i­ca until the Employ­ment Non-Dis­crim­i­na­tion Act is passed, and both Don't Ask, Don't Tell and the Defense of Mar­riage Act (DOMA) are repealed – all actions that Oba­ma promised to ful­fill as pres­i­dent. Dur­ing the 2008 pri­maries, AMER­I­CA­blog was an ear­ly sup­port­er of Oba­ma, rais­ing near­ly $50,000 for him as a candidate.
AMER­I­CA­blog out­lines con­crete exam­ples of the pres­i­dent not being the ​"fierce advo­cate" for the civ­il rights of gay and les­bian Amer­i­cans that he had promised to be. While an opti­mistic speech to the Human Rights Cam­paign and the sign­ing into law of the Hate Crime Bill on Octo­ber 28, were steps for­ward, Oba­ma failed to oppose anti-gay leg­is­la­tion in both Maine and Wash­ing­ton state.
"I think at this point it's become fair­ly clear to most every­one that the pres­i­dent and the Democ­rats over­all get a rather seri­ous case of gay pan­ic when­ev­er it comes time to act on any giv­en gay
issue," Aravo­sis told In These Times. ​"We kept hear­ing from more and more read­ers, and friends, both gay and straight, who asked why any of us should be giv­ing anoth­er dime to Democ­rats, with the way they've been treat­ing us."
While some crit­ics may preach the impor­tance of remain­ing patient, Aravo­sis cites the DOMA scan­dal that occurred in June – when both the White House and the Depart­ment of Jus­tice upheld the def­i­n­i­tion of mar­riage as a legal union between a man and a woman – to high­light the impor­tance of tak­ing action. ​"If we pres­sure the pres­i­dent to keep his promis­es, we lose noth­ing. If we wait to see if he real­ly is going to keep his promis­es, and he doesn't, it will be too late to do a damn thing about it," Aravo­sis says.
Aravo­sis says that when DNC Trea­sur­er Andy Tobias post­ed com­ments on the blog express­ing his dis­con­tent with the cam­paign, it was ​"a sure­fire sign that we got the DNC's attention."
In its state­ment on the issue, the Human Rights Cam­paign (HRC) says, ​"Indi­vid­ual donors should always make their own care­ful assess­ments of how to spend lim­it­ed polit­i­cal con­tri­bu­tions. We all need to focus on the leg­isla­tive pri­or­i­ties iden­ti­fied by AMER­I­CA­blog and with what­ev­er tac­tic indi­vid­u­als decide to employ, the ulti­mate objec­tive needs to be secur­ing the votes we need to move our leg­isla­tive agen­da forward."
Aravo­sis thinks HRC did a good job of avoid­ing crit­i­cism of the effort, and even some­what rein­forc­ing the campaign's mes­sage. ​"At some point, HRC needs to real­ize that they're in the driver's seat," Aravo­sis says. ​"The admin­is­tra­tion needs HRC far more than HRC needs the administration."
To date, almost 6,000 peo­ple have signed the petition.
"Damn right we think it's the most effec­tive polit­i­cal strat­e­gy we could have employed. Car­rots alone get you nowhere in Wash­ing­ton. Some­times you need a good stick too."
GET INVOLVED:
Find out more about ​"Take the Pledge, Don't Ask, Don't Give

Gem­ma Bal­tazar
is a fall
2009
In These Times
edi­to­r­i­al intern and a stu­dent at North­west­ern Uni­ver­si­ty's Medill School of Journalism.