No Surprises: Rahm Wins in Chicago
The suits remain firmly in control of the Windy City. What does Emanuel's victory mean for urban progressive politics?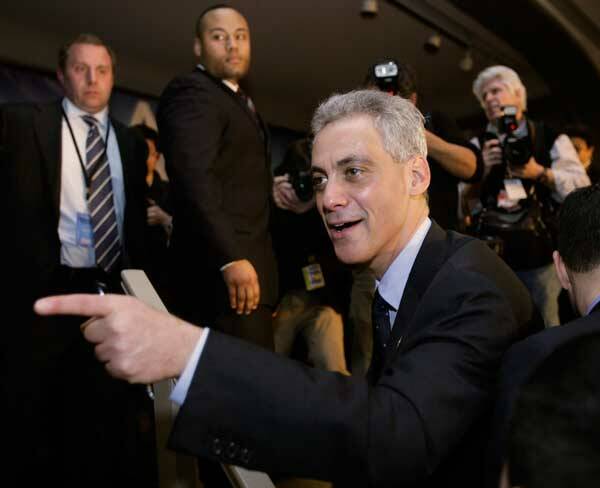 In the first round of Chicago's munic­i­pal elec­tions on Tues­day, for­mer Oba­ma chief of staff and Chica­go Con­gress­man Rahm Emanuel hand­i­ly defeat­ed his three major oppo­nents, avoid­ing a run-off with 55 per­cent of a low-turnout vote.
Emanuel's victory sheds light on how Chicago politics has—and has not—changed with regard to key issues: race, the fabled Democratic machine and the future of urban progressive politics.
Emanuel won the race to suc­ceed Richard M. Daley, the city's longest-tenure may­or, in part because he raised so much more mon­ey than all of his oppo­nents com­bined (most from big out-of-state dona­tions). He then spent the mon­ey effec­tive­ly on ads turn­ing his noto­ri­ous abra­sive­ness into the tough­ness need­ed for the job. And unlike­ly as it once seemed, he became a sym­pa­thet­ic vic­tim fig­ure as unclear oppo­nents tried to knock him off the bal­lot.He had the implied but nev­er open­ly expressed sup­port from Daley (whose name Emanuel vir­tu­al­ly nev­er men­tioned until his vic­to­ry speech), open sup­port of for­mer pres­i­dent Bill Clin­ton, and the pow­er of asso­ci­a­tion with Pres­i­dent Barack Oba­ma, which was extra­or­di­nar­i­ly per­sua­sive with vot­ers – espe­cial­ly African-Amer­i­cans – in Obama's home town. And he faced a mod­est ros­ter of oppo­nents, who weak­ened them­selves as they campaigned.
Emanuel's vic­to­ry sheds light on how Chica­go pol­i­tics has – and has not – changed with regard to key issues: race, the fabled Demo­c­ra­t­ic machine and the future of urban pro­gres­sive politics.
Race: Chica­go remains a high­ly seg­re­gat­ed city, but there's been a decline in the raw racism that char­ac­ter­ized much of post-World War II city pol­i­tics and erupt­ed in the 1980s in white Democ­rats' rebel­lion against the city's first black may­or – and first sig­nif­i­cant reform may­or in many decades, Harold Wash­ing­ton. The city has also under­gone a demo­graph­ic shift in the last decade with a large loss of black res­i­dents, an increase in Lati­nos, and main­te­nance of the white share, so that the pop­u­la­tion is now rough­ly even­ly split among the three groups.
But since the ​"coun­cil wars" of the 1980s, white vot­ers in the city and beyond have helped elect African-Amer­i­cans to top polit­i­cal posi­tions in the state and oth­er juris­dic­tions, such as Car­ol Mose­ley Braun and Barack Oba­ma as U.S. Sen­a­tors and last fall Toni Preck­win­kle as coun­ty board pres­i­dent. And black vot­ers, long accus­tomed to vot­ing for white politi­cians, have shown they will both pur­sue more black rep­re­sen­ta­tion but not under any circumstances.
Emanuel won majori­ties in 40 of 50 city wards, includ­ing every black major­i­ty ward. He failed to get a major­i­ty or plu­ral­i­ty in remain­ing wards, most with sig­nif­i­cant Lati­no con­stituen­cies, as well as work­ing class whites. Braun, who was named the black con­sen­sus can­di­date late last year by a self-appoint­ed group of polit­i­cal, busi­ness and com­mu­ni­ty lead­ers, ran a dis­joint­ed cam­paign with lit­tle clar­i­ty of mes­sage and many gaffes. She ran fourth over­all, behind two Lati­nos – lawyer and for­mer Daley aide and appointee Gery Chico and City Clerk Miguel del Valle.
School­teacher Shirley John­son may be rep­re­sen­ta­tive of black sup­port­ers of Emanuel. She sees him as ​"ded­i­cat­ed, no-non­sense" and bring­ing with him ​"so many con­nec­tions," includ­ing Oba­ma, which she hopes will bring more mon­ey to the city. But as a union activist she wor­ries about his sup­port for mer­it pay and ideas for edu­ca­tion that ​"play to Repub­li­can talk­ing points" about teach­ers and pub­lic employ­ees as the prob­lem. She rejects Braun as hav­ing ​"made too many poor deci­sions" in pre­vi­ous posi­tions, and found the call to black uni­ty ​"demean­ing to black peo­ple. We're not all of one mind. We've moved beyond that."
The les­son to black lead­ers is that race pol­i­tics does not work as well for black can­di­dates or vot­ers as coali­tion pol­i­tics on behalf of pro­gres­sive goals – a les­son that Washington's vic­to­ry demon­strat­ed even at a time when race-con­scious vot­ing was more intense. Daley him­self even­tu­al­ly won over many black lead­ers, then vot­ers, by judi­cious­ly dis­trib­ut­ing favors and through the pow­er of incum­ben­cy against flawed cam­paigns. But Daley did not have a lock on black sup­port, since he failed to address ade­quate­ly so many black com­mu­ni­ty issues. And blacks are like­ly to mea­sure Emanuel as well based on what he delivers.
The machine: Richard J. Daley, the boss of the last potent big city polit­i­cal machine, built his pow­er on a blue-col­lar patron­age army, but it was under assault in his last years. And despite the machine's work­ing class base, and his belief in gov­ern­ment, Daley I always sup­port­ed busi­ness inter­ests in the city.
By the time his son took pow­er, the old machine only per­sist­ed in some wards, and Daley II relied on ​"pin stripe" or con­trac­tor patron­age to fund cam­paigns that were more like TV-ori­ent­ed may­oral cam­paigns in oth­er big cities. He still depend­ed on and even helped cre­ate some of the ward machine-like oper­a­tions, struck deals with the machine alder­men, and tol­er­at­ed pan­dem­ic cor­rup­tion in city contracting.
As bud­get prob­lems grew, wors­ened by diver­sion of mon­ey into tax-incre­ment finance dis­tricts that helped down­town busi­ness inter­ests, he increased fees and tax­es but nev­er enough to cov­er all oblig­a­tions, and instead short­changed pub­lic employ­ee pen­sion funds and relied on one-time mea­sures, espe­cial­ly sell­ing off city assets, like its park­ing meters. He admired busi­ness and seemed to dis­dain gov­ern­ment, even when he was in charge.
Emanuel as a cam­paign­er was the more typ­i­cal Amer­i­can may­oral politi­cian, like New York May­or Michael Bloomberg but with mil­lions, not bil­lions, in per­son­al wealth. He relied heav­i­ly on adver­tis­ing, rather than the north­west side machine alder­men or com­mit­teemen who sup­port­ed him (and often fared worse with their can­di­da­cies in their own wards). He faced oppo­si­tion from south­west side machine Democ­rats, like long-time coun­cil pow­er­house Ed Burke (who sup­port­ed Chico), and received few union endorse­ments. None of the big pub­lic employ­ee unions endorsed him, because they expect him to demand con­ces­sions, try to cut pen­sions, to threat­en more pri­va­ti­za­tion of ser­vices (though he said both pub­lic opin­ion and cur­rent cap­i­tal mar­kets make pri­va­tiz­ing more assets unlike­ly for now). AFSCME even encour­aged mem­bers to vote for ​"any­body but Rahm."
Nobody knows for sure how he will gov­ern. Despite a for­mal divi­sion described as a weak mayor/​strong city coun­cil, Emanuel has indi­cat­ed he wants to re-orga­nize the coun­cil, tak­ing pow­er from Burke. The coun­cil, which will have many new mem­bers and poten­tial­ly a larg­er pro­gres­sive bloc, could turn more inde­pen­dent (it would be hard to be more of a rub­ber stamp), but Emanuel could eas­i­ly use his strong elec­toral show­ing and mon­ey thrown into remain­ing races to put togeth­er a bloc – maybe even a major­i­ty – loy­al to him.
But the old machine is vir­tu­al­ly dead. Emanuel is a more con­ven­tion­al urban politi­cian than Daley II has been but not a self-con­scious pro­gres­sive reformer like Wash­ing­ton, will­ing to chal­lenge busi­ness inter­ests. Emanuel, more than even Daley II, rep­re­sents both busi­ness inter­ests and a busi­ness men­tal­i­ty. The suits are in control.
Pro­gres­sive urban pol­i­tics: Reform­ers in Chica­go in the ​'60s and ​'70s called them­selves ​"inde­pen­dents," un-bought by and opposed to machine rule. With the Wash­ing­ton move­ment, pro­gres­sives iden­ti­fied as fight­ing for the inter­ests of neigh­bor­hoods and com­mu­ni­ties, a proxy for work­ing class inter­ests as well as geo­graph­i­cal areas and non-white res­i­dents suf­fer­ing neglect while the unrav­el­ing machine took care of down­town business.
But under Daley II the pro­gres­sive forces – polit­i­cal reform­ers, com­mu­ni­ty orga­ni­za­tions, neigh­bor­hood devel­op­ment groups, civ­il rights orga­ni­za­tions and oth­ers – weak­ened, more often solic­it­ing mod­est help from Daley than pos­ing real chal­lenges. Unions increas­ing­ly became inde­pen­dent and crit­i­cal of Daley, espe­cial­ly when he sided with Wal-Mart against them. Most did not endorse Daley (or any­one) in the last elec­tion, and some became deeply involved in cul­ti­vat­ing alder­man­ic can­di­dates, but the vic­tors did not always turn out pro­gres­sive in office. The weak­ness showed in this election.
Miguel del Valle, part of a pro­gres­sive Lati­no lead­er­ship group that sup­port­ed Wash­ing­ton, was ini­tial­ly the favored can­di­date of the left, but he ran a poor­ly financed, lack­lus­ter cam­paign, not even push­ing pro­gres­sive ini­tia­tives he had pro­posed, such as a finan­cial trans­ac­tions tax. Per­haps his most ener­getic speech of the cam­paign came as he con­ced­ed, vow­ing to lead a pro­gres­sive move­ment. Build­ing such a move­ment is pos­si­ble, espe­cial­ly with many unions polit­i­cal­ly inde­pen­dent of Emanuel and like­ly to be seek­ing allies in con­fronting his demands. Part­ly the suc­cess depends on mak­ing race and eth­nic­i­ty of can­di­dates less impor­tant than clar­i­ty of vision, con­crete­ness of plans, and a strat­e­gy to win.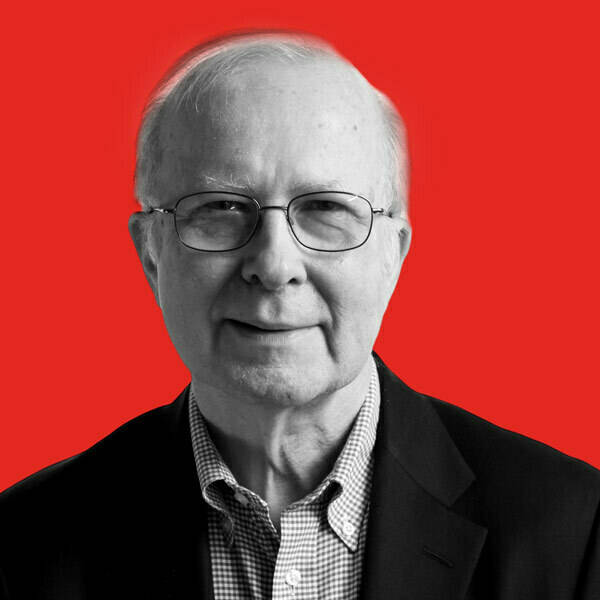 David Moberg, a senior edi­tor of In These Times, has been on the staff of the mag­a­zine since it began pub­lish­ing in 1976. Before join­ing In These Times, he com­plet­ed his work for a Ph.D. in anthro­pol­o­gy at the Uni­ver­si­ty of Chica­go and worked for Newsweek. He has received fel­low­ships from the John D. and Cather­ine T. MacArthur Foun­da­tion and the Nation Insti­tute for research on the new glob­al economy.