Just Whose National Security?
The government's idea of protection seems awfully self-serving.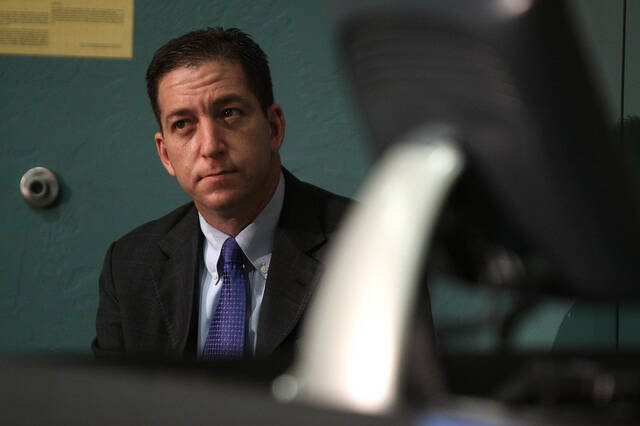 In the past sev­er­al months, we have been pro­vid­ed with instruc­tive lessons on the nature of state pow­er and the forces that dri­ve state pol­i­cy. And on a close­ly relat­ed mat­ter: the sub­tle, dif­fer­en­ti­at­ed con­cept of transparency.
Policy must assure the security of state authority and concentrations of domestic power, defending them from a frightening enemy: the domestic population, which can become a great danger if not controlled.
The source of the instruc­tion, of course, is the trove of doc­u­ments about the Nation­al Secu­ri­ty Agency sur­veil­lance sys­tem released by the coura­geous fight­er for free­dom Edward J. Snow­den, expert­ly sum­ma­rized and ana­lyzed by his col­lab­o­ra­tor Glenn Green­wald in his new book, ​"No Place to Hide."
The doc­u­ments unveil a remark­able project to expose to state scruti­ny vital infor­ma­tion about every per­son who falls with­in the grasp of the colos­sus — in prin­ci­ple, every per­son linked to the mod­ern elec­tron­ic society.
Noth­ing so ambi­tious was imag­ined by the dystopi­an prophets of grim total­i­tar­i­an worlds ahead.
It is of no slight import that the project is being exe­cut­ed in one of the freest coun­tries in the world, and in rad­i­cal vio­la­tion of the U.S. Con­sti­tu­tion's Bill of Rights, which pro­tects cit­i­zens from ​"unrea­son­able search­es and seizures," and guar­an­tees the pri­va­cy of their ​"per­sons, hous­es, papers and effects."
Much as gov­ern­ment lawyers may try, there is no way to rec­on­cile these prin­ci­ples with the assault on the pop­u­la­tion revealed in the Snow­den documents.
It is also well to remem­ber that defense of the fun­da­men­tal right to pri­va­cy helped to spark the Amer­i­can Rev­o­lu­tion. In the 18th cen­tu­ry, the tyrant was the British gov­ern­ment, which claimed the right to intrude freely into the homes and per­son­al lives of Amer­i­can colonists. Today it is Amer­i­can cit­i­zens' own gov­ern­ment that arro­gates to itself this authority.
Britain retains the stance that drove the colonists to rebel­lion, though on a more restrict­ed scale, as pow­er has shift­ed in world affairs. The British gov­ern­ment has called on the NSA ​"to analyse and retain any British cit­i­zens' mobile phone and fax num­bers, emails and IP address­es, swept up by its drag­net," the Guardian reports, work­ing from doc­u­ments pro­vid­ed by Snowden.
British cit­i­zens (like oth­er inter­na­tion­al cus­tomers) will also doubt­less be pleased to learn that the NSA rou­tine­ly receives or inter­cepts routers, servers and oth­er com­put­er net­work devices export­ed from the Unit­ed States so that it can implant sur­veil­lance tools, as Green­wald reports in his book.
As the colos­sus ful­fills its visions, in prin­ci­ple every key­stroke might be sent to Pres­i­dent Oba­ma's huge and expand­ing data­bas­es in Utah.
In oth­er ways too, the con­sti­tu­tion­al lawyer in the White House seems deter­mined to demol­ish the foun­da­tions of our civ­il lib­er­ties. The prin­ci­ple of the pre­sump­tion of inno­cence, which dates back to Magna Car­ta 800 years ago, has long been dis­missed to oblivion.
Recent­ly the New York Times report­ed the ​"anguish" of a fed­er­al judge who had to decide whether to allow the force-feed­ing of a Syr­i­an pris­on­er who is on a hunger strike to protest his imprisonment.
No ​"anguish" was expressed over the fact that he has been held with­out tri­al for 12 years in Guan­tanamo, one of many vic­tims of the leader of the Free World, who claims the right to hold pris­on­ers with­out charges and to sub­ject them to torture.
These expo­sures lead us to inquire into state pol­i­cy more gen­er­al­ly and the fac­tors that dri­ve it. The received stan­dard ver­sion is that the pri­ma­ry goal of pol­i­cy is secu­ri­ty and defense against enemies.
The doc­trine at once sug­gests a few ques­tions: secu­ri­ty for whom, and defense against which ene­mies? The answers are high­light­ed dra­mat­i­cal­ly by the Snow­den revelations.
Pol­i­cy must assure the secu­ri­ty of state author­i­ty and con­cen­tra­tions of domes­tic pow­er, defend­ing them from a fright­en­ing ene­my: the domes­tic pop­u­la­tion, which can become a great dan­ger if not controlled.
It has long been under­stood that infor­ma­tion about the ene­my makes a crit­i­cal con­tri­bu­tion to con­trol­ling it. In that regard, Oba­ma has a series of dis­tin­guished pre­de­ces­sors, though his con­tri­bu­tions have reached unprece­dent­ed lev­els, as we have learned from the work of Snow­den, Green­wald and a few others.
To defend state pow­er and pri­vate eco­nom­ic pow­er from the domes­tic ene­my, those two enti­ties must be con­cealed — while in sharp con­trast, the ene­my must be ful­ly exposed to state authority.
The prin­ci­ple was lucid­ly explained by the pol­i­cy intel­lec­tu­al Samuel P. Hunt­ing­ton, who instruct­ed us that ​"Pow­er remains strong when it remains in the dark; exposed to the sun­light it begins to evaporate."
Hunt­ing­ton added a cru­cial illus­tra­tion. In his words, ​"you may have to sell [inter­ven­tion or oth­er mil­i­tary action] in such a way as to cre­ate the mis­im­pres­sion that it is the Sovi­et Union that you are fight­ing. That is what the Unit­ed States has been doing ever since the Tru­man Doc­trine" at the out­set of the Cold War.
Hunt­ing­ton's insight into state pow­er and pol­i­cy was both accu­rate and pre­scient. As he wrote these words in 1981, the Rea­gan admin­is­tra­tion was launch­ing its war on ter­ror — which quick­ly became a mur­der­ous and bru­tal ter­ror­ist war, pri­mar­i­ly in Cen­tral Amer­i­ca, but extend­ing well beyond to south­ern Africa, Asia and the Mid­dle East.
From that day for­ward, in order to car­ry out vio­lence and sub­ver­sion abroad, or repres­sion and vio­la­tion of fun­da­men­tal rights at home, state pow­er has reg­u­lar­ly sought to cre­ate the mis­im­pres­sion that it is ter­ror­ists that we are fight­ing, though there are oth­er options: drug lords, mad mul­lahs seek­ing nuclear weapons, and oth­er ogres said to be seek­ing to attack and destroy us.
Through­out, the basic prin­ci­ple remains: Pow­er must not be exposed to the sun­light. Edward Snow­den has become the most want­ed crim­i­nal in the world for fail­ing to com­pre­hend this essen­tial maxim.
In brief, there must be com­plete trans­paren­cy for the pop­u­la­tion, but none for the pow­ers that must defend them­selves from this fear­some inter­nal enemy.
Noam Chom­sky is emer­i­tus pro­fes­sor of lin­guis­tics and phi­los­o­phy at the Mass­a­chu­setts Insti­tute of Tech­nol­o­gy in Cam­bridge, Mass.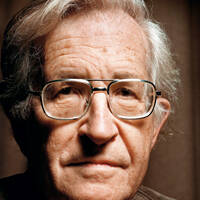 Noam Chom­sky
is Insti­tute Pro­fes­sor and Pro­fes­sor of Lin­guis­tics (Emer­i­tus) at the Mass­a­chu­setts Insti­tute of Tech­nol­o­gy, and the author of dozens of books on U.S. for­eign pol­i­cy. His most recent book is
Who Rules the World?
from Met­ro­pol­i­tan Books.