Noam Chomsky: Only One Thing Will Make Israel Change Course
Israel's brutalization of Palestinians through exercises like "mowing the lawn" will persist without a change in U.S. policy.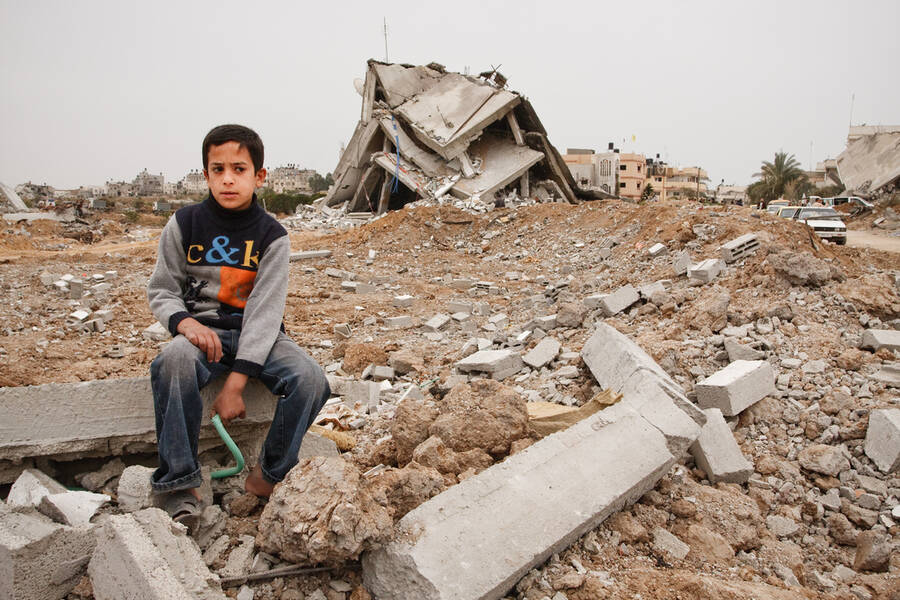 On August 26, Israel and the Pales­tin­ian Author­i­ty both accept­ed a cease-fire agree­ment after a 50-day Israeli assault on Gaza that left 2,100 Pales­tini­ans dead and vast land­scapes of destruc­tion behind.
For a century, the Zionist colonization of Palestine has proceeded primarily on the pragmatic principle of the quiet establishment of facts on the ground, which the world was to ultimately come to accept. It has been a highly successful policy.
The agree­ment calls for an end to mil­i­tary action by Israel and Hamas as well as an eas­ing of the Israeli siege that has stran­gled Gaza for many years.
This is, how­ev­er, just the most recent of a series of cease-fire agree­ments reached after each of Israel's peri­od­ic esca­la­tions of its unremit­ting assault on Gaza.
Since Novem­ber 2005 the terms of these agree­ments have remained essen­tial­ly the same. The reg­u­lar pat­tern is for Israel to dis­re­gard what­ev­er agree­ment is in place, while Hamas observes it — as Israel has con­ced­ed — until a sharp increase in Israeli vio­lence elic­its a Hamas response, fol­lowed by even fiercer brutality.
These esca­la­tions are called ​"mow­ing the lawn" in Israeli par­lance. The most recent was more accu­rate­ly described as ​"remov­ing the top­soil" by a senior U.S. mil­i­tary offi­cer, quot­ed in Al Jazeera America.
The first of this series was the Agree­ment on Move­ment and Access between Israel and the Pales­tin­ian Author­i­ty in Novem­ber 2005.
It called for a cross­ing between Gaza and Egypt at Rafah for the export of goods and the tran­sit of peo­ple; cross­ings between Israel and Gaza for goods and peo­ple; the reduc­tion of obsta­cles to move­ment with­in the West Bank; bus and truck con­voys between the West Bank and Gaza; the build­ing of a sea­port in Gaza; and the reopen­ing of the air­port in Gaza that Israeli bomb­ing had demolished.
That agree­ment was reached short­ly after Israel with­drew its set­tlers and mil­i­tary forces from Gaza. The motive for the dis­en­gage­ment was explained by Dov Weis­glass, a con­fi­dant of then-Prime Min­is­ter Ariel Sharon, who was in charge of nego­ti­at­ing and imple­ment­ing it.
"The sig­nif­i­cance of the dis­en­gage­ment plan is the freez­ing of the peace process," Weis­glass told Haaretz. ​"And when you freeze that process, you pre­vent the estab­lish­ment of a Pales­tin­ian state, and you pre­vent a dis­cus­sion on the refugees, the bor­ders and Jerusalem. Effec­tive­ly, this whole pack­age called the Pales­tin­ian state, with all that it entails, has been removed indef­i­nite­ly from our agen­da. And all this with author­i­ty and per­mis­sion. All with a [U.S.] pres­i­den­tial bless­ing and the rat­i­fi­ca­tion of both hous­es of Congress."
"The dis­en­gage­ment is actu­al­ly formalde­hyde," Weis­glass added. ​"It sup­plies the amount of formalde­hyde that is nec­es­sary so there will not be a polit­i­cal process with the Palestinians."
This pat­tern has con­tin­ued to the present: through Oper­a­tion Cast Lead in 2008 – 2009 to Pil­lar of Defense in 2012 to this sum­mer's Pro­tec­tive Edge, the most extreme exer­cise in mow­ing the lawn — so far.
For more than 20 years, Israel has been com­mit­ted to sep­a­rat­ing Gaza from the West Bank in vio­la­tion of the Oslo Accords it signed in 1993, which declare Gaza and the West Bank to be an insep­a­ra­ble ter­ri­to­r­i­al unity.
A look at a map explains the ratio­nale. Sep­a­rat­ed from Gaza, any West Bank enclaves left to Pales­tini­ans have no access to the out­side world. They are con­tained by two hos­tile pow­ers, Israel and Jor­dan, both close U.S. allies — and con­trary to illu­sions, the U.S. is very far from a neu­tral ​"hon­est broker."
Fur­ther­more, Israel has been sys­tem­at­i­cal­ly tak­ing over the Jor­dan Val­ley, dri­ving out Pales­tini­ans, estab­lish­ing set­tle­ments, sink­ing wells and oth­er­wise ensur­ing that the region — about one-third of the West Bank, with much of its arable land — will ulti­mate­ly be inte­grat­ed into Israel along with the oth­er regions being tak­en over.
The remain­ing Pales­tin­ian can­tons will be com­plete­ly impris­oned. Uni­fi­ca­tion with Gaza would inter­fere with these plans, which trace back to the ear­ly days of the occu­pa­tion and have had steady sup­port from the major Israeli polit­i­cal blocs.
Israel might feel that its takeover of Pales­tin­ian ter­ri­to­ry in the West Bank has pro­ceed­ed so far that there is lit­tle to fear from some lim­it­ed form of auton­o­my for the enclaves that remain to Palestinians.
There is also some truth to Prime Min­is­ter Ben­jamin Netanyahu's obser­va­tion: ​"Many ele­ments in the region under­stand today that, in the strug­gle in which they are threat­ened, Israel is not an ene­my but a part­ner." Pre­sum­ably he was allud­ing to Sau­di Ara­bia and the Gulf Emirates.
Israel's lead­ing diplo­mat­ic cor­re­spon­dent Aki­va Eldar adds, how­ev­er, that ​"all those ​'many ele­ments in the region' also under­stand that there is no brave and com­pre­hen­sive diplo­mat­ic move on the hori­zon with­out an agree­ment on the estab­lish­ment of a Pales­tin­ian state based on the 1967 bor­ders and a just, agreed-upon solu­tion to the refugee problem."
That is not on Israel's agen­da, he points out, and is in fact in direct con­flict with the 1999 elec­toral pro­gram of the gov­ern­ing Likud coali­tion, nev­er rescind­ed, which ​"flat­ly rejects the estab­lish­ment of a Pales­tin­ian Arab state west of the Jor­dan River."
Some knowl­edge­able Israeli com­men­ta­tors, notably colum­nist Dan­ny Rubin­stein, believe that Israel is poised to reverse course and relax its stran­gle­hold on Gaza.
We'll see.
The record of these past years sug­gests oth­er­wise and the first signs are not aus­pi­cious. As Oper­a­tion Pro­tec­tive Edge end­ed, Israel announced its largest appro­pri­a­tion of West Bank land in 30 years, almost 1,000 acres.
It is com­mon­ly claimed on all sides that, if the two-state set­tle­ment is dead as a result of Israel's takeover of Pales­tin­ian lands, then the out­come will be one state west of the Jordan.
Some Pales­tini­ans wel­come this out­come, antic­i­pat­ing that they can then engage in a fight for equal rights mod­eled on the anti-apartheid strug­gle in South Africa. Many Israeli com­men­ta­tors warn that the result­ing ​"demo­graph­ic prob­lem" of more Arab than Jew­ish births and dimin­ish­ing Jew­ish immi­gra­tion will under­mine their hope for a ​"demo­c­ra­t­ic Jew­ish state."
But these wide­spread beliefs are dubious.
The real­is­tic alter­na­tive to a two-state set­tle­ment is that Israel will con­tin­ue to car­ry for­ward the plans it has been imple­ment­ing for years: tak­ing over what­ev­er is of val­ue to it in the West Bank, while avoid­ing Pales­tin­ian pop­u­la­tion con­cen­tra­tions and remov­ing Pales­tini­ans from the areas that it is absorb­ing. That should avoid the dread­ed ​"demo­graph­ic problem."
The areas being tak­en over include a vast­ly expand­ed Greater Jerusalem, the area with­in the ille­gal sep­a­ra­tion wall, cor­ri­dors cut­ting through the regions to the east and prob­a­bly the Jor­dan Valley.
Gaza will like­ly remain under its usu­al harsh siege, sep­a­rat­ed from the West Bank. And the Syr­i­an Golan Heights — like Jerusalem, annexed in vio­la­tion of Secu­ri­ty Coun­cil orders — will qui­et­ly become part of Greater Israel. In the mean­time, West Bank Pales­tini­ans will be con­tained in unvi­able can­tons, with spe­cial accom­mo­da­tion for elites in stan­dard neo­colo­nial style.
For a cen­tu­ry, the Zion­ist col­o­niza­tion of Pales­tine has pro­ceed­ed pri­mar­i­ly on the prag­mat­ic prin­ci­ple of the qui­et estab­lish­ment of facts on the ground, which the world was to ulti­mate­ly come to accept. It has been a high­ly suc­cess­ful pol­i­cy. There is every rea­son to expect it to per­sist as long as the Unit­ed States pro­vides the nec­es­sary mil­i­tary, eco­nom­ic, diplo­mat­ic and ide­o­log­i­cal support.
For those con­cerned with the rights of the bru­tal­ized Pales­tini­ans, there can be no high­er pri­or­i­ty than work­ing to change U.S. poli­cies, not an idle dream by any means.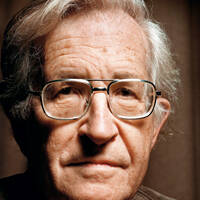 Noam Chom­sky
is Insti­tute Pro­fes­sor and Pro­fes­sor of Lin­guis­tics (Emer­i­tus) at the Mass­a­chu­setts Insti­tute of Tech­nol­o­gy, and the author of dozens of books on U.S. for­eign pol­i­cy. His most recent book is
Who Rules the World?
from Met­ro­pol­i­tan Books.