University Tries to Nip Professors' Union in the Bud
A cautionary letter--and the rumored retention of a notorious union-buster--show Northeastern is nervous about adjunct faculty organizing.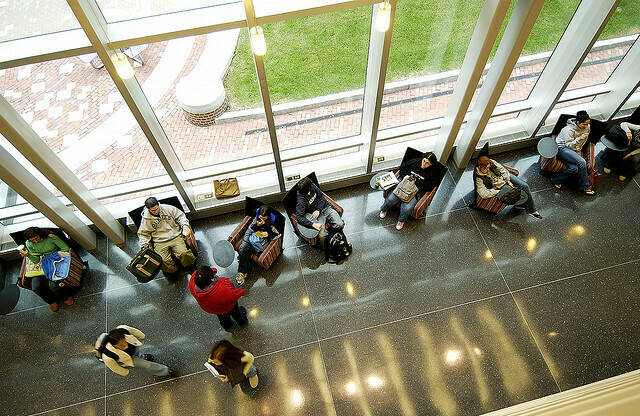 What does a research uni­ver­si­ty in Boston have in com­mon with the cor­po­ra­tions Pfiz­er, Cable­vi­sion and IBM?
Adjuncts, who typically work on a contract basis, are vulnerable to retaliation by university administrations. But Machson-Carter is hopeful that heavy-handed tactics by the university will galvanize, rather than chill, organizing efforts.
They hire the same union-buster. Accord­ing to Adjunct Action, a project of the Ser­vice Employ­ees Inter­na­tion­al Union (SEIU), North­east­ern Uni­ver­si­ty has retained Jack­son Lewis, a law firm used by major cor­po­ra­tions to thwart employ­ee orga­niz­ing efforts. The AFL-CIO calls the New York-based firm ​"the num­ber one union-buster in Amer­i­ca." The move could sig­nal inten­si­fied efforts by uni­ver­si­ty admin­is­tra­tions to defeat orga­niz­ing dri­ves among con­tin­gent fac­ul­ty, which have been gain­ing momen­tum in sev­er­al cities.
Adjunct Action has had mod­est suc­cess so far in its efforts to union­ize non-tenure-track fac­ul­ty at pri­vate col­leges across Boston, which it began this spring. Part-time fac­ul­ty at Bent­ley Uni­ver­si­ty and Tufts Col­leges have already filed for union elec­tions, which will be held this fall. Adjuncts at North­east­ern have formed an orga­niz­ing com­mit­tee and oth­er schools are well on their way, say union organizers.
Last week, part-time employ­ees at North­east­ern received a mem­o­ran­dum from Provost and Senior Vice Pres­i­dent for Aca­d­e­m­ic Affairs Stephen W. Direc­tor. The memo, obtained by In These Times, says that ​"some part-time fac­ul­ty mem­bers have expressed con­cern about what they have described as intru­sive behav­ior" by union orga­niz­ers and assures fac­ul­ty ​"that North­east­ern Uni­ver­si­ty has not divulged your con­tact infor­ma­tion to union orga­niz­ers." It continues:
Obvi­ous­ly, you have no oblig­a­tion to speak with a union orga­niz­er or to respond to their con­tact efforts if you do not wish to do so.
We under­stand these recent efforts to con­tact our fac­ul­ty are part of a larg­er effort, labeled ​"Adjunct Action," to orga­nize fac­ul­ty mem­bers in Boston and the sur­round­ing area.
… Ulti­mate­ly, the deci­sion about whether to sup­port SEIU or not is yours. We do want to empha­size that the issue of union rep­re­sen­ta­tion is of crit­i­cal impor­tance to every fac­ul­ty mem­ber, includ­ing you, as well as to the Uni­ver­si­ty as a whole. There­fore, we urge you not to remain unin­volved. How­ev­er you may feel about this issue, please make your voice count.
Anti-union let­ters and e‑mails are a main­stay of employ­er efforts to counter employ­ee orga­niz­ing. Accord­ing to a 2009 study by Kate Bron­fen­bren­ner, direc­tor of labor edu­ca­tion research at the Cor­nell School of Indus­tri­al and Labor Rela­tions, employ­ers used this tac­tic dur­ing 7 out of every 10 NLRB-super­vised union rep­re­sen­ta­tion elec­tions between 1999 and 2003. Such com­mu­ni­ca­tions are legal under the free speech pro­vi­sions of the Nation­al Labor Rela­tions Act, and have been a key com­po­nent of employ­er cam­paigns since the 1970s. But Brof­fen­bren­ner's study notes that as the ​"union avoid­ance" indus­try has grown more sophis­ti­cat­ed dur­ing the past two decades, such actions have been fol­lowed with increas­ing fre­quen­cy by more puni­tive tac­tics such as retal­ia­to­ry fir­ings, which are ille­gal. Adjunct Action says that Northeastern's deci­sion to hire Jack­son Lewis could presage a more aggres­sive anti-union campaign.
(North­east­ern Uni­ver­si­ty con­firmed that the memo had been sent to fac­ul­ty, but did not respond to a request for com­ment on whether it had retained Jack­son Lewis. The law firm also declined to comment).
The memo goes on to express con­cern about the effect that a union would have on the ​"col­lab­o­ra­tive" cul­ture of the university:
All of our fac­ul­ty — tenured, tenure-track and non-tenure track — play crit­i­cal roles in North­east­ern University's suc­cess. Over the years, the fac­ul­ty and the admin­is­tra­tion have fos­tered an extreme­ly col­lab­o­ra­tive rela­tion­ship built upon mutu­al respect and trust. We believe this dynam­ic, which rests upon direct com­mu­ni­ca­tion, will most effec­tive­ly allow North­east­ern Uni­ver­si­ty, our fac­ul­ty and our stu­dents to meet the chal­lenges that lie ahead. We encour­age all of our fac­ul­ty mem­bers to work direct­ly with the Uni­ver­si­ty on any issues or con­cerns they may have. We are con­cerned about the impact that ced­ing your rights to do so to an out­side orga­ni­za­tion, which is unfa­mil­iar with our cul­ture, will have on our community.
​"The let­ter doesn't res­onate with my expe­ri­ence work­ing at North­east­ern," says Abi­gail Mach­son-Carter, an adjunct pro­fes­sor who teach­es writ­ing to inter­na­tion­al stu­dents in the university's Glob­al Path­ways depart­ment and is a sup­port­er of the union effort. ​"There isn't much direct com­mu­ni­ca­tion between admin­is­tra­tors and part-time work­ers. They offer us a con­tract, and we can either sign it or not."
Mach­son-Carter has anoth­er part-time job at UMass Boston, where adjuncts are union­ized, that sup­ple­ments her income and pro­vides health insur­ance. But she says that for many of her co-work­ers, the issue of a union ​"is a qual­i­ty of life issue." Adjuncts are typ­i­cal­ly paid by the course, and the aver­age rate is $2,900, accord­ing to crowd-sourced fig­ures from the web­site the Adjunct Project. This amounts to an aver­age hourly wage of $8.90 an hour, with 4 in 5 adjuncts earn­ing less than $20,000 annu­al­ly. Most lack access to health insur­ance. At North­east­ern, rates per course range from $2,200 for soci­ol­o­gy cours­es to $11,250 for com­put­er sci­ences cours­es, accord­ing to the crowd-sourced data.
Such salaries have become the rule rather than the excep­tion, with America's non-tenure-track fac­ul­ty now mak­ing up near­ly two-thirds of the teach­ing work­force in high­er edu­ca­tion. SEIU, which cur­rent­ly rep­re­sents 15,000 adjuncts nation­wide, is inten­si­fy­ing its efforts to union­ize them, as are a hand­ful of oth­er non-aca­d­e­m­ic unions.
As I've report­ed pre­vi­ous­ly, labor's emerg­ing focus on con­tin­gent fac­ul­ty sug­gests promis­ing new direc­tions for orga­niz­ing pre­car­i­ous work­ers. Inspired by suc­cess­es in Wash­ing­ton, D.C., where SEIU Local 500 now rep­re­sents a major­i­ty of part-time fac­ul­ty across the metro region, the union has launched cam­paigns in Boston and Los Ange­les with the even­tu­al goal of cre­at­ing city­wide bar­gain­ing com­mit­tees that can rep­re­sent part-time fac­ul­ty who jug­gle mul­ti­ple jobs on mul­ti­ple cam­pus­es. These efforts, as well as a sim­i­lar cam­paign by the Unit­ed Steel­work­ers in Pitts­burgh, are mod­eled in part off of the ​"metro strat­e­gy" out­lined by labor edu­ca­tor and con­tin­gent fac­ul­ty activist Joe Berry in his book Reclaim­ing the Ivory Tow­er. Berry argues that con­tin­gent fac­ul­ty must orga­nize indus­try-wide to change their own work­ing con­di­tions and com­bat the cor­po­ra­ti­za­tion of the university.
While many adjuncts are cur­rent­ly rep­re­sent­ed by one of three nation­al aca­d­e­m­ic unions, non-aca­d­e­m­ic unions like SEIU and USW are focus­ing their efforts on pri­vate col­leges and uni­ver­si­ties, where part-time fac­ul­ty are for the most part unor­ga­nized at present. Giv­en that there are also sub­stan­tial legal bar­ri­ers to col­lec­tive bar­gain­ing by full-time fac­ul­ty and grad­u­ate stu­dent work­ers at pri­vate schools, suc­cess­ful cam­paigns to union­ize adjuncts would break new ground.
But the ​"union avoid­ance" indus­try, on which Jack­son Lewis lit­er­al­ly wrote the book, has excelled at frus­trat­ing labor's efforts to make inroads into unor­ga­nized indus­tries. For exam­ple, the firm has helped block efforts by the Unit­ed Fed­er­a­tion of Teach­ers to increase union­iza­tion in New York City char­ter schools, accord­ing to the union.
One of the ways that Jack­son Lewis recruits new clients, notes Lon­don School of Eco­nom­ics pro­fes­sor John Logan, is through sem­i­nars ​"stress­ing that ​'mil­i­tant orga­niz­ing unions' such as SEIU are tar­get­ing firms in hith­er to union-free sec­tors of the econ­o­my." In These Times sent an under­cov­er reporter to one such sem­i­nar held by Jack­son Lewis in 2007.
This isn't the first time that a uni­ver­si­ty has retained a union-bust­ing law firm. Reached by e‑mail, New York Uni­ver­si­ty (NYU) pro­fes­sor of social and cul­tur­al analy­sis Andrew Ross notes that the NYU admin­is­tra­tion retained both Jack­son Lewis and Proskauer Rose dur­ing a pro­tract­ed fight with its Grad­u­ate Stu­dent Orga­niz­ing Com­mit­tee (GSOC), which lost recog­ni­tion after its con­tract expired in 2005.
​"Under the direct guid­ance of these legal con­sul­tants, the NYU admin­is­tra­tion fol­lowed each page from the union-bust­ing play­book," writes Ross, who is also a co-edi­tor of the anthol­o­gy The Uni­ver­si­ty Against Itself: the NYU Strike and the Future of Aca­d­e­m­ic Labor.
In 2000, GSOC nego­ti­at­ed the first-ever con­tract between grad­u­ate employ­ees and a pri­vate uni­ver­si­ty. But a 2004 rul­ing by the Bush-era Nation­al Labor Rela­tions Board reversed an ear­li­er deci­sion and denied grad­u­ate stu­dents union recog­ni­tion under the log­ic that they are stu­dents, rather than employ­ees. As Josh Eidel­son report­ed, noth­ing in the NLRB rul­ing pre­vent­ed NYU from con­tin­u­ing to nego­ti­ate with the union, but the school decid­ed to with­draw recog­ni­tion. The uni­ver­si­ty report­ed­ly retained Jack­son Lewis when grad­u­ate stu­dents con­tin­ued to agi­tate for renewed nego­ti­a­tions after the con­tract expired in 2005. A bit­ter strike in 2006, dur­ing which 20 strik­ers were fired, end­ed with­out a contract.
​"Who knows how many mil­lions of dol­lars have been lav­ished on these firms, sim­ply to pre­vent grad­u­ate employ­ee unions from obtain­ing a foothold in the pri­vate sec­tor?" asks Ross.
Recent orga­niz­ing by con­tin­gent fac­ul­ty has been met with sim­i­lar tac­tics. A fight for union recog­ni­tion by adjuncts at Amer­i­can Uni­ver­si­ty, which they won in Feb­ru­ary 2012, drew the sup­port of stu­dents who accused the uni­ver­si­ty of union-bust­ing, and inspired a new spin on a pop­u­lar pick­et-line chant: ​"What's dis­gust­ing? Union-bust­ing! What's out­ra­geous? Adjunct wages!"
​"When an insti­tu­tion decides to spend tuition mon­ey on anti-union activ­i­ty they often con­tra­dict their own stat­ed val­ues on free asso­ci­a­tion and work­ers rights — some­thing which stu­dents, who are pay­ing enor­mous tuition bills, don't take kind­ly to," writes Anne McLeer, direc­tor of high­er edu­ca­tion and research for SEIU Local 500 in Wash­ing­ton, D.C., to In These Times via e‑mail. ​"Plus, they could use that mon­ey to bet­ter com­pen­sate adjuncts." She says that where D.C.-area adjuncts have won unions, insti­tu­tions have adopt­ed a more col­lab­o­ra­tive posture.
Mean­while, Duquesne Uni­ver­si­ty in Pitts­burgh is seek­ing to void a vote by its adjuncts to form a union under the ratio­nale that the university's affil­i­a­tion with a Roman Catholic order should exempt it from the juris­dic­tion of the Nation­al Labor Rela­tions Board. As Mark Oppen­heimer, report­ing for the New York Times, put it: ​"Catholic moral the­olo­gians say Catholics have a spe­cial duty to rec­og­nize unions — and Catholic admin­is­tra­tors say their uni­ver­si­ty has a spe­cial right not to."
Adjuncts, who typ­i­cal­ly work on a con­tract basis, are vul­ner­a­ble to retal­i­a­tion by uni­ver­si­ty admin­is­tra­tions. But Mach­son-Carter is hope­ful that heavy-hand­ed tac­tics by the uni­ver­si­ty will gal­va­nize, rather than chill, orga­niz­ing efforts. ​"For a lot of peo­ple, this was the thing that real­ly fired them up," she says of the provost's let­ter and the university's report­ed con­sul­ta­tions with Jack­son Lewis. ​"The fact that instead of putting mon­ey into qual­i­ty teach­ing or pro­fes­sion­al devel­op­ment, they're spend­ing it on a law firm … makes us more deter­mined to have a voice in what's hap­pen­ing at the school in the future."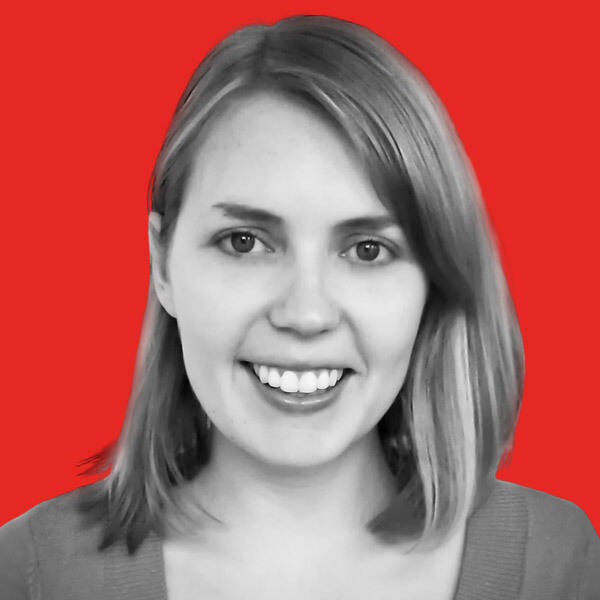 Rebec­ca Burns
is an award-win­ning inves­tiga­tive reporter whose work has appeared in The Baf­fler, the Chica­go Read­er, The Inter­cept and oth­er out­lets. She is a con­tribut­ing edi­tor at In These Times. Fol­low her on Twit­ter @rejburns.