"Social Poetics" Uncovers the Poetry of Everyday Workers
Mark Novak's new book documents how worker-written poetry promotes international solidarity among workers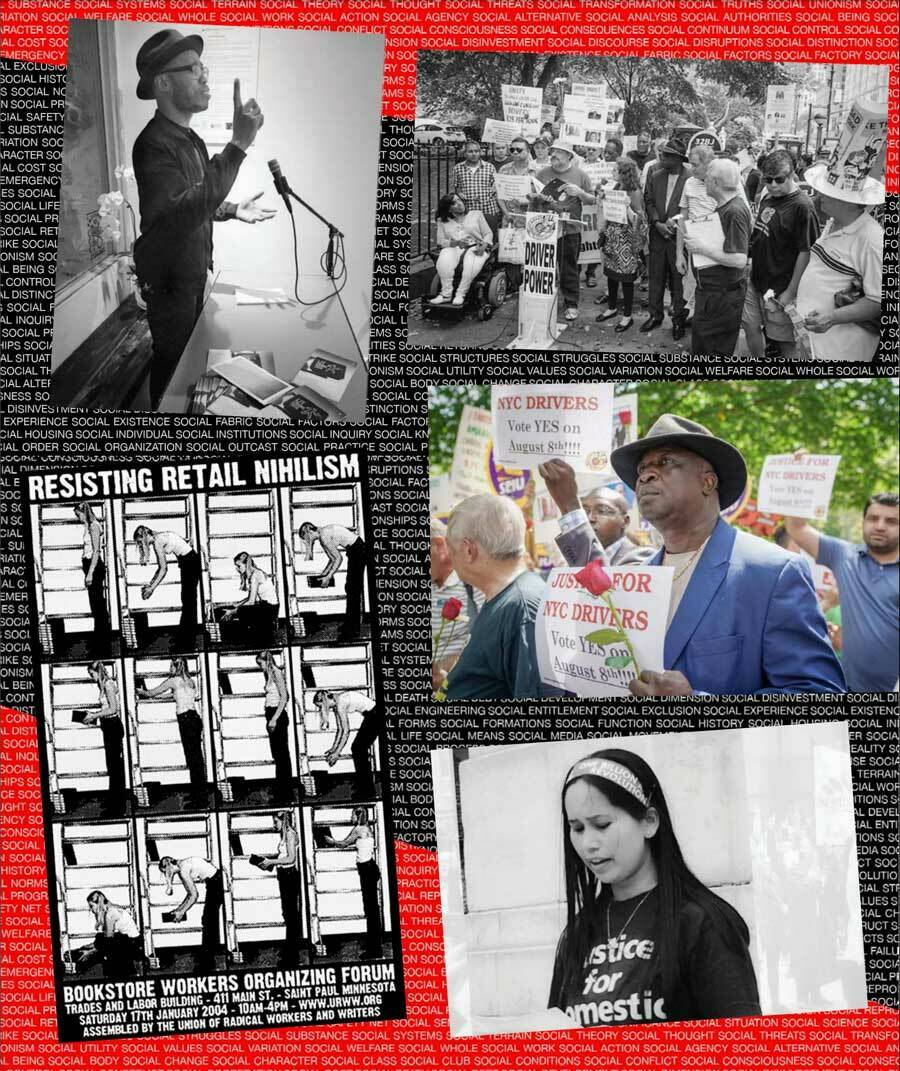 Cab­bie Seth Gold­man joined mem­bers of the New York Taxi Work­ers Alliance (NYT­WA) out­side New York's City Hall in August 2018 to read an ele­giac poem he wrote for Doug Schifter, a liv­ery dri­ver who killed him­self in his car in front of City Hall ear­li­er that year. In an emo­tion­al note Schifter post­ed on Face­book, he claimed gig econ­o­my taxi com­pe­ti­tion left him ​"finan­cial­ly ruined," despite work­ing 100 – 120 hours a week.
"You can't get away from your six­teen-hour days," Gold­man mourned. ​"Up the FDR rid­ing home in your filthy car / Doug could only dri­ve so far." After six dri­vers took their own lives in 2018, Goldman's ele­gy affirmed the mes­sage of NYTWA's leg­isla­tive cam­paign: The next day, pres­sured by the 21,000-member union, New York City Coun­cil passed the nation's first cap on ride-share ser­vices, tem­porar­i­ly halt­ing the issuance of new licenses.
McIntyre wrote poems in a service-sector patois he calls a "broken, ever-morphing, syncopated language."
Gold­man is not the only work­ing-class New York­er seed­ing the ter­rain of social strug­gle through pop-up poet­ry read­ings. In Manhattan's near­by Union Square Green­mar­ket in May 2017, for exam­ple, immi­grant farm­work­ers from upstate stood on wood­en crates and per­formed sur­re­al­ist poems styled after the poets Pablo Neru­da and Nan­cy More­jón. A man named Anto­nio read a poem in Span­ish in which the sea­sons reverse, spring odd­ly lead­ing to ​"Invier­no triste y des­o­la­do" (sad and des­o­late win­ter), demon­strat­ing his frus­tra­tion with the grow­ing season's intense con­trol over his work­ing life. The event inter­rupt­ed the pas­toral trans­ac­tions of ​"buy local" shop­pers by soap­box­ing the very farm­work­ers who grew and picked the local harvest.
Gold­man and Anto­nio both par­tic­i­pat­ed in the Work­er Writ­ers School (WWS), found­ed by poet and activist Mark Nowak, who has offered cre­ative writ­ing work­shops with trade unions and social move­ments since 2005. In Nowak's stir­ring new book, Social Poet­ics, he doc­u­ments how writ­ing work­shops can embold­en work­ers who, to para­phrase Trinida­di­an his­to­ri­an and writer C.L.R. James, seek to chron­i­cle their own strug­gles ​"to regain con­trol over their own con­di­tions of life."
Social Poet­ics braids togeth­er his­to­ry, lit­er­a­ture and auto­bi­og­ra­phy, offer­ing an account of Nowak's career as a rad­i­cal edu­ca­tor, with deft inter­ludes of Marx­ist cul­tur­al the­o­ry and lit­er­ary crit­i­cism. He spot­lights many work­er-poets from his own work­shops and pre­vi­ous­ly pub­lished antholo­gies, and the first chap­ters offer a daz­zling glob­al his­to­ry of writ­ing work­shops ​"from below."
Until the ear­ly 1900s, Nowak writes, the term ​"work­shop" meant an "'ungentle­man­ly' space" of man­u­al labor and ​"dis­tinc­tive­ly work­ing-class col­lec­tive polit­i­cal activ­i­ty." Today, the writ­ing work­shop has been ​"care­ful­ly dis­ar­tic­u­lat­ed" from this idea. After World War II, uni­ver­si­ties cre­at­ed Mas­ter of Fine Arts (MFA) pro­grams in cre­ative writ­ing, obscur­ing the his­toric rela­tion­ship between work­shops and the work­ing class­es. As such, Nowak argues, the idea of ​"work­ing-class poet­ry" became wrong­ly iden­ti­fied with the rem­i­nis­cences of ​"white male teach­ers who worked shit­ty fac­to­ry jobs dur­ing sum­mer breaks."
Nowak grew up in a work­ing-class fam­i­ly in Buf­fa­lo, New York. His moth­er was a cler­i­cal work­er and his father became vice pres­i­dent of his union at a West­ing­house assem­bly plant, shut­tered in 1985. After work­ing at Wendy's in his twen­ties, Nowak enrolled in an MFA pro­gram at Bowl­ing Green State, a cre­den­tial that allowed him to teach at the Col­lege of St. Cather­ine in Min­neapo­lis. There, he par­tic­i­pat­ed in orga­niz­ing (espe­cial­ly the book­store union­iza­tion move­ment) and went on to author three vol­umes of poet­ry. The most recent, Coal Moun­tain Ele­men­tary, was high­ly acclaimed. It doc­u­ment­ed abus­es in the glob­al min­ing indus­try by jux­ta­pos­ing pho­tographs, indus­try pro­pa­gan­da, news cov­er­age of Chi­nese min­ing acci­dents and haunt­ing tes­ti­mo­ni­als from sur­vivors of the 2006 mine dis­as­ter in Sago, W.V., there­by call­ing into ques­tion the company's occu­pa­tion­al safe­ty rhetoric. Nowak pho­tographs a com­pa­ny sign declar­ing ​"safe­ty pro­tects peo­ple, qual­i­ty pro­tects jobs," while on the oppo­site page an anony­mous min­er recalls: ​"And all this stuff start­ed blow­ing down on us, coal dust, soot, ash, mud. It was just like vol­cano stuff."
As Nowak's poet­ry attract­ed increas­ing crit­i­cal acclaim for these doc­u­men­tary poet­ic meth­ods, he sought new strate­gies to ampli­fy — rather than appro­pri­ate — the lan­guage of work­ers, and to trans­form the idea of ​"work­ing-class poet­ry." In 2005 at the Chica­go Cen­ter for Work­ing-Class Stud­ies, Nowak drew a few Team­sters and mem­bers of the Inter­na­tion­al Broth­er­hood of Elec­tri­cal Work­ers Local 134 to join his new writ­ing group. Frank Cun­ning­ham, a life­long con­struc­tion elec­tri­cian who attend­ed, lat­er pub­lished his poem, ​"Inside the Sky­line," in the Sat­ur­day Evening Post. It describes an ascent through the skele­tal frame of a sky­scraper-in-the­mak­ing, ​"Shak­ing inside the River­side skip / As it clanks upward."
In 2006, Nowak repeat­ed his work­shop at a clos­ing Ford plant in St. Paul, Min­neso­ta. Den­ny Dick­hausen, a four-decade vet­er­an of the plant, recalls a deter­mined evening at home (with­out tele­vi­sion) to pour his thoughts into his poem, ​"My Life at Ford." It concludes:
I say it's a crock.
I grew up, I grew old at Ford.
I bled at Ford.
I feel used up.
Dick­hausen, who was pho­tographed as the very face of indus­tri­al decline in local news about the clo­sure, became one of the most elo­quent spokes­peo­ple for the laid-off work­ers. He cred­its the work­shops with help­ing him give pub­lic form to his pri­vate thoughts, which he had long record­ed in lit­tle note­books while at work.
The Ford group was a break­through for Nowak, who then envi­sioned a work­shop to pro­mote cross­ra­cial, glob­al sol­i­dar­i­ty among work­ers. He filmed Dick­hausen and oth­ers read­ing their poems at the fac­to­ry, then took the video to South Africa, where he played it dur­ing work­shops with mem­bers of the Nation­al Union of Met­al­work­ers of South Africa at Ford plants in Port Eliz­a­beth and Pre­to­ria, cre­at­ing a ​"transna­tion­al poet­ry dia­logue" about shared work­ing conditions.
One work­er in Pre­to­ria who Nowak calls Com­rade Jus­tice expressed skep­ti­cism at first, point­ed­ly ask­ing, ​"What is poet­ry going to do for me when I'm retrenched?"Yet, he became fas­ci­nat­ed by a hand­out poem he took home, which he said helped him see how impor­tant poet­ry is for work­ers. The work­shop proved suc­cess­ful: Pre­to­ria work­er Phile­mon Madila's poem, ​"Myself," respond­ed to Dickhausen's poem with shared trep­i­da­tion of being fired and a sense of sol­i­dar­i­ty among the pre­car­i­ous. Oth­er Pre­to­ria Ford work­ers craft­ed a wry, col­lab­o­ra­tive poem about career advancement:
To get a high­er position
You have to climb Malu­ti Mountain
Cross the riv­er Nile and Kala­hari desert
And talk the lan­guage of angels

Oh! What a Life!
Togeth­er, these work­ers explored new strate­gies of col­lec­tiv­i­ty through poet­ry — writ­ing togeth­er, har­mo­niz­ing their voic­es, find­ing shared refrains, and, through Nowak, shar­ing their expe­ri­ences with dis­tant work­ers they for­mer­ly viewed as poten­tial competition.
Nowak has since expand­ed his reper­toire with col­lab­o­ra­tive forms like ren­ga, a Japan­ese chain poem. The nan­nies, taxi dri­vers and fast food work­ers in his ongo­ing work­shop, through the free-speech non­prof­it PEN Amer­i­ca, com­posed a ren­ga of tiny moments from their work­ing lives. Invit­ed to read at the PEN World Voic­es Fes­ti­val, the writ­ers moved through­out the audi­ence to demon­strate how work­ing-class voic­es sur­round us, as in these stan­zas by cab­bie David­son Gar­rett and a domes­tic work­er named Hazel:
I some­times think I'm a poor under­dressed vagrant
As I walk past the ritzy, well-heeled robots on Madi­son Avenue. (Gar­rett)

Sit­ting in this Brown Stone house in Brooklyn,
sip­ping hot Chai Rooi­bos, warm spicy tea,
while the clothes are wash­ing think­ing hap­pi­ness comes from con­tent­ment. (Hazel)
Nowak's work fol­lows in the tra­di­tion of Langston Hugh­es, whose 1947 essay, ​"My Adven­tures as a Social Poet," turned away from lyric poems of indi­vid­ual expe­ri­ence to the poet­ry of social com­mit­ment, poems that ​"stop talk­ing about the moon and begin to men­tion pover­ty, trade unions, col­or lines and colonies." Social Poet­ics relates the his­to­ry of this tra­di­tion: Young Eng­lish Pro­fes­sor Celes Tis­dale and the Abena­ki author Joseph Bruchac, for exam­ple, cre­at­ed poet­ry class­es in pris­ons (which includ­ed par­tic­i­pants in the 1971 Atti­ca upris­ing). Gwen­dolyn Brooks worked with the Black­stone Rangers gang on Chicago's South Side, men­tor­ing emerg­ing lead­ers of the Black Arts move­ment, such as Haki Mad­hubu­ti, who went on to found Third World Press. No pol­i­cy research will effec­tive­ly mea­sure the impact of these work­shops, but the poignant poems Nowak recov­ers demon­strate their unmis­tak­able role in help­ing strug­gling peo­ple find lan­guage for their expe­ri­ences, from police bru­tal­i­ty and lousy work­ing con­di­tions to unhealthy school lunch­es, as in 11-year-old Della's vers­es in Nicholas Antho­ny Duva's 1972 anthol­o­gy of youth poet­ry, Some­body Real: Voic­es of City Chil­dren:
Salty pret­zels, can of coke,
Sour balls, and cig­a­rette smoke.

Slurp, puff, crunch—
That's lunch
This tra­di­tion pre­ludes Nowak's spot­light on work­ing-class poet­ry in our own time. Indeed, Social Poet­ics shines when it cham­pi­ons the poems of bril­liant, mul­ti­eth­nic work­er-poets who haven't gone through the uni­ver­si­ty sys­tem. For exam­ple, the PEN Amer­i­ca work­shop includ­ed Chris­tine Yvette Lewis, a Trinida­di­an nan­ny and a mem­ber of Domes­tic Work­ers Unit­ed, who played a key role in 2011 orga­niz­ing for the land­mark Domes­tic Work­ers Bill of Rights, which grant­ed foun­da­tion­al labor pro­tec­tions to domes­tic work­ers. Lewis wrote a pan­toum (a repet­i­tive Malaysian form) plac­ing her nan­ny work in a reflec­tion on the con­di­tions of transna­tion­al labor, from the Mid­dle Pas­sage to the present:
Price of migra­tion means ​"yes, ma'am"
Light house­keep­ing, walk dog
Baby, unre­lat­ed bur­den, pushed along dank avenue
Cot­ton pickin' days ain't over.
Lewis recruit­ed a young man named Alan­do McIn­tyre to the work­shop after she met him work­ing the reg­is­ter at a Gold­en Krust Caribbean restau­rant in Brook­lyn. At WWS, he has writ­ten poems in a Jamaican-Amer­i­can, ser­vice-sec­tor patois he calls a ​"bro­ken, ever-mor­ph­ing, syn­co­pat­ed lan­guage." Ref­er­enc­ing the affec­tive labor required at his work­place, he also calls it a ​"Yuh want dem inna two sep­a­rate bag / forced to speak, paid to smile kind of lan­guage," empha­siz­ing how work­ing con­di­tions shape the very rhythms and tones of the lan­guage work­ers use.
Nowak also calls a bluff on some old clichés about the pow­er of lit­er­a­ture and art to give voice to the voice­less. While William Car­los Williams once claimed to write in a lan­guage he took ​"from the mouths of Pol­ish moth­ers," he scarce­ly hand­ed over his type­writer to such women or empow­ered them to speak for a move­ment. By con­trast, Nowak pass­es the micro­phone and endors­es what he calls the worker-poet's ​"imag­i­na­tive militancy."
Ulti­mate­ly, Nowak's Social Poet­ics records an endur­ing tra­di­tion of peo­ple chron­i­cling their con­di­tions and dis­cov­er­ing their own lan­guage as a resource for shar­ing their expe­ri­ences and orga­niz­ing. Nowak's focus on work­shops, from Atti­ca to the Work­er Jus­tice Cen­ter of New York, pow­er­ful­ly re-envi­sions what lit­er­ary com­mu­ni­ties might look like, and how they can expand the range of poet­ic expres­sion, enliv­en social move­ments and fos­ter sol­i­dar­i­ty across oceans. Though this tra­di­tion may not trans­late direct­ly into eco­nom­ic enfran­chise­ment, Nowak makes a con­vinc­ing case that work­er- and peo­ple-cen­tered ped­a­gogy is an unbro­ken her­itage that renews much of what is good in lit­er­a­ture today.