The Gravest Threat to World Peace
Not everyone agrees it's a nuclear Iran.
Report­ing on the final U.S. pres­i­den­tial cam­paign debate, on for­eign pol­i­cy, The Wall Street Jour­nal observed that ​"the only coun­try men­tioned more [than Israel] was Iran, which is seen by most nations in the Mid­dle East as the gravest secu­ri­ty threat to the region."
The "Iranian threat" is overwhelmingly a Western obsession, shared by Arab dictators, though not Arab populations.
The two can­di­dates agreed that a nuclear Iran is the gravest threat to the region, if not the world, as Rom­ney explic­it­ly main­tained, reit­er­at­ing a con­ven­tion­al view.
On Israel, the can­di­dates vied in declar­ing their devo­tion to it, but Israeli offi­cials were nev­er­the­less unsat­is­fied. They had ​"hoped for more ​'aggres­sive' lan­guage from Mr. Rom­ney," accord­ing to the reporters. It was not enough that Rom­ney demand­ed that Iran not be per­mit­ted to ​"reach a point of nuclear capability."
Arabs were dis­sat­is­fied too, because Arab fears about Iran were ​"debat­ed through the lens of Israeli secu­ri­ty instead of the region's," while Arab con­cerns were large­ly ignored — again the con­ven­tion­al treatment.
The Jour­nal arti­cle, like count­less oth­ers on Iran, leaves crit­i­cal ques­tions unan­swered, among them: Who exact­ly sees Iran as the gravest secu­ri­ty threat? And what do Arabs [and most of the world] think can be done about the threat, what­ev­er they take it to be?
The first ques­tion is eas­i­ly answered. The ​"Iran­ian threat" is over­whelm­ing­ly a West­ern obses­sion, shared by Arab dic­ta­tors, though not Arab populations.
As numer­ous polls have shown, although cit­i­zens of Arab coun­tries gen­er­al­ly dis­like Iran, they do not regard it as a very seri­ous threat. Rather, they per­ceive the threat to be Israel and the Unit­ed States; and many, some­times con­sid­er­able majori­ties, regard Iran­ian nuclear weapons as a counter to these threats.
In high places in the U.S., some con­cur with the Arab pop­u­la­tions' per­cep­tion, among them Gen. Lee But­ler, for­mer head of the Strate­gic Com­mand. In 1998 he said, ​"It is dan­ger­ous in the extreme that in the caul­dron of ani­mosi­ties that we call the Mid­dle East," one nation, Israel, should have a pow­er­ful nuclear weapons arse­nal, which ​"inspires oth­er nations to do so."
Still more dan­ger­ous is the nuclear-deter­rent strat­e­gy of which But­ler was a lead­ing design­er for many years. Such a strat­e­gy, he wrote in 2002, is ​"a for­mu­la for unmit­i­gat­ed cat­a­stro­phe," and he called on the Unit­ed States and oth­er nuclear pow­ers to accept their com­mit­ment under the Nuclear Non-Pro­lif­er­a­tion Treaty (NPT) to make ​"good faith" efforts to elim­i­nate the plague of nuclear weapons.
Nations have a legal oblig­a­tion to pur­sue such efforts seri­ous­ly, the World Court ruled in 1996: ​"There exists an oblig­a­tion to pur­sue in good faith and bring to a con­clu­sion nego­ti­a­tions lead­ing to nuclear dis­ar­ma­ment in all its aspects under strict and effec­tive inter­na­tion­al con­trol." In 2002, George W. Bush's admin­is­tra­tion declared that the Unit­ed States is not bound by the obligation.
A large major­i­ty of the world appears to share Arab views on the Iran­ian threat. The Non-Aligned Move­ment (NAM) has vig­or­ous­ly sup­port­ed Iran's right to enrich ura­ni­um, most recent­ly at its sum­mit meet­ing in Tehran last August.
India, the most pop­u­lous mem­ber of the NAM, has found ways to evade the oner­ous U.S. finan­cial sanc­tions on Iran. Plans are pro­ceed­ing to link Iran's Chaba­har port, refur­bished with Indi­an assis­tance, to Cen­tral Asia through Afghanistan. Trade rela­tions are also report­ed to be increas­ing. Were it not for strong U.S. pres­sures, these nat­ur­al rela­tions would prob­a­bly improve substantially.
Chi­na, which has observ­er sta­tus at the NAM, is doing much the same. Chi­na is expand­ing devel­op­ment projects west­ward, includ­ing ini­tia­tives to recon­sti­tute the old Silk Road from Chi­na to Europe. A high-speed rail line con­nects Chi­na to Kaza­khstan and beyond. The line will pre­sum­ably reach Turk­menistan, with its rich ener­gy resources, and will prob­a­bly link with Iran and extend to Turkey and Europe.
Chi­na has also tak­en over the major Gwadar port in Pak­istan, enabling it to obtain oil from the Mid­dle East while avoid­ing the Hor­muz and Malac­ca straits, which are clogged with traf­fic and U.S.-controlled. The Pak­istani press reports that ​"Crude oil imports from Iran, the Arab Gulf states and Africa could be trans­port­ed over­land to north­west Chi­na through the port."
At its Tehran sum­mit in August, the NAM reit­er­at­ed the long-stand­ing pro­pos­al to mit­i­gate or end the threat of nuclear weapons in the Mid­dle East by estab­lish­ing a zone free of weapons of mass destruc­tion. Moves in that direc­tion are clear­ly the most straight­for­ward and least oner­ous way to over­come the threats. They are sup­port­ed by almost the entire world.
A fine oppor­tu­ni­ty to car­ry such mea­sures for­ward arose last month, when an inter­na­tion­al con­fer­ence was planned on the mat­ter in Helsinki.
A con­fer­ence did take place, but not the one that was planned. Only non­govern­men­tal orga­ni­za­tions par­tic­i­pat­ed in the alter­nate con­fer­ence, host­ed by the Peace Union of Fin­land. The planned inter­na­tion­al con­fer­ence was can­celed by Wash­ing­ton in Novem­ber, short­ly after Iran agreed to attend.
The Oba­ma admin­is­tra­tion's offi­cial rea­son was ​"polit­i­cal tur­moil in the region and Iran's defi­ant stance on non­pro­lif­er­a­tion," the Asso­ci­at­ed Press report­ed, along with lack of con­sen­sus ​"on how to approach the con­fer­ence." That rea­son is the approved ref­er­ence to the fact that the region's only nuclear pow­er, Israel, refused to attend, call­ing the request to do so ​"coer­cion."
Appar­ent­ly, the Oba­ma admin­is­tra­tion is keep­ing to its ear­li­er posi­tion that ​"con­di­tions are not right unless all mem­bers of the region par­tic­i­pate." The Unit­ed States will not allow mea­sures to place Israel's nuclear facil­i­ties under inter­na­tion­al inspec­tion. Nor will the U.S. release infor­ma­tion on ​"the nature and scope of Israeli nuclear facil­i­ties and activities."
The Kuwait News Agency imme­di­ate­ly report­ed that ​"the Arab group of states and the Non-Aligned Move­ment (NAM) mem­ber states agreed to con­tin­ue lob­by­ing for a con­fer­ence on estab­lish­ing a Mid­dle East zone free of nuclear weapons and all oth­er weapons of mass destruction."
Last month, the U.N. Gen­er­al Assem­bly passed a res­o­lu­tion call­ing on Israel to join the NPT, 174 – 6. Vot­ing no was the usu­al con­tin­gent: Israel, the Unit­ed States, Cana­da, Mar­shall Islands, Microne­sia and Palau.
A few days lat­er, the Unit­ed States car­ried out a nuclear weapons test, again ban­ning inter­na­tion­al inspec­tors from the test site in Neva­da. Iran protest­ed, as did the may­or of Hiroshi­ma and some Japan­ese peace groups.
Estab­lish­ment of a nuclear weapons-free zone of course requires the coop­er­a­tion of the nuclear pow­ers: In the Mid­dle East, that would include the Unit­ed States and Israel, which refuse. The same is true else­where. Such zones in Africa and the Pacif­ic await imple­men­ta­tion because the U.S. insists on main­tain­ing and upgrad­ing nuclear weapons bases on islands it controls.
As the NGO meet­ing con­vened in Helsin­ki, a din­ner took place in New York under the aus­pices of the Wash­ing­ton Insti­tute for Near East Pol­i­cy, an off­shoot of the Israeli lobby.
Accord­ing to an enthu­si­as­tic report on the ​"gala" in the Israeli press, Den­nis Ross, Elliott Abrams and oth­er ​"for­mer top advis­ers to Oba­ma and Bush" assured the audi­ence that ​"the pres­i­dent will strike [Iran] next year if diplo­ma­cy does­n't suc­ceed" — a most attrac­tive hol­i­day gift.
Amer­i­cans can hard­ly be aware of how diplo­ma­cy has once again failed, for a sim­ple rea­son: Vir­tu­al­ly noth­ing is report­ed in the Unit­ed States about the fate of the most obvi­ous way to address ​"the gravest threat" — estab­lish a nuclear-weapon-free zone in the Mid­dle East.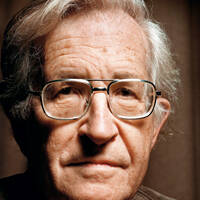 Noam Chom­sky
is Insti­tute Pro­fes­sor and Pro­fes­sor of Lin­guis­tics (Emer­i­tus) at the Mass­a­chu­setts Insti­tute of Tech­nol­o­gy, and the author of dozens of books on U.S. for­eign pol­i­cy. His most recent book is
Who Rules the World?
from Met­ro­pol­i­tan Books.