Union, Environmental Group Say Dozens of Nuclear Workers Suffering from Toxic Materials Exposure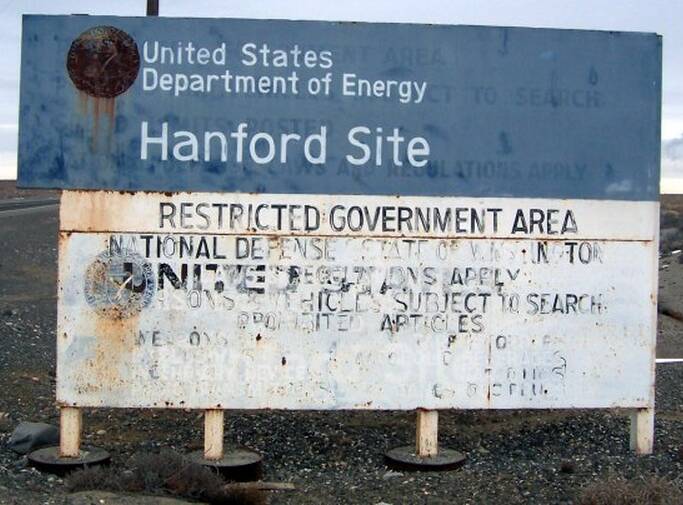 Since March 2014, nearly 60 workers at the Hanford Nuclear Reservation in Washington state have sought medical attention for on-the-job exposure to chemical vapors released by highly toxic waste stored at the site, some as recently as August. At a public meeting held Wednesday in Pasco, Washington, Hanford workers described symptoms that include chronic headaches, respiratory problems, nerve damage and bloody urine.
The meeting, hosted by the United Association (U.A.) of Plumbers and Steamfitters Local 598 and Hanford Challenge, a Seattle-based environmental watchdog group, was convened following the February 10 release by Department of Energy contractor Washington River Protection Services (WRPS) of a ​"corrective action implementation plan." This plan was developed in response to recommendations in a report from the Savannah River National Laboratory released in October 2014.
Commissioned in response to worker exposures at Hanford's tank farms, the Savannah River report found ongoing emissions of toxic chemical vapors from waste tanks, inadequate worker health and safety procedures and evidence that ​"strongly suggests a causal link between chemical vapor releases and subsequent health effects."
The underground storage tanks — known as ​"tank farms" — at the U.S. Department of Energy's (D.O.E.) 586-acre Hanford site contain more than 50 million gallons of concentrated radioactive and chemical waste left from processing nuclear materials, including uranium and plutonium, for the U.S. weapons programs between 1943 and 1987.
Located adjacent to the Columbia River, the underground tanks hold highly radioactive sludge, mixtures of radioactive materials, heavy metals (including mercury, chromium and cadmium), volatile organic compounds and other toxic chemicals (among them ammonia, beryllium, formaldehyde, hydrofluoric acid and N-nitrosodimethylamine). For years, work has been underway to transfer this waste from degrading single-walled tanks to sturdier double-shelled tanks and also to empty and close out these tanks. There is also ongoing venting through evaporators to reduce the volume of stored liquids.
Speaking in the union hall Wednesday evening, U.S. Local 598 business manager Pete Nicacio said, ​"We're here to make sure the contractor and D.O.E. do the right thing and follow up out there."
To that end, in November of last year Local 598, Hanford Challenge and Washington Physicians for Social Responsibility filed a 90-day notice of intent to sue the U.S. D.O.E. and WRPS, which manages work at the Hanford tank farms for the D.O.E., over violations of the Federal Resources and Recovery Act that endanger workers' health.
"Workers are not being taken care of," said Nicacio. ​"Workers are having health issues and D.O.E. does not want to acknowledge those issues," he said. ​"We're here to make sure we do our part to ensure that they're going to take some action."
Washington Attorney General Bob Ferguson filed a similar notice, also in November, seeking to protect Hanford workers from hazardous chemical exposures. ​"Hanford workers face a real and immediate health risk," said Ferguson on filing the notice. ​"I intend to hold the federal government accountable to their responsibility to maintain a safe work environment for Washingtonians," he said on February 10, responding to the release of the WRPS implementation plan.
Pipefitter Michael Cain, who has worked at Hanford since the 1980s and reports being exposed last year, described how tank farm work involves removing tank seals and lids and working on pipes that connect and vent the tanks. ​"I had no concern when I started working at the tank farms two years ago, until I started listening to older workers – guys who were working while being sick," said Cain's coworker John Wright.
"This is not a new issue," says Hanford Challenge executive director Tom Carpenter, pointing out that Hanford worker chemical and vapor exposure issues date back decades and have been documented in numerous reports. A 1992 DOE report outlined the problems identical to those described in the October 2014 report, describing the condition of the tank farm as ​"poor" and deteriorating, ongoing vapor exposure incidents dating back to 1957 and inadequate toxics monitoring and worker-protection systems. Insufficient industrial hygiene measures, lack of information about chemicals being released and inadequate communication about these hazards are among the problems cited.
At the February 18 meeting, numerous workers, including Ron Johnson, Jr., described how the choice of on-the-job respiratory protection has been left up to the workers. They reported having the option to use supplied air tanks while working at tank farms, but this, they said, supervisors discouraged because it could slow down the job.
"I have constant migraines," said 36-year old Johnson.
"There is not adequate industrial hygiene on site to determine when respiratory protection is needed," said United Steelworkers assistant director of health and safety, Jim Frederick whose union also represents Hanford workers. ​"It's like ​"whack-a-mole," he said. ​"They've been chasing this stuff around for 20, 30 years, throwing SCBAs [self-contained breathing apparatus] on people after the fact, when the exposures took place yesterday." The number of contractors and subcontractors at Hanford exacerbated these issues of oversight and enforcement, said Frederick.
Current and former workers who spoke at the meeting reported ongoing difficulty with medical diagnoses following exposure and with obtaining compensation for medical claims. ​"Your livelihood is in pieces," said John Swain, currently off work due to illness.
In addition to the legal notices filed by the Washington Attorney General, labor and watchdog groups, Senator Maria Cantwell (D-Washington) has been pressing the Department of Energy on this issue. Last week, she called on Energy Secretary Ernest Moniz to ensure adequate funding for Hanford Cleanup and worker protection programs.
The Department of Energy, which is ultimately responsible for Hanford workers' health and safety, said in a statement that it ​"remains committed to protecting workers, the public and the environment. Minimizing risks to workers, including chemical vapors in the tank farms, is something the department and its contractors strive for each day at Hanford." Further, said the D.O.E., the department ​"recognizes that reducing the potential for exposures to vapors will require sustained action, continuous improvement and institutionalization of lessons learned."
The just-released implementation plan ​"looks good on paper, but ​"we're gong to make sure they take some action," said Nicacio. ​"We're going to continue to put pressure on to make sure corrective action is done."
Both 90-day notices against the DOE were filed in November 2014. Those 90 days are now concluding, and lawsuits are expected to follow.
Elizabeth Grossman
is the author of
Chasing Molecules: Poisonous Products, Human Health, and the Promise of Green Chemistry
,
High Tech Trash: Digital Devices, Hidden Toxics, and Human Health
, and other books. Her work has appeared in a variety of publications including
Scientific American
,
Yale e

360
,
Environmental Health Perspectives
,
Mother Jones
,
Ensia
,
Time
,
Civil Eats
,
The Guardian
,
The Washington Post
, Salon and
The Nation
.