NYC Campaign Controversy Overshadows Realities of Garment Industry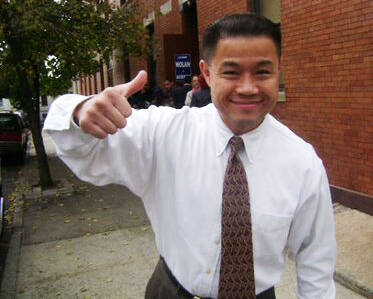 New York City Councilman John Lui — three weeks away from the city controller election he hopes to win—reaffirmed yesterday that he worked in a sweatshop as a child, despite news reports on Sunday that contradicted his claim.

Liu, who represents the 20th district in Queens, has been running TV ads narrating his time working at a New York garment factory alongside his mother when he was seven years old, an apparent attempt to create a rags-to-riches campaign narrative.
But the New York Daily News reported over the weekend the campaign ads were false. Who was the source? Lui's own mother, and two of her friends.

In what was intended to be a profile piece, Jamy Liu, 69, told the newspaper that during her 10 years working in the garment factory, her son never worked at her side.
Instead, according to his father, Liu worked at home helping his mother on a knitting machine, receiving a small allowance in return. Moreover, friends of Liu's mother told the News reporter that she was a part-time worker.
The controversy comes amid a tight race. Liu has been on the defensive, but remains adamant that he did indeed work at a sweatshop with his mother. The questions about his integrity have eclipsed debate on what impact the city's next comptroller will have on the city's various labor unions.
Furthermore, the controversy overshadows the realities of the thriving garment industries in New York City.

The discrepancy between Liu and his mother is alarming: What could account for the two alternate realities? The answer could be as simple as another politician embellishing his personal history, or the issue could be the result of a cultural stigma in Asian communities in particular, where saving face is important.
Liu's mother and acquaintances would most likely prefer to avoid highlighting their experiences working in substandard conditions. Meanwhile, Liu, the city's first Asian-American councilman, could be more forthcoming about the matter to illuminate worker exploitation as a campaign platform.

In response to the controversy, the son of Chinese immigrants alluded to the notion of maintaining a dignified image:
For my parents and so many Asian parents, having worked in a sweatshop is a shameful past and people choose to bury those memories. It's time we brought them out in the open and let people tell their stories without being subjected to cynical attacks.
Whether or not Liu embellished his past is up to the reader; the odds are certainly against him. With corroborations by his parents and her family friends, and Liu further fumbling on the details of his past in a follow-up story by the Daily News, he looks like a pariah.

But questions about his character shouldn't overshadow the larger problem of Asian immigrants who are exploited for illegal wages in deplorable working conditions in underground garment industries.
Even as recently as last week, workers organized at a sweatshop in Queens to demand more than $500,000 dollars in back pay.
And just last year, New York state officials busted a sweatshop for gross wage and overtime violations, in which the owners owed more than $5.3 million in wages to their mostly Chinese workers.

UPDATE: Over at Colorline's RaceWire blog, Working ITT contributor Michelle Chen writes that the Daily News and many of its readers ​"probably have only a narrow concept of the economics and culture of factory work":
The Daily News made Liu's childhood labor sound like a lemonade stand. But despite common stereotypes, the sweatshop system does not just revolve around the factory floor. Liu's family was probably typical of many Asian and Latino immigrant households in the industry. The practice of paying women per piece allowed for endless workdays and rampant exploitation. An opportunity to work at home — Liu's house in Queens apparently had enough space to allow for a knitting machine — would enable mothers to earn extra cash while caring for their kids.