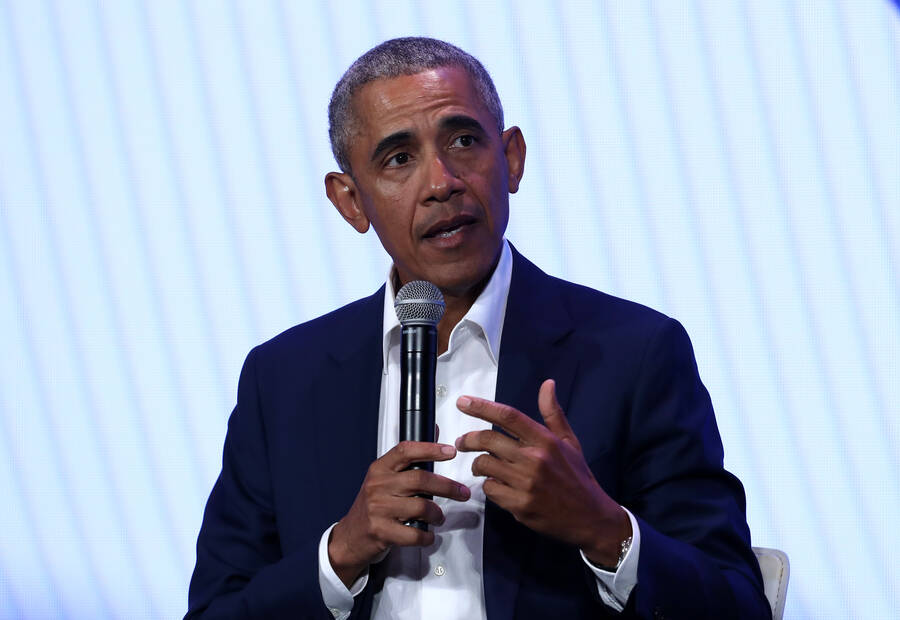 Barack Oba­ma did­n't break any new ground when, at last month's nation­al gath­er­ing of the ​"My Broth­er's Keep­er Alliance" in Oak­land, Cal­i­for­nia, he cracked jokes about the self-defeat­ing qual­i­ties of a cer­tain type of young black man. Address­ing this hypo­thet­i­cal fel­low direct­ly, Oba­ma ridiculed him for ​"wear­ing an 8‑pound chain" and need­ing ​"eight women around you twerk­ing" to prove his man­hood. The theme — of poor black peo­ple undone by their own moral fail­ings — was a major thor­ough­fare through­out his pres­i­den­cy, one that Oba­ma trav­eled again and again when con­fronting black com­mu­ni­ties strug­gling under capitalism.
For the former president and community organizer, the road to black uplift primarily runs through individuals and their communities rising on their own and occasionally doing politics when things go bad.
But this analy­sis is at war with the one put for­ward by many of the activists in those com­mu­ni­ties. Assata's Daugh­ters, which says it ​"grew out of a crit­i­cal gap in Chica­go of pro­gram­ming for young women to get trained up in the rad­i­cal polit­i­cal tra­di­tion of Black fem­i­nism," rejects the idea that there's any­thing unique­ly wrong with black peo­ple. Instead,the group sees a set of pre­dictable out­comes cre­at­ed by a few hun­dred years of racist pub­lic pol­i­cy: grind­ing pover­ty, high­er rates of vio­lent crime and incar­cer­a­tion, and trag­i­cal­ly worse out­comes of health and edu­ca­tion. You won't over­come any of it, the group argues, by bark­ing at black peo­ple to run for high­er moral ground. The much more seri­ous path is to sup­port black peo­ple as they strug­gle for greater par­tic­i­pa­tion in polit­i­cal and eco­nom­ic life.
A blue­print for liberation
To be fair, the for­mer pres­i­dent usu­al­ly eas­es into his episodes with an acknowl­edge­ment that Amer­i­can his­to­ry and pol­i­cy have been some­what unkind to black peo­ple. But the show then veers sharply from look­ing at that vast land­scape of struc­tur­al mis­deed to the nar­row and per­son­al short­com­ings of the com­mu­ni­ty he's address­ing. At the gath­er­ing in Oak­land, the for­mer president's per­for­mance went down accord­ing to script.
From the begin­ning, black writ­ers, thinkers and activists have fierce­ly crit­i­cized this rit­u­al. Derec­ka Pur­nell summed it up nice­ly in a recent New York Times article:
Pro­grams like My Brother's Keep­er insist on mak­ing bet­ter ver­sions of Trayvon Mar­tin, the black vic­tim, instead of ask­ing how to stop cre­at­ing peo­ple like George Zim­mer­man, the racist vig­i­lante. Rather than encour­ag­ing them to dis­man­tle the sys­tems that deep­en wealth inequal­i­ty, Mr. Oba­ma tells black boys to tuck their chains.
The com­plaint here is sim­ple: Rather than offer­ing a pos­si­ble blue­print for trans­form­ing the sys­tems that have so dev­as­tat­ed black com­mu­ni­ties, Oba­ma lights into poor black peo­ple for fail­ing to lead upright lives in the face of that devastation.
Black boys have ​"a more dif­fi­cult time in this soci­ety for a whole range of his­tor­i­cal rea­sons," Oba­ma con­cedes. And he agrees that the gov­ern­ment has ​"a role to play in mak­ing sure that poli­cies were put in place that weren't sys­tem­at­i­cal­ly dis­ad­van­tag­ing young men of color."

But that's about as close as Oba­ma gets to acknowl­edg­ing that a nation with a nasty his­to­ry of ​"dis­ad­van­tag­ing young men of col­or" may require an actu­al con­test for polit­i­cal pow­er over that nation's insti­tu­tions. There's noth­ing, for instance, about the nation­wide bat­tles young black peo­ple are lead­ing to pry away big chunks of local police bud­gets — and invest those resources in com­mu­ni­ty pri­or­i­ties, like schools and men­tal health clin­ics. Or to ensure that megapro­jects receiv­ing mas­sive pub­lic sub­si­dies, like the Oba­ma Pres­i­den­tial Cen­ter in Chica­go, actu­al­ly ben­e­fit the pub­lic. In place of those sorts of con­tests, My Brother's Keep­er cham­pi­ons pro­grams geared towards young men of col­or that, as Oba­ma put it, ​"pro­vide them men­tor­ing, pro­vide them appren­tice­ships, pro­vide them job train­ing" and will see to it that ​"that they've got some sort of tech­ni­cal pro­gram" if col­lege isn't in the cards.
Com­pare this, Pur­nell urges, with the approach put for­ward by Assata's Daugh­ters. Also based in Chica­go, Assata's Daugh­ters works ​"to esca­late, deep­en, and sus­tain the larg­er Black Lives Mat­ter move­ment" — and offers a much deep­er mod­el for change based on build­ing up the pow­er of young black peo­ple to alter the bal­ance of pow­er in soci­ety. The last thing any­one needs, Page May, co-founder of Assata's Daugh­ters tells In These Times, is enor­mous­ly pow­er­ful for­mer heads of state harass­ing young peo­ple about their lack of a sav­ings account. Instead, young peo­ple need mean­ing­ful oppor­tu­ni­ties to ​"actu­al­ly take col­lec­tive action to change the con­di­tions in which we exist so that our lives can be better."
That action is tak­ing place on on mul­ti­ple fronts — from push­ing for the removal of cops from Chica­go schools to abol­ish­ing mon­ey bail and end­ing pre­tri­al detention.
Assata's Daugh­ters is also a vital force in the strug­gle to block the estab­lish­ment of May­or Rahm Emanuel's pro­posed Police Acad­e­my. The mayor's announce­ment came amid a still-unfold­ing night­mare after a white police offi­cer, Jason Van Dyke, pumped 16 bul­lets into Laquan McDon­ald, killing the black teenag­er as he was walk­ing away. It is wide­ly believed that the Emanuel admin­is­tra­tion attempt­ed to cov­er up the gris­ly details and thus pre­vent the pub­lic from hold­ing the involved offi­cers account­able. In response to mass protests and out­rage at the police killing, Emanuel is billing the acad­e­my as part of a plan to reform the Chica­go Police Depart­ment — and pro­vide an ​"eco­nom­ic engine" for the com­mu­ni­ty. Those claims have been met with a mix of hor­ror and out­raged dis­be­lief from many.
In response, a mas­sive orga­niz­ing effort took off under the ban­ner #NoCo­pAcad­e­my. Out­raged by the mis­placed pri­or­i­ties rep­re­sent­ed by the acad­e­my, Assata's Daugh­ters and oth­er grass­roots groups came togeth­er to ​"demand com­mu­ni­ty invest­ment and resources for young peo­ple instead," as Juani­ta Ten­nyson, a mem­ber of Assata's Daugh­ters explained in an op-ed last year. The group orga­nized teach-ins and press con­fer­ences, pres­sutrf elect­ed rep­re­sen­ta­tives, and fanned out across their com­mu­ni­ties in can­vass­ing dri­ves. The orga­ni­za­tion even took over a 10-car train to bring atten­tion to their cause.
Ten­nyson also explains the piv­otal role Assata's Daugh­ters plays in help­ing young peo­ple cul­ti­vate empow­ered polit­i­cal iden­ti­ties capa­ble of trans­form­ing not only them­selves, but the world. ​"I had nev­er learned about social move­ments or how to get involved and cre­ate sys­temic change," she writes. ​"But when I joined Assata's Daugh­ters, every­thing changed." The orga­ni­za­tion ​"teach­es black youth how to orga­nize their com­mu­ni­ty. I was intro­duced to a world of black girl mag­ic, pow­er-build­ing secrets, and ways to make change."
A vio­lent system
These are clash­ing visions for how com­mu­ni­ties dev­as­tat­ed by gen­er­a­tions of racial and eco­nom­ic injus­tice can trans­form their lives.
For the for­mer pres­i­dent and com­mu­ni­ty orga­niz­er, the road to black uplift pri­mar­i­ly runs through indi­vid­u­als and their com­mu­ni­ties ris­ing on their own and occa­sion­al­ly doing pol­i­tics when things go bad. But for activists inter­est­ed in a much deep­er uproot­ing of injus­tice, this is ​"a dis­trac­tion from who actu­al­ly has pow­er in soci­ety," as May puts it. By focus­ing so square­ly on mak­ing young black peo­ple ​"more respectable," she says, you can nev­er ​"actu­al­ly get to the root of all of the dif­fer­ent types of vio­lence and unnec­es­sary strug­gle that so many peo­ple face."
It's worth paus­ing to look at those roots. After 250 years of enslave­ment, black Amer­i­cans had a brief burst of polit­i­cal life in the 14 years of Recon­struc­tion that fol­lowed. That was soon snuffed out across the south and much of the north, leav­ing the new­ly eman­ci­pat­ed at the mer­cy of a coun­try hell­bent on rein­stat­ing, as his­to­ri­an Dou­glas Black­mon describes it, slav­ery by anoth­er name at every lev­el of gov­ern­ment. In order to keep that sys­tem alive and black peo­ple polit­i­cal­ly and eco­nom­i­cal­ly pow­er­less, white suprema­cists, both inside and out­side of gov­ern­ment, sparked a cam­paign of domes­tic ter­ror that burned well into the mid-twen­ti­eth cen­tu­ry. It wasn't until the civ­il rights bills of the mid and late 1960s passed that anoth­er small win­dow to democ­ra­cy was opened.
To put it gen­er­ous­ly, black Amer­i­cans have only had a hand­ful of decades when they could mean­ing­ful­ly par­tic­i­pate in the deci­sions that shape their lives. And at every step of the way, a rigid and vio­lent sys­tem of seg­re­ga­tion has walled in Black com­mu­ni­ties in a way that makes them easy tar­gets not just for mis­treat­ment, but large-scale eco­nom­ic exploitation.
The evi­dence of this in our own time is so vast it can be dif­fi­cult to col­lect in one place. Black Amer­i­cans live in an eco­nom­ic world almost entire­ly sep­a­rate from that of oth­er Amer­i­cans. Take wealth. Based on the most recent data from the Fed­er­al Reserve Board, the Insti­tute for Pol­i­cy Stud­ies finds that ​"the medi­an Black fam­i­ly today owns $3,600 — just 2 per­cent of the wealth of the medi­an White fam­i­ly." Even more dire, ​"black fam­i­ly wealth is on track to reach zero wealth by 2082." And accord­ing to the Brook­ings Insti­tute, black peo­ple who start off poor are ​"twice as like­ly to be stuck there as whites," while ​"black chil­dren born into mid­dle-quin­tile fam­i­lies are also twice as like­ly to be down­ward­ly mobile as mid­dle-income whites."
This all takes place in a coun­try where your abil­i­ty to climb out of pover­ty hinges on whether you were lucky enough to have par­ents who aren't. In such a world, it just doesn't mat­ter a whole lot how skilled, edu­cat­ed or ​"respectable" black chil­dren are. Escap­ing pover­ty will remain out of reach to a crit­i­cal mass of them so long as we allow for the per­sis­tence of a total­ly lop­sided dis­tri­b­u­tion of wealth.
Tak­ing Oba­ma seriously
And what about Obama's time in office? Did his poli­cies stop the bleed­ing? Was he able to at least meet his own min­i­mum stan­dard of ​"mak­ing sure that poli­cies were put in place that weren't sys­tem­at­i­cal­ly dis­ad­van­tag­ing" black com­mu­ni­ties? He did not. As Bri­ah­na Joy Gray of The Inter­cept points out in a recent piece on repa­ra­tions, Oba­ma ​"famous­ly bailed out big banks before home­own­ers, and black Amer­i­cans were hit hard­er than any oth­er group — los­ing 40 per­cent of our col­lec­tive wealth in the crisis."
Like­wise, post-pres­i­den­cy Oba­ma has strug­gled to match his uplift rhetoric with his actu­al record. Take the Oba­ma Foundation's record in Chica­go. Activists there have force­ful­ly crit­i­cized the for­mer com­mu­ni­ty orga­niz­er for deep­en­ing the abil­i­ty of the city's cap­i­tal­ist class to rav­age poor black communities.
For the last cou­ple years, Oba­ma has opposed the adop­tion of a wild­ly pop­u­lar plan sought by the Oba­ma Com­mu­ni­ty Ben­e­fits Agree­ment (CBA) Coali­tion. The coali­tion has laid out their pro­pos­al on their web­site, which would ​"require that jobs be set aside for peo­ple in com­mu­ni­ties around the Oba­ma pres­i­den­tial cen­ter; pro­tect low-income hous­ing and home own­ers; sup­port and cre­ate Black busi­ness­es; and strength­en neigh­bor­hood schools." In last week's elec­tions, the CBA received over­whelm­ing sup­port, pass­ing with between 80 and 90 per­cent approval in affect­ed com­mu­ni­ties. Despite some like­ly pos­i­tive impacts in the lives of some young peo­ple of col­or, the Oba­ma Foun­da­tion has piled onto the eco­nom­ic strug­gles of the city's poor black communities.
May holds up a damn­ing split-screen image of this sce­nario. ​"Oba­ma is telling young men, ​'Pull up your pants,'" she said. At the same time, argues May, he is ​"tak­ing advan­tage of Chicago's finances and exploit­ing it for his project." May says that the Oba­ma Pres­i­den­tial Cen­ter isa ​"mas­sive mon­u­ment to him­self that's going to dis­place so many young black peo­ple from the com­mu­ni­ty." And in stark con­trast with the polit­i­cal­ly lim­it­ed phi­los­o­phy of My Broth­er's Keep­er, the com­mu­ni­ty has respond­ed with a ​"mas­sive resis­tance led by young black peo­ple," insist­ing that they be giv­en some say in the course of their col­lec­tive lives.
Expand­ing our polit­i­cal imagination
Barack Oba­ma has always had his sto­ry about the trag­ic threat black peo­ple, and espe­cial­ly the poor among them, pose to their own aspi­ra­tions to build bet­ter lives for them­selves and their com­mu­ni­ties. He isn't the first. As his­to­ri­an Ibram X. Ken­di lays out in Stamped from the Begin­ning: The Defin­i­tive His­to­ry of Racist Ideas in Amer­i­ca, every era has had its ver­sion of then-pow­er­ful black peo­ple scold­ing poor black peo­ple to get their shit togeth­er. And each has had some ver­sion of, ​"But how about we just go after the sys­tems that lock so many of us in des­per­ate pover­ty and sec­ond-class cit­i­zen­ship in the first place?" shout­ed back at them.
Of course, Oba­ma is the for­mer pres­i­dent of the world's most fan­tas­ti­cal­ly wealthy coun­try, and so has had much greater abil­i­ty to affect the country's actu­al insti­tu­tions and thus the impact they have on people's actu­al lives. But orga­niz­ers' calls for a rad­i­cal expan­sion of our polit­i­cal imag­i­na­tions still packs the same wal­lop. Per­haps an even greater one.
"The real­i­ty is so much of young poor black peo­ple's lives is con­trolled by things that they can­not influ­ence," May reflects. ​"If you live in pub­lic hous­ing and get on a pub­lic bus to a pub­lic school" after your pre­vi­ous school ​"got shut down and now you have to go across gang lines" and ​"deal with CPD," she says, ​"those are polit­i­cal issues."
One response to that is to scold those young peo­ple for not over­com­ing those odds like super­heroes. Anoth­er, May argues, is pro­vid­ing them a place where they ​"can par­tic­i­pate and under­stand why things are the way they are and cre­ate an alter­na­tive vision."
ELI DAY was an inves­tiga­tive fel­low with In These Times' Leonard C. Good­man Insti­tute for Inves­tiga­tive Report­ing. He's also a Detroi­ter, where he writes about pol­i­tics, pol­i­cy, racial and eco­nom­ic jus­tice. His work has appeared in Vox, Cur­rent Affairs, Moth­er Jones, and the New Repub­lic, among others.