An Inside Account of How Direct Action Helped Kill the GOP Healthcare Bill
Mari Cordes is a nurse, organizer and House candidate who was arrested multiple times in Washington, D.C. protesting the GOP's Obamacare repeal bill.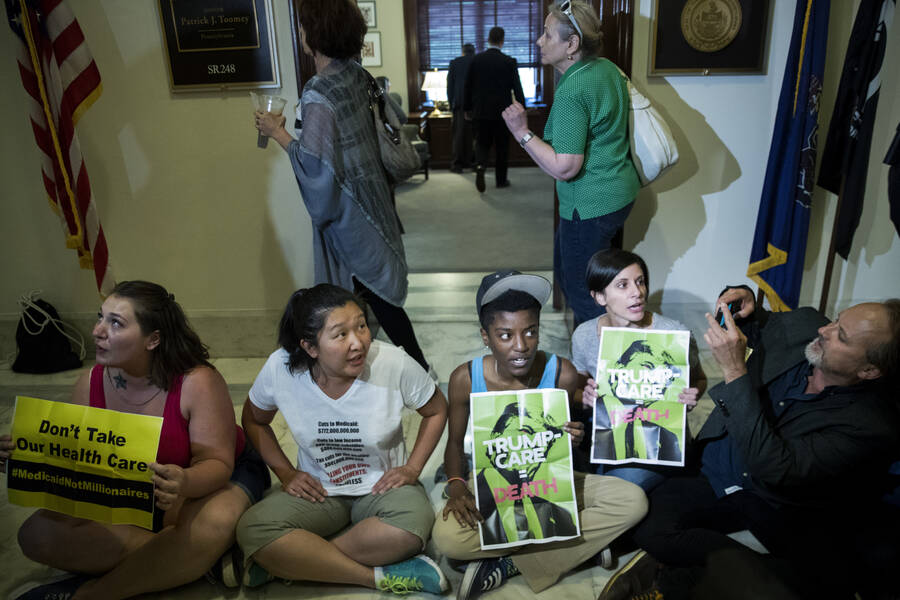 Wel­come to Inter­views for Resis­tance. Since elec­tion night 2016, the streets of the Unit­ed States have rung with resis­tance. Peo­ple all over the coun­try have wok­en up with the con­vic­tion that they must do some­thing to fight inequal­i­ty in all its forms. But many are won­der­ing what it is they can do. In this series, we'll be talk­ing with expe­ri­enced orga­niz­ers, trou­ble­mak­ers and thinkers. They'll be shar­ing their insights on what works, what does­n't, and what has changed, and what's still the same.
That is the thing about collective power and movement building, it is generative. It is obvious now that people are rising up and that more people realize that organizing does work.
Mari Cordes: My name is Mari Cordes. I am a reg­is­tered nurse of thir­ty years, all in Ver­mont. I am a found­ing board mem­ber of Rights and Democ­ra­cy.
Sarah Jaffe: You were in Wash­ing­ton, D.C., on Thurs­day when the vote went down for health­care reform, right?
MC: I have been here since Thurs­day as a can­di­date. I am run­ning for the Ver­mont House of Rep­re­sen­ta­tives again in 2018 and I am here for the Pro­gres­sive Change Cam­paign Committee's nation­al can­di­date train­ing. I was select­ed as one of 300 can­di­dates to attend this amaz­ing train­ing which coin­cid­ed with more actions by the Cen­ter for Pop­u­lar Democ­ra­cy and Hous­ing Works in the Sen­ate offices, in the Capi­tol and at Sen­a­tors' offices. I was part of the protest and the ral­ly out­side of the Capi­tol build­ing the night the vote came down.
SJ: Tell us a lit­tle bit about what that was like, while you were wait­ing to hear about the vote.
MC: It was an amaz­ing expe­ri­ence to hear, once again, many sto­ries of how every­one would have been impact­ed by the repeal of the Afford­able Care Act, and already how we are already impact­ed by our elect­ed lead­ers inten­tion­al­ly doing some­thing that equates to attack­ing the Amer­i­can people.
We heard so many incred­i­ble, painful and heart­break­ing sto­ries about friends, peo­ple that we know, peo­ple that we don't know who would have died and fam­i­lies that would have lost their homes or gone bank­rupt. All this in the name of an obses­sion with an ide­ol­o­gy, an obses­sion with a hatred that a black man was pres­i­dent of the Unit­ed States and was suc­cess­ful in cre­at­ing pol­i­cy that was def­i­nite­ly not per­fect, but did help mil­lions of peo­ple. It was very pow­er­ful to be in that cir­cle and hold a vig­il for our coun­try what­ev­er the out­come is going to be.
There was a moment we thought ​"We are going to lose" — that feel­ing of hope­less­ness and despair. Then, a pause and a qui­et moment. Ben Wik­ler deliv­ered the news beau­ti­ful­ly. He became real­ly somber. I thought it meant that we had lost, but it cre­at­ed this silent space for us to hear the state­ment that the vote was ​"No." I don't think I have ever expe­ri­enced any­thing so pow­er­ful in my life. It was incredible.
SJ: That vote was ​"No," but you are not stop­ping. We are talk­ing on Sat­ur­day evening and you are about to head to anoth­er ral­ly for health­care. Tell us about that and tell us about why the fight is still going.
MC: We got to bed at 4:30 that morn­ing. We did rest a lit­tle bit, but with the aware­ness that the Amer­i­can peo­ple are still under attack on many fronts, not just health­care, but the free­dom and lib­er­a­tion of many indi­vid­u­als in this coun­try is at risk. So we can't stop. In fact, there is no bet­ter time to increase the pres­sure and increase our activism than after a win like this, because espe­cial­ly those who were at risk of los­ing so much and espe­cial­ly those who have been work­ing so hard in this fight. We have that lived expe­ri­ence of col­lec­tive pow­er of move­ment build­ing, the orga­niz­ing work. We can­not stop. We have to take this momen­tum and move forward.
SJ: You went to D.C. a few times. You were involved in a lot of orga­niz­ing, even though Ver­mont, obvi­ous­ly, didn't have a Sen­a­tor that was going to vote ​"Yes" on this thing. But, what are some of the impor­tant lessons that you learned from the sev­en months of fight­ing to try to stave off cuts to healthcare?
MC: I think the most impor­tant les­son is to nev­er give up. In a fight like this, nev­er give up. I have been very active work­ing in Ver­mont towards a uni­ver­sal pub­licly fund­ed health­care sys­tem that gets rid of the high­ly prof­itable insur­ance com­pa­nies and cre­ates a real sys­tem. We have had our suc­cess­es, like when Act 48 (sin­gle pay­er) in Ver­mont passed. And we have lost in Ver­mont when Gov­er­nor Shum­lin pulled the plug on that. We are still work­ing hard in the state to move towards a uni­ver­sal pub­licly fund­ed sys­tem. I would say that is the most impor­tant thing. We have to keep going. It is okay to rest for a lit­tle bit and take care of each oth­er and our­selves, but we have to keep mov­ing forward.
SJ: Was there a par­tic­u­lar moment or a par­tic­u­lar tac­tic around Trump­care that you thought was par­tic­u­lar­ly suc­cess­ful? Some moment that maybe you saw somebody's mind change?
MC: I think there were many moments that were suc­cess­ful. I was in the first group of peo­ple of 150 or more and 40 of us were arrest­ed, I was in the sec­ond group, I don't remem­ber how many were in there, but 80 of us were arrest­ed. Then, the third time, I was a legal sup­port for ADAPT. Hun­dreds were arrest­ed, I believe, in that action.
I think it was a cumu­la­tive effect, in addi­tion to all of the actions and emails and calls from peo­ple across the coun­try that cre­at­ed enough pres­sure on sen­a­tors. All of these actions, and the media that they gen­er­at­ed, includ­ing all of the social media. I could see on my own per­son­al social media sites peo­ple get­ting engaged that might not have got­ten engaged before and tak­ing actions. It is a cumu­la­tive thing. That is the thing about col­lec­tive pow­er and move­ment build­ing, it is gen­er­a­tive. It is obvi­ous now that peo­ple are ris­ing up and that more peo­ple real­ize that orga­niz­ing does work.
SJ: As you said, you are a nurse, you have been a union leader, and you have been work­ing on health­care for your entire adult life. Why is this such a pow­er­ful issue to get peo­ple orga­nized around?
MC: Health­care is a very pow­er­ful issue to get peo­ple orga­nized around because it impacts every sin­gle per­son per­son­al­ly, often in poten­tial­ly dev­as­tat­ing ways. As I men­tioned ear­li­er, many peo­ple that I have met though doing these actions and then all the patients that I work with every day; I hear, I see how crit­i­cal­ly impor­tant hav­ing access to health­care is for them and their families.
I work in a busy car­di­ol­o­gy unit at the Uni­ver­si­ty of Ver­mont Med­ical Cen­ter and every day I am at work, when I have three or four patients, I look at each one of them and won­der ​"What if they didn't have access to health­care, if they didn't have insur­ance? If they couldn't get health­care when they need­ed it, would they be alive right now?" The huge major­i­ty of the time, the answer is ​"No."
Then, it is per­son­al for me, too. I have health issues, like most of us do. I would say, more than any­thing, it is such a huge area of injus­tice in our coun­try and the fact that in 2017 we are hav­ing to fight to stay alive is beyond ludicrous.
SJ: You were involved in a fight to end insur­ance dis­crim­i­na­tion against trans­gen­der peo­ple. Of course, this week while the health­care fight was going on, Trump came out and said he was going to ban trans peo­ple from the mil­i­tary because their health­care was too expen­sive. I won­der if you could talk a lit­tle bit about that par­tic­u­lar fight that you were in and what we can learn from that.
MC: My friends and I were just at the ral­ly at the White House today around Trump tweet­ing mil­i­tary pol­i­cy changes. I was involved in some major change work in Ver­mont, in co-lead­ing a coali­tion of orga­ni­za­tions and peo­ple, includ­ing physi­cians that pro­vide med­ical care for trans­gen­der indi­vid­u­als. The orga­ni­za­tions we worked with have been work­ing on trans­gen­der jus­tice issues for a long time. Ver­mont, at the time, I think it was 2011 or 2012, did have a law that said it was ille­gal for health insur­ance com­pa­nies not to pro­vide insur­ance for trans­gen­der indi­vid­u­als, but that was a pret­ty broad state­ment and, of course, what the health insur­ance com­pa­nies did was refuse to cov­er med­ical­ly nec­es­sary care for trans­gen­der people.
I became aware of that when an amaz­ing nurse friend who is also trans­gen­der came to me and told me that he need­ed to have surgery and it was not cov­ered by our hos­pi­tal insur­ance. The Uni­ver­si­ty of Ver­mont Med­ical Cen­ter self-insures, so they get to decide what their pol­i­cy looks like. This per­son and I and the oth­er lead­ers of these orga­ni­za­tions worked togeth­er on a cam­paign that even­tu­al­ly led the com­mis­sion­er of the Depart­ment of Finan­cial Reg­u­la­tion, which over­sees insured com­pa­nies in Ver­mont, to issue a clar­i­fy­ing bul­letin that made Ver­mont, at the time, the fourth state in the nation to have clear lan­guage that deny­ing med­ical­ly nec­es­sary care for trans­gen­der indi­vid­u­als was against the law.
SJ: I am won­der­ing if there is some­thing about this hap­pen­ing in the midst of the health­care fight, your expe­ri­ence on both these issues, that you think we can learn from going for­ward, as Trump is clear­ly going to keep dou­bling down on attack­ing mar­gin­al­ized groups, espe­cial­ly as he is losing?
MC: Because of all the attacks against mar­gin­al­ized groups, more than ever we need to be uni­fied. I do see that hap­pen­ing. I do see peo­ple in orga­ni­za­tions work­ing towards being as uni­fied as pos­si­ble. I believe it is the only way that we are not only going to sur­vive, but thrive.
SJ: Let's go back to the sin­gle-pay­er strug­gle in Ver­mont. Ver­mont was the first state to vote for a uni­ver­sal pub­licly fund­ed health­care sys­tem, but had trou­ble get­ting it imple­ment­ed. I won­der if you could tell peo­ple a lit­tle bit about that process, the orga­niz­ing that got the bill passed, and then the strug­gles you have been in in try­ing to con­tin­ue to move for­ward with it.
MC: We began around 2008 — ​"we" mean­ing the Ver­mont Work­ers Cen­ter — start­ed the Health­care is a Human Right cam­paign, which was an amaz­ing grass­roots mobi­liza­tion and edu­ca­tion project all across the state that got thou­sands of peo­ple involved in the edu­ca­tion of peo­ple in the com­mu­ni­ty about how our health­care sys­tem, or lack of it, is bro­ken and what we can do to fix it.
We did things like hold­ing peo­ples' forums across the state where the peo­ple led the forums with leg­is­la­tors present. It was a chance for peo­ple to ask leg­is­la­tors ques­tions: Do you and will you active­ly work to sup­port pub­licly fund­ed uni­ver­sal health­care? The Work­ers Cen­ter orga­nized annu­al ral­lies. I think before the Women's March, it was one of the Health­care is a Human Right ral­lies on May Day that was the largest ral­ly in Vermont's his­to­ry. Even­tu­al­ly, work­ing with oth­er orga­ni­za­tions like Ver­mont for Sin­gle Pay­er Now led to us win by putting pres­sure on leg­is­la­tors and sup­port­ing those who were doing the pol­i­cy and tak­ing the polit­i­cal risks. We did win Act 48, which has embed­ded in it, the five uni­ver­sal human rights prin­ci­ples.
I was appoint­ed as a com­mis­sion­er to two, at the time, of Gov­er­nor Shumlin's work­groups: The Con­sumer Work­group for Health­care to try to move towards this new sys­tem and anoth­er com­mis­sion. We did a fair amount of good work there, but in ret­ro­spect it seemed like a farce. What was real­ly being planned was not hap­pen­ing in those groups with mem­bers of the pub­lic and health­care pro­fes­sion­als. It was hap­pen­ing at the governor's office. That meant that even­tu­al­ly Gov­er­nor Shum­lin and some of the leg­is­la­tors decid­ed that they didn't have the polit­i­cal cap­i­tal to pull this off, so they pulled the plug on it.
SJ: Where are things now? You have a dif­fer­ent gov­er­nor now. So what are things like on the ground in Ver­mont, work­ing on health­care on the state level?
MC: We are orga­niz­ing. Always orga­niz­ing. Active­ly. The main orga­ni­za­tions that are work­ing towards a uni­ver­sal pub­licly fund­ed health­care sys­tem are now work­ing togeth­er to fig­ure out what that looks like going for­ward. We are back on the ground orga­niz­ing in com­mu­ni­ties, set­ting up town halls, talk­ing with legislators.
The one pos­si­ble step that actu­al­ly was in the state house as a bill last year is uni­ver­sal pri­ma­ry care which would do just what it says: pro­vide access to health­care for every­one in Ver­mont as pri­ma­ry care. Pri­ma­ry care is often one of the obsta­cles that peo­ple face when they are sick or have some­thing going on and they can't afford it or access it. So, they don't go and then they get sick­er and end up in the ER with a worse con­di­tion. There is a patient that I remem­ber, a young man who had a sim­ple infec­tion and wait­ed too long and it turned into a dev­as­tat­ing full sys­tem infec­tion that killed him. It was some­thing pret­ty sim­ple that could have been fixed had he been able to access pri­ma­ry care. That is what we are work­ing on now.
SJ: You men­tioned at the begin­ning that you are run­ning for office. Tell us what your plat­form is. I pre­sume that uni­ver­sal health­care will be part of it.
MC: Yes, it is. My main plat­form items are work­ing towards an econ­o­my that works for us all. That includes hav­ing a health­care sys­tem and work­ing towards pro­gres­sive tax reform that insures cor­po­ra­tions and the wealthy pay their fair share, fur­ther devel­op­ing and safe­guard­ing the pub­lic ser­vices that are the foun­da­tion of strong com­mu­ni­ties. Also, that Ver­mont must lead on cli­mate change. I am also a board mem­ber of 350Vermont.
And qual­i­ty edu­ca­tion — we have had some major changes in how school gov­er­nance is run in Ver­mont with the pas­sage of Act 46, which is very con­tro­ver­sial and in many ways took the local direct engage­ment away from small towns. The intent, or the stat­ed intent of Act 46, one of them, is to help reduce prop­er­ty tax bur­dens. I am not sure how effec­tive that is going to be. There are some one-time sav­ings that we will see, but the real issue is that the biggest line item in a school district's bud­get is health insur­ance for edu­ca­tors and staff. So until we get con­trol over that, it is still going to be a major issue.
Then, I will con­tin­ue to work very hard in orga­niz­ing rep­re­sent­ing my dis­trict to devel­op a health­care sys­tem that is financed and admin­is­tered pub­licly with strong and trans­par­ent gov­ern­ment reg­u­la­tions and ample pub­lic engagement.
SJ: How can peo­ple keep up with you and your cam­paign and your health­care organizing?
MC: A cou­ple of dif­fer­ent ways, they can go to www​.mari​cordes​.org. There are Face­book and Twit­ter links on my web­site. You can also find me on my per­son­al Face­book page: Mari Cordes. I am work­ing with Rights and Democ­ra­cy a lot, so I would encour­age peo­ple to fol­low Rights and Democ­ra­cy Ver­mont and New Hampshire.
Inter­views for Resis­tance is a project of Sarah Jaffe, with assis­tance from Lau­ra Feuille­bois and sup­port from the Nation Insti­tute. It is also avail­able as a pod­cast on iTunes. Not to be reprint­ed with­out permission.
Sarah Jaffe
is a for­mer staff writer at
In These Times
and author of
Nec­es­sary Trou­ble: Amer­i­cans in Revolt
, which Robin D.G. Kel­ley called ​
"
The most com­pelling social and polit­i­cal por­trait of our age." You can fol­low her on Twit­ter
@sarahljaffe
.