Occupy The Future
The Occupy movement is an unprecedented opportunity to overcome America's current hopelessness.
(This arti­cle is adapt­ed from Noam Chomsky's talk at the Occu­py Boston encamp­ment on Dewey Square on Oct. 22. He spoke as part of the Howard Zinn Memo­r­i­al Lec­ture Series held by Occu­py Boston's on-site Free Uni­ver­si­ty. Zinn was a his­to­ri­an, activist and author of A People's His­to­ry of the Unit­ed States.)
That the Occupy movement is unprecedented seems appropriate because this is an unprecedented era, not just at this moment but since the 1970s.
Deliv­er­ing a Howard Zinn lec­ture is a bit­ter­sweet expe­ri­ence for me. I regret that he's not here to take part in and invig­o­rate a move­ment that would have been the dream of his life. Indeed, he laid a lot of the ground­work for it.
If the bonds and asso­ci­a­tions being estab­lished in these remark­able events can be sus­tained through a long, hard peri­od ahead – vic­to­ries don't come quick­ly – the Occu­py protests could mark a sig­nif­i­cant moment in Amer­i­can history.
I've nev­er seen any­thing quite like the Occu­py move­ment in scale and char­ac­ter, here and world­wide. The Occu­py out­posts are try­ing to cre­ate coop­er­a­tive com­mu­ni­ties that just might be the basis for the kinds of last­ing orga­ni­za­tions nec­es­sary to over­come the bar­ri­ers ahead and the back­lash that's already coming.
That the Occu­py move­ment is unprece­dent­ed seems appro­pri­ate because this is an unprece­dent­ed era, not just at this moment but since the 1970s.
The 1970s marked a turn­ing point for the Unit­ed States. Since the coun­try began, it had been a devel­op­ing soci­ety, not always in very pret­ty ways, but with gen­er­al progress toward indus­tri­al­iza­tion and wealth.
Even in dark times, the expec­ta­tion was that the progress would con­tin­ue. I'm just old enough to remem­ber the Great Depres­sion. By the mid-1930s, even though the sit­u­a­tion was objec­tive­ly much harsh­er than today, the spir­it was quite different.
A mil­i­tant labor move­ment was orga­niz­ing – the CIO (Con­gress of Indus­tri­al Orga­ni­za­tions) and oth­ers – and work­ers were stag­ing sit-down strikes, just one step from tak­ing over the fac­to­ries and run­ning them themselves.
Under pop­u­lar pres­sure, New Deal leg­is­la­tion was passed. The pre­vail­ing sense was that we would get out of the hard times.
Now there's a sense of hope­less­ness, some­times despair. This is quite new in our his­to­ry. Dur­ing the 1930s, work­ing peo­ple could antic­i­pate that the jobs would come back. Today, if you're a work­er in man­u­fac­tur­ing, with unem­ploy­ment prac­ti­cal­ly at Depres­sion lev­els, you know that those jobs may be gone for­ev­er if cur­rent poli­cies persist.
That change in the Amer­i­can out­look has evolved since the 1970s. In a rever­sal, sev­er­al cen­turies of indus­tri­al­iza­tion turned to de-indus­tri­al­iza­tion. Of course man­u­fac­tur­ing con­tin­ued, but over­seas – very prof­itable, though harm­ful to the workforce.
The econ­o­my shift­ed to finan­cial­iza­tion. Finan­cial insti­tu­tions expand­ed enor­mous­ly. A vicious cycle between finance and pol­i­tics accel­er­at­ed. Increas­ing­ly, wealth con­cen­trat­ed in the finan­cial sec­tor. Politi­cians, faced with the ris­ing cost of cam­paigns, were dri­ven ever deep­er into the pock­ets of wealthy backers.
And the politi­cians reward­ed them with poli­cies favor­able to Wall Street: dereg­u­la­tion, tax changes, relax­ation of rules of cor­po­rate gov­er­nance, which inten­si­fied the vicious cycle. Col­lapse was inevitable. In 2008, the gov­ern­ment once again came to the res­cue of Wall Street firms pre­sum­ably too big to fail, with lead­ers too big to jail.
Today, for the one-tenth of 1 per­cent of the pop­u­la­tion who ben­e­fit­ed most from these decades of greed and deceit, every­thing is fine.
In 2005, Cit­i­group – which, by the way, has repeat­ed­ly been saved by gov­ern­ment bailouts – saw the wealthy as a growth oppor­tu­ni­ty. The bank released a brochure for investors that urged them to put their mon­ey into some­thing called the Plu­ton­o­my Index, which iden­ti­fied stocks in com­pa­nies that cater to the lux­u­ry market.
"The world is divid­ing into two blocs – the plu­ton­o­my and the rest," Cit­i­group sum­ma­rized. ​"The U.S., U.K. and Cana­da are the key plu­tonomies – economies pow­ered by the wealthy."
As for the non-rich, they're some­times called the pre­cari­at – peo­ple who live a pre­car­i­ous exis­tence at the periph­ery of soci­ety. The ​"periph­ery," how­ev­er, has become a sub­stan­tial pro­por­tion of the pop­u­la­tion in the U.S. and elsewhere.
So we have the plu­ton­o­my and the pre­cari­at: the 1 per­cent and the 99 per­cent, as Occu­py sees it – not lit­er­al num­bers, but the right picture.
The his­toric rever­sal in people's con­fi­dence about the future is a reflec­tion of ten­den­cies that could become irre­versible. The Occu­py protests are the first major pop­u­lar reac­tion that could change the dynamic.
I've kept to domes­tic issues. But two dan­ger­ous devel­op­ments in the inter­na­tion­al are­na over­shad­ow every­thing else.
For the first time in human his­to­ry, there are real threats to the sur­vival of the human species. Since 1945 we have had nuclear weapons, and it seems a mir­a­cle we have sur­vived them. But poli­cies of the Oba­ma admin­is­tra­tion and its allies are encour­ag­ing escalation.
The oth­er threat, of course, is envi­ron­men­tal cat­a­stro­phe. Prac­ti­cal­ly every coun­try in the world is tak­ing at least halt­ing steps to do some­thing about it. The Unit­ed States is tak­ing steps back­ward. A pro­pa­gan­da sys­tem, open­ly acknowl­edged by the busi­ness com­mu­ni­ty, declares that cli­mate change is all a lib­er­al hoax: Why pay atten­tion to these scientists?
If this intran­si­gence con­tin­ues in the rich­est, most pow­er­ful coun­try in the world, the cat­a­stro­phe won't be averted.
Some­thing must be done in a dis­ci­plined, sus­tained way, and soon. It won't be easy to pro­ceed. There will be hard­ships and fail­ures – it's inevitable. But unless the process that's tak­ing place here and else­where in the coun­try and around the world con­tin­ues to grow and becomes a major force in soci­ety and pol­i­tics, the chances for a decent future are bleak.
You can't achieve sig­nif­i­cant ini­tia­tives with­out a large, active, pop­u­lar base. It's nec­es­sary to get out into the coun­try and help peo­ple under­stand what the Occu­py move­ment is about – what they them­selves can do, and what the con­se­quences are of not doing anything.
Orga­niz­ing such a base involves edu­ca­tion and activism. Edu­ca­tion doesn't mean telling peo­ple what to believe – it means learn­ing from them and with them.
Karl Marx said, ​"The task is not just to under­stand the world but to change it." A vari­ant to keep in mind is that if you want to change the world you'd bet­ter try to under­stand it. That doesn't mean lis­ten­ing to a talk or read­ing a book, though that's help­ful some­times. You learn from par­tic­i­pat­ing. You learn from oth­ers. You learn from the peo­ple you're try­ing to orga­nize. We all have to gain the under­stand­ing and the expe­ri­ence to for­mu­late and imple­ment ideas.
The most excit­ing aspect of the Occu­py move­ment is the con­struc­tion of the link­ages that are tak­ing place all over. If they can be sus­tained and expand­ed, Occu­py can lead to ded­i­cat­ed efforts to set soci­ety on a more humane course.
© The New York Times News Service/​Syndicate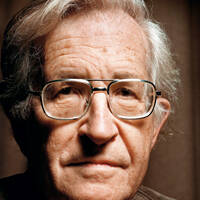 Noam Chom­sky
is Insti­tute Pro­fes­sor and Pro­fes­sor of Lin­guis­tics (Emer­i­tus) at the Mass­a­chu­setts Insti­tute of Tech­nol­o­gy, and the author of dozens of books on U.S. for­eign pol­i­cy. His most recent book is
Who Rules the World?
from Met­ro­pol­i­tan Books.