Occupy Wall Street Spotlights Precarious State of Youth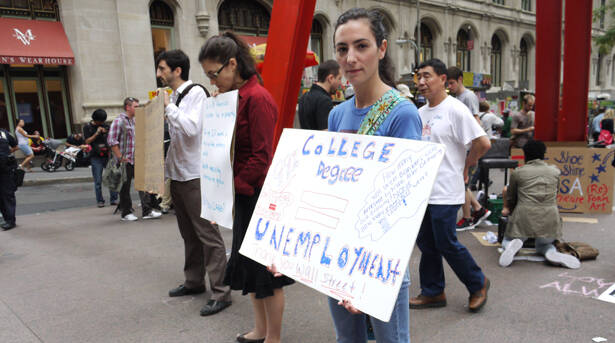 The United States watched from afar this summer as young people took to the streets in the Middle East and Europe. The ​"Occupy Wall Street" protests that began last week haven't generated as much momentum as the movements abroad. But they appear to be gaining more visibility entering the second week.

The protesters are a young, diverse crowd drawn together to call attention to what they say is an imbalanced financial system that favors corporations and the wealthy. And with a generation of young adults facing problems like grim job prospects and massive student loans, the protests have put the spotlight on a segment that has been hit hard by the tough economy.

Following a harsh police crackdown, the demonstrations have gained support from more youth activists as well as veterans such as Michael Moore and Noam Chomsky. Similar occupations are popping up in other cities.
The protesters represent themselves as the 99 percent of folks who are not the richest 1 percent driven by ​"greed and corruption." The gathering was initially mocked by social media users and even derided by the New York Times in an article depicting the protestors as misguided jesters — despite the fact that many have articulate statements and purpose.
The current economic landscape is far from a joke. The richest 1 percent take home almost a quarter of the nation's income. In the protest's own backyard of New York City, one of out seven workers are unemployed. Meanwhile, corporate profits reached their highest on record last year in the third quarter. And the concentration of wealth has also shot up over the last two decades. The Fiscal Policy Institute writes:
Income concentration in the U.S. is at an historic high — 23.5 percent of the income went to the top 1 percent of earners in 2007, a level not matched since the stock market crash of 1929. Extreme as that is, the situation is even more dramatic in New York City where in 2007 the top 1 percent received 44 percent of income, up from only 12 percent in 1980. Among the 50 largest cities in the U.S., New York City ranks worst with respect to inequality of household income.
It is in this climate in which the youth have struggled to find jobs, as a new crop of recent graduates compete with those who have been searching for employment since the financial crisis. Harvard economist Richard Freeman recently called the current crop of young workers a ​"lost generation" whose would-be careers and earnings were scarred by the recession.

In fact, 2010 Census data released last week found that employment figures for youth ages 16-29 are at their lowest levels since the end of World War II — just 55.3 percent. Men without college degrees have been hit hard by lack of jobs due to declines in industries such as construction and manufacturing.

But college graduates – even those with Ivy League degrees – are struggling. Many educated young adults are finding menial jobs to pay the bills since they are unable to find career track entry-level jobs. The New York Times dubbed them ​"Generation Limbo" and reports that some have become the now 1 in 8 Americans who rely on food stamps. Others are on welfare. Worldwide, the recession was said to have driven 64 more million people into extreme poverty, according to a 2010 World Bank report.

Student loan debt has also outpaced credit card debt for the first time, with grim results. Average student debt for a four-year college graduate has reached $24,000. Yet only 56 percent of college graduates last year were able to find a job, according to a Rutgers University study.

One report shows pictures of posters written by some of the young adults displaying how much they owe in student debt. The protest organizers' Tumblr website shows a number of online supporters holding hand-written statements about their own student debt burdens.

High rates of unemployment and underemployment have also caused a 25 percent increase of young adults between 25-34 who are now living with their parents since the recession began, for total of 5.9 million.

It's too premature to say that reverberations from unrest abroad have finally descended onto American soil. But the demonstrations continue as anxiety grows over Europe's debt crisis and its potential to hamper the fragile U.S. recovery efforts. Any default in a Eurozone country will likely cause a ripple effect, exacerbating more inequalities. Nouriel Roubini, the New York University economist who predicted the housing collapse and subsequent recession, said last week that he foresees more U.S. unrest in the future.

In contrast to the doom-and-gloom scenario, others see this moment as an opportunity. Journalist Chris Hedges referred to the protesters as ​"where the hope of America lies." Reuters Anthony DeRosa added that it ​"could inspire others in America to find the will and motivation to finally stop allowing themselves to be taken advantage of."

The protests were seemingly written off as just another spectacle, with the crux of youth concerns being swept under the rug. But around the world, more and more economies are faltering and drawing even more scorn from citizens of various countries. The protest in New York is still taking shape, but whatever happens in lower Manhattan, the underlying troubles of today's youth are hard to ignore.