Oil work­ers in mul­ti­ple states around the coun­try, as In These Times has report­ed over the last two weeks, are on strike for the first time in a decade. One of the cen­tral loca­tions for this strike has been Cal­i­for­nia, where work­ers at mul­ti­ple loca­tions have been on the pick­et line.
Jim Payne is finan­cial sec­re­tary of Unit­ed Steel­work­ers Local 5, the union for oil work­ers in north­ern Cal­i­for­nia, includ­ing the struck Tesoro Gold­en Eagle Refin­ery. Tra­cy Scott is a rank-and-file work­er at the refin­ery, cur­rent­ly on leave to work for the local as a staff representative.
How did the strike come about and what are the issues the union is strik­ing over?
Payne: The com­pa­nies had been mak­ing eco­nom­ic pro­pos­als, but they weren't address­ing any of our pro­pos­als on fatigue risk man­age­ment, con­trac­tor facil­i­ty main­te­nance or health and safe­ty. They were also unwill­ing to accept our ​"no ret­ro­gres­sion" clause, which has been in our con­tracts for years. That clause pro­tects our lan­guage about suc­ces­sor­ship, safe­ty, plant clo­sures, lay­offs and rate reten­tion. We're just not will­ing to go back­wards on those things.
In the last hour before the con­tract expired, the com­pa­ny walked away from the table and was unwill­ing to con­tin­ue talk­ing. It left our nation­al lead­ers no choice but to start the strike at nine loca­tions nation­wide, and this past Sat­ur­day at a cou­ple of oth­er loca­tions as well.
We're strik­ing three Tesoro refiner­ies on the west coast, the Shell Deer Park refin­ery and chem­i­cal plant are out, three Marathon plants are out and one Lyon­dell­Basell. Now two BP plants have been added. They're def­i­nite­ly the ones with all the resources. It's been 35 years since we've been on strike, so we don't take strikes light­ly. But some­times you've got to do what you've got to do.
It feels a lot like David and Goliath. They con­tin­ue to oper­ate their plants, although not as safe­ly and effi­cient­ly as when our mem­bers are oper­at­ing them. They're still mak­ing mon­ey, even though our folks aren't in there.
You're a work­er at the refin­ery here, Ter­ry. What does it mean to be on strike?
Scott: I've been an employ­ee since 2000. I was an oper­a­tor in a hydro pro­cess­ing unit. We basi­cal­ly process feed stock and take the nitro­gen, sul­fur and met­als out of it. Then it goes to a ​"cat crack­er," which turns it into gaso­line and oth­er components.
Strik­ing means fac­ing all the hard­ships any fam­i­ly would expect to see with­out a job. As a union, we tell our mem­bers to save and be pre­pared. We have a real­ly young work­force, though, and they're not as much into sav­ing as they are into liv­ing, so that con­cerns us. But we have a strike and defense fund that will help those who need it to get through this. We're doing pret­ty well right now.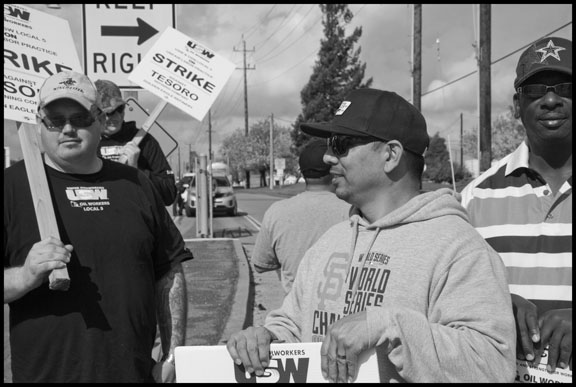 Is the Gold­en Eagle refin­ery oper­at­ing right now?
Payne: Any time we serve strike notice, we offer the com­pa­ny a safe and order­ly shut­down. Tesoro here accept­ed the offer, so we nego­ti­at­ed a process and then took the plant down sequen­tial­ly. The com­pa­ny is still oper­at­ing por­tions of the plant as a ter­mi­nal, tak­ing prod­uct in and send­ing prod­uct out. But they're not man­u­fac­tur­ing any product.
Gold­en Eagle is the only one shut down this way. Tesoro Ana­cortes and Tesoro Car­son are still oper­at­ing. We made sure we were strik­ing over unfair labor prac­tices. Because of that the com­pa­ny can't replace our folks per­ma­nent­ly. But they can replace us on a tem­po­rary basis, and at all the oth­er ten loca­tions man­age­ment is con­tin­u­ing to oper­ate the plants.
What does ​"no ret­ro­gres­sion" mean, and how does it affect rank and file workers?
Payne: The most impor­tant agree­ment that's cov­ered in our ​"no ret­ro­gres­sion" lan­guage is suc­ces­sor­ship. That means that if a facil­i­ty is sold, it's sold with a con­tract and the new own­er has to hon­or it. With­out that lan­guage, the new own­er would­n't have to hire the employ­ees at that loca­tion. We've had a num­ber of loca­tions sold over the past years. I can imag­ine how bad it would have been if that lan­guage had­n't been there. The Tesoro refin­ery itself was sold sev­er­al times. The last two times it was sold with the suc­ces­sor lan­guage in place, so the con­tract went with it.
Scott: Hav­ing gone through three sep­a­rate own­ers, it's extreme­ly impor­tant that we're pro­tect­ed in those events. The fact that the com­pa­nies haven't want­ed to put ​"no ret­ro­gres­sion" on the table is pret­ty telling about where they're com­ing from. Based on my own union involve­ment, with­out the pro­tec­tions of the suc­ces­sor­ship lan­guage, chances are I would­n't be there.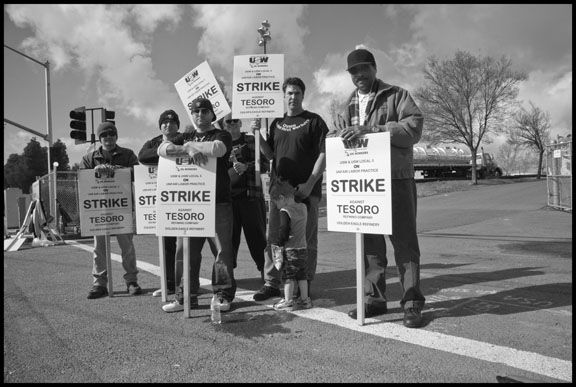 In the Bay Area in the last 35 years since the last strike, we've seen a num­ber of indus­tri­al acci­dents, some of them pret­ty hor­ri­fy­ing. What does the health and safe­ty lan­guage in the con­tract mean in terms of the actu­al safe­ty of peo­ple on the job in the refiner­ies and in the com­mu­ni­ties around them?
Payne: One of our cur­rent pro­pos­als is on fatigue risk man­age­ment. We agreed three years ago to adopt the Amer­i­can Petro­le­um Insti­tute rec­om­mend­ed prac­tice #755, which lays out a max­i­mum num­ber of days and hours. But com­pa­nies manip­u­late the sched­ule to take advan­tage of excep­tions in these rec­om­men­da­tions. If a refin­ery is well-staffed, meet­ing those stan­dards isn't that dif­fi­cult. But when you have a com­pa­ny run­ning with a skele­ton crew, it's harder.
So when they start manip­u­lat­ing peo­ple's sched­ules to meet an arbi­trary guide­line, it cre­ates even more fatigue for them. When they had the explo­sion in Texas City, the Bak­er pan­el report said fatigue was one of the fac­tors that led to it. A lot of things that go wrong in this indus­try can be con­nect­ed to fatigue.
Scott: We've been after the indus­try around health and safe­ty since for­ev­er. This time we put out some real­ly seri­ous pro­pos­als and we find it dif­fi­cult to accept that the com­pa­nies only want to address the finan­cial por­tion of the con­tract. Yes, every­body wants bet­ter wages, but our intent was to nego­ti­ate for a safer work­place this time. Most of the com­pa­nies' respons­es made no change. In essence they were just words on a sheet of paper that will have no effect out in the workplace.
How do the com­pa­nies' con­tract­ing out prac­tices affect health and safe­ty in the refinery?
Payne: We get a lot of spe­cif­ic train­ing on what we do out there. Con­trac­tors can be work­ing in one place one day, and then in anoth­er area the next. They get only a basic lev­el of train­ing to come into the refin­ery. Over the years the com­pa­nies have com­pen­sat­ed for the attri­tion of the USW mem­ber­ship by back­fill­ing with con­trac­tors. The lev­el of train­ing has obvi­ous­ly dropped off because of that. Where the com­pa­nies have con­trac­tors who have been on the job a year or more, we want them to fill these posi­tions through com­pa­ny hires. Rely­ing on a bet­ter trained pro­pri­etary employ­ee would give us bet­ter plant safety.
We actu­al­ly had two inci­dents [occur] in a rel­a­tive­ly short peri­od of time. Two pro­pri­etary employ­ees were burned with acid, and a month and a half lat­er the same thing occurred with con­trac­tors. The com­pa­ny can­celled a safe­ty pro­gram in the years before. We've seen the health and safe­ty reg­u­la­to­ry data, and the num­bers are going up. A safer work envi­ron­ment for our mem­bers dove­tails with what's pro­vid­ed for the com­mu­ni­ty. If the front­line work­ers are safe, then the com­mu­ni­ty is safe. I think the com­mu­ni­ty appre­ci­ates that, and it's why we've had peo­ple com­ing out and sup­port­ing us.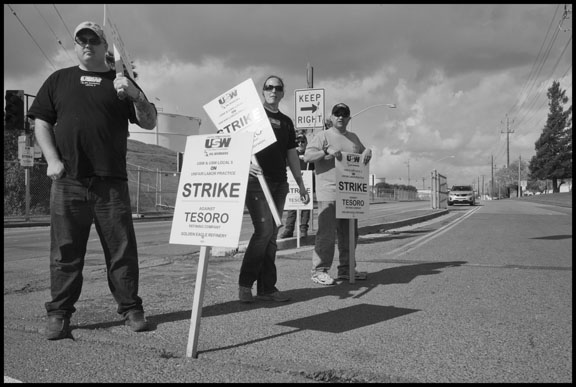 In the Bay Area the refiner­ies are all locat­ed in the mid­dle of urban areas with lots of peo­ple liv­ing around them.
Payne: If I were liv­ing in those com­mu­ni­ties and our lan­guage pro­tec­tions were stripped away I'd be con­cerned. We're see­ing a lot of envi­ron­men­tal and com­mu­ni­ty orga­ni­za­tions on the pick­et lines, but I don't think the gen­er­al pub­lic has as good a grasp on our issues. Most peo­ple assume that work­ers go on strike for more mon­ey. But here mon­ey isn't real­ly the issue here. We have let­ters of agree­ment that pro­vide health and safe­ty reps and oth­er pro­grams that have made things safer. With­out the ​"no ret­ro­gres­sion" pro­vi­sion in the con­tract those could all go away.
Tra­cy, how are you par­tic­i­pat­ing in the local nego­ti­a­tions? As a rank-and-file work­er, can you bring in your expe­ri­ence of these health and safe­ty issues?
Scott: I get time off from work to par­tic­i­pate. Our con­tract pro­vides leave for peo­ple to do this, up to a year at a time, with exten­sions. Health and safe­ty is where it starts for us, but on a local lev­el we're not talk­ing about the pol­i­cy ques­tions that have us out on strike, and at the nation­al table the com­pa­nies aren't even giv­ing them seri­ous con­sid­er­a­tion. They just want these issues to go away. But it's not the ​'60s and ​'70s any­more, and we're not going for it. We all go to work to make a liv­ing, but in mak­ing a liv­ing we all want to come home.