On Air With Black America
Chicago's only black-owned talk radio station gives voice to a complex people still struggling to be heard.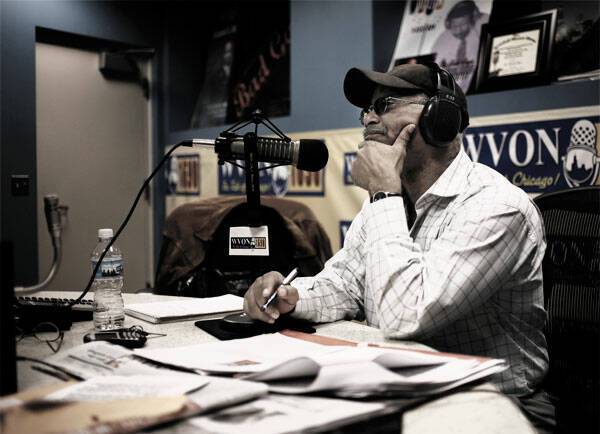 Good evening, you're talk­ing to Sal­im Muwakkil on 1690 WVON. What's on your mind?" I ask.
Callers' mistrust of white America is deep; some of it can be attributed to many listeners' familial links to the South and its tradition of overt and and brutal racism.
"The elec­tion of Barack Oba­ma is the worst thing to ever hap­pen to black peo­ple in Amer­i­ca," the caller snarls. ​"He's a per­fect Tro­jan Horse for Amer­i­can impe­ri­al­ism and cor­po­rate con­trol. What do you think?"
That kind of ques­tion is typ­i­cal fare on The Sal­im Muwakkil Show, broad­cast every Sat­ur­day night by Chicago's only black-owned radio sta­tion. These days, one year after the nation's first black pres­i­dent took office, callers make it clear that African-Amer­i­cans are divid­ed sharply on Obama's performance.
Most are reluc­tant to crit­i­cize a man who inher­it­ed mas­sive eco­nom­ic and mil­i­tary morass­es from his pre­de­ces­sor – and who is, like them, both black and from Chica­go. But oth­ers, like the caller quot­ed above, blame Oba­ma for offer­ing cov­er to the U.S. war machine. This crit­i­cal per­spec­tive was assert­ed by a group called the ​"Black is Back Coali­tion," which orga­nized a Novem­ber ral­ly and march in Wash­ing­ton, D.C., to protest the for­eign and domes­tic direc­tion of the Oba­ma administration.
Many callers reflect black Amer­i­cans' gen­er­al unease with mil­i­tary adven­tures and their wari­ness of esca­lat­ing hos­til­i­ties in Afghanistan. But few are will­ing to join groups like the Black is Back Coali­tion – yet.
As a writer con­cerned with the state of black Amer­i­ca, my expe­ri­ence as a WVON-AM talk show host pro­vides me with an organ­ic link to the black com­mu­ni­ty and its most urgent concerns.
In recent months, the top­ic of youth vio­lence has monop­o­lized dis­cus­sion on my show. This furor was sparked by the Sep­tem­ber 28 video­taped fatal beat­ing of 16-year-old stu­dent Der­rion Albert.
"It's the par­ents' fault; plain and sim­ple, end of sto­ry," one caller says suc­cinct­ly. Many oth­ers agree, blam­ing the offend­ers' par­ents, par­tic­u­lar­ly absent fathers, for fail­ing to pro­vide nec­es­sary guidance.
Oth­ers call in to defend their heroes.
"Hel­lo, this is Alice. What I want to say is, I can't under­stand why so many black men hate Oprah. It is ridiculous."
"I under­stand what you're say­ing," I reply. ​"She's so suc­cess­ful. She's an easy tar­get. But then, she focus­es a lot of her crit­i­cism on black men in ways some men think aren't use­ful to them. I don't par­tic­u­lar­ly agree with that cri­tique, but that is what peo­ple say about her."
These days, when the most suc­cess­ful radio hosts are usu­al­ly insult­ing and abra­sive, it's the rare show that attempts to respect callers. I try to build an audi­ence by chal­leng­ing people's views with­out dis­miss­ing or belit­tling their arguments.
Some media the­o­rists say I have it all wrong, that right-wing radio attracts a large audi­ence because it eschews nuance and con­text. They may be right. But I think the future of our nation depends on them being wrong.
Across the spec­trum – and beyond
Chicago's WVON is one of the few sta­tions in Chica­go fea­tur­ing a steady diet of pro­gres­sive fare, though it does attempt to pro­vide ide­o­log­i­cal bal­ance by broad­cast­ing con­ser­v­a­tive com­men­ta­tor Charles Butler's evening show every weeknight.
Though many callers express views that could eas­i­ly be called con­ser­v­a­tive, most are pro­gres­sive, at least nom­i­nal­ly. Many strong­ly sup­port sin­gle-pay­er health­care, and strength­en­ing the social safe­ty net in general.
I have reg­u­lar callers who are con­vinced that white Amer­i­ca has black geno­cide on its agen­da. Their mis­trust is deep; some of it can be attrib­uted to famil­ial links to the South and its tra­di­tion of overt and bru­tal racism. Even a black pres­i­dent can't dis­lodge that kind of gen­er­a­tional mistrust.
Anti-immi­gra­tion sen­ti­ments are com­mon; ​"they're being import­ed to take our jobs," is a typ­i­cal com­plaint. My argu­ments to the con­trary have changed some minds, but oth­ers stub­born­ly hold their posi­tion. I keep trying.
The tra­di­tion­al right-left polit­i­cal spec­trum doesn't quite apply here. I've spo­ken to a left-lean­ing black nation­al­ist who sup­ports a health­care ​"pub­lic option," but oppos­es abor­tion as ardent­ly as any right-to-lif­er. I've debat­ed ded­i­cat­ed union mem­bers who agree with white Min­ute­men that undoc­u­ment­ed work­ers should be sum­mar­i­ly deport­ed. I have a reg­u­lar caller who grew up in an orphan­age but now runs an inner-city box­ing club that men­tors and coun­sels youth. He is a Mormon.
Yes, the station's tar­get audi­ence is a bit old­er than the youth­ful demo­graph­ic cov­et­ed by com­mer­cial music sta­tions, but WVON does attract some young lis­ten­ers. One of my reg­u­lar callers is Rhymefest, the 32-year-old Chica­go rap­per who co-wrote Kanye West's pop­u­lar 2004 song ​"Jesus Walks."
The black metropolis
Con­text is cru­cial to under­stand­ing this polit­i­cal­ly com­plex com­mu­ni­ty of lis­ten­ers and callers.
Chica­go is home to the largest black nation­al­ist groups in the nation, includ­ing Louis Farrakhan's Nation of Islam and the Nation­al Black Unit­ed Front. The city is also a cen­ter of pro­gres­sive activism; the Black Rad­i­cal Con­gress, a near-defunct group­ing of pro­gres­sive black activists, aca­d­e­mics and jour­nal­ists, was born here. Addi­tion­al­ly, the Rev. Jesse Jackson's Rainbow/​PUSH Coali­tion (for­mer­ly Oper­a­tion PUSH) is Chica­go-based and still fight­ing the good fight as an advo­cate for the poor and a clear­ing­house for much need­ed social services.
And the city is home to a num­ber of large black church­es and an influ­en­tial corps of cler­gy­men, includ­ing two who gained nation­al expo­sure dur­ing Obama's pres­i­den­tial cam­paign. The infa­mous Rev. Jere­mi­ah Wright of Trin­i­ty Unit­ed Church of Christ mar­ried and min­is­tered the Oba­ma fam­i­ly. Father Michael Pfleger of St. Sabi­na Church, a fiery Catholic priest and social activist who hap­pens to be white, gained some media atten­tion for his mock­ing por­tray­al of can­di­date Hillary Clinton.
This rich ide­o­log­i­cal land­scape accounts for a dizzy­ing array of ideas and emo­tions in the black com­mu­ni­ty, a dis­course that finds expres­sion on WVON.
The sta­tion has a well-earned rep­u­ta­tion for orga­niz­ing griev­ances and bring­ing ener­gy to polit­i­cal move­ments; it was the 2002 win­ner of the cov­et­ed Studs Terkel Award from Chicago's Com­mu­ni­ty Media Work­shop – the only media out­let ever to win the award.
Orig­i­nal­ly a music sta­tion owned by Phil and Leonard Chess (of the leg­endary Chess Records), leg­endary Chica­go jour­nal­ist Wes­ley South* con­vert­ed WVON into an all-talk for­mat in 1986, in the midst of the re-elec­tion cam­paign of Harold Wash­ing­ton, Chicago's first black may­or. The sta­tion played a major role in Washington's two trail­blaz­ing elec­tions and has been an influ­en­tial voice in black Chica­go pol­i­tics ever since.
Today, three years after WVON upgrad­ed its sig­nal strength and began broad­cast­ing 24 – 7, Chicago's black polit­i­cal elite and the city's most mobi­lized black vot­ers are reg­u­lar lis­ten­ers. Illi­nois politi­cians from both par­ties avid­ly seek inter­views with the station's dri­ve-time hosts.
In a media envi­ron­ment clut­tered with right-wing rants and polar­iz­ing pun­dits – or main­stream out­lets that most­ly ignore black Amer­i­ca alto­geth­er – WVON offers a brac­ing, com­plex alter­na­tive. Instead of false ide­o­log­i­cal sym­me­try, you get a com­plex reflec­tion of a peo­ple still strug­gling with a lega­cy of exclu­sion, but look­ing toward an empow­ered future. You get a radio sta­tion with enor­mous potential.
The Sal­im Muwakkil Show can be web-streamed live at www​.WVON​.com, on Sat­ur­days from 7 to 10 p.m.
*Editor's note: On Jan. 9, 2010, Wes­ley South, the 95-year-old chair­man emer­i­tus of WVON's par­ent com­pa­ny and a pio­neer of black talk radio, died in Chica­go. The radio station's obit­u­ary is avail­able here.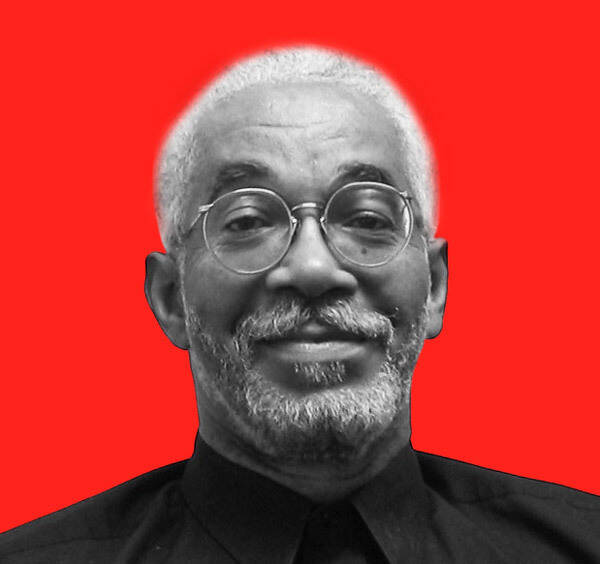 Sal­im Muwakkil
is a senior edi­tor of
In These Times
, where he has worked since
1983
. He is the host of The
Sal­im Muwakkil
show on WVON, Chicago's his­toric black radio sta­tion, and he wrote the text for the book
HAROLD: Pho­tographs from the Harold Wash­ing­ton Years
.