On Verge of Victory in New York, Cuomo Announces War Against Unions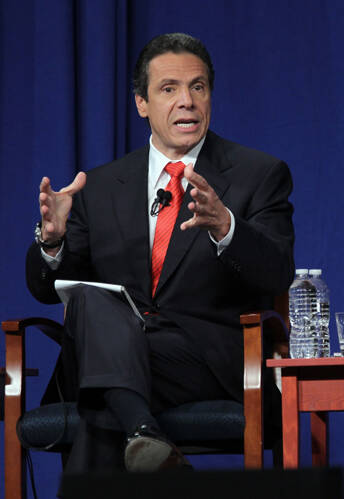 We wanted to make sure you didn't miss the announcement of our new Sustainer program. Once you've finished reading, take a moment to check out the new program, as well as all the benefits of becoming a Sustainer.

The latest polls suggest Democratic candidate Andrew M. Cuomo will become New York's next governor after next Tuesday's election. But his recent statements spurning big labor should leave many unions worried when he takes office.

Cuomo, the current state attorney general, told the New York Times on Sunday that he plans to take on labor and special interests who have incapacitated the state government with their disproportionate amount of influence. ​"We've seen the same play run for 10 years," Cuomo tells the paper. ​"The governor announces the budget, unions come together, put $10 million in a bank account, run television ads against the governor. The governor's popularity drops; the governor's knees weaken; the governor falls to one knee, collapses, makes a deal."

According to the article, the political scion believes that labor and their campaign money ​"bullied previous governors and lawmakers into making bad decisions." Instead, he hopes to strengthen his ties with the state's business and corporate leaders who, according to him, have been marginalized by unions.
The interview was part of Cuomo's larger policy outline for how he intends to fix a state grappling with a budget deficit, political gridlock and scandals. He hopes to do that by ending political entitlements, and his inclusion of unions in the criticism suggests that labor has recently become more of an opposition than ally. Despite pocketing campaign contributions from labor in the run-up to the election, he has increasingly strengthened his tone against unions.

Cuomo has a tendency to accept contributions from groups he criticizes. But unions – one of the several special interests he singles out – have played an integral part in election efforts by bankrolling his campaign. Heading into June, unions gave Cuomo more than $1.4 million to battle controversial Republican candidate Carl Paladino.

At the time, half of Cuomo's $7.1 million campaign contributions came from organized labor, real estate, healthcare and lobbyists. And some of his largest benefactors were unions, including the United Food and Commercial Workers International Union ($53,000) and the Local 32BJ of the Service Employees International Union ($45,500).

But in recent weeks, he has become more critical of unions. On Labor Day this year, Cuomo penned an op-ed piece in the New York Daily News asking for labor concessions. He cited a recently published book highlighting the sacrifices by public labor leaders during the 1973 state fiscal crisis when unions agreed to a pay freeze to avert bankruptcy.

​"Similar to 35 years ago, I suggest that today is another moment in time where the public sector (along with everyone else) must make sacrifices for the common good," he wrote.

Jonathan Tasini at Working Life notes that Cuomo has the tendency to slam unions at the whim of campaign contributions, but he says the Times' catchy anti-union headline may have been just hyperbole:
"t seemed to me that he was basically tooting his horn as a ​'I'm going to take on the whole system'. The first paragraph – which claims he said he was going to mobilize the business community to take on labor – isn't supported by the rest of the story. It may in fact be true – and it rings true. But, something is missing."
With his recent comments, Cuomo joins a chorus of public officials who have spoken out against public sector unions. Critics say their labor costs, especially pensions, have outstretched the budget. Reports by New York State Public Employees Federation say that pension contributions have been declining for four years heading into 2009.

Cuomo's sudden change just ahead of the elections is an unsettling note for labor, but not surprising considering the criticism unions have undertaken recently. The Times notes one lesson Cuomo learned from former Governor George E. Pataki's election after he won by seizing voter anger in 1994: ​"Lesson from Pataki's success is: Use the political moment."
Be a Sustainer
We surveyed thousands of readers and asked what they would like to see in a monthly giving program. Now, for the first time, we're offering three different levels of support, with rewards at each level, including a magazine subscription, books, tote bags, events and more—all starting at less than 17 cents a day. Check out the new Sustainer program.