One Pussy Riot Member Goes Free; Tough Luck for the Other Two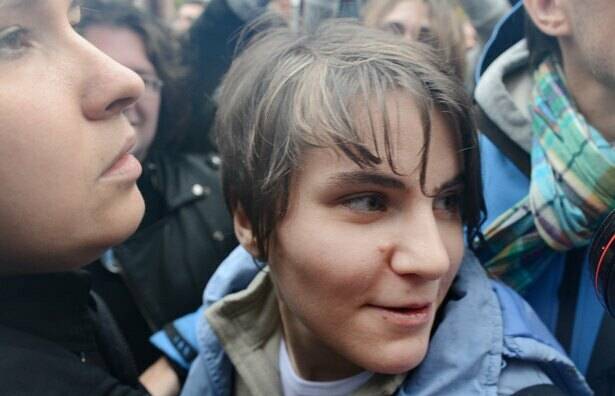 This morn­ing, a Russ­ian appeals court freed Yeka­te­ri­na Samut­se­vich, one of three mem­bers of the punk band Pussy Riot
&
nbsp;jailed for a pub­lic protest against Pres­i­dent Vladimir Putin. But the courts upheld the
2
‑year prison sen­tence for the remain­ing two mem­bers, Nadezh­da Tolokon­niko­va and Maria Alyokhi­na.
&
nbsp;
&
nbsp;
In August, the three women were
&
nbsp;con­vict­ed of hooli­gan­ism
&
nbsp;"moti­vat­ed by reli­gious hatred" and sen­tenced to two years in a penal colony. The band's offense was a Feb­ru­ary per­for­mance of a
&
ldquo;punk prayer
&
rdquo; in Moscow
&
rsquo;s Cathe­dral of Christ the Sav­ior, in which they called upon the Vir­gin Mary to rid Rus­sia of
&
nbsp;Putin, who was head­ing into a March elec­tion that would win him his third term as Pres­i­dent of Rus­sia. (Because Russ­ian law only allows two con­sec­u­tive terms as pres­i­dent, Putin was serv­ing a term as prime min­is­ter at the time to cir­cum­vent this pro­vi­sion.) Today
&
rsquo;s appeal was post­poned from Octo­ber
1
after Samut­se­vich fired her defense lawyers. The women argued in court this morn­ing that their
&
ldquo;punk prayer
&
rdquo; per­for­mance was a polit­i­cal protest, not an assault on reli­gion. The
&
nbsp;Asso­ci­at­ed Press reports that, from inside a glass box known as the ​
"
aquar­i­um,
&
rdquo; Samut­se­vich told the court: If we unin­ten­tion­al­ly offend­ed any believ­ers with our actions, we express our apolo­gies.
&
hellip; The idea of the protest was polit­i­cal, not reli­gious.
&
hellip; In this and in pre­vi­ous protests we act­ed against the cur­rent gov­ern­ment of the pres­i­dent, and against the Russ­ian Ortho­dox Church as an insti­tu­tion of the Russ­ian gov­ern­ment, against the polit­i­cal com­ments of the Russ­ian patri­arch. Exact­ly because of this I don't con­sid­er that I com­mit­ted a crime. While the court upheld the guilty ver­dict for all three women, it sus­pend­ed the sen­tence for Samut­se­vich after her lawyer, Iri­na Khruno­va, argued that she played a small­er role in the protest, stat­ing, ​
"
The pun­ish­ment for an incom­plete crime is much lighter than for a com­plet­ed one.
&
hellip; She did not par­tic­i­pate in the actions the court found con­sti­tut­ed hooli­gan­ism."
&
nbsp; Hir­ing new defense may have been the key to free­dom for Samut­se­vich, but her band­mates are due to fin­ish out their two-year sen­tences, despite sim­i­lar appeals. Tolokon­niko­va told the courts, ​
"
I don't con­sid­er myself guilty. But again I ask all those who are lis­ten­ing to me for the last time: I don't want peo­ple to be angry at me. Yes, I'm going to prison, but I don't want any­one to think that there is any hatred in me." Defense lawyers plead­ed for the court to keep in mind that Tolokon­niko­va and Alyokhi­na each have a young child at home, but to no avail. The judge inter­rupt­ed the defen­dants when they men­tioned their polit­i­cal inten­tions. But the women were per­sis­tent in their strug­gle against the sup­pres­sion of polit­i­cal speech. As Alyokhi­na said,
&
ldquo;We will not be silent. And even if we are in Mor­dovia or Siberia (where pris­on­ers in Rus­sia are often sent to serve out their terms) we won't be silent."
&
nbsp;