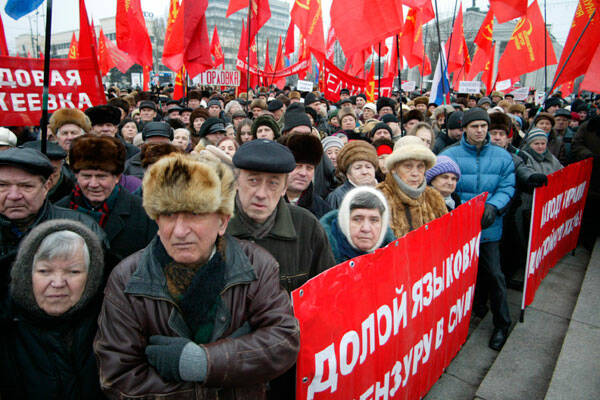 KIEV, Ukraine – As the glob­al finan­cial cri­sis inten­si­fies, some jour­nal­ists have begun plac­ing bets on which coun­try is like­ly to crack first and dis­solve into anar­chy. If you're into that sort of thing, the smart mon­ey might be on Ukraine, a nation with a gov­ern­ment that was bor­der­line dys­func­tion­al and an econ­o­my that was unsus­tain­able even before the finan­cial firestorm hit.
Ukraine's economy has tanked, its banks are paralyzed and millions have lost their livelihoods. Everyone has a story of a lost job, overdue loans or inaccessible life savings.
Ukraine's econ­o­my has gone into a nose­dive, its bank­ing sys­tem is par­a­lyzed and mil­lions of peo­ple have lost their liveli­hoods in recent months. Every­one has a sto­ry of a lost job, over­due loans or life sav­ings frozen in inac­ces­si­ble bank accounts.
One man, a laid-off Kiev con­struc­tion work­er, says he has sent his fam­i­ly to live with rel­a­tives in the coun­try­side, assum­ing that at least there will be some­thing to eat. That's a chill­ing echo from the depths of Ukrain­ian history.
But it's the polit­i­cal dra­ma that keeps grab­bing everyone's atten­tion. Appar­ent­ly obliv­i­ous to the gal­lop­ing cri­sis, the for­mer heroes of the Orange Rev­o­lu­tion, Prime Min­is­ter Yulia Tymoshenko and Pres­i­dent Vik­tor Yushchenko, are locked in a bureau­crat­ic trench war that only one of them will sur­vive. Any anti-cri­sis mea­sure tak­en by one is imme­di­ate­ly con­tra­dict­ed by the oth­er: Pres­i­den­tial appointees are struck down by the Tymoshenko-led par­lia­ment, while region­al lead­ers across the sprawl­ing and deeply divid­ed for­mer Sovi­et coun­try of 50 mil­lion increas­ing­ly take local eco­nom­ic mat­ters into their own hands.
"It's a war of all against all," says Dmytro Vydrin, an inde­pen­dent deputy of the Supreme Rada, Ukraine's par­lia­ment. ​"Our best hope at this point is that chaos will win out over ill-inten­tions, because the worst thing will be if one group wins and estab­lish­es a monop­oly of power."
Yushchenko and Tymoshenko are jock­ey­ing for posi­tion in advance of pres­i­den­tial elec­tions, due by the end of 2009. Few doubt that the fiery, ambi­tious Tymoshenko wants to be pres­i­dent, and many believe she has the mak­ings of a Ukrain­ian ver­sion of Russia's tough leader, Vladimir Putin.
"Tymoshenko is the only Ukrain­ian leader with real charis­ma, and the dri­ve to take and mold pow­er for her own pur­pos­es," says Vik­tor Nebozhenko, a soci­ol­o­gist and for­mer advis­er to Tymoshenko. ​"She's very strong, she can make peo­ple do what she wants, and she looks very like­ly to win."
But the show­down might come much soon­er than any­one expects. Experts warn that default on Ukraine's $105 bil­lion for­eign debt is immi­nent, despite an emer­gency loan of $16.4 bil­lion obtained from the Inter­na­tion­al Mon­e­tary Fund last autumn.
The nation­al cur­ren­cy, the Gryv­na, has lost 50 per­cent of its val­ue since last sum­mer, dri­ving up the cost of imports and rapid­ly inflat­ing the U.S. dol­lar-denot­ed debts held by most Ukrain­ian companies.
As a result of January's gas accord with Rus­sia, Ukraine's ener­gy-inten­sive econ­o­my will now have to pay $360 per thou­sand cubic meters of gas, rough­ly dou­ble last year's price. The vast east­ern Ukrain­ian steel and chem­i­cal mills that account for a third of the country's GDP are report­ing mas­sive slow­downs, and many of these Sovi­et-era indus­tries may not sur­vive the shock of increased ener­gy costs.
About 1 mil­lion of Ukraine's 20 mil­lion work­ers are cur­rent­ly unem­ployed, but mil­lions more have report­ed­ly been forced to take wage cuts, short­er hours or unpaid leave. Many experts are pre­dict­ing mass social protests will erupt in com­ing months as the sit­u­a­tion grows intolerable.
In a 24-page inter­nal memo leaked to the Ukrain­ian media, Finance Min­is­ter Vik­tor Pynzenyk warned in late Jan­u­ary that Ukraine's econ­o­my is on the verge of col­lapse: ​"We have entered an extreme­ly seri­ous and deep cri­sis. Ukraine's [eco­nom­ic] sit­u­a­tion is the worst in the world."
Pub­li­ca­tion of that sober­ing assess­ment served only to inten­si­fy the mutu­al death-grip between the pres­i­dent and prime min­is­ter. Yushchenko took to the air­waves in late Jan­u­ary to blame it all on the ​"pop­ulism" of Tymoshenko, whose 2009 bud­get incurs a huge deficit to pay pub­lic sec­tor wages, pen­sions and oth­er social oblig­a­tions. As a result of her ​"irre­spon­si­bil­i­ty," Yushchenko charged, ​"salaries, pen­sions and stipends will no longer be paid … all this can bring about a social catastrophe."
Tymoshenko snapped back the next day: ​"The so-called tele­vised address to the nation of Yushchenko is a mix­ture of false­hood, pan­ic and hys­te­ria. Every­one can see that the pres­i­dent is not the kind of leader they need when Ukraine is reel­ing under the blows of the glob­al eco­nom­ic crisis."
Cul­tur­al split
It wasn't always like this. Dur­ing the Orange Rev­o­lu­tion in 2004, Tymoshenko and Yushchenko worked togeth­er to defeat a Russ­ian-backed attempt to rig pres­i­den­tial elec­tions in favor of the east­ern-Ukraine based leader Vik­tor Yanukovych.
Dur­ing weeks of protests in Kiev's freez­ing main square, it was usu­al­ly Tymoshenko, a pas­sion­ate ora­tor, who would warm up the crowd before turn­ing the stage over to the more mea­sured and cere­bral Yushchenko. But fol­low­ing Yushchenko's elec­tion as pres­i­dent, the two quick­ly fell out, and with­in a year Yushchenko dis­missed her from the prime minister's job.
In three par­lia­men­tary elec­tions since then, Tymoshenko has clawed her way back to pow­er main­ly by wrest­ing votes away from Yushchenko's sup­port­ers. She now heads the gov­ern­ment as leader of a frag­ile major­i­ty coalition.
Some observers fear that Ukraine may be fac­ing its ​"1993 moment," a ref­er­ence to the extend­ed post-Sovi­et bat­tle between Russia's left-wing par­lia­ment and West­ern-backed Pres­i­dent Boris Yeltsin, which end­ed with pro-Krem­lin troops and tanks dis­pers­ing the leg­is­la­ture amid a bloody mini-civ­il war in Moscow. Yeltsin used his vic­to­ry to rewrite Russia's con­sti­tu­tion to vest the lion's share of pow­er in the Krem­lin, and reduc­ing the new par­lia­ment, the Duma, to lit­tle more than a talking-shop.
Yeltsin's suc­ces­sor, Putin, was sub­se­quent­ly able to estab­lish a vir­tu­al dic­ta­tor­ship in Rus­sia with­out – until recent­ly – alter­ing a sin­gle word of that constitution.
By con­trast, Ukraine has mud­dled through its repeat­ed post-Sovi­et crises with a work­ing divi­sion of pow­ers between par­lia­ment and pres­i­dent – both elect­ed in gen­uine­ly con­test­ed polls – and a rel­a­tive­ly inde­pen­dent court sys­tem. This is part­ly due to the country's pro­found cul­tur­al split between the heav­i­ly ​"Rus­si­fied" indus­tri­al east and the nation­al­is­tic, Ukrain­ian-speak­ing agrar­i­an west.
The rel­a­tive bal­ance of forces between them has cre­at­ed per­ma­nent polit­i­cal grid­lock, but arguably pre­vent­ed either side from seiz­ing com­plete con­trol. An attempt to rig 2004 pres­i­den­tial elec­tions in favor of Yanukovych led to the Orange Rev­o­lu­tion, which ulti­mate­ly brought the West­ern-lean­ing Yushchenko to pow­er, pledg­ing to put Ukraine on a fast-track to join NATO and inte­grate with Europe.
But pub­lic opin­ion sur­veys show that about two-thirds of Ukraini­ans oppose join­ing NATO, and Moscow has warned that Kiev will cross a ​"red line" if it invites the West­ern mil­i­tary alliance into the heart­land of the for­mer Sovi­et Union.
Mount­ing unrest
The ongo­ing pop­u­lar­i­ty of Yanukovych's pro-Moscow Par­ty of Regions illus­trates the hold Rus­sia still has on much of Ukraine's elec­torate. Accord­ing to a Decem­ber poll by the Kiev-based Demo­c­ra­t­ic Ini­tia­tives Foun­da­tion, Yanukovych is Ukraine's lead­ing politician,¬†with 22.3 per­cent sup­port. Tymoshenko fol­lows with 14 per­cent, while Yushchenko has fall­en to just 2.2 percent.
In Jan­u­ary, Tymoshenko flew to Moscow and sealed a gas accord with Putin, end­ing a two-week shut­down that had left 18 Euro­pean nations – lit­er­al­ly – out in the cold. But Tymoshenko's ene­mies claim that, dur­ing sev­er­al hours of pri­vate talks with Putin, she made a sep­a­rate deal for Krem­lin sup­port in her upcom­ing pres­i­den­tial bid, alleged­ly agree­ing to shelve Ukraine's NATO aspi­ra­tions in return for help in win­ning votes in east­ern Ukraine.
That's pre­sum­ably what Yushchenko's chief of staff, Roman Bezs­mert­ny, was refer­ring to when he told jour­nal­ists: ​"Yulia Tymoshenko's cur­rent poli­cies show that she is hooked by Russ­ian secret ser­vices, which makes her resort to actions that threat­en Ukraine's nation­al security."
Vadim Karasy­ov, direc­tor of the inde­pen­dent Glob­al Strate­gies Insti­tute in Kiev, says, ​"Yulia under­stands that the Unit­ed States is very far away and pre­oc­cu­pied with its own prob­lems, and Rus­sia is very close at hand. She's just being practical."
As the cri­sis inten­si­fies, it seems increas­ing­ly like­ly that the final show­down may come as ear­ly as this spring, and it may not take the form of an elec­toral con­test. Social unrest is mount­ing, espe­cial­ly in the east­ern indus­tri­al regions, where the steel mills, chem­i­cal fac­to­ries and coal mines that pro­duce 30 per­cent of Ukraine's gross domes­tic prod­uct are grind­ing to a halt.
But dis­con­tent is also pal­pa­ble among the mid­dle class in Kiev – erst­while ardent back­ers of the Orange Rev­o­lu­tion – who are sud­den­ly find­ing that the ATM machines have stopped dis­pens­ing cash, the ser­vice sec­tor jobs are evap­o­rat­ing and the West has lost inter­est in Ukraine's fate.
"Mid­dle class dis­il­lu­sion­ment is extreme­ly dan­ger­ous, because these are the peo­ple most capa­ble of self-orga­ni­za­tion," says soci­ol­o­gist Nebozhenko. ​"Things are com­ing apart very fast, and I'm afraid this is all head­ed for a set­tle­ment in the streets."'ÄÉ
Fred Weir
is a Moscow cor­re­spon­dent for
In These Times
and reg­u­lar con­trib­u­tor to the
Chris­t­ian Sci­ence Mon­i­tor,
the
Lon­don Inde­pen­dent,
Cana­di­an Press
and the
South Chi­na Morn­ing Post.
He is the co-author of
Rev­o­lu­tion from Above: The Demise of the Sovi­et System.