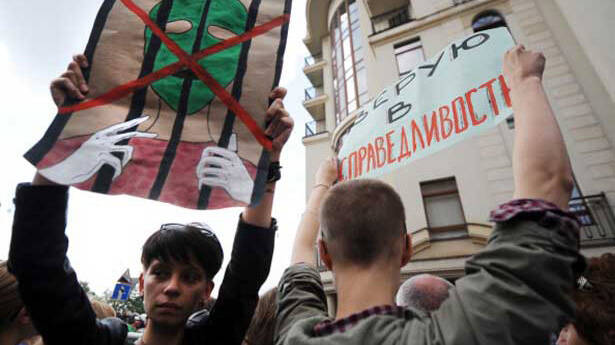 MOSCOW — Russ­ian sum­mer dol­drums were enlivened this year by the high-pro­file tri­al of three young women: Nadezh­da Tolokon­niko­va, Maria Alyokhi­na and Yeka­te­ri­na Samut­se­vich. Mem­bers of a rad­i­cal fem­i­nist ​"per­for­mance art" col­lec­tive named Pussy Riot, the three were ulti­mate­ly sen­tenced to two years in a penal colony for the ​"hate crime" of per­form­ing in a priests-only sec­tion of Moscow's pre­mier Ortho­dox cathe­dral an obscen­i­ty-laced ​"punk prayer" that called upon the Vir­gin Mary to rid Rus­sia of Vladimir Putin.
Pussy Riot, formed about a year ago, is a break­away group from Voina (War), whose polit­i­cal­ly charged (and some­times vicious) street the­ater since 2005 has includ­ed actions like throw­ing live cats over the counter in a Moscow McDon­ald's restau­rant ​"to break up the drudgery of the work­ers' dai­ly rou­tine," and paint­ing a giant penis on the side of a St. Peters­burg draw­bridge. They've had con­stant brush­es with Russ­ian law enforce­ment for activ­i­ties that have some­times caused gen­uine prop­er­ty dam­age, includ­ing the 2011 destruc­tion of a police vehi­cle with a Molo­tov cock­tail — which the group titled ​"Bon­fire of the Vanities."
But the Russ­ian gov­ern­ment had most­ly treat­ed them as a nui­sance, and it had nev­er before risked the expo­sure of a big pub­lic tri­al. Nor did Pussy Riot's ear­ly per­for­mances, includ­ing an impromp­tu anti-Putin ​"con­cert" in Red Square in Jan­u­ary, earn them more than brief deten­tions. Indeed, when the three women were escort­ed out of Moscow's Cathe­dral of Christ the Sav­ior last Feb­ru­ary 21 after per­form­ing their 40-sec­ond ​"punk prayer" in the near­ly emp­ty church, police ini­tial­ly let them go.
But some­thing in Rus­sia is chang­ing. Pol­i­tics had been fraught and uncer­tain ever since Putin announced last Sep­tem­ber that he was shoul­der­ing aside his anoint­ed suc­ces­sor, Dmit­ry Medvedev, and return­ing to the Krem­lin for an unprece­dent­ed third pres­i­den­tial term. In Decem­ber, the biggest pub­lic protests since the col­lapse of the Sovi­et Union broke out in Moscow and oth­er major cities over alleged mass fraud in elec­tions to the State Duma, Rus­si­a's low­er house of parliament.
And ear­li­er this year an unprece­dent­ed scan­dal broke out over the lav­ish lifestyle of Ortho­dox Patri­arch Kir­ill, whom blog­gers claimed owned, among oth­er things, a $30,000 Breguet watch. Kir­ill pub­licly denied that, and a pho­to of him wear­ing the time­piece on an offi­cial Ortho­dox web­site was air­brushed to remove it; a reflec­tion of the watch, how­ev­er, remained on the pol­ished oak table Kir­il­l's arm was rest­ing upon, and the retouched pho­to went viral. Amid all this, and in the heat of the pres­i­den­tial elec­tion cam­paign, Russ­ian media report­ed that Kir­ill had pub­licly embraced can­di­date Putin, describ­ing him as ​"a mir­a­cle from God" — despite the fact that Arti­cle 14 of the coun­try's Con­sti­tu­tion stip­u­lates that ​"the Russ­ian Fed­er­a­tion is a sec­u­lar state," and pre­cludes any overt polit­i­cal activ­i­ty by the Church.
Small won­der that Pussy Riot's brief song, whose lyrics were clear­ly obscene and might have been blas­phe­mous but were also an explic­it indict­ment of the polit­i­cal col­lu­sion between Putin and Kir­ill, appear to have hit more than one raw nerve at the sum­mit of Russ­ian pow­er. A video pro­duced with footage from the church per­for­mance got thou­sands of hits on YouTube in sub­se­quent days. After Putin's elec­tion in ear­ly March the three women were re-arrest­ed and charged with ​"hooli­gan­ism moti­vat­ed by reli­gious hatred," a very seri­ous charge that car­ries a poten­tial sen­tence of up to sev­en years' impris­on­ment. The case was pur­port­ed­ly ini­ti­at­ed by a com­plaint from the Moscow Patri­ar­chate, but the Church sub­se­quent­ly denied any involvement.
No one knows exact­ly who ordered the women to be arrest­ed and tried, or why. But most experts say the go-ahead had to have come from the Krem­lin. The cal­cu­la­tion may have been that Pussy Riot looked like the ide­al test case for a much wider crack­down on the protest move­ment that was to come. The women were rad­i­cal fem­i­nists, out­spo­ken sup­port­ers of gay rights, some of whom had a his­to­ry of tak­ing part in out­landish pub­lic per­for­mance art — includ­ing a 2008 sex orgy staged in a Moscow muse­um — who had open­ly mocked the Ortho­dox faith in the coun­try's pre­mier cathe­dral. Pub­lic opin­ion, which shift­ed very lit­tle dur­ing the tri­al, showed that more than 50 per­cent of Rus­sians believed their sen­tence was fair.
​"On the part of those who favor severe pun­ish­ment for the women, there is a feel­ing that the Pussy Riot action was just the tip of the ice­berg, part of a broad­er con­spir­a­cy to over­throw Putin through all kinds of protests," says Sergei Strokan, a colum­nist with the Moscow dai­ly Kom­m­er­sant. ​"Inside the sys­tem, there is a belief that these girls were not act­ing on their own. … This is not Putin against three girls. This is a sig­nal being sent out to all who chal­lenge Putin."
But as the tri­al devel­oped, and wound its way toward the inevitable tough, prison-sen­tence ver­dict, some unex­pect­ed things happened.
One was that pros­e­cu­tors, despite pos­sess­ing all of Pussy Riot's com­put­ers and hav­ing had five months to pre­pare their case — dur­ing which the three women remained in prison — failed to find any evi­dence of wider crim­i­nal con­spir­a­cy or intent. Hence the tri­al focused almost exclu­sive­ly on the hurt feel­ings of Ortho­dox believ­ers, and many of the ​"wit­ness­es" who tes­ti­fied had only seen the Pussy Riot per­for­mance on YouTube. The judge con­sis­tent­ly refused to hear the wom­en's argu­ment that their per­for­mance was a polit­i­cal protest, and the final ver­dict is couched almost entire­ly in reli­gious terms.
​"The Pussy Riot singers col­lud­ed under unestab­lished cir­cum­stances, for the pur­pose of offen­sive­ly vio­lat­ing pub­lic peace in a sign of fla­grant dis­re­spect for cit­i­zens," it reads in part. ​"The women were moti­vat­ed by reli­gious enmi­ty and hatred, and act­ed provoca­tive­ly and in an insult­ing man­ner inside a reli­gious build­ing in the pres­ence of a large num­ber of believers."
Though pub­lic opin­ion remained solid­ly against Pussy Riot, the edu­cat­ed seg­ments of soci­ety became increas­ing­ly restive as the tri­al pro­gressed, and even some reli­able Putin sup­port­ers turned against a ver­dict that imposed harsh crim­i­nal penal­ties for what was essen­tial­ly a reli­gious offense. One con­ser­v­a­tive TV pun­dit, who ini­tial­ly sup­port­ed the pros­e­cu­tion, told the Ekho Moskvi radio sta­tion after the ver­dict that he had rethought his posi­tion and now saw noth­ing unusu­al in the exis­tence of non­con­formist punk rock­ers. He blast­ed the Russ­ian gov­ern­ment for ​"forc­ing upon us the idea that all Rus­sians accept this ver­dict against these young women (that was based on) noth­ing more than their behav­ior inside the church. … For such a crime it would be quite enough (to sat­is­fy offend­ed Ortho­dox believ­ers) if they were sen­tenced to clean out the church grounds."
The Krem­lin may also have been blind­sided by the wave of inter­na­tion­al crit­i­cism, not just from the usu­al sus­pects like Amnesty Inter­na­tion­al, but from dozens of musi­cal celebri­ties such as Sting, Madon­na and Sir Paul McCart­ney. Dur­ing mid-tri­al, Putin opined to jour­nal­ists that the women should not be pun­ished ​"too harsh­ly," a pos­si­ble acknowl­edge­ment that the Pussy Riot pros­e­cu­tion was gen­er­at­ing more dam­age than expected.
But most of all it was prob­a­bly the com­port­ment of the three Pussy Riot women, who proved to be calm, well-edu­cat­ed, his­tor­i­cal­ly aware and who deliv­ered high­ly artic­u­late clos­ing state­ments that were polit­i­cal­ly and philo­soph­i­cal­ly sophis­ti­cat­ed, that came as a shock to almost everybody.
​"It may have been expect­ed by pros­e­cu­tors that these young girls would break down in court, and reveal them­selves to be spoiled, whin­ing crea­tures — and by exten­sion dis­cred­it the whole protest move­ment — but that emphat­i­cal­ly did not hap­pen," says Maria Lip­man, edi­tor of the Moscow Carnegie Cen­ter's quar­ter­ly jour­nal Pro et Con­tra.
​"They rose to the occa­sion and came off almost hero­ical­ly," Lip­man says. ​"Against the back­drop of that degrad­ing court pro­ce­dure, with its medieval lan­guage, these girls proved them­selves to be log­i­cal, sane, and com­posed. They were the ones speak­ing in ratio­nal, mod­ern lan­guage, and with their qui­et courage they demon­strat­ed moral supe­ri­or­i­ty over the court as well. Six months ago, who would have thought it?"
It remains to be seen what impact the tri­al will have on Rus­si­a's polit­i­cal land­scape, as a new polit­i­cal sea­son opens and the oppo­si­tion returns to the streets after a sum­mer hia­tus. But the Pussy Riot affair has clear­ly demon­strat­ed both the dan­gers fac­ing those who protest open­ly against Putin, and the unex­pect­ed blow­back that its attempts at repres­sion can bring down on the Kremlin.
Fred Weir
is a Moscow cor­re­spon­dent for
In These Times
and reg­u­lar con­trib­u­tor to the
Chris­t­ian Sci­ence Mon­i­tor,
the
Lon­don Inde­pen­dent,
Cana­di­an Press
and the
South Chi­na Morn­ing Post.
He is the co-author of
Rev­o­lu­tion from Above: The Demise of the Sovi­et System.