With the USDA's Blessing, CAFOs Are Driving Organic Dairy Farmers Out of Business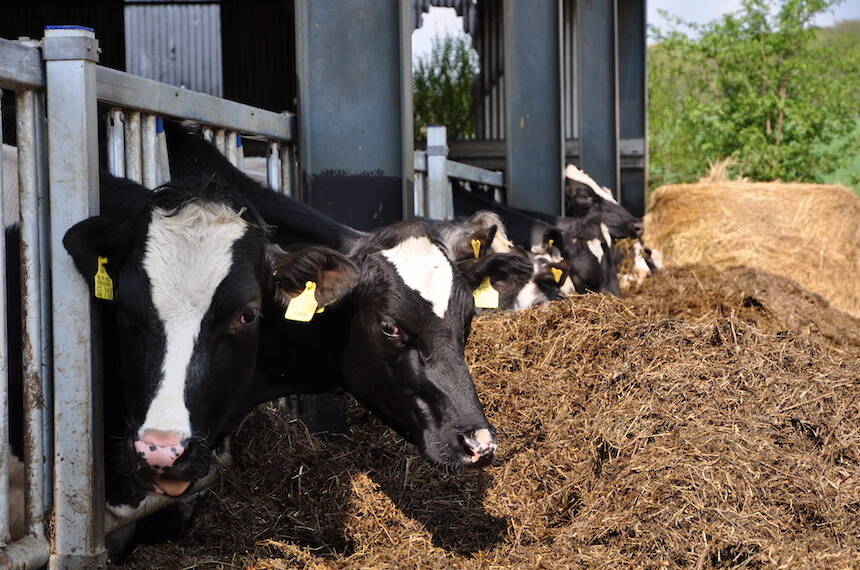 As dairy farm­ers have seen many times in the past, a glut of milk has flood­ed the mar­ket and dropped farm pay prices to the point that some farm­ers will be forced out of busi­ness. Gen­er­al­ly it is the small­er farm­ers that go first. For them, cred­it, which is need­ed to try and ride out the storm, is hard­er to come by.
CAFOs (con­cen­trat­ed ani­mal feed­ing oper­a­tions) seem to be the pre­ferred method of dairy pro­duc­tion in the Unit­ed States. Proces­sors and retail­ers like the mod­el — sort of a one stop shop to get as much milk as you need. Con­sis­tent vol­ume of pro­duc­tion pret­ty much year round makes sourc­ing easy and no pesky farmer co-ops com­plain­ing about low prices need be involved.
I per­son­al­ly nev­er thought the CAFO mod­el would show up in the organ­ic dairy busi­ness, at least in my life­time. Sad­ly I was very wrong. Large dairy farms, most­ly in the West­ern Unit­ed States, in recent years have ramped up pro­duc­tion to the point that there is now a glut of organ­ic milk on the mar­ket, and our prices, like those of over­pro­duc­ing con­ven­tion­al farm­ers, have fall­en well below the cost of pro­duc­tion. We are all slow­ly going broke and going out of business.
In the organ­ic world it is gen­er­al­ly not the small farmer who is pro­duc­ing too much milk. Fol­low­ing organ­ic pro­duc­tion require­ments keep­ing cows on pas­ture in sea­son and ensur­ing min­i­mum of 30 per­cent dry mat­ter intake from pas­ture is not a bur­den for farms like ours — it's just part of a farm­ing sys­tem that works. That's also why its part of USDA organ­ic standards.
Whether CAFO farms are actu­al­ly organ­ic is the real ques­tion. USDA inspec­tors insist these farms, like Auro­ra in Col­orado, are meet­ing the stan­dards despite inves­ti­ga­tions by the Wash­ing­ton Post and Cor­nu­copia Insti­tute show­ing only a few hun­dred cows at most, out of a herd of 15,000, on pas­ture at any giv­en time.
Hav­ing raised cat­tle on pas­ture all my life, I am always at a loss to under­stand how 15,000 cows could be moved to and from pas­ture between milk­ings. Cows move slow­ly and 15,000 would require hun­dreds of acres of grass per day — that is a long walk. Impossible.
But hav­ing the bless­ing of USDA, CAFOs con­tin­ue to grow to the point that ​"about half of the organ­ic milk sold in the Unit­ed States is com­ing from very large fac­to­ry farms that have no inten­tion of liv­ing up to organ­ic prin­ci­ples," accord­ing to Mark Kas­tel, co-direc­tor of the non­prof­it Cor­nu­copia Institute.
This milk is part of a cap­tive sup­ply chain between the CAFO organ­ic dairies and the big retail­ers — Wal-Mart, Cost­co, etc. It works very well for both par­ties: lots of milk is pro­duced cheap­er than real organ­ic milk (as the CAFO's are allowed to ignore at least some of the organ­ic stan­dards) so the big retail­ers can under­cut milk prices paid to small organ­ic farms, and the CAFO has a guar­an­teed market.
This is not a new phe­nom­e­non. Con­ven­tion­al pork, poul­try and now dairy farm­ers as well, have over the years, seen a sim­i­lar process take over and dec­i­mate their sup­ply chains. Once the big play­ers con­trol the sys­tem it is all but impos­si­ble for a small farmer, cheese mak­er or meat proces­sor to get into the sys­tem — that's why it's called a cap­tive supply.
To hell with the free mar­ket, farm­ers are encour­aged to get a con­tract. It's safe and you have a mar­ket — per­haps not a good price, but at least a mar­ket. Things used to be dif­fer­ent, buy­ers were com­pet­ing for milk, which was good for our price. I remem­ber hav­ing three milk proces­sors at our farm at the same time try­ing to get our milk.
Those were the days.
("Retail­ers Want to Own Farm­ers — CAFOs Fill the Bill" was first pub­lished on the Nation­al Fam­i­ly Farm Coali­tion's web­site and is repost­ed on Rur­al Amer­i­ca In These Times with permission.)