Organizing on Wobbly Ground: Learning from 'Solidarity Unionism at Starbucks'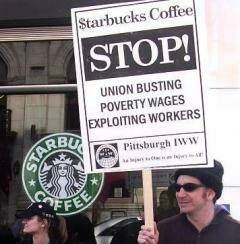 The decline of unions does not mean the end of the labor move­ment. Indeed, the last few years have seen a pro­lif­er­a­tion of new kinds of work­er orga­ni­za­tions and work­ers' rights cam­paigns. Some of the most excit­ing of late have been con­duct­ed by com­mu­ni­ty-based groups (rather than work­place-based unions), such as the Coali­tion of Immokalee Work­ers and those part of the Nation­al Domes­tic Work­ers Alliance.
In Sol­i­dar­i­ty Union­ism at Star­bucks, a recent pam­phlet pub­lished by PM Press, Daniel Gross and Staughton Lynd high­light an increas­ing­ly impor­tant fea­ture of today's labor move­ment — nonunion work­ers using direct action strate­gies pro­tect­ed by the Nation­al Labor Rela­tions Act (NLRA) — while exam­in­ing the Indus­tri­al Work­ers of the World​'s (IWW)'s ongo­ing efforts to orga­nize Starbucks.
Dur­ing the last decade, Chica­go-based IWW has seen a resur­gence of orga­niz­ing activ­i­ty and vis­i­bil­i­ty. That's in part because the 106-year-old inter­na­tion­al union, which once had 100,000 mem­bers but is now only a frac­tion of that size, formed the Star­bucks Work­ers Union (SWU) in 2004 in New York City. It was the cof­fee chain's first union, and it has since expand­ed.
The Star­bucks cam­paign is remark­able because it draws from both IWW's his­to­ry and the best prac­tices of work­er cen­ters, which are the prin­ci­pal heir of the union's rich orga­niz­ing lega­cy. Iron­i­cal­ly, today's IWW activists, or Wob­blies, can learn from work­er cen­ters. In fact, one sign of the IWW's revival is the emer­gence of the IWW-affil­i­at­ed Lucy Par­sons Work­ers' Cen­ter in Chica­go. Gross and Lynd's pam­phlet is par­tic­u­lar­ly instruc­tive to Wob­blies who are chal­lenged by the task of reach­ing out to work­ers in need of organizing.
Gross and Lynd, both pro­po­nents of rank-and-file union­ism, union democ­ra­cy, and direct action, focus on the prac­tice of sol­i­dar­i­ty union­ism among IWW mem­bers work­ing for Star­bucks. The sto­ry is com­pelling, in part because of the sym­bol­ic impor­tance of the cof­fee chain. The ubiq­ui­tous cor­po­rate giant is emblem­at­ic of the pre­car­i­ty of the ser­vice econ­o­my. The authors make the impor­tant point that new orga­ni­za­tion­al forms of busi­ness require new forms of work­er organization.
Star­bucks, for instance, argues that a bar­gain­ing unit would nec­es­sar­i­ly include all of the stores in a giv­en region. This, along with ide­o­log­i­cal rea­sons, is why the IWW is orga­niz­ing Star­bucks work­ers across cof­fee shop loca­tions, rather than shop by shop.
Gross and Lynd share the sto­ries of work­ers like Lau­ra de Anda, who deal with over­bear­ing man­agers, low-wages, uni­lat­er­al sched­ul­ing and repet­i­tive motion injuries. For read­ers with­out per­son­al expe­ri­ence in ser­vice-sec­tor jobs, some of these abus­es may seem like mere annoy­ances; not near­ly as exploita­tive or shock­ing as, those in say, the meat-pack­ing industry.
But tak­en togeth­er, the at-times ide­al­ized barista can find her­self in a state of psy­cho­log­i­cal pres­sure and phys­i­cal strain. I should know — I did time as a barista in a cof­fee shop in Chicago's bank­ing dis­trict. My fin­ger­tips became so raw from the con­stant han­dling of coins and hand wash­ing that I had to wear Band-Aids to pre­vent infec­tion. I also had to cor­ner my boss and make an appeal to his wife after he didn't give me my promised raise at the end of my train­ing peri­od.

Sol­i­dar­i­ty Union­ism at Star­bucks is use­ful because it names and describes a col­lec­tion of strate­gies non­tra­di­tion­al work­er orga­ni­za­tions like work­er cen­ters increas­ing­ly employ. This is par­tic­u­lar­ly true for groups that do not lim­it their orga­niz­ing by indus­try or geo­graph­ic com­mu­ni­ty. Instead of seek­ing geo­graph­ic or indus­try monop­oly pow­er, work­er cen­ters like New Brunswick's New Labor, Cincin­nati Inter­faith Work­ers Cen­ter, and the orga­ni­za­tion I work for, Arise Chica­go, choose to build a base of work­ers orga­nized around the prin­ci­ples and pow­er of direct action and mutu­al aid.
This means work­ers join­ing togeth­er to change con­di­tions and terms of work, regard­less of what or where their work is. In a recent and typ­i­cal Arise Chica­go action, a retired fac­to­ry work­er, social work­er and home health­care work­er joined a butch­er to con­front his boss about pay­ing the min­i­mum wage, sign­ing a dis­crim­i­na­tion-free work­place state­ment, and cov­er­ing the med­ical costs of a work-relat­ed injury. Work­er cen­ters are effec­tive in mobi­liz­ing mar­gin­al­ized and low-wage work­ers because they are root­ed in the com­mu­ni­ties they orga­nize, address work­ers' imme­di­ate needs and devel­op them into lead­ers.

Gross and Lynd describe how IWW-SWU mem­bers take bold actions to win con­crete gains. We learn how work­ers dis­obeyed man­age­ment to cre­ate a com­fort­able break area, and orga­nized a work stop­page to demand afford­able health­care options and sick days. Besides being dra­mat­ic and atten­tion-grab­bing, some of these cam­paigns are notable for their tac­ti­cal use of legal complaints.
Orga­ni­za­tions like the SWU are suc­cess­ful in part because the work­ers they orga­nize are cov­ered by the NLRA. When peo­ple think of the Nation­al Labor Rela­tions Board (NLRB) — the agency charged with reg­u­lat­ing union elec­tions and pro­tect­ing work­ers' rights in the process — most often they think of union orga­niz­ing cam­paigns. But if one stud­ies the NLRA, the pam­phlet authors point out, any work­ers have the right to engage in ​"col­lec­tive con­cert­ed activ­i­ty" and are pro­tect­ed from retal­i­a­tion for doing so.
SWU work­ers in New York City won a com­plaint and were rein­stat­ed, chang­ing a com­pa­ny pol­i­cy against dis­trib­ut­ing union infor­ma­tion in the process. In the exam­ple cit­ed above, the threat of fil­ing a legal charge for vio­la­tion of pro­tect­ed con­cert­ed activ­i­ty was suf­fi­cient to win demands relat­ed to a com­fort­able break area.

The IWW has a long and fas­ci­nat­ing his­to­ry of sol­i­dar­i­ty union­ism, even before the pas­sage of the NLRA in 1935. From its found­ing in 1905, the IWW was rad­i­cal in its aim to orga­nize work­ers as a sin­gle class, instead of as mem­bers of a par­tic­u­lar trade or indus­try.

The IWW faces enor­mous chal­lenges, how­ev­er. Though it has a his­to­ry to be proud of, the union would do well to update its image for the 21st-cen­tu­ry work­er. I have wit­nessed earnest IWW orga­niz­ers dressed with news­boy-styled caps, singing ​"Sol­i­dar­i­ty For­ev­er" by them­selves at a ral­ly. I sus­pect that some Wob­blies are moved by the roman­ti­cism of the union's hey­day, but do not know how to speak the lan­guage of the 21st cen­tu­ry ser­vice worker.
I've observed IWW activists fever­ish­ly dis­cuss the pow­er of the gen­er­al strike, but strain to devel­op a strat­e­gy for com­bat­ing wage theft in the work­place. The IWW has begun to revive the ​"Chica­go Idea" (a com­bi­na­tion of anar­chism and union­ism), but thus far has not man­aged to cre­ate a Chica­go pres­ence.

Sol­i­dar­i­ty Union­ism at Star­bucks pro­vides a glimpse into cam­paigns that have suc­cess­ful­ly spo­ken to dis­grun­tled work­ers in need of orga­ni­za­tion. None of the cam­paigns described in its pages attribute their suc­cess to appeal­ing to co-work­ers' innate yet hid­den thirst for rev­o­lu­tion­ary activ­i­ty. On the con­trary, SWU appears to be suc­cess­ful because of its appeal to work­ers' imme­di­ate and basic needs: a fan; a break­room; sick days.
Gross and Lynd's good sto­ry­telling and legal tuto­r­i­al should serve as a basic intro­duc­tion to sol­i­dar­i­ty union­ism for rank-and-file work­er activists. And with its attrac­tive and portable zine design, polit­i­cal car­toons and acces­si­ble text, the pam­phlet speaks to today's work­ers in a way that should serve as a mod­el to oth­er IWW activists and work­er cen­ter activists alike.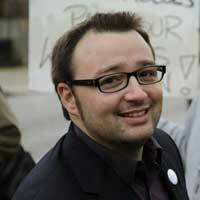 Adam Kad­er
, the direc­tor of the Arise Chica­go Work­er Cen­ter, blogs for Labor Notes.