In an edi­to­r­i­al in In These Times' Novem­ber 2009 issue, reflect­ing on the right's suc­cess at re-fram­ing the health­care reform debate in its favor, Kevin O'Donnell wrote, ​"When it comes to mes­sag­ing, Repub­li­cans believe in sci­ence. Democ­rats don't." To their detri­ment, ​"Democ­rats cling to the idea, dis­proved by sci­ence and elec­toral expe­ri­ence, that if you present the facts, peo­ple will rea­son their way to the right con­clu­sion." Repub­li­cans, on the oth­er hand, know to use ​"sim­ple words, short sen­tences and a heavy dose of rep­e­ti­tion."

Must one be this cyn­i­cal in order to win a cam­paign or a pol­i­cy bat­tle? Is the way to beat con­ser­v­a­tives on impor­tant issues to ​"race to the bot­tom," debas­ing rhetoric, and treat­ing the pub­lic as imbe­ciles? For­tu­nate­ly, for those look­ing for a more gen­er­ous under­stand­ing of pub­lic dis­course, there's Re:Imagining Change: How to Use Sto­ry-based Strat­e­gy to Win Cam­paigns, Build Move­ments, and Change the World (PM Press, 2010), by Patrick Reins­bor­ough and Doyle Can­ning.

Reins­bor­ough and Can­ning pro­vide anoth­er way of look­ing at ​"the bat­tle of the nar­ra­tive." Like O'Donnell, any expe­ri­enced activist knows that fram­ing the issue mat­ters to any campaign's suc­cess. But rather than ​"dumb­ing down" pro­gres­sive cam­paign mes­sag­ing, Reins­bor­ough and Can­ning argue for a sto­ry-based strat­e­gy that decon­structs dom­i­nant nar­ra­tives and con­structs new ones that chal­lenge assump­tions and move cit­i­zens to action.
The authors encour­age read­ers to re-imag­ine both how change can hap­pen and what can be changed. They intro­duce a series of con­cepts ​"to win cam­paigns, build move­ments, and change the world" based on Marx­ist philoso­pher Anto­nio Gramsci's notion of hege­mo­ny, which posits that pow­er­ful inter­ests exert con­trol through dom­i­nant cul­ture so that the sta­tus-quo becomes ​"com­mon sense." If cam­paigns are to change the sta­tus-quo, the authors argue, they must be com­mu­ni­cat­ed in ways that fall out­side the nar­ra­tive cat­e­gories cre­at­ed by the sta­tus quo.

Just as a suc­cess­ful cam­paign can change the mate­r­i­al con­di­tions of soci­ety, Reins­bor­ough and Can­ning argue, so can it change the way soci­ety thinks — it cre­ates change on the lev­el of mean­ing. In the same way that a direct action phys­i­cal­ly inter­rupts a target's busi­ness-as-usu­al, a cam­paign has a deep­er impact when it also inter­rupts the dom­i­nant nar­ra­tive about the cam­paign issue.

Con­sid­er Re:Imagining Change​'s exam­ple of Greenpeace's Save the Whales Cam­paign. When Green­peace activists took action by lit­er­al­ly plac­ing them­selves between whal­ing ships and the whales, it ​"showed it was the activists, not the whalers, who were the coura­geous peo­ple on small boats risk­ing their lives — not to kill whales, but to save them. In this new nar­ra­tive, whales were not big and evil; rather it was the giant whal­ing ships that were the dan­ger­ous mon­sters. The whales were the help­less vic­tims and became sym­pa­thet­ic and wor­thy of protection…The sto­ry changed and the roles of hero, vic­tim, and vil­lain shift­ed."

Suc­cess­ful cam­paigns uti­lize a ​"meme," or a unit of ​"self-repli­cat­ing cul­tur­al infor­ma­tion such as slo­gans (Just Do It!), icon­ic images (Abu Ghraib tor­ture), catch phras­es ("wardrobe mal­func­tion") or sym­bols (the peace sign). Just as engines of dom­i­nant cul­ture cre­ate memes, so can social change groups.

Re:Imagining Change​'s acces­si­ble lan­guage and hands-on exer­cis­es make it ide­al for busy com­mu­ni­ty and polit­i­cal orga­niz­ers. My favorite fea­ture of the book is the ​"Reflec­tions" box includ­ed in each chap­ter. An example:
What are some assump­tions in the dom­i­nant cul­ture you think need to be changed? Make a list. You can car­ry this assump­tion list with you and keep a run­ning tab of times when they show up, or when you sur­face new ones. Choose one assump­tion to work with for the moment…Are there insti­tu­tions where it lives? Are there ways it is felt in pop­u­lar cul­ture? Now think about actions you could take to chal­lenge that assump­tion and change the sto­ry. Are there phys­i­cal points of inter­ven­tion that could expose this assumption?
The exer­cise pushed me to step back and con­sid­er a cam­paign that my orga­ni­za­tion, Arise Chica­go, and oth­er work­er cen­ters around the coun­try are engaged in. The fight against the exploita­tion of low-wage earn­ers is not new, but our ​"anti-wage theft cam­paign" is because of its use of the ​"wage theft" meme. Before, insti­tu­tions like the Depart­ment of Labor and the main­stream media referred to the phe­nom­e­na of work­er exploita­tion as ​"non-pay­ment of wages."

Sev­er­al years ago, how­ev­er, work­er cen­ters designed the ​"wage theft" meme. This meme over­throws the dom­i­nant assump­tion that wages are the prop­er­ty of the boss, to be shared with work­ers. Rather, in this new nar­ra­tive, wages are the prop­er­ty of work­ers that have been stolen by the boss.

The wage theft meme is deeply effec­tive, because a com­mon defense nar­ra­tive spun by an employ­er caught for not pay­ing his work­ers is that these are hard eco­nom­ic times; that in a dif­fi­cult busi­ness cli­mate every­one has to tight­en their belts — that the boss is doing every­thing he can to keep things run­ning.

The pub­lic is sym­pa­thet­ic to this defense. The employ­er is under­stood as benev­o­lent; he is the job provider, the one who can save our econ­o­my — the work­ers, protest­ing, are ungrate­ful! They should be thank­ful to be employed at all in this bad econ­o­my! The audi­ence of this dom­i­nant nar­ra­tive will iden­ti­fy with the employ­er, who is the one strug­gling to stay alive in this econ­o­my. The work­ers are trou­ble­mak­ers, try­ing to take wages away from the employ­er, a prop­er­ty own­er, just like you and me!

But through the wage theft meme, work­ers, not employ­ers, become the vic­tims of the bad eco­nom­ic cli­mate. The boss, not the work­ers, becomes the unrea­son­able one. The self-respect­ing pub­lic will iden­ti­fy with the right­eous work­er who is try­ing to stand up for their right to recov­er their pri­vate prop­er­ty. Using the wage theft meme, when my orga­ni­za­tion fights an employ­er who is not pay­ing min­i­mum wage, over­time wage, or wage at all, we also are fight­ing some of the assump­tions embed­ded in the dom­i­nant nar­ra­tive about labor. Accord­ing­ly, the media has begun to use the meme when they report on our cam­paigns and leg­is­la­tors have incor­po­rat­ed the phrase ​"wage theft" in the names of bills.

All of this is to say that Re:Imagining Change has inspired me to eval­u­ate the choic­es we're mak­ing in design­ing and com­mu­ni­cat­ing our orga­niz­ing cam­paigns. Oth­er pro­gres­sive orga­niz­ers should strive to do the same. The left is los­ing the bat­tle over nar­ra­tive, which means we often lose the larg­er war over leg­is­la­tion and fis­cal pol­i­cy. Think of com­mon cur­rent rhetoric sur­round­ing cli­mate change leg­is­la­tion ("it kills jobs"), pub­lic sec­tor jobs ("we have to cut back to decrease the deficit"), gen­der par­i­ty ("it will result in friv­o­lous law­suits"), etc.

Indeed, Sal­ly Kohn of Move­ment Vision Lab writes: ​"Over the past year, much of the left has jeal­ous­ly ogled the Tea Par­ty and its appar­ent­ly up-out-of-nowhere grass­roots move­ment ener­gy." Kohn locates the ori­gin of this ener­gy in the pro­lif­er­a­tion of ​"an attrac­tive sto­ry of pow­er and vision — a sto­ry in which every­day activists can see them­selves and engage."

That the left needs to devel­op strong, com­pelling, nar­ra­tives is clear. Re:Imagining Change is the resource that can show us exact­ly how to do so.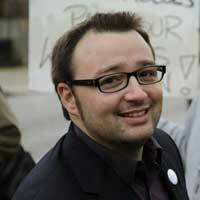 Adam Kad­er
, the direc­tor of the Arise Chica­go Work­er Cen­ter, blogs for Labor Notes.