The Other Keystone: The Alberta Clipper, the Pipeline No One Is Talking About
The Alberta Clipper pipeline is already transporting huge quantities of oil, but is doing so under the radar.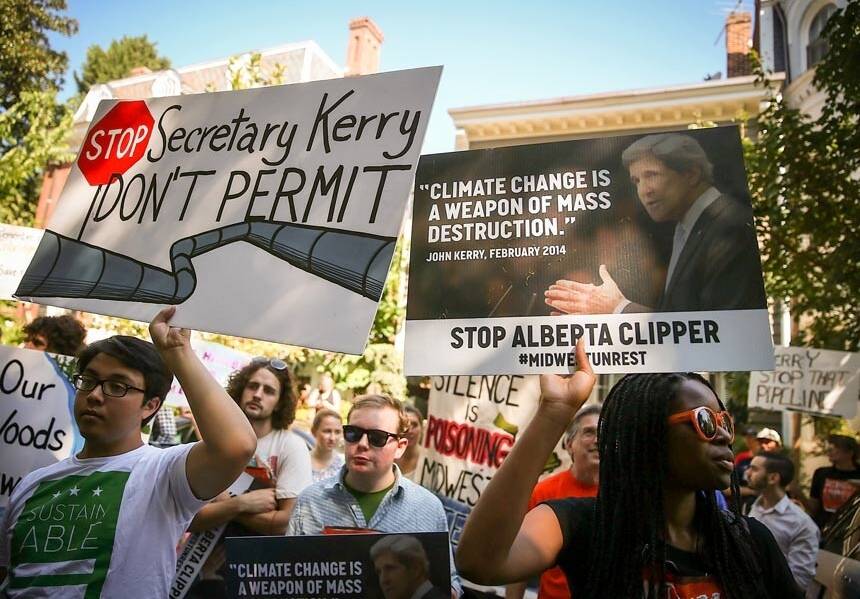 After years of polit­i­cal jostling, envi­ron­men­tal groups cel­e­brat­ed Pres­i­dent Obama's Nov. 6, 2015, rejec­tion of the Key­stone XL pipeline. ​"Amer­i­ca is now a glob­al leader when it comes to tak­ing seri­ous action to fight cli­mate change," he said.
The State Department authorized these projects even as the Obama administration was making its celebrated "pivot" toward acting on climate change.
As he spoke, anoth­er pipeline known as the Alber­ta Clip­per was already trans­port­ing some 800,000 bar­rels per day (BPD) of tar sands crude — the same type and essen­tial­ly the same vol­ume of oil as the pro­posed Key­stone — to U.S. refineries.
While Key­stone has monop­o­lized pub­lic out­rage, the State Depart­ment has qui­et­ly allowed a sim­i­lar project to move ahead. The Clip­per is one link in a broad­er net­work of pipelines, oper­at­ed by Cana­di­an oil giant Enbridge, Inc., that extends from the Alber­ta tar sands all the way to refiner­ies on the Gulf Coast. Envi­ron­men­tal groups warn that this could lead to a dra­mat­ic increase in the pro­duc­tion of tar-sands oil — one of the dirt­i­est and most envi­ron­men­tal­ly haz­ardous types of fuel— with lit­tle pub­lic scrutiny
Key­stone and the Clipper
Key­stone and the Alber­ta Clip­per, or Line 67, were both pro­posed at rough­ly the same time for the same pur­pose: trans­port tar sands oil from the Alber­ta tar sands to the Unit­ed States in huge quan­ti­ties. But while Key­stone was con­demned to reg­u­la­to­ry pur­ga­to­ry and even­tu­al­ly blocked, the Clip­per and its asso­ci­at­ed projects have been allowed to go ahead.
Keystone's biggest reg­u­la­to­ry lia­bil­i­ty was the fact that it was a sin­gle 2,000-mile long stretch of pipeline that would cross a nation­al bor­der and var­i­ous state bound­aries. The fact that it stretched across both Cana­da and the Unit­ed States meant both gov­ern­ments would have to agree to the envi­ron­men­tal­ly sen­si­tive project, while its sheer scale meant it was bound to attract unwant­ed atten­tion and controversy.
Enbridge, mean­while, appears to have deft­ly avoid­ed these prob­lems. Rather than one mas­sive pipeline project, Enbridge has instead built or pro­posed many small­er, seem­ing­ly dis­parate pipeline projects from the Upper Mid­west southward.
The Alber­ta Clip­per, or Line 67, is the cen­ter­piece of Enbridge's cross­bor­der pipeline net­work. The chal­lenge of exploit­ing Alber­tan tar sands oil is that it is not only rel­a­tive­ly remote, but land-locked. Upon extrac­tion, it has to be trans­port­ed to be refined, processed and export­ed. This was the pur­pose of the Clip­per, which was meant to move the oil from the Alber­ta tar sands across the U.S.-Canada bor­der to a dis­tri­b­u­tion ter­mi­nal in Supe­ri­or, Wis­con­sin. How­ev­er, under fed­er­al law, any infra­struc­ture project that cross­es a U.S. bor­der first requires a fed­er­al per­mit and an accom­pa­ny­ing envi­ron­men­tal review — the same process that doomed Keystone.
A brief his­to­ry of the Clipper
Enbridge's legal maneu­ver­ing began from the start. In 2007, the com­pa­ny pro­posed, and the State Depart­ment approved, a per­mit for the Clip­per to oper­ate strict­ly at 450,000 bar­rels per day (BPD) — even though Enbridge had built the pipeline with a design capac­i­ty of almost dou­ble that.
When the State Depart­ment car­ried out an envi­ron­men­tal impact state­ment (EIS) for the project, it only con­sid­ered the poten­tial impact of the first, small­er capac­i­ty — not the pipeline's full capac­i­ty. Sev­er­al envi­ron­men­tal groups chal­lenged the per­mit in court in 2009 on the basis that the EIS was inad­e­quate. Accord­ing to those involved, it was known that Enbridge aimed to use the pipeline's full capac­i­ty down the line.
"Enbridge had already made it clear to investors that that was the plan," says Doug Hayes, staff attor­ney with the Sier­ra Club, who was involved in the orig­i­nal lawsuit.
Nonethe­less, Enbridge denied they had any cur­rent plans to expand, and the judge sided with them and the State Depart­ment. The per­mit for 450,000 BPD was allowed to pro­ceed. By Octo­ber 2010, Line 67 was oper­a­tional and was send­ing this quan­ti­ty of tar sands oil over the Canadian‑U.S. bor­der — around the same time Key­stone XL began to cap­ture nation­al attention.
Despite its denials, two years after Line 67 was up and run­ning, in Novem­ber 2012, Enbridge informed the State Depart­ment that it did indeed wish to oper­ate the pipeline at its full design capac­i­ty of 800,000 BPD, for which it would need a new per­mit. This time, how­ev­er, it would have to go through the process in a post-Key­stone America.
In the two years since the Alber­ta Clip­per began trans­port­ing oil, Key­stone had gone from a lit­tle-known project to a full-fledged polit­i­cal con­tro­ver­sy. Anti-Key­stone pro­test­ers had been arrest­ed out­side the White House, and celebri­ties like Mark Ruf­fa­lo and Julia Louis-Drey­fus were speak­ing out against the pipeline.
Sure enough, Enbridge began to feel the pres­sure. Crowds of pro­test­ers turned out for Minnesota's Pub­lic Util­i­ties Commission's pro­ceed­ing on the pipeline, and there was mas­sive involve­ment in the first pub­lic com­ment peri­od held by the State Depart­ment in 2013.
On top of this, the per­mit­ting process for the Clip­per dragged on for more than a year with no progress. Enbridge had already applied for approval from Stephen Harper's oil-friend­ly Con­ser­v­a­tive gov­ern­ment to start push­ing 800,000 BPD of crude through the 670 miles of Line 67 that lay on Canada's side of the bor­der. It just need­ed the State Department's approval for the project to go ahead.
"Enbridge saw what hap­pened to Key­stone XL and some of these oth­er pipelines, and … they decid­ed to avoid this pub­lic review process," says Hayes.
The Clip­per ​"switcheroo"
It was at this point, in 2014, that Enbridge switched tack and uti­lized what some envi­ron­men­tal activists have called an ​"ille­gal switcheroo." Instead of rely­ing on Line 67 to trans­port 800,000 BPD of crude oil across the U.S.-Canada bor­der, the com­pa­ny would briefly divert the crude to anoth­er exist­ing pipeline called Line 3. This seg­ment would then trans­port the oil across the bor­der before it was ulti­mate­ly trans­ferred back to Line 67 in Minnesota.
In June 2014, Enbridge's lawyers out­lined the project in a let­ter to the State Depart­ment. They cit­ed the more than year-long ​"unfore­seen Line 67 project per­mit­ting delay" as the rea­son for the project, but also pre­sent­ed Enbridge as a cus­to­di­an of the pub­lic inter­est. The com­pa­ny had a duty to ship­pers and refin­ers, they explained, who would be hit with high­er trans­porta­tion costs if Enbridge didn't step up its capac­i­ty, as well as to ordi­nary con­sumers, who might see domes­tic oil prices spike. Enbridge's lawyers wrote that the com­pa­ny would pro­ceed with this plan ​"whether or not a new Pres­i­den­tial Per­mit is issued."
This dubi­ous maneu­ver relied on what crit­ics say was an addi­tion­al sleight of hand: anoth­er new seg­ment of pipeline to car­ry the crude across the bor­der, pack­aged as an update to Line 3. In Feb­ru­ary and March 2014, Enbridge informed the State Depart­ment it planned to under­take a ​"main­te­nance-dri­ven replace­ment" of the near­ly 50-year old Line 3, which stretched from Edmon­ton to Supe­ri­or. But rather than swap­ping it with an iden­ti­cal but improved replace­ment, it pro­posed an entire­ly new pipeline of a larg­er diam­e­ter that would trav­el through a dif­fer­ent route for 238 miles.
To com­plete the plan, Enbridge would con­struct four total­ly new pipeline inter­con­nec­tions between Line 67 and its new ​"replace­ment" Line 3: two at the company's Gret­na, Man­i­to­ba sta­tion in Cana­da, and two more in the Unit­ed States just south of the border.
Because Enbridge already reg­u­lar­ly con­struct­ed inter­con­nec­tions between adja­cent lines ​"in the event of unfore­seen events or con­tin­gen­cies, such as pow­er out­ages or main­te­nance," it argued, it didn't need a per­mit for these interconnections.
Ulti­mate­ly, the State Depart­ment acced­ed to these changes with­out requir­ing new per­mits or envi­ron­men­tal reviews. In Novem­ber 2014, a coali­tion of trib­al and envi­ron­men­tal groups filed suit against the depart­ment, claim­ing that it had vio­lat­ed fed­er­al preser­va­tion and envi­ron­men­tal laws and call­ing for an injunc­tion on the bypass project until it went through the full per­mit­ting process.
Emails between Enbridge's lawyers and the State Depart­ment, made pub­lic in April 2015 as part of the suit, show staffers appar­ent­ly work­ing to help Enbridge tip­toe around regulations.
"Enbridge needs to do the hor­i­zon­tal drilling under the 2 rivers in the bor­der seg­ment for Line 3 … two weeks from now," Ona Hahs, attor­ney-advi­sor for the State Department's Office of the Legal Advi­sor told State staff in one email. ​"So we're run­ning out of time on that one."
On Decem­ber 9, the fed­er­al judge ruled in favor of Enbridge and the State Depart­ment, argu­ing that the State Department's deci­sion is not sub­ject to judi­cial review. For the groups who filed the suit, one option will be to appeal the decision.
As with Key­stone, Oba­ma or the State Depart­ment could step in and tell Enbridge it needs a per­mit to keep pump­ing 800,000 BPD of oil over the bor­der. If left to their own devices, they're unlike­ly to do so.
"Through the Key­stone cam­paign, Amer­i­ca learned that it could fight pipelines," says Andy Pear­son, Minnesota350's Mid­west tar sands co-ordi­na­tor. ​"The nor­mal has changed. You're not going to be able to put a pipeline with­out fac­ing oppo­si­tion, any­where in the country."
In the mean­time, Enbridge has already com­plet­ed con­struc­tion of the new bor­der seg­ment that con­nects to the Alber­ta Clip­per, which, since mid-2015, has allowed the com­pa­ny to trans­port increased vol­umes of tar-sands crude over the bor­der with­out fur­ther delay.
In an emailed state­ment, Enbridge spokesper­son Lor­raine Lit­tle told In These Times: ​"The Unit­ed States Depart­ment of State is well aware of our replace­ment of Line 3 at the bor­der for main­te­nance rea­sons and has advised us that that replace­ment was con­sis­tent with our exist­ing Line 3 per­mit and requires no fur­ther approval and/​or envi­ron­men­tal review by the Depart­ment. … Our oper­a­tion of Line 67 at the bor­der is like­wise ful­ly con­sis­tent with the capac­i­ty allowed for that line by the exist­ing pres­i­den­tial per­mit. Fur­ther, the Depart­ment has acknowl­edged that is has no reg­u­la­to­ry author­i­ty beyond the area near the bor­der and our inter­con­nects are locat­ed out­side that area, thus rais­ing no ques­tion as to their legality."
Enbridge's end game
Ken Rumelt, staff attor­ney at Ver­mont Law School's Envi­ron­men­tal and Nat­ur­al Resources Law Clin­ic, says that Enbridge's endgame has always been clear: Even though projects have been pro­posed piece­meal, they con­sti­tute one large net­work capa­ble of ramp­ing up trans­port of Cana­di­an tar sands to the Gulf Coast. More than 50 per­cent of U.S. refin­ing capac­i­ty and most of U.S. heavy crude pro­cess­ing capac­i­ty is locat­ed on the Gulf.
To that appar­ent end, Enbridge has a num­ber of oth­er pipeline projects either already in exis­tence or in the works, which form links in this net­work. The rest of the Line 3 replace­ment, for one, is due to go online in 2017, at which point it will open up a new cor­ri­dor for tar sands oil to flow in through the Upper Midwest.
Then there's Line 61, a huge, 42-inch pipeline built in 2007 that runs from Supe­ri­or to Flana­gan, Ill. Enbridge want­ed to triple its cur­rent­ly approved capac­i­ty to a mas­sive 1.2 mil­lion BPD, which would make it the largest tar sands pipeline in North Amer­i­ca. Rather than build­ing anew, Enbridge plans to sim­ply pump more oil through the pipeline, and in Sep­tem­ber 2015 it was final­ly able to break ground on the 13th and final addi­tion­al pump­ing sta­tion. The expan­sion is expect­ed to go online in sum­mer 2016. Enbridge also has plans to build a ​"twin" for Line 61 to help car­ry the flood of extra oil pumped by the Line 3 expansion.
The final links in this tar sands chain have been around for some time. Two pipelines will run near­ly 800,000 BPD from Flana­gan to Cush­ing, Okla., where they link up with Enbridge's 500-mile long Sea­way pipeline and its 850,000 BPD capac­i­ty ​"twin." These pipelines extend all the way to the Gulf Coast.
Two days before Obama's Key­stone rejec­tion, Enbridge announced plans to build import and export facil­i­ties at the Gulf of Mex­i­co region. With Con­gress and Pres­i­dent Oba­ma hav­ing lift­ed the Unit­ed States' 40-year ban on oil exports in Decem­ber, Enbridge is now per­fect­ly posi­tioned to export tar sands oil through the Gulf.
"It's Key­stone times two," says Rumelt.
Enbridge's incre­men­tal approach to pipeline build­ing, crit­ics charge, has helped obscure its endgame of con­nect­ing the pipelines into one vast trans­porta­tion net­work. By only propos­ing small local and inter­state projects, Enbridge has skirt­ed the much more strin­gent fed­er­al reg­u­la­tion process, while also keep­ing pipeline fights local­ized and out of the nation­al press.
This strat­e­gy has worked. Tran­sCana­da fought and lost a very pub­lic, five-year long bat­tle with the fed­er­al gov­ern­ment over Key­stone. When was the last time you heard about Enbridge's pipelines?
Stonewalling and seizures
To get these projects off the ground, Enbridge has often resort­ed to under­hand­ed tactics.
"Enbridge has a his­to­ry of strong arm­ing indi­vid­ual landown­ers … threat­en­ing emi­nent domain and a slew of oth­er threats and forms of intim­i­da­tion," says Eliz­a­beth Ward, the Sier­ra Club's con­ser­va­tion pro­grams coordinator.
Emi­nent domain, the seizure of pri­vate prop­er­ty with­out the owner's con­sent for pub­lic use, has tra­di­tion­al­ly been employed by the gov­ern­ment for the ​"pub­lic use" of land, such as build­ing high­ways or schools. In 2004, how­ev­er, the Supreme Court ruled that pri­vate enti­ties could also be grant­ed this pow­er if their plans brought ​"pub­lic ben­e­fit" — in oth­er words, if they cre­at­ed jobs or brought oth­er eco­nom­ic gains. While Enbridge prefers to nego­ti­ate with landown­ers over the fair price of their prop­er­ty, if they dis­pute the price or refuse to sell, the com­pa­ny can use emi­nent domain to take it — a tac­tic it has a his­to­ry of using.
The com­pa­ny has also been accused of stonewalling envi­ron­men­tal groups, local tribes and com­mu­ni­ties, and, in some cas­es, gov­ern­men­tal bod­ies, keep­ing projects under a strict veil of secre­cy. Sev­er­al peo­ple I spoke with have said the com­pa­ny out­right refus­es to engage with them about their concerns.
A help­ing hand from government
The degree to which local and fed­er­al gov­ern­ments have been com­plic­it in approv­ing these projects also rais­es questions.
The State Depart­ment was autho­riz­ing Enbridge's ​"bypass project" at the same time the Oba­ma admin­is­tra­tion was mak­ing its much cel­e­brat­ed ​"piv­ot" toward act­ing on cli­mate change. In May 2014, two months before the State Depart­ment approved the project and one month after it allowed the Line 3 replace­ment to go ahead, the Wash­ing­ton Post quot­ed aides and advis­ers who claimed Oba­ma viewed cli­mate change as ​"one of the key com­po­nents of his lega­cy." ​"This is per­son­al for him," said one.
That same month, the White House put out a report warn­ing of the cat­a­stro­phe ahead if cli­mate change wasn't curbed. Lat­er that year, Oba­ma used the occa­sion of the G20 sum­mit for a dress­ing down of Aus­tralian Prime Min­is­ter Tony Abbot over his inac­tion on cli­mate change. Mean­while, in Feb­ru­ary 2014, John Ker­ry, the head of the same State Depart­ment that bent over back­wards for Enbridge, declared cli­mate change ​"the great­est chal­lenge of our generation."
In fact, Doug Hayes cred­its the Oba­ma admin­is­tra­tion with cre­at­ing the ​"turn­ing point" for pipeline building.
In the midst of his reelec­tion cam­paign in 2012, Oba­ma gave a speech in Cush­ing, Okla., boast­ing that, under his admin­is­tra­tion, Amer­i­ca had ​"added enough new oil and gas pipeline to encir­cle the Earth and then some." The same day, he issued an exec­u­tive order cut­ting the time involved in the fed­er­al per­mit­ting and review process for infra­struc­ture projects. Since then, says Hayes, fed­er­al agen­cies have reg­u­lar­ly seg­ment­ed oil pipelines when review­ing them and tak­en the nar­row­est view of their own juris­dic­tion, in order to avoid the need for envi­ron­men­tal reviews.
Joe Plumer, attor­ney for Ojib­we of the White Earth Nation in Min­neso­ta, asserts that state agen­cies haven't helped either. Rather than reg­u­lat­ing Enbridge's projects, Plumer says, the Min­neso­ta Pub­lic Util­i­ties Com­mis­sion has been rub­ber stamp­ing them for years.
Oppo­nents say it's the same across the bor­der in Wis­con­sin. The Line 61 expan­sion had faced steep oppo­si­tion from the res­i­dents of Dane Coun­ty, which had passed a local ordi­nance requir­ing Enbridge to pur­chase extra insur­ance to cov­er the coun­ty in case of a spill aris­ing from the project. For­tu­nate­ly for Enbridge, Gov. Scott Walker's ® gov­ern­ment slipped a last minute amend­ment into the state bud­get, extend­ing the pow­er of emi­nent domain to Enbridge and over­rul­ing the county's ordinance.
Anger at this state of affairs is grow­ing. On June 6, 5,000 pro­test­ers took part in the Tar Sands Resis­tance March in St. Paul, part­ly aimed at the Clip­per. Two months lat­er, 100 pro­test­ers from a coali­tion of envi­ron­men­tal groups staged a more than four hour-long protest out­side John Kerry's house in Wash­ing­ton, D.C., where 20 pro­test­ers were arrested.
More dra­mat­i­cal­ly, on Novem­ber 2, a broad alliance of pro­test­ers staged a sit-in at Enbridge's office in Duluth, Minn. Two indige­nous com­mu­ni­ty lead­ers attempt­ed to hand Enbridge staff a let­ter of demands, which includ­ed ceas­ing the Bypass Project. The Enbridge staff phys­i­cal­ly refused to accept the let­ter, lead­ing the pro­test­ers to slide the let­ter beneath a locked door. Lat­er that day, Enbridge issued a state­ment say­ing it would ​"con­tin­ue to engage in con­ver­sa­tions with indi­vid­u­als and com­mu­ni­ties in areas where we have oper­a­tions or active projects."
Activists see rais­ing the pro­file of Enbridge's projects to a Key­stone-like lev­el as essen­tial to stop­ping it. Mah­yar Sorour, an orga­niz­er at the Min­neso­ta Pub­lic Research Group and one of those involved in the protests, says the key will be to turn the Clip­per and its asso­ci­at­ed projects into large-scale issues with impact beyond the Mid­west. She notes that the Clip­per cross­es twice through the Mis­sis­sip­pi riv­er, which near­ly 15 mil­lion Amer­i­cans rely on as a source of freshwater.
The trou­ble with tar sands
Enbridge's pipelines have a slew of oth­er poten­tial envi­ron­men­tal­ly destruc­tive con­se­quences, chief among them the dan­ger of spilling tar sands oil.
Tar sands crude is a mix of sand, clay, water and bitu­men, an extreme­ly heavy type of oil often com­pared to molasses or peanut but­ter. Bitu­men is so heavy, in fact, it can only flow if heat­ed or mixed with lighter types of oil, which often turn out to be car­cino­gens. Long­stand­ing health con­cerns are asso­ci­at­ed with the stuff. Numer­ous stud­ies have linked tar sands to can­cer, and res­i­dents liv­ing near one bitu­men site in Alber­ta com­plained of symp­toms such as spasms, headaches, mem­o­ry loss and pains as a result of heavy oil odors.
The acute den­si­ty of bitu­men makes clean­ing it up a Her­culean labor. The exist­ing tech­nol­o­gy for clean­ing up oil spills assumes that oil floats in water. But bitu­men typ­i­cal­ly sinks to the bot­tom of what­ev­er water body it spills in, mix­ing in with rock and sed­i­ment, mak­ing it hard to scoop out and neces­si­tat­ing dredg­ing. The result is a cost­lier and more dif­fi­cult clean-up operation.
This is all the more alarm­ing when con­sid­er­ing where Line 67 alone runs through. The pipeline not only tra­vers­es pri­vate­ly owned land, threat­en­ing the homes and liveli­hoods of prop­er­ty own­ers — it also cross­es a num­ber of eco­log­i­cal­ly sig­nif­i­cant sites. Aside from the Mis­sis­sip­pi Riv­er, this includes the North­ern Divide, a key junc­ture from which water flows to the Great Lakes and the Hud­son and Mis­sis­sip­pi Rivers, and the Chippe­wa Nation­al For­est, loca­tion of Minnesota's five largest lakes, site of eight of its last remain­ing wet­lands and home to the high­est breed­ing pop­u­la­tion of bald eagles in the low­er 48 states.
Indige­nous com­mu­ni­ties are espe­cial­ly impact­ed. Enbridge's pipelines go through the Fond du Lac, Red Lake Nation and Leech Lake Indi­an Reser­va­tions, today the home of the Ojib­we peo­ple. Pipelines also trav­el through the region's wild rice lands, cen­tral to both the indige­nous com­mu­ni­ties' liveli­hoods and their cul­tur­al iden­ti­ties. Accord­ing to tra­di­tion, the Ojib­we orig­i­nal­ly trav­elled to and set­tled in the region because of its wild rice beds, which became a sta­ple of their diet. An oil spill would dev­as­tate these wild rice beds, not to men­tion rav­age the land on which the Ojib­we have hunt­ing and fish­ing rights.
Enbridge's his­to­ry is rid­dled with spills. More than 800 have occurred across the company's oper­a­tions between 1999 and 2010. The Clip­per itself leaked 125 bar­rels worth of oil last year at a Cana­di­an pump­ing sta­tion. The trans­port of tar sands makes spills espe­cial­ly likely.
"Tar sands is like liq­uid sand­pa­per," says Plumer. ​"It wears the pipe out from the inside."
To see the poten­tial con­se­quences of a spill, one need only look at what hap­pened in 2010, when a spill on one of Enbridge's Michi­gan pipelines poured more than 1 mil­lion gal­lons of tar sands crude into the Kala­ma­zoo Riv­er, result­ing in the most expen­sive onshore clean up in U.S. history.
Once in the water, the dilut­ed bitu­men sep­a­rat­ed, with the nat­ur­al gas liq­uids that were blend­ed into the mix con­t­a­m­i­nat­ing the sur­round­ing air and the bitu­men sink­ing to the riv­er bed. A com­bi­na­tion of a slow and inad­e­quate response by the EPA and a botched clean-up effort by Enbridge has meant that the riv­er is still con­t­a­m­i­nat­ed today. Near­by res­i­dents were forced to evac­u­ate and many still haven't returned, while Enbridge, unable to clean the tox­ic air, resort­ed to sim­ply buy­ing up some of the aban­doned homes.
A new direc­tion on cli­mate change?
The exploita­tion of tar sands oil has broad­er impli­ca­tions than these more imme­di­ate envi­ron­men­tal impacts. In the glob­al effort to halt cat­a­stroph­ic warm­ing of the plan­et, keep­ing tar sands in the ground is vital.
Tar sands oil is one of the dirt­i­est forms of fos­sil fuels that exists. Because of its com­plex and ener­gy-inten­sive extrac­tion and sep­a­ra­tion process­es, pro­duc­ing dilut­ed bitu­men ends up burn­ing 8 to 24 per­cent more car­bon than con­ven­tion­al oil. Accord­ing to the Nation­al Resources Defense Coun­cil, an aver­age open-pit mine spits out as much green­house gas every day as do 1.35 mil­lion cars. John Abra­ham, a pro­fes­sor of ther­mal sci­ences at the Uni­ver­si­ty of St. Thomas in Min­neso­ta, believes that burn­ing all the Alber­tan tar sands oil — which com­pris­es an area the size of Flori­da — would by itself raise the world's tem­per­a­ture by 0.4 degrees Cel­sius.
In oth­er words, for the sake of the plan­et, the Alber­ta tar sands have to stay in the ground.
"[The oil indus­try] only has a few lim­it­ed pipelines that can get this stuff out of Cana­da and into oth­er mar­kets," says Lena Mof­fitt, direc­tor of the Sier­ra Club's Dirty Fuels cam­paign. ​"The Alber­ta Clip­per is one of only two ded­i­cat­ed tar sands pipelines in exis­tence right now."
If oil prices con­tin­ue to stay low, this could make exploit­ing the tar sands sim­ply uneco­nom­i­cal for com­pa­nies like Enbridge.
"It's such a high cap­i­tal invest­ment," says Doug Hayes. ​"The break even point is so high that if oil prices are low and there's not these cheap pipeline trans­porta­tion options on the mar­ket, they are going to cur­tail production."
Sure enough, a State Depart­ment review found that, since trans­port­ing oil by rail is more expen­sive than via a pipeline, tar sands demand would drop if the price for a bar­rel of oil fell below $65. The price of oil this year has already fall­en to less than $50 a barrel.
Pres­i­dent Oba­ma may have put it best, when he reject­ed Key­stone: ​"Ulti­mate­ly, if we're going to pre­vent large parts of this Earth from becom­ing not only inhos­pitable but unin­hab­it­able in our life­times, we're going to have to keep some fos­sil fuels in the ground rather than burn them," he said.
Halt­ing the Clip­per could be crit­i­cal to this end. And for­tu­nate­ly, Keystone's fail­ure has shown that enough pres­sure can force the gov­ern­ment to do the right thing.
A short­er ver­sion of this arti­cle appears in the Jan­u­ary 2016 issue of In These Times.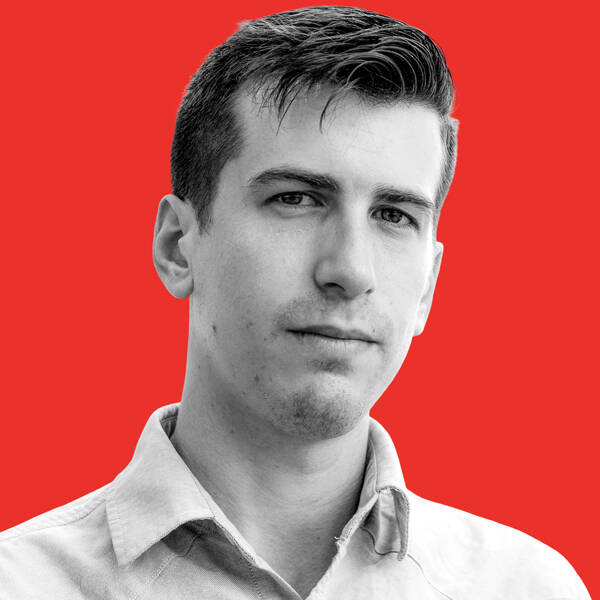 Branko Marcetic
is a staff writer at Jacobin mag­a­zine and a
2019
 – 
2020
Leonard C. Good­man Insti­tute for Inves­tiga­tive Report­ing fel­low. He is work­ing on a forth­com­ing book about Joe Biden.