These Jimmy Carter Speeches Show Why He Was a Radical President
Carter's forgotten legacy: his radical speeches while in office. We've shifted so far to the right that it's astounding to recall that a sitting president talked like this.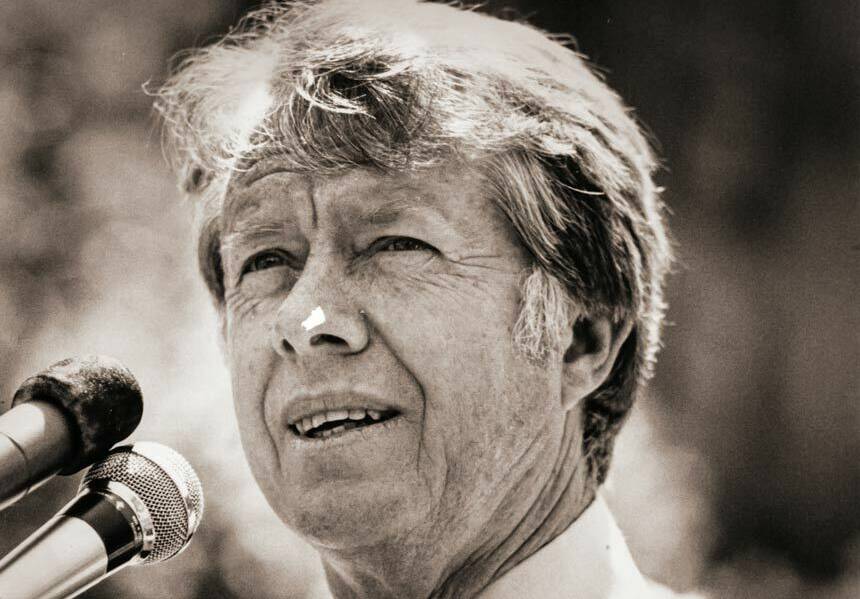 In the wake of for­mer Pres­i­dent Jim­my Carter's mov­ing­ly forth­right press con­fer­ence about his can­cer, which elicit­ed an out­pour­ing of admi­ra­tion for his grace and good humor under the cir­cum­stances, bot­tom-feed­ers Chris Christie and Ted Cruz lost no time bash­ing him on the cam­paign trail as a weak and failed pres­i­dent. Indeed, the moniker ​"great­est ex-pres­i­dent" is almost always uttered in tan­dem with the assump­tion that he was a dis­as­ter while in office. He inher­it­ed soar­ing oil and gas prices, high infla­tion and unem­ploy­ment, and then con­front­ed the 14-month Iran­ian hostage cri­sis that, with the failed res­cue mis­sion, cost him a sec­ond term. All of this pro­duced an amne­sia about what he did accom­plish in office and, espe­cial­ly, the val­ues he championed.
'Too many of us now tend to worship self-indulgence and consumption. ... But we've discovered that owning things and consuming things does not satisfy our longing for meaning.'
As we are forced to lis­ten to Don­ald Trump's racist and misog­y­nis­tic blar­ings about deport­ing undoc­u­ment­ed immi­grants and liken­ing women to dogs, let's cleanse our­selves by revis­it­ing some of Jim­my Carter's speeches.
"Ours is the par­ty that wel­comed gen­er­a­tions of immi­grants — the Jews, the Irish, the Ital­ians, the Poles and all the oth­ers, enlist­ed them in its ranks and fought the polit­i­cal bat­tles that helped bring them into the Amer­i­can main­stream," Carter not­ed in his 1976 accep­tance speech at the Demo­c­ra­t­ic con­ven­tion. He con­tin­ued, with words that Bernie Sanders echoes today, ​"Too many have had to suf­fer at the hands of a polit­i­cal eco­nom­ic elite who have shaped deci­sions and nev­er had to account for mis­takes or to suf­fer from injus­tice. When unem­ploy­ment pre­vails, they nev­er stand in line look­ing for a job. When depri­va­tion results from a con­fused and bewil­der­ing wel­fare sys­tem, they nev­er do with­out food or cloth­ing or a place to sleep. When the pub­lic schools are infe­ri­or or torn by strife, their chil­dren go to exclu­sive pri­vate schools. … An unfair tax struc­ture serves their needs. And tight secre­cy always seems to pre­vent reform."
He went on to call for uni­ver­sal vot­er reg­is­tra­tion, a nation­wide com­pre­hen­sive health pro­gram for every­one and ​"a com­plete over­haul of our income tax sys­tem." And lit­tle did he know how pre­scient this would be: ​"We can have an Amer­i­can gov­ern­ment that does not oppress or spy on its own peo­ple but respects our dig­ni­ty and our pri­va­cy and our right to be let alone."
In his Jan­u­ary 1978 State of the Union address, he named ​"the final elim­i­na­tion of the bar­ri­ers that restrict the oppor­tu­ni­ties avail­able to women and also to black peo­ple and His­pan­ics and oth­er minori­ties" a nation­al priority.
One of Carter's most famous — and mis­re­mem­bered — speech­es is his ​"Cri­sis of Con­fi­dence" address to the nation on July 15, 1979, in which he iden­ti­fied the ener­gy cri­sis as one of the pri­ma­ry caus­es of the country's eco­nom­ic and psy­chic dol­drums, and made a pas­sion­ate argu­ment for ener­gy con­ser­va­tion, restric­tions on imports of for­eign oil and ​"an extra $10 bil­lion over the next decade to strength­en our pub­lic trans­porta­tion sys­tems." He asked for a ​"mas­sive peace­time com­mit­ment of funds and resources" to devel­op ​"America's own alter­na­tive sources of fuel." To pay for all this, he called for a tax on cor­po­rate wind­fall profits.
And Carter said what no oth­er pres­i­dent has ever had the guts to say: ​"Too many of us now tend to wor­ship self-indul­gence and con­sump­tion. … But we've dis­cov­ered that own­ing things and con­sum­ing things does not sat­is­fy our long­ing for meaning."
His crit­ics quick­ly dubbed this ​"the malaise speech" — a word he nev­er used — but the imme­di­ate pub­lic response was over­whelm­ing­ly pos­i­tive, and his approval rat­ing went up by 11 per­cent.
Why does his rhetoric seem almost rad­i­cal today? Our polit­i­cal dis­course has moved far to the right, thanks to skilled and relent­less con­ser­v­a­tive mes­sag­ing from Repub­li­cans — as ampli­fied on Fox News and talk radio — which too many Democ­rats are afraid to refute. But Democ­rats like Bill Clin­ton, who bor­rowed GOP issues such as ​"end­ing wel­fare as we know it" and fold­ed them into the party's main­stream, are also to blame.
As we laud Pres­i­dent Carter for his extra­or­di­nary human­i­tar­i­an achieve­ments since 1981, let's not let the likes of Ted Cruz smear a lega­cy based on decen­cy, com­pas­sion and a pro­found appre­ci­a­tion of the rela­tion­ship between ener­gy, con­ser­va­tion and the future of the country.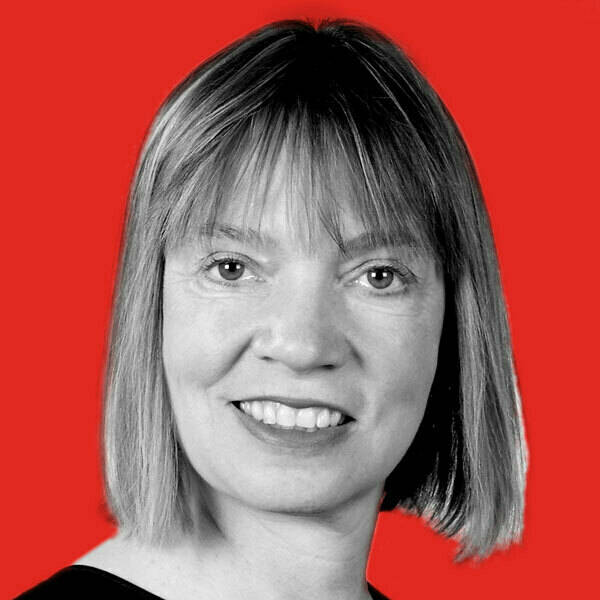 Susan J. Dou­glas
is a pro­fes­sor of com­mu­ni­ca­tions at the Uni­ver­si­ty of Michi­gan and a senior edi­tor at
In These Times
. Her forth­com­ing book is
In Our Prime: How Old­er Women Are Rein­vent­ing the Road Ahead.
.