Black Lives Matter Activists Declare Solidarity with Palestine
The statement revives the internationalism of the '60s and '70s, when black activists saw themselves as part of a global fight against Western colonialism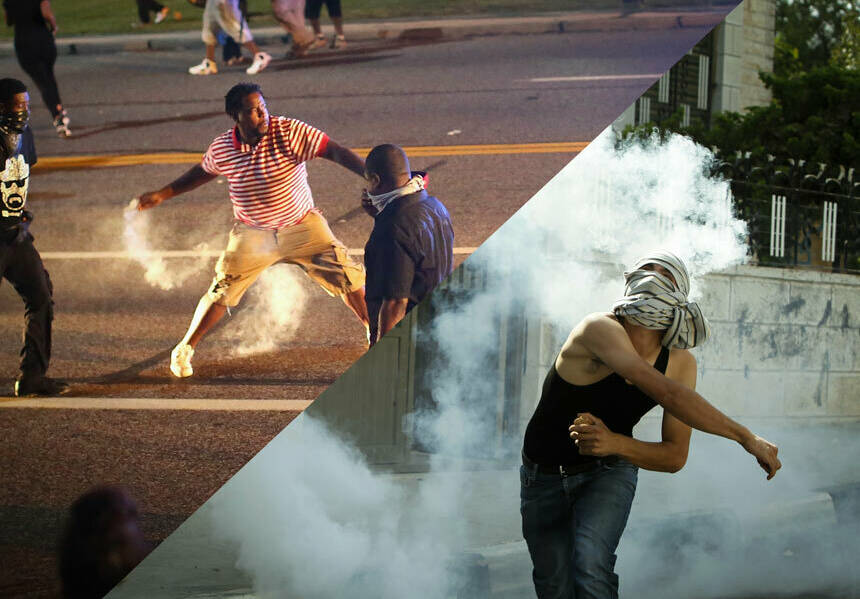 Long before the killing of Michael Brown by a Fer­gu­son cop coin­cid­ed with the bomb­ing of Gaza by Israeli forces, there were par­al­lels between the Pales­tin­ian and African-Amer­i­can free­dom strug­gles. On Nov. 1, 1970, black activists pub­lished an ad in the New York Times titled, ​"An Appeal by Black Amer­i­cans Against Unit­ed States Sup­port of the Zion­ist Gov­ern­ment of Israel." Signed by more than 50 writ­ers, edu­ca­tors, stu­dents and union lead­ers, the state­ment opened, ​"We, the black Amer­i­can sig­na­to­ries of this adver­tise­ment, are in com­plete sol­i­dar­i­ty with our Pales­tin­ian both­ers and sis­ters, who, like us, are strug­gling for self-deter­mi­na­tion and an end to racist oppression."
'The same urban police departments that harass, brutalize and murder black folks here train with Israeli law enforcement—who oppress Palestinians.'
When news reports last sum­mer revealed that the tear gas can­is­ters used by police to dis­band Fer­gu­son protests were the same as those used by Israeli sol­diers in occu­pied Pales­tin­ian ter­ri­to­ries, it boost­ed the con­nec­tion — and led to a stun­ning pub­lic state­ment of African-Amer­i­can sol­i­dar­i­ty with Pales­tini­ans. The Black Sol­i­dar­i­ty State­ment with Pales­tine was pub­lished in August, a year after the assault on Gaza. It defines the strug­gle for the ​"lib­er­a­tion of Palestine's land and peo­ple" as ​"a key mat­ter of our time."
Co-author and Boston-based activist Khury Petersen-Smith was inspired when Pales­tini­ans pro­duced two state­ments of sol­i­dar­i­ty with Fer­gu­son and the black strug­gle in the Unit­ed States. The ges­ture was well-received among black activists orga­niz­ing against police vio­lence, and Petersen-Smith saw an oppor­tune moment to rec­i­p­ro­cate. He also not­ed a grow­ing will­ing­ness among promi­nent black intel­lec­tu­als, such as Cor­nel West and Alice Walk­er, to express sol­i­dar­i­ty with Pales­tini­ans. So he hooked up with Kris­t­ian Davis Bai­ley, a Detroit-based activist who had penned a piece on Ebony magazine's web­site titled ​"Why Black Peo­ple Must Stand with Pales­tine." Togeth­er, they com­posed the sol­i­dar­i­ty state­ment, which explic­it­ly con­nects the African-Amer­i­can and Pales­tin­ian struggles:
Out of the ter­ror direct­ed against us — from numer­ous attacks on black life to Israel's bru­tal war on Gaza and choke­hold on the West Bank — strength­ened resilience and joint strug­gle have emerged between our movements.
More than 1,000 black schol­ars, activists, stu­dents and artists and near­ly 50 orga­ni­za­tions have signed. Among them are names like Angela Davis, Cor­nel West, Mumia Abu-Jamal and Tal­ib Kweli, and groups like the Dream Defend­ers.
The state­ment calls upon the U.S. gov­ern­ment to end diplo­mat­ic and eco­nom­ic aid to Israel, and upon African-Amer­i­can insti­tu­tions to sup­port the call for Boy­cott, Divest­ment, and Sanc­tions (BDS) against Israel until it com­plies with its oblig­a­tions under inter­na­tion­al law.
There are some in the black move­ment, par­tic­u­lar­ly black nation­al­ists, who argue the Pales­tin­ian and African-Amer­i­can strug­gles are sep­a­rate, and that link­ing them fos­ters con­fu­sion and dis­trac­tion. Petersen-Smith begs to dif­fer. ​"The U.S. and Israel make the con­nec­tions for us," he told Salon. ​"The same urban police depart­ments that harass, bru­tal­ize and mur­der black folks here train with Israeli law enforce­ment — who oppress Pales­tini­ans." Funds for Israeli weapons are resources divert­ed from black neigh­bor­hoods in des­per­ate need, he added.
The state­ment, which has been signed by sev­er­al sig­na­to­ries on the 1970 ad — Phil Hutch­ings, Charles Sim­mons and Kwame Som­bu­ru — feels like a revival of the inter­na­tion­al­ism of the 1960s and 1970s. Black activists then saw the African-Amer­i­can strug­gle as part of the glob­al fight against the West­ern colo­nial­ism that afflict­ed peo­ple of col­or world­wide, includ­ing Pales­tini­ans. The Unit­ed States was the de fac­to head­quar­ters of that colo­nial empire — the bel­ly of the beast. In recent years, how­ev­er, that focus had shift­ed, espe­cial­ly with the elec­tion of a black man as cus­to­di­an of that empire.
But the pen­du­lum appears to be swing­ing back. The young activists involved in move­ments like Black Lives Mat­ter, We Charge Geno­cide and Black Youth Project 100 are cul­ti­vat­ing inter­na­tion­al con­nec­tions. Petersen-Smith, for exam­ple, trav­eled to Gaza in 2009 as part of the Viva Palesti­na med­ical relief del­e­ga­tion. It seems the need for glob­al sol­i­dar­i­ty has revealed itself to a new gen­er­a­tion of black activists.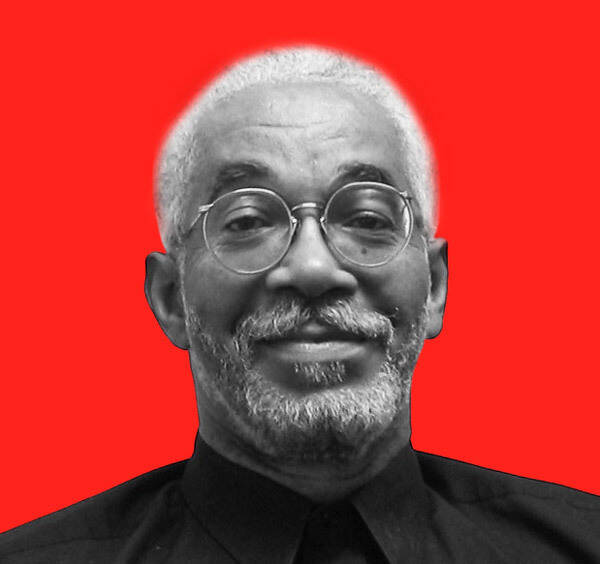 Sal­im Muwakkil
is a senior edi­tor of
In These Times
, where he has worked since
1983
. He is the host of The
Sal­im Muwakkil
show on WVON, Chicago's his­toric black radio sta­tion, and he wrote the text for the book
HAROLD: Pho­tographs from the Harold Wash­ing­ton Years
.