Donald Trump May Spend Memorial Day Pardoning War Criminals
Glorifying serial killer-type behavior most service members would find appalling is a strange way to honor them.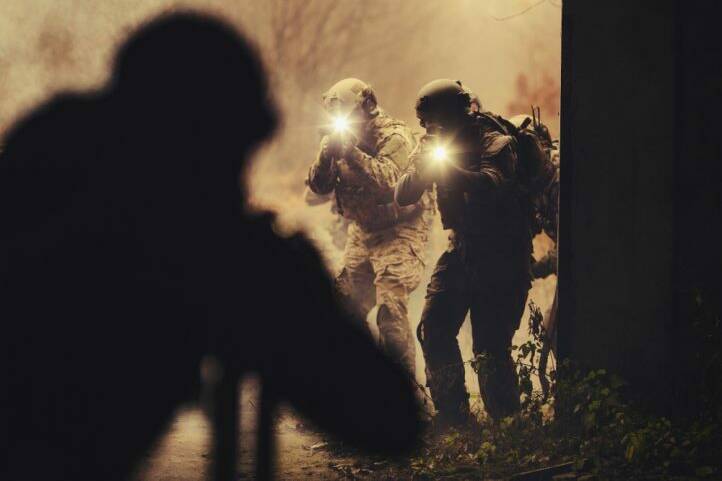 How are you spend­ing Memo­r­i­al Day? Ordi­nary peo­ple may attend parades, host cook­outs, or take the long week­end to vis­it loved ones.
Trump's recent moves are plainly calibrated to encourage war crimes, not prosecute them.
Don­ald Trump, on the oth­er hand, may par­don a few war criminals.
The pres­i­dent recent­ly request­ed the files of sev­er­al accused and con­vict­ed U.S. war crim­i­nals, a pos­si­ble step toward expe­dit­ed par­dons for indi­vid­u­als who've done unspeak­able things.
There's SEAL chief Edward Gal­lagher, who sense­less­ly shot to death a teenage girl and an elder­ly man in Iraq. Gal­lagher also bru­tal­ly stabbed a wound­ed 15-year-old to death — and then posed for pho­tos with the body, which he texted to friends.
Trump also request­ed the files of Nicholas Slat­ten, a Black­wa­ter con­trac­tor con­vict­ed of shoot­ing dozens of Iraqi civil­ians in the noto­ri­ous 2007 Nisour Square mas­sacre, and of Math­ew Gol­steyn, who con­fessed to mur­der­ing an unarmed Afghan cap­tive U.S. sol­diers had released.
Trump has already par­doned Michael Behen­na, who took an unarmed Iraqi cap­tive into the desert, stripped him naked, and shot him in the head and chest. Behen­na was sup­posed to be return­ing the man to his home village.
The pres­i­dent may present these par­dons as a show of patri­o­tism — his own Ram­bo-wor­ship­ing way of ​"sup­port­ing the troops." But sev­er­al vet­er­ans have object­ed, point­ing out that many sol­diers do their best to uphold the laws of war even under con­sid­er­able stress.
"They should treat the civil­ians as they would neigh­bors," com­bat vet­er­an Wait­man Wade Beorn recalled telling his pla­toon in Iraq, argu­ing that the cues com­man­ders set make all the dif­fer­ence. Beorn, a Holo­caust schol­ar, warned that one could draw some dark (if inex­act) par­al­lels between Trump's cues and Hitler's.
Dur­ing the Nazi inva­sion of the Sovi­et Union, he wrote, ​"sol­diers were lit­er­al­ly told that they would not be tried for behav­ior that would be a crime any­where else in Europe." Sim­i­lar­ly, ​"when Trump cham­pi­ons war crim­i­nals as brave patri­ots … he seems to push for a cli­mate that con­dones uneth­i­cal and crim­i­nal behavior."
Gary Solis, a retired mil­i­tary judge and Viet­nam vet­er­an, com­plained Trump was under­min­ing the entire mil­i­tary jus­tice sys­tem. ​"These are all extreme­ly com­pli­cat­ed cas­es that have gone through a care­ful sys­tem of con­sid­er­a­tion. A free­wheel­ing par­don under­mines that whole system."
That's like­ly the point. The truth is that Trump is pan­der­ing to the most atavis­tic seg­ment of his base. It echoes the Viet­nam years, when war sup­port­ers turned William Cal­ley, con­vict­ed for his role in butcher­ing hun­dreds of vil­lagers at My Lai, into a folk hero.
Today, Gallagher's cause is cel­e­brat­ed on ​"Fox and Friends," the president's favorite TV show, and Trump has praised Gal­lagher ​"in hon­or of his past service."
Trump's recent moves are plain­ly cal­i­brat­ed to encour­age war crimes, not pros­e­cute them. But glo­ri­fy­ing ser­i­al killer-type behav­ior most ser­vice mem­bers would find appalling is a strange way to hon­or them — par­tic­u­lar­ly when some have tak­en enor­mous risks to stop mas­sacres like these.
For instance, sev­en of Gallagher's own men report­ed him repeat­ed­ly, even after being warned by supe­ri­ors it would hurt their careers. Behenna's fel­low sol­diers, appar­ent­ly dis­turbed by his behav­ior, tes­ti­fied against him as well. At My Lai, Army heli­copter pilot Hugh Thomp­son land­ed his chop­per in between maraud­ing U.S. troops and cow­er­ing civil­ians, train­ing his guns on his own com­rades and forc­ing an end to the massacre.
Hon­or­ing these heroes would be more fit­ting, par­tic­u­lar­ly in the present cli­mate. Recent reports have doc­u­ment­ed alarm­ing rates of U.S.-inflicted civil­ian casu­al­ties in Soma­lia, Syr­ia and Afghanistan. In the lat­ter case, Trump's extrem­ist nation­al secu­ri­ty advis­er John Bolton made brutish threats to get the Inter­na­tion­al Crim­i­nal Court to back off inves­ti­gat­ing U.S. abus­es.
Mean­while, egged on by Bolton, Trump is con­sid­er­ing send­ing 120,000 or more troops into anoth­er pur­pose­less blood­bath in the Mid­dle East. And he's made no plans to fill the 45,000 or so vacant VA jobs back­log­ging vet­er­ans' health care.
Under these cir­cum­stances, do we sup­pose the troops — or loved ones who've lost them — will take a few par­dons for war crim­i­nals as a com­pli­ment? I don't know. But the real les­son may be that the worst war crim­i­nals wear suits, not fatigues.
Hap­py Memo­r­i­al Day.
Orig­i­nal­ly pub­lished in For­eign Pol­i­cy In Focus.
Peter Cer­to
is the edi­to­r­i­al man­ag­er of the Insti­tute for Pol­i­cy Stud­ies. He edits its For­eign Pol­i­cy In Focus and Oth­er­Words ser­vices and coach­es writ­ing in the New Econ­o­my Mary­land Fel­low­ship pro­gram. He's a for­mer asso­ciate edi­tor of Right Web, a project that mon­i­tors efforts to influ­ence U.S. for­eign pol­i­cy, and helped coor­di­nate the first annu­al Glob­al Day of Action on Mil­i­tary Spending.