In the American West, Arbitrary Poverty Designations Are Shortchanging the Rural Poor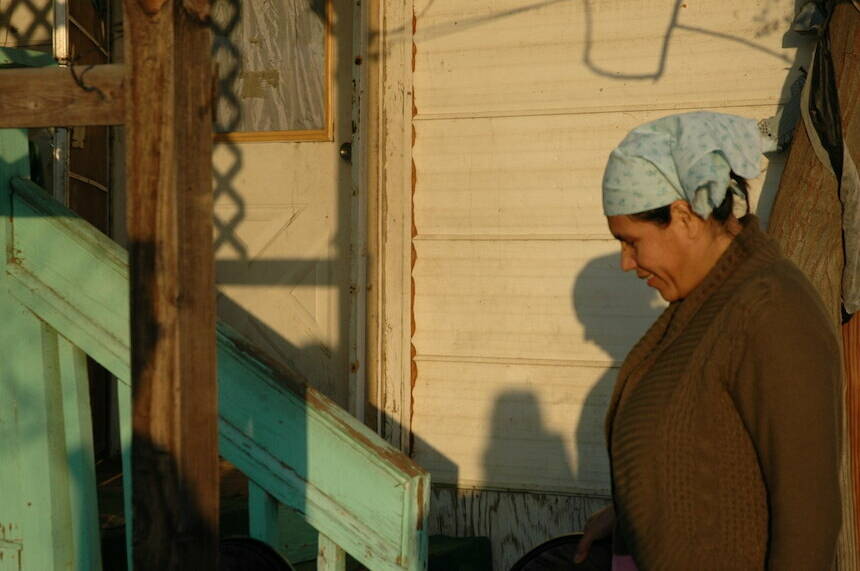 Two years ago, Con­sue­lo Andrade was liv­ing in a vil­lage with her grand­par­ents in Michoacán, Mex­i­co, where she reg­u­lar­ly saw neigh­bors and acquain­tances return­ing from time spent work­ing in the Unit­ed States. Their clothes were classy; some drove cars. She was mes­mer­ized. No one, how­ev­er, spoke about the work up north, and what it took to earn and save to buy such impres­sive goods.
Manuel Andrade was one of the men who returned to Michoacán. He even­tu­al­ly asked Con­sue­lo to mar­ry him and return to Tulare Coun­ty, Calif., where he has picked oranges since 1979. Like count­less immi­grants before her, she expect­ed, if not for­tune, then cer­tain­ly a bet­ter, more pros­per­ous life in Cal­i­for­nia than the pover­ty she knew in Mexico.
What she found was not quite what she envisioned.
Con­sue­lo wears bright blue sweat pants, an olive green sweater and a ban­dana tucked back with bob­by pins. At age 39, she appears weary. But at the sight of vis­i­tors, her smile is imme­di­ate and she ush­ers them into her yard. Her home is like all the oth­ers here on Road 216 in Tonyville: crum­bling paint, shaky floors and stairs, grav­el and weeds, dead tree branch­es, laun­dry lines, and plas­tic sheet­ing over win­dows to cut down on the drafts. Like many fam­i­lies in the Cen­tral Val­ley, the Andrades rely on bot­tled water for house­hold use, due to nitrate con­t­a­m­i­na­tion in the water that comes out of the tap. But the rent is afford­able at $400 per month.
The lan­guage, the pace of life — it was all so strange, so dis­ori­ent­ing, recalls Con­sue­lo about her arrival in 2016. Pick­ing oranges day in and day out has got­ten eas­i­er, she says, now that Manuel bought her a lad­der. She can fill up to three box­es with the fruit from eight trees. Ordi­nar­i­ly, she and Manuel would each earn $88 per day at the Cal­i­for­nia min­i­mum wage of $11 per hour, but with increas­ing vision prob­lems and asso­ci­at­ed doc­tor vis­its, he only works half-days, com­pound­ing their eco­nom­ic fragility.
Nei­ther Manuel nor Con­sue­lo have heard of John Steinbeck's The Grapes of Wrath, so they wouldn't know that the author set much of his tale right here in Tulare Coun­ty. Next year, it will be 80 years since the book was pub­lished. Manuel has been here 40 of those 80 years, just like the count­less sec­ond- and third-gen­er­a­tion Lati­no farm­work­ers who make up a crit­i­cal com­po­nent of California's eco­nom­ic back­bone. They work long, hard hours, uncom­plain­ing as they feed the state and the nation. Yet their income does not keep pace with ever increas­ing expens­es, despite the fact that the min­i­mum wage law gov­erns their month­ly incomes.
Why the fed­er­al government's var­ied def­i­n­i­tions of per­sis­tent pover­ty matter
The U.S. Cen­sus Bureau report­ed in July 2016 that Tulare County's pover­ty rate is 24.7 per­cent. Twen­ty per­cent is con­sid­ered high.
The gov­ern­ment uses cen­sus data to define coun­ties as offi­cial­ly ​"Per­sis­tent­ly Poor" if 20 per­cent or more of their pop­u­la­tions were liv­ing in pover­ty dur­ing the last 30 years, as mea­sured by the 1980, 1990 and 2000 decen­ni­al cen­sus­es and the Cen­sus Bureau's 2007 – 2011 Amer­i­can Com­mu­ni­ty Sur­vey. The def­i­n­i­tion affects at least 15 dif­fer­ent spend­ing pro­grams with­in the Depart­ments of Agri­cul­ture, Com­merce, Edu­ca­tion, Labor, Health and Human Ser­vices, Hous­ing and Urban Devel­op­ment, Trans­porta­tion, the Trea­sury and the EPA.
This fed­er­al fund­ing trans­lates into life sta­ples: waste­water sys­tems and clean water deliv­ery, decent low-income hous­ing, lit­er­a­cy pro­grams, eco­nom­ic devel­op­ment, roads and telecom­mu­ni­ca­tion infra­struc­ture. The USDA, for exam­ple, has a man­date for 20 per­cent of its lend­ing to go to per­sis­tent pover­ty areas. In addi­tion, the new tax law cre­ates ​"Oppor­tu­ni­ty Zones," but this is based on cen­sus tracts, not coun­ties. States can des­ig­nate 25 per­cent of their ​"high need" cen­sus tracts as these oppor­tu­ni­ty zones, which trans­lates into sig­nif­i­cant tax ben­e­fits to encour­age invest­ment there.
Today, there are 353 per­sis­tent­ly poor coun­ties in the Unit­ed States, of which 301 are rur­al, and the rest urban. Eighty-four per­cent of per­sis­tent pover­ty coun­ties are in the South. Much of Appalachia qual­i­fies. In the West, 21 rur­al (non-metro) coun­ties are offi­cial­ly des­ig­nat­ed as per­sis­tent pover­ty coun­ties. More­over, agen­cies adopt new def­i­n­i­tions over time. The USDA's def­i­n­i­tion is not the same as HUD's, and the one at HHS dif­fers from the Treasury's criteria.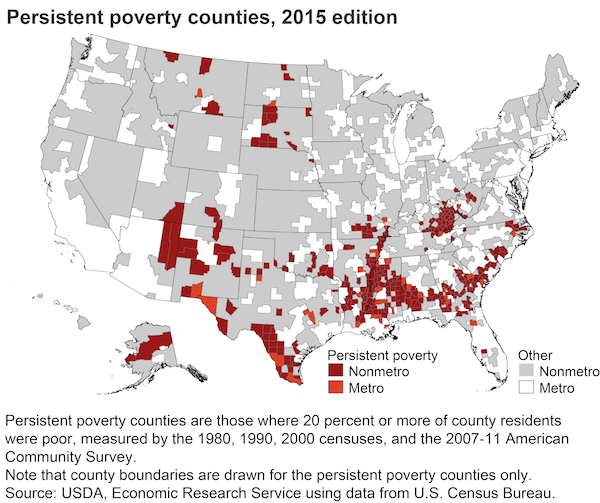 Though per­sis­tent pover­ty des­ig­na­tions are changed and updat­ed reg­u­lar­ly, not a sin­gle rur­al Cal­i­for­nia coun­ty qual­i­fies. The rea­son, say experts, is that many of the state's rur­al poor don't actu­al­ly live in rur­al coun­ties. Instead, the state's large coun­ties often include high­er income urban pop­u­la­tions that hide sub­stan­tial rur­al areas where per­sis­tent pover­ty exists — like Tulare Coun­ty, which is an urban county.
Like­wise, Fres­no is an urban Cal­i­for­nia coun­ty based on pop­u­la­tion. But the coun­ty also has size­able rur­al cen­sus tracts, west of the city of Fres­no, that are per­sis­tent­ly poor.
Iso­lat­ed geo­graph­i­cal­ly, neglect­ed and shroud­ed from main­stream Amer­i­ca, these areas lack resources and eco­nom­ic lever­age. They have suf­fered from decades of dis­in­vest­ment and high pover­ty rates. In short, because the gov­ern­ment defines pover­ty by the coun­ty as a whole rather than by indi­vid­ual cen­sus tract, they are denied access to fund­ing and pro­grams that could help.
"Per­sis­tent pover­ty has always been mea­sured by coun­ty and because of that, the fed­er­al gov­ern­ment has been reluc­tant to con­sid­er oth­er options," says Jan­ice Wad­dell, who was State Direc­tor for Rur­al Devel­op­ment Cal­i­for­nia for the U.S. Depart­ment of Agri­cul­ture between 2015 and 2017, and pri­or to that worked for 35 years with­in the agency. ​"That real­ly puts Cal­i­for­nia at a dis­ad­van­tage when our rur­al pover­ty is very con­sid­er­able. It excludes so many pop­u­la­tions and doesn't reflect what's hap­pen­ing on the ground. A per­sis­tent pover­ty coun­ty can access more funds, or get first shot at fund­ing when there are ini­tia­tives that come out to tar­get high pover­ty areas. Cal­i­for­nia is dis­ad­van­taged because it often can­not com­pete for those funds."
More­over, when the cost of liv­ing in Cal­i­for­nia is mea­sured against medi­an house­hold incomes, the state is the poor­est in the nation, despite its stel­lar job and eco­nom­ic growth. More than 20 per­cent of its res­i­dents — 8 mil­lion peo­ple — are strug­gling to pay bills, accord­ing to the U.S. Cen­sus' sup­ple­men­tal pover­ty mea­sure, which takes into con­sid­er­a­tion food, hous­ing, tax­es and med­ical costs. Last year, these strik­ing fig­ures prompt­ed Cal­i­for­nia State Assem­bly Repub­li­can Leader Chad Mayes, who rep­re­sents San Bernardi­no and River­side coun­ties, to declare pover­ty California's most urgent priority.
An on-the-ground look at per­sis­tent pover­ty in two states
In Jan­u­ary, I spent a few weeks in rur­al Cal­i­for­nia and New Mex­i­co to try and bet­ter under­stand how these fed­er­al pover­ty guide­lines affect res­i­dents — and in par­tic­u­lar at a time when the over­all urban econ­o­my is boom­ing and unem­ploy­ment is down. In Cal­i­for­nia, in addi­tion to Tulare Coun­ty, I vis­it­ed Fres­no and River­side Coun­ties. In New Mex­i­co I vis­it­ed two coun­ties — Taos and Dona Ana. These five coun­ties have sim­i­lar economies and demo­graph­ics; all five have sig­nif­i­cant His­pan­ic pop­u­la­tions, all have vast rur­al areas and all strug­gle with drought, con­t­a­m­i­nat­ed water and lack afford­able hous­ing. The dif­fer­ence, how­ev­er, is that the New Mex­i­can coun­ties qual­i­fy for per­sis­tent pover­ty sta­tus, allow­ing them access to fund­ing and anti-pover­ty programs.
On Avenue 66, between La Quin­ta and Ther­mal in California's River­side Coun­ty, Steinbeck's prose comes to life. Here, along a cor­ri­dor of date palms lin­ing the road, there is a some­what Mid­dle East­ern regal ambi­ence. Dri­ving it, you may expect to end up at a desert palace. Indeed, trav­el­ing west­ward, that wouldn't be far off the mark: La Quinta's lush world-class golf cours­es and man­i­cured yards and homes behind auto­mat­ed gates are an oasis set against the strik­ing San­ta Rosa and San Jac­in­to Mountains.
But dri­ve just a few miles east­ward and you will pass let­tuce fields and orange orchards, and cadres of labor­ers among each, ful­ly cov­ered to shield them­selves from sun and farm chem­i­cals. Even­tu­al­ly you will reach the decrepit mobile homes scat­tered along unpaved roads and see dilap­i­dat­ed trail­ers behind met­al fences, shroud­ed by dry­ing laun­dry and aban­doned cars, a world away from Palm Springs and La Quinta.
Samuel Cas­tro has lived in Ther­mal for near­ly four decades. It was poor when he arrived from his native Michoacán and it's with­out ques­tion still poor. He speaks no Eng­lish — he explains, he was too busy work­ing in the fields to learn. But he's moved up a bit in this world: for the past 15 years, he's owned and man­aged the 12 mobile homes at the Mezquit Mobile Home Park in Ther­mal. Walk­ing among the homes, he describes try­ing to con­vince res­i­dents to get rid of old cars that no longer run and are left block­ing fire routes. There are no sew­er lines to his park; he must man­age a sep­tic sys­tem. He details the coun­ty fees and per­mits that have left him drown­ing in debt, and prob­lems with the for­mer own­er who refused to vacate the prop­er­ty. He's scared, he doesn't want to speak ill of the bureau­cra­cy; he doesn't want to jeop­ar­dize his lot.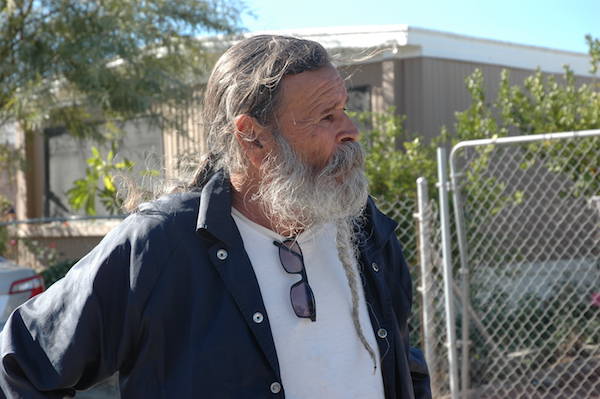 For­mer farm work­er Samuel Cas­tro talks out­side the prop­er­ties he now helps man­age in the unin­cor­po­rat­ed com­mu­ni­ty of Ther­mal, in River­side Coun­ty, Calif. (Image: Eliz­a­beth Zach)
"
It's hard for me to cov­er all costs," he says through a trans­la­tor. ​
"
I've tried to raise the rent but then the ten­ants com­plain to the coun­ty and there's a back­lash." At one point, the coun­ty offered a pro­gram to mobile home own­ers like Cas­tro to trade in old­er homes for new­er ones and have the ten­ants pay the insur­ance and fees for their new dwellings. This helped him. But it was short-lived; the pro­gram, fund­ed in part by the U.S. Depart­ment of Hous­ing and Urban Devel­op­ment (HUD) and Com­mu­ni­ty Devel­op­ment Finan­cial Insti­tu­tions (CDFI), no longer exists. If River­side was a per­sis­tent pover­ty coun­ty, it would have pri­or­i­ty sta­tus when com­pet­ing for fed­er­al fund­ing that could alle­vi­ate its hous­ing and water woes.
Instead, Cas­tro does the best he can, walk­ing the premis­es dai­ly to inspect the prop­er­ties and make sure all is up to code and plead­ing with ten­ants to remove unused cars and do their part to keep the area presentable.
Some 350 miles north of Ther­mal, in Fres­no, Dave Herb has spent his adult life puz­zling over sit­u­a­tions like Castro's and gen­er­a­tional pover­ty — ever since he arrived in Kings Coun­ty, Calif., as a VISTA vol­un­teer in 1969. Back then, he says, ​"I thought to myself, ​'God must not love this place.'"
A Penn­syl­va­nia coal coun­try native, he says he came to Cal­i­for­nia ​"to save the poor" and ​"to teach peo­ple how to be squeaky wheels." He even­tu­al­ly set­tled in Fres­no where he raised a fam­i­ly and worked for decades in coun­ty pol­i­tics. He has an unmis­tak­able affec­tion for his adopt­ed home, in par­tic­u­lar when he notes proud­ly that the writer William Saroy­an lived his entire 72 years here and, even as an old­er gen­tle­man, could be seen ped­al­ing his bike around town.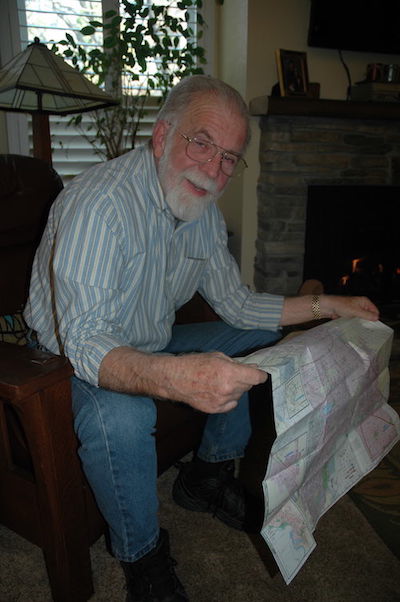 Long-time Fres­no res­i­dent, Dave Herb, explains how Cal­i­for­ni­a's Cen­tral Val­ley has and has not changed. (Image: Eliz­a­beth Zach)
He has watched pris­ons — a dozen today — pro­lif­er­ate through­out the Cen­tral Val­ley, California's 450-mile long agri­cul­tur­al pow­er­house that par­al­lels the Pacif­ic Ocean and the Sier­ra Neva­da. The pris­ons pro­vide jobs, but also mutate the fab­ric of cher­ished farm­ing com­mu­ni­ties and increase sub­ur­ban sprawl. He has watched neigh­bor­hoods diver­si­fy and gen­tri­fy and develop.
"The Cen­tral Val­ley is a clas­sic case of estab­lish­ing scat­tered com­mu­ni­ties with­out ade­quate ser­vices," says Herb, as he dri­ves through Cal­wa, a low-income Fres­no neigh­bor­hood. ​"Over the years, coun­ties here have allowed scat­tered devel­op­ments often with­out ade­quate lev­els of urban fire pro­tec­tion, police or infrastructure."
These com­mu­ni­ties were often built on unin­cor­po­rat­ed land, Herb says, and the devel­op­ment stan­dards on that land, ​"were much, much low­er than they are in cities. There were no require­ments for street lights, side­walks, paving, gut­ters, they often had no com­mu­ni­ty water sys­tems, and many relied on pri­vate wells."
The his­to­ry is dif­fer­ent for every com­mu­ni­ty, he explains. The scat­tered nature of the devel­op­ment was some­times due to farm­ing and agri­cul­tur­al needs, but not always.
The west­ern half of Fres­no Coun­ty is very poor and has been so for decades. But fur­ther east around Fres­no, it's some­what more pros­per­ous. The USDA, which could pro­vide the most fund­ing Fres­no County's rur­al areas, such as deeply impov­er­ished com­mu­ni­ties like Men­do­ta and Fire­baugh, does not rec­og­nize it as a per­sis­tent­ly poor coun­ty. Nor, for that mat­ter, does it rec­og­nize it as a rur­al county.
A rur­al New Mex­i­co com­mu­ni­ty con­sid­ers its options
On a sun­ny yet freez­ing Sat­ur­day after­noon in Rio Lucio, a town in Taos Coun­ty, Melanie Del­ga­do sat among more than a dozen area res­i­dents in a trail­er that serves as the Rio Lucio Com­mu­ni­ty Cen­ter. Sit­ting on met­al fold­ing chairs around tables form­ing a cres­cent moon, some par­tic­i­pants sipped from water bot­tles, oth­ers from Sty­ro­foam cups filled with gin­ger ale.
The meet­ing agen­da was focused on but one item: water.
As a com­mu­ni­ty ser­vices coor­di­na­tor with the New Mex­i­co Envi­ron­ment Department's Drink­ing Water Bureau, Del­ga­do spends her days help­ing rur­al com­mu­ni­ties fig­ure out how to deliv­er clean water to res­i­dents and busi­ness­es and how to treat waste­water. She also helps them deter­mine whether they are eli­gi­ble for grants that would cov­er their infra­struc­ture costs and pay for cer­ti­fied water oper­a­tors, who are trained to ensure clean water deliv­ery and man­age waste­water systems.
So she knows bet­ter than most the issues of drought and con­t­a­m­i­na­tion plague this moun­tain­ous region. In the month pri­or the meet­ing, one water sys­tem had three major water leaks. Anoth­er sys­tem, at an ele­men­tary school, drained 250,000 gal­lons of water over twelve hours; no one could find the valve to stanch the flood. Some com­mu­ni­ties around here don't have water oper­a­tors; there's no econ­o­my of scale and infra­struc­ture is expen­sive. The one bright spot, every­one agrees, is that local lead­ers are sym­pa­thet­ic to keep­ing rates low, rec­og­niz­ing that this is a low-income county.
"Well, it is and it isn't," Del­ga­do said after the meet­ing as she helped fold and stack the met­al chairs.
Here in Taos Coun­ty, the medi­an house­hold income is $31,112 and the pover­ty rate report­ed in July 2017, accord­ing to the U.S. Cen­sus Bureau, was 22.4 per­cent But Del­ga­do says the medi­an income fig­ure may be mis­lead­ing. The city of Taos, with its world-renowned art gal­leries and near­by ski resorts, is a haven for the wealthy. Julia Roberts has a sea­son­al house there. Robert Red­ford calls Taos home. (In fact, it's also where Red­ford filmed his 1988 Mila­gro Bean­field War, which is set in a poor north­ern New Mex­i­co town that los­es its water to polit­i­cal and busi­ness interests.)
The county's his­tor­i­cal pover­ty, how­ev­er, has earned it per­sis­tent pover­ty sta­tus, which allows it to com­pete for rur­al devel­op­ment fund­ing. Such fund­ing helps towns like Rio Lucio and near­by Peñas­co and Rodarte, which con­tin­ue to strug­gle with pay­ing for clean water.
Near­ly 500 miles south of Rio Lucio, the high desert grad­u­al­ly flat­tens, allow­ing farm­ers in Dona Ana Coun­ty to grow the area's sig­na­ture chili pep­pers. The Hatch Chile Fes­ti­val on Labor Day week­end attracts more than 30,000 vis­i­tors from around the world to the town of Hatch, pop­u­la­tion below 2,000, earn­ing it cov­er­age in the BBC and Food Net­work. But for most of the year, this is a lone­ly, sear­ing landscape.
It's all Lisa Neal has known, grow­ing up here on her par­ents' onion farm. She has a nat­ur­al affec­tion and enthu­si­asm for Hatch, serv­ing as its library direc­tor as well as the Hatch Val­ley Eco­nom­ic Coordinator.
One after­noon dur­ing my vis­it, she drove through a neigh­bor­hood where farm labor­ers live and which are sim­i­lar to those in California's Cen­tral Val­ley. Both stretched amid dusty roads and were pop­u­lat­ed with wire fences and makeshift trail­ers. Neal lat­er point­ed to an arroyo that flood­ed over lev­ees in 2006 and last year, and she described the water and waste­water prob­lems Hatch has had to deal with across peri­ods of extreme drought and flash flood­ing. But because of Dona Ana County's per­sis­tent pover­ty sta­tus, it qual­i­fied last year for more than $500,000 in USDA fund­ing to ren­o­vate its water system.
"We're eli­gi­ble for cer­tain library pro­grams, too," Neal said, explain­ing the pover­ty she has observed in Hatch over the years. She receives increased state fund­ing for bilin­gual books and to teach cit­i­zen­ship, GED and lit­er­a­cy class­es. Fund­ing for this is part­ly through the fed­er­al Library Ser­vices & Tech­nol­o­gy Act, which sup­ports libraries in under­served rur­al com­mu­ni­ties and chil­dren from fam­i­lies with incomes below the pover­ty line.
One of those chil­dren was Ana Bal­cazar, whose fam­i­ly arrived in the Hatch Val­ley near­ly 30 years ago. Her father was 13 when he came; now 40, he and his wife are rais­ing five chil­dren. A num­ber of their fam­i­ly mem­bers work for Lisa's sis­ter, whose hus­band has a farm­ing busi­ness. As soon as Ana was old enough — age 12 — she, too, was in the fields. She is now 18.
"We picked onions and I learned how to top off their stems," she says. ​"It was hard work. I knew it then even though I had noth­ing to com­pare it to. My father would make a game out of it for us and we'd have com­pe­ti­tions to see who could do the most work. Dur­ing the sum­mer, we'd be up at 4 a.m., start work at 5:00 a.m. and fin­ish some­time in the after­noon. My grand­fa­ther is in his 70s and he's still work­ing in the fields."
In 2016, Bal­cazar applied for, and got, a part-time after-school job at the library. She learned how to shelve books, helped vis­i­tors use the com­put­ers and trans­lat­ed for those who couldn't speak Eng­lish. It opened up a world for her, she says, adding that it gave her more time to read and gave her con­fi­dence to apply to the Uni­ver­si­ty of New Mex­i­co in Albu­querque. She was accept­ed and will enroll this fall.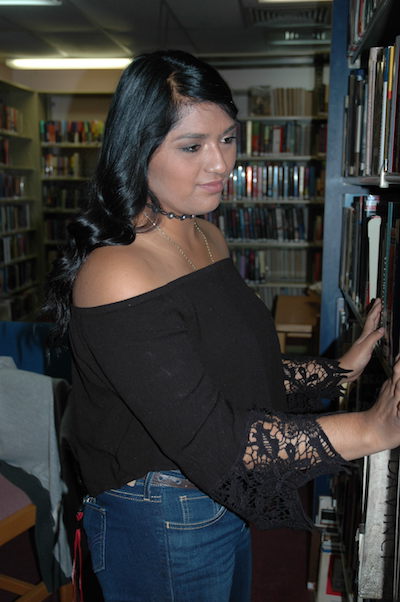 Ana Bal­cazar shelves books at a library in New Mex­i­co's Hatch Val­ley. (Image: Eliz­a­beth Zach)
Such sto­ries, of course, are not new. This coun­try was built on the backs of immi­grants like Ana's par­ents, many dis­ori­ent­ed just like Con­sue­lo Andrade, but forg­ing ahead so that their chil­dren can have bet­ter lives. In California's Cen­tral Val­ley writ­ers like Stein­beck and Saroy­an cel­e­brat­ed the field hands — their dreams and mod­est ambitions.
It struck me lat­er that I had seen this same simul­ta­ne­ous fas­tid­i­ous­ness and accep­tance with the Andrades as I had the day before when I left Samuel Cas­tro. They all have, as Dave Herb had told me, been too busy the last decades work­ing them­selves to the bone to pay atten­tion to the bureau­crat­ic def­i­n­i­tions of their lives.
(This report­ing was made pos­si­ble by a grant from the Mar­guerite Casey Foundation's Jour­nal­ism Fel­low­ship. The foun­da­tion ​"exists to help low-income fam­i­lies strength­en their voice and mobi­lize their com­mu­ni­ties in order to achieve a more just and equi­table soci­ety for all." For more infor­ma­tion about their work, click here.)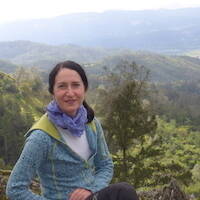 Eliz­a­beth Zach
is the staff writer at the non­prof­it Rur­al Com­mu­ni­ty Assis­tance Cor­po­ra­tion, where she cov­ers rur­al pover­ty and economies, the envi­ron­ment, and trib­al issues across the
13
states of the Amer­i­can West, includ­ing Alas­ka and Hawaii. In
2018
, she report­ed on per­sis­tent pover­ty as a Mar­guerite Casey Foun­da­tion Equal Voic­es Jour­nal­ism Fel­low. In
2016
, she was a fel­low at the Uni­ver­si­ty of South­ern Cal­i­for­ni­a's Annen­berg School of Jour­nal­ism, writ­ing on rur­al health­care in Cal­i­for­nia. In
2015
, she was a media fel­low at Stan­ford Uni­ver­si­ty's Bill Lane Cen­ter for the Amer­i­can West, for which she researched and wrote about women farm­ers and ranchers.