More and More Women are Farm Operators: Who Are They?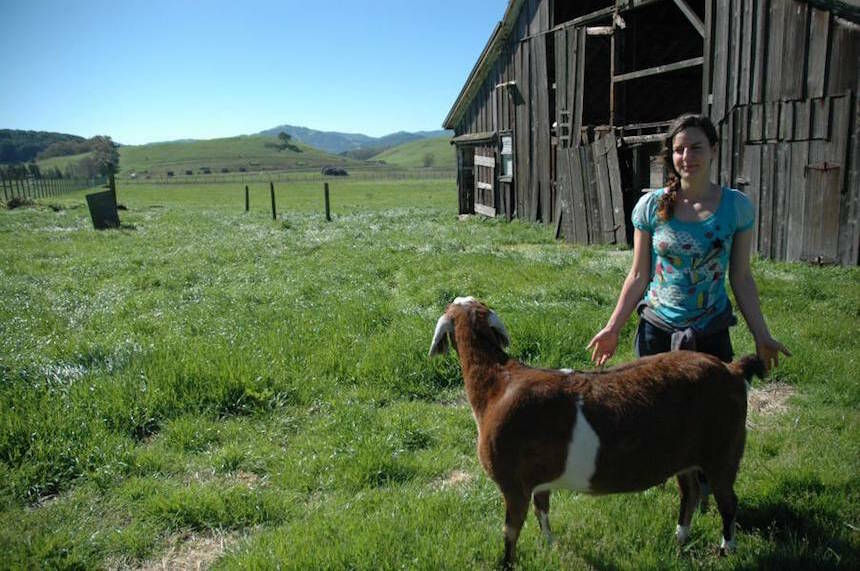 In May 2014, I land­ed back in the Amer­i­can West after near­ly two decades roam­ing and writ­ing about the Euro­pean con­ti­nent. I'd tak­en a job as a new staff writer (the posi­tion didn't exist before I filled it) chron­i­cling the West's vast and var­ied ter­ri­to­ry for the Rur­al Com­mu­ni­ty Assis­tance Cor­po­ra­tion (RCAC), based in Cal­i­for­nia. The non­prof­it was found­ed four decades ago upon the prin­ci­ples that guid­ed Cesar Chavez and his farm­work­er hous­ing move­ment, but in inter­ven­ing years, has — very effec­tive­ly, I might add — tak­en on more caus­es such as clean water, afford­able hous­ing and eco­nom­ic devel­op­ment. I found myself sud­den­ly hav­ing to come quick­ly up to speed on sub­jects as diverse as California's men­ac­ing drought, hous­ing for home­less vet­er­ans on a Mon­tana Indi­an reser­va­tion, water rights in Alas­ka, and frack­ing in New Mex­i­co, among oth­er com­pelling and com­plex stories.
In try­ing to get a han­dle on the big­ger pic­ture of my sto­ries, and the peo­ple behind them, I spent one after­noon duti­ful­ly read­ing a U.S. Depart­ment of Agri­cul­ture (USDA) report based on the 2010 cen­sus and in con­nec­tion with it, an overview of the Farm Bill passed by Con­gress in Feb­ru­ary 2014. In this report, I came across two sen­tences, as brief and mat­ter-of-fact as you would expect to find in, well, a USDA report on cen­sus num­bers. They were, in essence, this: In the past three decades, the num­ber of women-oper­at­ed farms has increased sub­stan­tial­ly in the nation. Between 1978 and 2007, accord­ing to the agency's Eco­nom­ic Research Ser­vice, the num­ber of women-oper­at­ed farms in the Unit­ed States grew from 306,200 to near­ly a million.
A bridg­ing of fields
My inter­est was instant­ly piqued: ​"Who are these women?" I wondered.
My mind's eye filled with sepia images. They were of Willa Cather's lone­ly and moody hero­ines on the end­less Nebras­ka plains. There was the icon­ic Isak Dine­sen, my own hero­ine: betrayed and bank­rupt and yet silent­ly, painstak­ing­ly detail­ing the cru­cible and hope of her Kenyan cof­fee plan­ta­tion, alone. I thought about what would moti­vate a woman to take on an enter­prise like a farm today, in Amer­i­ca, know­ing full well the finan­cial risk and unavoid­able, back-break­ing work.
My first port-of-call was the USDA's Eco­nom­ic Research Ser­vice, and after some twists and turns, I found my way to James Williamson, one of the lead economists/​statisticians who had authored the report. After he explained to me how the num­bers were derived and inter­pret­ed, I pressed for more detail, again: Who are these women?
"I just do the num­bers," James told me. But, he added, almost in pass­ing, ​"You would make a very large con­tri­bu­tion to this field if you could go out and inter­view these women, and let us know who they are and what they do."
That was all the encour­age­ment I needed.
By great luck, at about this same time, I had been con­nect­ed through a jour­nal­ism forum to Geoff McGhee, who directs the media fel­low­ships pro­gram at Stan­ford University's Bill Lane Cen­ter for the Amer­i­can West. Dur­ing a phone call in August 2014, he was curi­ous about my writ­ing and work, and I men­tioned what I was learn­ing about the increase in women farm­ers and ranch­ers. He was just as intrigued as I was, and he encour­aged me to apply for a fel­low­ship, which would be more in the way of a trav­el grant, allow­ing me the time and resources to trav­el the Amer­i­can West so as to find and meet the women who work the land.
By Novem­ber, and with the sup­port of RCAC, I had a for­mal pro­pos­al in place, and had also, by con­tact­ing the Cen­ter for Land-Based Learn­ing in Win­ters, Calif., start­ed devel­op­ing a valu­able data­base of farm­ing and ranch­ing women across the Amer­i­can West. This includ­ed a descrip­tion of their land, whether they owned it and what it pro­duced; whether it was prof­itable; their mar­i­tal sta­tus and their ages and if they had a suc­ces­sion plan, the lat­ter point being of par­tic­u­lar inter­est to the USDA, I would lat­er find out, in light of nation­al food security.
In Decem­ber, I learned that I had been award­ed the fel­low­ship. By then, my col­lec­tion of Femme Farm­ers and Madames Bovine, as I'd come to call them, was num­ber­ing in the high dozens and grow­ing dai­ly. I had joined an online forum for farm­ers in the West, and by fol­low­ing con­ver­sa­tions and see­ing posts from women, I would con­tact them direct­ly, explain my inter­est in their work and ask if they would meet with me. Every woman I con­tact­ed knew oth­ers, and those women knew oth­ers and so forth.
More­over, I was find­ing that every­one — friends, col­leagues, acquain­tances — I men­tioned my rapid­ly expand­ing project to expressed the same reac­tion: Who are these women?
The women behind the numbers
Come ear­ly 2015, I was about to find out.
The first six months of the year, my solo trav­els would lead me along thou­sands of miles, through deserts and sage­brush bad­lands, acres of every crop imag­in­able, over and through the Rock­ies and San­gre de Chris­to Mountains….and there was, too, a white-knuck­le, death-defy­ing dri­ve along Wyoming's Absaro­ka Range dur­ing a snow storm and through dense fog patch­es that still, months lat­er, gives me pause.
I tra­versed the flat dusty New Mex­i­co and Ari­zona bor­der regions, and braced myself through blind­ing thun­der and light­ning storms that shook and ripped open Wyoming's seam­less heav­ens. I side-stepped a half dozen rat­tlesnakes dur­ing my stays in Col­orado, and grew accus­tomed to truck-stop cui­sine and rat­ty dead-end motels.
On these long, silent dri­ves, I thought about the women I was meet­ing, and their remote, pas­toral worlds. My trav­els were con­duct­ed by jeep, Kub­o­ta and Polaris trac­tors, com­muter plane, island fer­ry, and includ­ed — impor­tant­ly— long walks with women in the fields and across their ranch­es as they talked to me about their lives and work.
I trailed women sheep ranch­ers on the ver­dant islands of Washington's Puget Sound and Olympic penin­su­la, and in east­ern Ore­gon and Colorado's San Luis Val­ley. I weaved through the vine­yards with so-called Vit-Chicks (women viti­cul­tur­al­ists) tend­ing the world-renowned Napa and Sono­ma wine-grow­ing fields, and I shad­owed laven­der and pep­per­mint farm­ers in cen­tral Cal­i­for­nia. I spent time in north­ern California's Sur­prise Val­ley, where a retired geol­o­gy pro­fes­sor has rein­vent­ed her­self as the region's most leg­endary goat farmer, her cheese revered for its rich, smoky texture.
I met tac­i­turn, take-no-pris­on­er cat­tle­women in Mon­tana, Col­orado, and California's Cen­tral Val­ley, with gnarled hands and leath­ery faces, who limp fol­low­ing years of being thrown from mus­tangs and from week-long cat­tle dri­ves, and whom I safe­ly pre­dict will die on their hors­es, absent regret, wed to the land.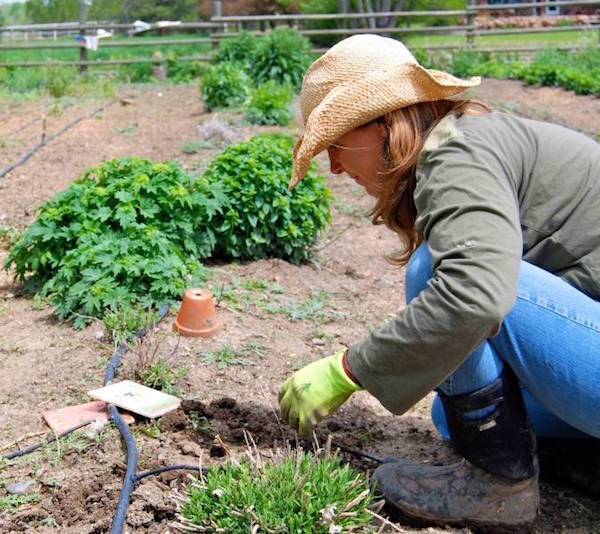 Rose­mary Graff oper­ates Laugh­ing Buck farm near Fort Collins, Col­orado. (Pho­to: eliz​a​bethzach​.com)
I spent a very mem­o­rable few days at the Abbey of St. Wal­bur­ga, on the Col­orado-Wyoming bor­der, where the Bene­dic­tine nuns there hold tight to a cen­turies-old cal­en­dar of silent prayer and ser­vice, but who also have made a name for them­selves in rais­ing cat­tle, chick­ens and water buf­fa­lo so as to sup­port their monas­tic lives.
By mid-2015, I had spent a total of two months on the road, shut­tled through eight states and had met with near­ly 50 women. Mean­while, I observed what researchers today cite as pos­si­ble rea­sons for why women have entered the field, so to speak, in such great num­bers over the past three decades. Cer­tain­ly, the appeal of the farm-to-fork move­ment has attract­ed many. Women, too, have inher­it­ed farms and ranch­es, or else have down­sized to small­er parcels, mak­ing the work more afford­able and man­age­able. Farm­ing, too, has become so mech­a­nized, mak­ing it eas­i­er for a woman to farm and ranch on her own.
Dur­ing my stay at the Abbey of St. Wal­bur­ga, I had the great coin­ci­den­tal for­tune of meet­ing author Mar­cia Mered­ith Hens­ley, whose ​"Stak­ing Her Claim: Women Home­steading the West" informed my own research, lend­ing per­spec­tive on how eager­ly women hit the open road and under­took chal­lenges in the last cen­tu­ry as they do now.
They weren't always help­mates, but rather often­times trail­blaz­ers in their own right, rene­gade entre­pre­neurs at ease with their soli­tary lives on the open range. These women have, unfor­tu­nate­ly, been large­ly over­looked by historians.
On the oth­er hand, I also found that the nature of agri­cul­tur­al financ­ing is such that, in some cas­es, it is absolute­ly essen­tial to have a spouse or part­ner who can bring in a steady income should the vagaries of weath­er kill the crop, as it were. This fact made the old­er women I met — who were born to the farm or ranch and had eschewed mar­riage and chil­dren, choos­ing instead to ded­i­cate them­selves to what they felt their high­er call­ing — all the more very impres­sive to me.
On this note: I asked one farmer I met, as she showed me around her new­ly pur­chased land in the Cal­i­for­nia Delta, how she would ready it for plant­i­ng: the acres stretched out to the hori­zon, had been neglect­ed for years and were mired in weeds. She looked at me square­ly, pen­sive­ly, and after a moment, said: ​"I've gar­dened with boyfriends before. This ship here sinks….well, then, I only want my fin­ger­prints on it."
Our vis­it occurred ear­ly on in my trav­els, in Jan­u­ary 2015, and at that time two films were pre­mier­ing near­ly back-to-back — ​"Wild" and ​"Fifty Shades of Gray" — with each pre­sent­ing polar oppo­sites of the fem­i­nine: the eman­ci­pat­ed and the sub­mis­sive. The women I was meet­ing, by con­trast, fit nei­ther genre pre­cise­ly, nor were most of them par­tic­u­lar­ly eager to debate wom­en's rights. They don't have time. They have work to do.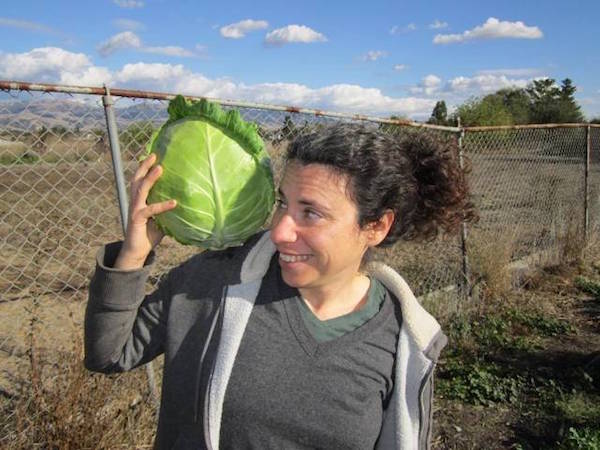 Michelle Lieber­man and her hus­band oper­ate One Acre Farm, the only inde­pen­dent com­mu­ni­ty-sup­port­ed agri­cul­ture hub in Mor­gan Hill, Cal­i­for­nia. (Pho­to: eliz​a​bethzach​.com)
And I do, too.
The fel­low­ship requires that I pro­duce jour­nal­is­tic work based on my find­ings. A sto­ry based on my year's worth of research appeared in Jan­u­ary 2016 in The Wash­ing­ton Post and can be read here. My sto­ry on the nuns at the Abbey of St. Wal­bur­ga was pub­lished in Octo­ber 2015 in High Coun­try News and syn­di­cat­ed in The Col­orado Inde­pen­dent. Both The Dai­ly Yon­der and Catholic Rur­al Life have fea­tured my fel­low­ship work in their publications.
Anoth­er sto­ry, broad­er in reach and focus­ing on food and where it comes from, is in the works for a sep­a­rate inter­na­tion­al pub­li­ca­tion. RCAC has also pub­lished an overview of the work, reflect­ing a year of report­ing — you can read that here. Mean­while, I con­tin­ue to meet with women through­out the West, as inter­est in the project grows, as do their num­bers, and as they qui­et­ly farm and ranch the region's wild lands.
[If you like what you are read­ing, help us spread the word. ​

"

Like" Rur­al Amer­i­ca In These Times on Face­book. Click on the ​

"

Like Page" but­ton below the bear on the upper right of your screen.]
For more infor­ma­tion about Eliz­a­beth Zach and The Femme Farm­ers Project, click here.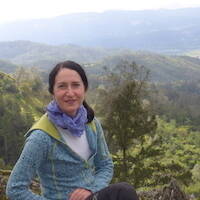 Eliz­a­beth Zach
is the staff writer at the non­prof­it Rur­al Com­mu­ni­ty Assis­tance Cor­po­ra­tion, where she cov­ers rur­al pover­ty and economies, the envi­ron­ment, and trib­al issues across the
13
states of the Amer­i­can West, includ­ing Alas­ka and Hawaii. In
2018
, she report­ed on per­sis­tent pover­ty as a Mar­guerite Casey Foun­da­tion Equal Voic­es Jour­nal­ism Fel­low. In
2016
, she was a fel­low at the Uni­ver­si­ty of South­ern Cal­i­for­ni­a's Annen­berg School of Jour­nal­ism, writ­ing on rur­al health­care in Cal­i­for­nia. In
2015
, she was a media fel­low at Stan­ford Uni­ver­si­ty's Bill Lane Cen­ter for the Amer­i­can West, for which she researched and wrote about women farm­ers and ranchers.