Philadelphia Airport Workers Win Major Victory Against Abusive Subcontracting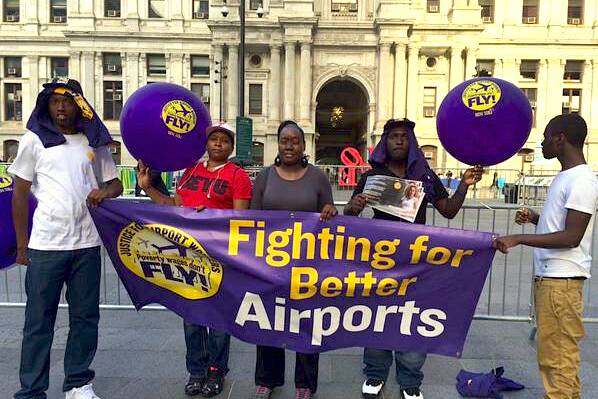 After over a year of work­er strikes and sol­i­dar­i­ty from a labor and faith coali­tion, Philadel­phia Inter­na­tion­al Air­port con­tract­ed work­ers received assur­ance that they can form a union with­out retal­i­a­tion and will be paid a $12 min­i­mum wage­­ — up from rates as low as $7.25 per hour plus tips. This is a major vic­to­ry for con­tract­ed work­ers across the coun­try whose boss­es and work­places reg­u­lar­ly take advan­tage of indi­rect employ­ment arrange­ments to avoid respon­si­bil­i­ty for work­ers' rights and conditions.
Air­ports and air­lines across the coun­try often use con­trac­tors to hire bag­gage han­dlers, air­craft clean­ers and wheel­chair assis­tants. At Philadelphia's air­port, around 2,000 staff mem­bers work for con­trac­tors. Because con­trac­tors in all indus­tries com­mon­ly label their employ­ees as part-time or tem­po­rary work­ers, those work­ers often don't receive ben­e­fits like health­care cov­er­age or paid sick leave. Work­ers direct­ly employed by their work­place are more like­ly to receive ben­e­fits and be union members.
The Philadel­phia air­port work­ers had two main con­cerns: low pay and man­age­ment retal­i­a­tion for orga­niz­ing. To address the issue of wages, activists gar­nered enough sup­port to place a ref­er­en­dum on the May 2014 bal­lot for state and local elec­tions. Philadel­phi­ans were asked if they want­ed to expand the city's $12 min­i­mum wage to work­ers hired by con­trac­tors at city-sub­si­dized projects. The ref­er­en­dum over­whelm­ing­ly passed and would be enact­ed in Jan­u­ary 2015.
How­ev­er, at a ral­ly ear­li­er this month, City Coun­cil­women Maria Quiñones-Sanchez said Prime­Flight Avi­a­tion Ser­vices, a con­trac­tor that serves over 40 air­ports across the coun­try, had yet to imple­ment the $12 an hour wage. The Philadel­phia Inquir­er​'s Lin­da Lloyd says this was because the con­trac­tor was oper­at­ing under the pre-ref­er­en­dum lease.
As to work­er retal­i­a­tion, last year Misha Williams said she was fired from her posi­tion as a wheel­chair assis­tant for speak­ing out about work­place con­di­tions. Just last month, anoth­er work­er, Sari­na San­tos, a bag­gage han­dler and moth­er of four, was also fired. Prime­Flight says the ter­mi­na­tion was due to atten­dance issues, but San­tos claims she was fired for her work­place activism. News out­lets report that Prime­Flight has con­sis­tent­ly declined to com­ment on these alle­ga­tions against them.
The pre­vi­ous lease between the city-oper­at­ed air­port and its air­lines was set to expire in July. Activists sought to include the city-man­dat­ed raise and work­er pro­tec­tions with­in the new agree­ment. Philadelphia's City Coun­cil, which must approve of the lease, passed a bill in Novem­ber that said the future con­tract must include those demands. Air­port direc­tor James Tyrrell spoke against the bill, say­ing it would lead to an increase in air­port costs. Amer­i­can Air­lines, the largest air­line at the air­port, was wor­ried the bill would set a prece­dent for oth­er air­ports across the country.
Two weeks ago, the air­port and its air­lines final­ly signed the new lease. It includes a ​"labor har­mo­ny" pro­vi­sion that says the $12 min­i­mum wage will go into effect on July 1st and that the air­lines will not oppose union orga­niz­ing efforts from con­tract­ed work­ers. The 22 air­lines also agreed ​"to send let­ters to their con­trac­tors, pledg­ing not to ter­mi­nate agree­ments with any con­trac­tors if their employ­ees elect to organize."
Michael Min­er­va, Amer­i­can Air­lines' vice pres­i­dent of gov­ern­ment and air­port affairs, explained that the air­lines ​"worked with both the city and the SEIU to come up with pro­vi­sions that we could all live with and be hap­py with." Vice Pres­i­dent of Local 32BJ Gabriel Mor­gan said the agree­ment ​"is a great deal for our union, and for work­ers at the airport."
At a ral­ly in sup­port of the air­port work­ers ear­li­er this month, Rev­erend Gre­go­ry Hol­ston, co-chair­man of inter­faith group Philadel­phi­ans Orga­nized to Wit­ness, Empow­er & Rebuild (POW­ER), not­ed that in Sep­tem­ber, Pope Fran­cis will be fly­ing into Philadel­phia for the World Meet­ing of Fam­i­lies. Allud­ing to His Holiness's sup­port for the poor and work­ing class, he said Pope Fran­cis shouldn't have to vis­it an air­port where employ­ees are strug­gling to get by. ​"Before the Pope comes, let the change come," he said. It looks like Holston's prayers have been answered.
Arielle Zionts
was a Spring
2015
In These Times edi­to­r­i­al intern and free­lance reporter. She is now a pro­duc­er at the Inter­faith Voic­es radio show in D.C. She stud­ied anthro­pol­o­gy at Pitzer Col­lege and radio at the Salt Insti­tute for Doc­u­men­tary Stud­ies. Arielle loves to ride her bike and lis­ten to pub­lic radio. She tweets at @ajzionts and her web­site is ariellezionts​.com.