Charter School Unions Are Spreading: Teachers at Elite Chicago Charter Network Vote to Unionize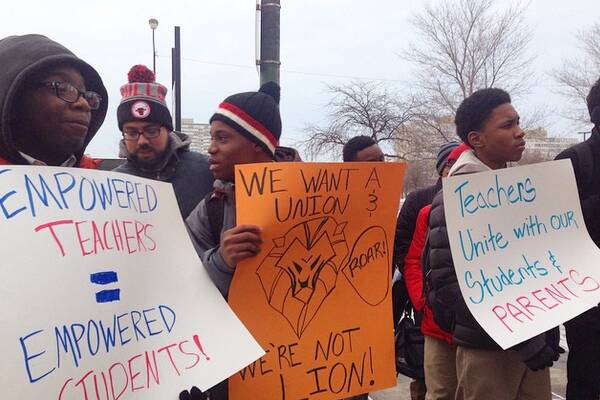 On Wednes­day, a major­i­ty of Urban Prep teach­ers vot­ed to join the Chica­go Alliance of Char­ter Teach­ers and Staff (Chica­go ACTS).
Fifty-six teach­ers vot­ed for, and 36 vot­ed against, join­ing Chica­go ACTS — a joint Chica­go Teach­ers Union, Illi­nois Fed­er­a­tion of Teach­ers and Amer­i­can Fed­er­a­tion of Teach­ers project. How­ev­er, the vote's results are not yet set in stone because the Nation­al Labor Rela­tions Board (NLRB) is look­ing into 21 oth­er votes cast by employ­ees like coun­selors and depart­ment chairs with debat­able union eli­gi­bil­i­ty. Cur­rent­ly, 60 per­cent of teach­ers vot­ed to union­ize — the low­est per­cent­age of any of the 29 schools that have vot­ed to join Chica­go ACTS. Union orga­niz­ers say they are con­fi­dent they will retain a majority.
At the request of Urban Prep COO Evan Lewis, the vote was con­duct­ed via an NLRB-sanc­tioned secret-bal­lot elec­tion. Lewis said this process is the most ​"fair and demo­c­ra­t­ic" one, the argu­ment often put for­ward by man­age­ment about such elec­tions. Teach­ers had want­ed admin­is­ters to rec­og­nize the union through ​"card check," a count of how many employ­ees signed union cards. Secret bal­lot elec­tions can be viewed as ben­e­fit­ting boss­es, who are able to use the time between the announce­ment of the inten­tion to form a union and the union vote itself to orga­nize against the union.
Prin­ci­pal Ronald Bryant assured par­ents that ​"Urban Prep respects and will con­tin­ue to respect the right of employ­ees to choose to join or not join a union." He also expressed wor­ry that union­iza­tion could impact the school's mis­sion of pri­or­i­tiz­ing stu­dents' needs and said, ​"unions have tak­en anti-char­ter school posi­tions includ­ing recent oppo­si­tion to a bill designed to pro­vide equal fund­ing to char­ter schools and have crit­i­cized our schools and stu­dents' achieve­ments." Urban Prep is a net­work of all-men's char­ter schools that often touts its 100 per­cent four-year col­lege accep­tance rate.
Bri­an Har­ris, spe­cial edu­ca­tion teacher and Chica­go ACTS pres­i­dent, says Urban Prep admin­is­tra­tors have been using meet­ings to dis­cour­age teach­ers from form­ing a union. Accord­ing to Cat­a­lyst Chica­go, Noël Perez-White, a Bronzeville cam­pus teacher, says some of her col­leagues are wor­ried about vot­ing for the union because they do not know if they will be rehired for the next school year. Teach­ers say their union will fight for high­er pay, more train­ing and an end to high-turnover rates — moves that will ben­e­fit teach­ers and ulti­mate­ly students.
The vote comes three months after Urban Prep and North Lawn­dale Col­lege Prep (NLCP) announced their inten­tion to union­ize and amidst a grow­ing move­ment to orga­nize char­ter school teach­ers in Chica­go and around the coun­try. Union­ized char­ter schools in Chica­go include the Unit­ed Neigh­bor­hood Orga­ni­za­tion net­work and sev­er­al Chica­go Inter­na­tion­al Char­ter Schools.
Arielle Zionts
was a Spring
2015
In These Times edi­to­r­i­al intern and free­lance reporter. She is now a pro­duc­er at the Inter­faith Voic­es radio show in D.C. She stud­ied anthro­pol­o­gy at Pitzer Col­lege and radio at the Salt Insti­tute for Doc­u­men­tary Stud­ies. Arielle loves to ride her bike and lis­ten to pub­lic radio. She tweets at @ajzionts and her web­site is ariellezionts​.com.