Philadelphia Teachers Outraged After Union Contract Canceled by Unelected Reformers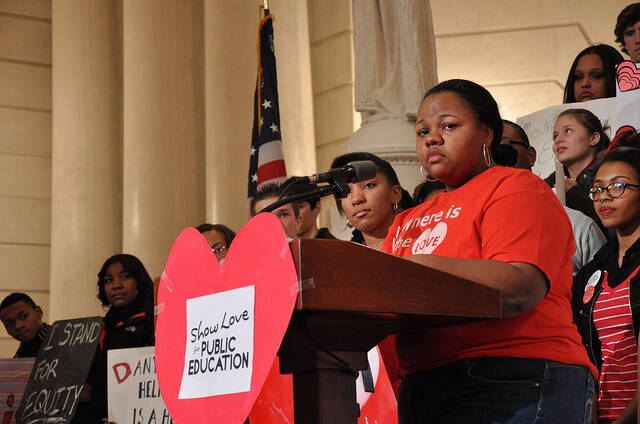 Public school teachers around the country have long insisted their profession is under attack, but rarely has that attack included a total scrapping of a teachers' union contract. But that's exactly what the Philadelphia School Reform Commission (SRC) did on Monday morning, canceling its contract with Philadelphia Federation of Teachers (PFT).
The announcement was made at a barely publicized public meeting, announced in a small notice in the Philadelphia Inquirer rather than the district's usual posting on its web site. The notice said the meeting was for ​"general purposes."
In a statement, PFT President Jerry Jordan said, ​"The SRC's tactics are shameful, and they know it."
According to the Wall Street Journal:
Governments nationwide have been seeking to rein in costs of health care and other benefits, but there appears to be little precedent for the five-member commission's unanimous move, education experts said.

It isn't clear if the commission even has the legal authority to void the contract under the state's school takeover law. Its leaders quickly filed a lawsuit, joined by the state Department of Education, asking a judge to rule they have such power.

The current teachers contract expired in August 2013, but staffers had been working under its terms during negotiations. [School Reform Commission Chairman Bill] Green said Monday's move, coming after what he called 21 months of fruitless talks with the union, would save the district $54 million this year.
The SRC and Superintendent William Hite have said they would abide by all other aspects of the contract, but that teachers would now have to pay out of pocket for their healthcare costs. A new plan that includes contributions based on salary, will take effect December 15.
The SRC was formed in 2001 when the Commonwealth of Pennsylvania took control of the ​"failing" district and is made up of members appointed by the mayor and governor. Some of the members have backgrounds in education, and some, such as Chairman Bill Green, do not. Superintendent Hite signed off on the deal and was present at the reading.
Hite tweeted an editorial arguing that it is ​"teachers' turn to sacrifice" — ignoring the previous sacrifices teachers in Philadelphia have made before this one. In 2013, Philadelphia closed 23 schools and laid off 3,783 staff. In that round of layoffs, 676 teachers lost their jobs, as well as hundreds of support and safety personnel. The district has been decimated in recent years by multiple rounds of cuts — and appears to be in no better shape than when the SRC took power over a decade ago.
According to President Jerry Jordan: ​"This is not an effort by the SRC to address the fiscal crisis. This is the Corbett Administration's attempt to vilify the PFT in order distract from his horrible record on education funding and boost his chances of re-election."
If a body like the SRC can brazenly cancel a negotiated contract whenever it wants, and can expected the backing of elected officials like Mayor Michael Nutter, it's worth asking whether workers can trust supposedly binding contracts with the city of Philadelphia in the future.
Socialism ... Seriously
"The most fun and accessible introduction to socialist ideas I've ever read."—Anand Gopal
For a limited time, when you donate $20 or more to support In These Times, we'll send you a copy of the new, expanded edition of Socialism ... Seriously by Danny Katch.

Kevin is an educator and freelance writer in Chicago. Follow him on Twitter at @kevinsolari_.