Photojournalists Fight Replacement by iPhones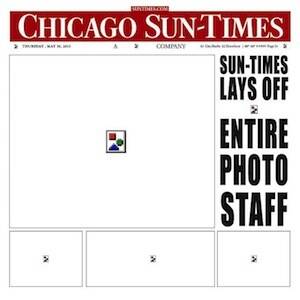 We wanted to make sure you didn't miss the announcement of our new Sustainer program. Once you've finished reading, take a moment to check out the new program, as well as all the benefits of becoming a Sustainer.

Since the
Chicago Sun-Times
laid off its entire photography department
last week, the media group has sought to replace photojournalists with reporters trained in ​
"
iPhone photography basics." Neither group is too happy about the change.
​
"
I've been doing this for the past five days now, and they're lucky they're not getting pictures of my thumb," said Kathy Routliffe, a reporter with
Pioneer Press
(a subsidiary of the Sun-Times Media Group) at a protest Thursday morning demanding reinstatement of the
28
photographers. ​
"
I tell a story with words, but photojournalists tell the other half of the story with images. We're used to working as a team."
As the laid-off photographers picketed outside the newspaper's office building in downtown Chicago, they were joined by dozens of
Sun-Times
reporters and supporters from local unions, including
Chicago Teachers Union
President Karen Lewis.
While picketers with cameras slung around their necks chanted, ​
"
They say cut back, we say fight back!" union leaders made the case that the paper was seeking to maximize its profits at the expense of both workers' rights and quality journalism. ​
"
They had Pulitzer Prize-winning photographers, and they want to replace them with freelancers. They will continue to try to take more and more from you. But this newspaper will fold without the people who do the work," Lewis said, drawing cheers from the crowd. (John White, a renowned photojournalist who joined the
Sun-Times
in
1978
and won a Pulitzer Prize in
1982
, was among those laid off.)
The Chicago Newspaper Guild, which represents two-thirds of the laid-off journalists and organized the rally, has
filed an unfair labor practices complaint
with the National Labor Relations Board over what it sees as bad-faith bargaining. The union has been in contract negotiations with the Sun-Times Media Group since August
2012
, and had been told at the bargaining table that no further layoffs were planned, according to David Pollard, president of the guild.
On Monday,
20
guild members filed into the office of
Sun-Times
publisher Timothy Knight to present him with a petition demanding that he join guild members at the negotiating table. Knight
declined to meet
with the delegation, but the guild plans to continue pushing for talks with him to break the impasse over a new contract.
​
"
We've been sitting down with the [Sun-Times Media Group's] negotiating committee for a long time, and we're not getting anywhere. In order to move forward, we need to talk to someone else," Pollard told
In These Times.
The photographers' ordeal began on May
29
, when they received an e‑mail at
5
p.m. alerting them that they would be required to attend an all-staff meeting the next morning and should cancel any assignments they had planned to shoot. ​
"
We had never been gathered all together, so we were all wondering what was going on," said Stephanie Dowell, who was a photographer at the
Post-Tribune
for
13
years and is also a member of the guild's bargaining committee. ​
"
Then [
Sun-Times
editor in chief] Jim Kirk came in and read about four sentences saying they were eliminating the entire photo staff … Next they pointed us to our respective H.R. people, and that was it. We were shocked."
Dowell says that she is encouraged by the support she's received from both other journalists and other members of the labor movement in the past week. She marched Thursday morning along with her eleven-year-old son and eight-year-old daughter, who carried a sign reading, ​
"
I miss seeing my mom's photos in the
Sun-Times
."
Other Chicago journalists have reacted with alarm to the move.
Chicago Tribune
columnist and former
Sun-Times
employee Phil Rosenthal has created a
​

"

Great iPhone News Photos in History"
parody series to underscore the impact that photographers' replacement by iPhones would have on the news business.
The
Sun-Times
staff saw deep cuts under former CEO Jeremy Halbreich, and media observers were hopeful that its
purchase by new owners in

2011
would help staunch the bleeding. However, as the Poynter Institute
reported
, current
Sun-Times
publisher Timothy Knight also oversaw the termination of Newsday's
20
-person photography staff as that outlet's publisher in
2008
.
Upon his appointment as
Sun-Times
publisher, Knight said in a prepared statement that the group would deliver ​
"
essential and customized content" by ​
"
investing in cutting-edge technologies, new content portals and other strategic tools, and integrating them with traditional media assets."
The Sun-Times Media Group has pointed to changing user demand from digital-savvy consumers as a rationale for the lay-offs. ​
"
The
Sun-Times
business is changing rapidly and our audiences are consistently seeking more video content with their news," the company said in a statement last week.
Routliffe, who is also a member of the guild's negotiating committee, doesn't believe that these changes will benefit either producers or consumer of news. ​
"
The management on the
10
th
floor is in love with the latest shiny toys," she told
In These Times
. ​
"
These are people who do not know the journalism business."
She's hopeful that with strong backing from the community, the guild can compel the
Sun-Times
' publishers to the negotiating table. ​
"
But if we can't get further at the negotiating table," she says, ​
"
we'll have to look at getting further on the streets."
Become a Sustainer
We surveyed thousands of readers and asked what they would like to see in a monthly giving program. Many of you expressed interest in magazine subscriptions, gift subscriptions, tote bags, events and books —and we've added all of those. Some of you said that cost was an issue, so we've kept our starting tier at just $5 a month—less than 17 cents a day.

Now, for the first time, we're offering three different levels of support, with unique rewards at each level, for you to choose from. Check out the new Sustainer program.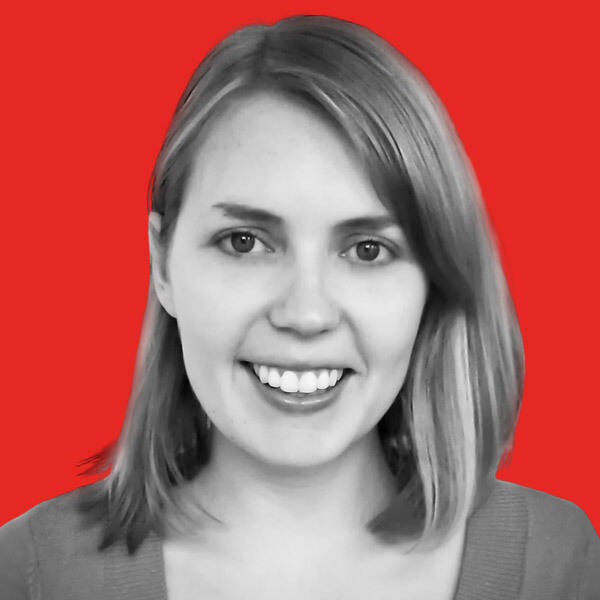 Rebecca Burns is an In These Times contributing editor and award-winning investigative reporter. Her work has appeared in Bloomberg, the Chicago Reader, ProPublica, The Intercept, and USA Today. Follow her on Twitter @rejburns.