Exclusive Photos Contradict Coal CEO's Claim He Had Nothing To Do with Rick Perry's Coal Bailout
At a previously undisclosed March 29 meeting, Robert Murray gave Perry a hug and a wishlist. Six months later, Perry unveiled a controversial plan that echoed one of Murray's proposals.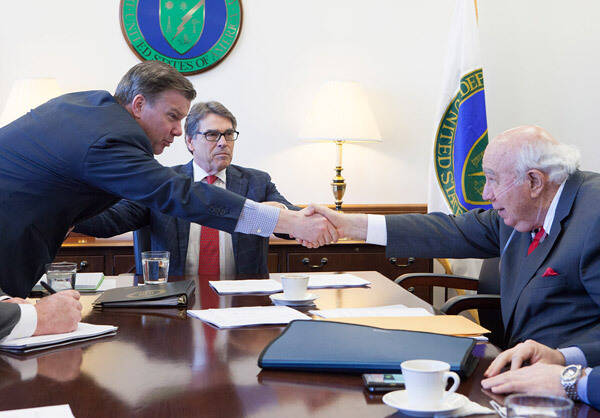 "I DID­N'T HAVE ANY INVOLVE­MENT" in the draft­ing of a con­tro­ver­sial new Depart­ment of Ener­gy (DOE) rule sub­si­diz­ing coal and nuclear plants, ener­gy exec­u­tive Robert Mur­ray told Green­wire in late Novem­ber. ​"This was done by the Trump admin­is­tra­tion. … I had noth­ing to do with it."
In These Times has obtained pho­tographs of a March 29 meet­ing between Mur­ray and Ener­gy Sec­re­tary Rick Per­ry that call this claim into ques­tion. The pho­tographs show the Mur­ray Ener­gy CEO pre­sent­ing a pro­pos­al to alter the poli­cies of the Fed­er­al Ener­gy Reg­u­la­to­ry Com­mis­sion (FERC) to favor coal plants, as a way to increase ​"grid reliability."
The ​"Grid Resilien­cy Pric­ing Rule," pro­posed by the DOE on Sep­tem­ber 28, echoes that sug­ges­tion. The rule amounts to a bailout for the coal and nuclear indus­tries, premised on the con­tro­ver­sial idea that, in the event of a nat­ur­al dis­as­ter or extreme weath­er event, only coal and nuclear plants offer the fuel stores nec­es­sary to keep the grid run­ning. The rule man­dates that util­i­ties pay those plants to oper­ate even if they might oth­er­wise be out­com­pet­ed and shut down. In effect, the rule could mean that elec­tric­i­ty cus­tomers sub­si­dize coal and nuclear com­pa­nies to the tune of any­where from $4 bil­lion to over $10 bil­lion a year. As Politi­co has report­ed, the rule dis­pro­por­tion­ate­ly ben­e­fits Mur­ray Ener­gy, because it applies specif­i­cal­ly to the Mid­west­ern, Appalachi­an and North­east­ern mar­kets where Murray's cus­tomer base is concentrated.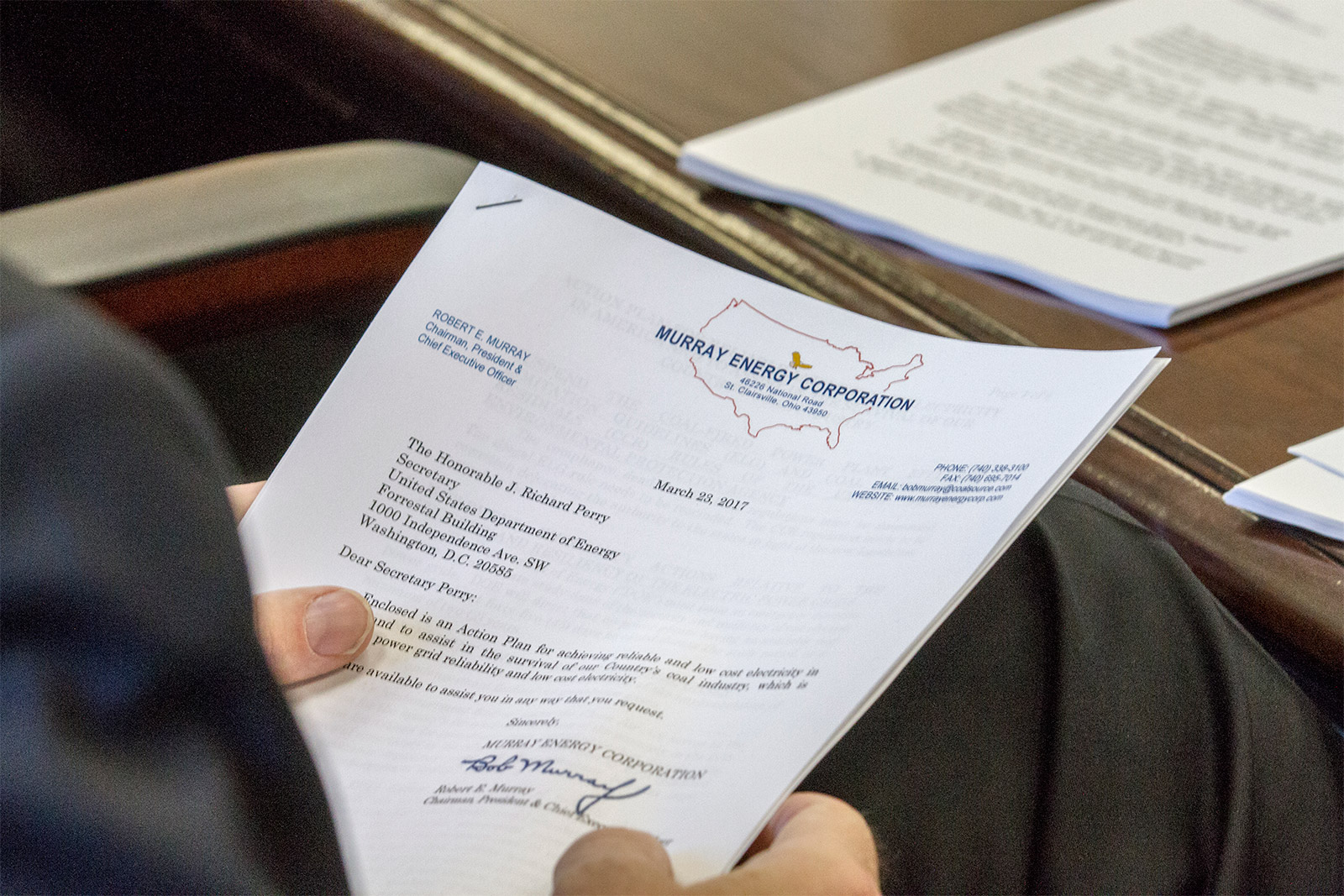 The cov­er let­ter of Mur­ray Ener­gy's ​"Action Plan," pre­sent­ed to Per­ry and oth­er Depart­ment of Ener­gy staff at the March 29 meet­ing. The plan out­lines sev­er­al sweep­ing changes that would ben­e­fit the coal industry.
The pho­tographs cap­ture a por­tion of the pro­pos­al advanced by Mur­ray in the March meet­ing, which reads:
Imme­di­ate action needs to be tak­en to require orga­nized pow­er mar­kets to val­ue fuel secu­ri­ty, fuel diver­si­ty, and ancil­lary ser­vices that only base load gen­er­at­ing assets, espe­cial­ly coal plants, can provide.
"Require orga­nized pow­er mar­kets to val­ue fuel secu­ri­ty" arguably trans­lates to: Make sure that coal pow­er gen­er­a­tors get steadi­ly paid, even if oth­er forms of ener­gy are cheap­er. The text of Perry's rule close­ly fol­lows the log­ic of the Mur­ray Ener­gy pro­pos­al, although it replaces ​"base load gen­er­at­ing assets, espe­cial­ly coal plants" with ​"gen­er­a­tors with on-site fuel sup­plies," and expands on the con­cept of ​"fuel secu­ri­ty" by warn­ing of ​"the severe con­se­quences that addi­tion­al shut­downs would have." The DOE rule reads in part:
Imme­di­ate action is nec­es­sary to ensure fair com­pen­sa­tion in order to stop the immi­nent loss of gen­er­a­tors with on-site fuel sup­plies, and there­by pre­serve the ben­e­fits of gen­er­a­tion diver­si­ty and avoid the severe con­se­quences that addi­tion­al shut-downs would have on the elec­tric grid.
In a lat­er sec­tion, the DOE rule also touts the ben­e­fits of coal over nat­ur­al gas and oth­er fuel sources.
The rule has come under wide­spread attack. Oppo­si­tion from cli­mate advo­cates is root­ed in the fact that some two-thirds of exist­ing coal, oil and gas reserves need to stay buried to avert cat­a­stroph­ic cli­mate change. Of these three ener­gy sources, coal is by far the most nox­ious. Burn­ing all the fuel in devel­oped coal reserves alone would see the plan­et sail past 1.5 degrees cel­sius of warming.
Per­ry lis­tens intent­ly to Mur­ray at the March 29 meet­ing. Seat­ed on the far right is Andrew Wheel­er. Wheel­er was a reg­is­tered lob­by­ist with Mur­ray Ener­gy until August 11, and has been tapped by the Trump Admin­is­tra­tion to become Scott Pruit­t's deputy admin­is­tra­tor at the EPA.
Even the Amer­i­can Petro­le­um Insti­tute — the lob­by­ing arm of the oil and gas indus­try — has crit­i­cized the rule, on the grounds that it will dis­cour­age com­pe­ti­tion in the ener­gy mar­ket. The API joined the Nat­ur­al Gas Sup­ply Asso­ci­a­tion, the Amer­i­can Wind Ener­gy Asso­ci­a­tion and sev­er­al oth­er trade asso­ci­a­tions in fil­ing a motion with FERC oppos­ing Perry's request.
Robert Mur­ray, how­ev­er, called the rule ​"the sin­gle great­est action that has been tak­en, in decades, to sup­port low-cost, reli­able elec­tric pow­er in the Unit­ed States."
Mur­ray Ener­gy rep­re­sen­ta­tive Gary M. Broad­bent said the com­pa­ny was ​"unable to com­ment" on its com­mu­ni­ca­tions with the Trump admin­is­tra­tion. The pic­tures obtained by In These Times, how­ev­er, doc­u­ment a small meet­ing in Wash­ing­ton, D.C., between Per­ry, Mur­ray and their respec­tive staffs on March 29, less than a month into Perry's tenure as Ener­gy Sec­re­tary. The pho­tographs show Mur­ray pre­sent­ing a four-page ​"Action Plan For Reli­able And Low Cost Elec­tric­i­ty In Amer­i­ca And To Assist In The Sur­vival Of Our Country's Coal Industry."
It's been known since at least Octo­ber that Mur­ray Ener­gy craft­ed an ​"action plan" for fed­er­al agen­cies to more sys­tem­at­i­cal­ly favor the coal indus­try, which has been cir­cu­lat­ed in the high­est ech­e­lons of the Trump Admin­is­tra­tion. Mur­ray has pub­licly boast­ed that the White House is hard at work imple­ment­ing his company's pol­i­cy pri­or­i­ties across var­i­ous gov­ern­ment agencies.
The pho­tographs appear to show, for the first time, some of the details of that action plan. In addi­tion to the call for ​"grid reli­a­bil­i­ty," the doc­u­ment advo­cates replac­ing the cur­rent mem­bers of FERC and gut­ting the EPA. The pho­tographs also sug­gest that Murray's pol­i­cy wish­list extends well beyond the action plan. Ener­gy offi­cials also received a thick pack­et of six draft exec­u­tive orders to roll back the ​"anti-coal reg­u­la­tions of the Oba­ma Administration."
The meet­ing came a day after Trump signed an exec­u­tive order pledg­ing to repeal the Oba­ma administration's Clean Pow­er Plan, which had been vehe­ment­ly opposed by both Mur­ray Ener­gy and the API. Mur­ray sat in the front row of the cer­e­mo­ny mark­ing the occa­sion, and called the order ​"won­der­ful for America."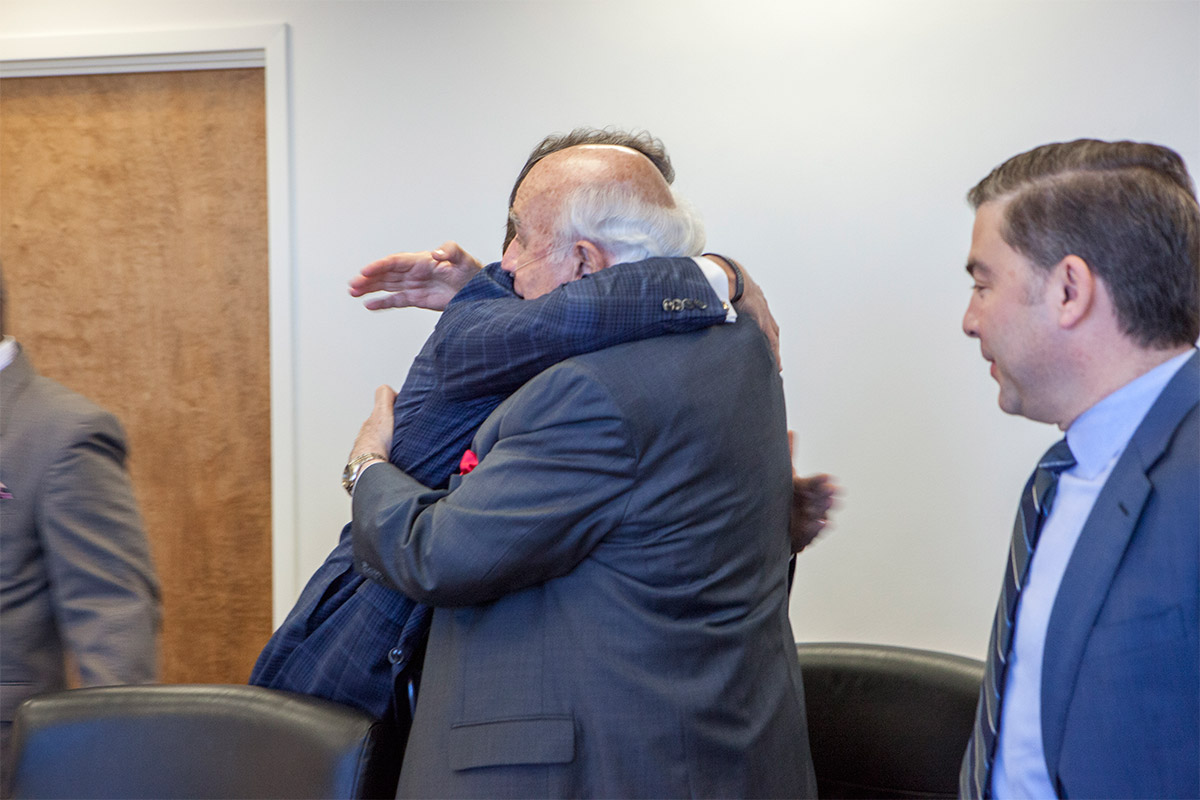 Ener­gy Sec­re­tary Rick Per­ry (L) and coal mag­nate Robert Mur­ray ® embrace. Per­ry's 2012 pres­i­den­tial cam­paign received more than $100,000 in Mur­ray Ener­gy dona­tions, accord­ing to the Cen­ter for Respon­sive Politics.
INSIDE THE ACTION PLAN
The first men­tion of a Mur­ray Ener­gy action plan appears to be in a Front­line inter­view with Mur­ray that aired in mid-Octo­ber. Fol­low­ing the inter­view, Sen. Shel­don White­house (D‑R.I.) called for the plan's release, but until now, no details of such an action plan have been made pub­licly avail­able. The pho­tographs obtained by In These Timescap­ture sec­tions of the doc­u­ment and indi­cate that its scope is vast. Bul­let­ed items include pro­pos­als to replace mem­bers of the Ten­nessee Val­ley Author­i­ty board, FERC and the NLRB, which — the plan alleges — holds an ​"anti-employ­er bias." The plan also advis­es cut­ting the staff of the EPA ​"in at least half."
Anoth­er pho­to­graph shows a cov­er let­ter intro­duc­ing the action plan, addressed to Per­ry, signed by Mur­ray and print­ed on Mur­ray Ener­gy let­ter­head. It con­cludes, ​"We are avail­able to assist you in any way that you request."
The last page of the plan address­es FERC reg­u­la­tion of coal. ​"The cur­rent Fed­er­al Ener­gy Reg­u­la­to­ry Com­mis­sion has a his­to­ry of favor­ing actions of the Oba­ma Admin­is­tra­tion," it states. ​"That has sys­tem­at­i­cal­ly deval­ued base load gen­er­a­tion as a result of the Oba­ma ​'war on coal.' Imme­di­ate action needs to be tak­en to require orga­nized pow­er mar­kets to val­ue fuel security …"
The text amounts to a rough blue­print of the rule unveiled by Per­ry in Sep­tem­ber and expect­ed to come to a vote in a FERC meet­ing on Mon­day, Decem­ber 11. At Perry's urg­ing, FERC will decide whether to inte­grate the pro­pos­al into the country's ener­gy reg­u­la­to­ry landscape.
On the premise that fuel stor­age will make the grid more reli­able, the rule guar­an­tees pay­ments from util­i­ties to pow­er plants that store 90 days' worth of fuel sup­plies onsite — which applies only to coal and nuclear facil­i­ties. Nat­ur­al gas, coal's main com­peti­tor, is brought onsite via pipelines so would not qual­i­fy. Nor would sources of solar and wind energy.
The rub is that with­out this guar­an­teed pay­ment, many of these coal and nuclear plants might soon have been slat­ed for clo­sure, most­ly thanks to com­pe­ti­tion with nat­ur­al gas. That's because, in a dereg­u­lat­ed mar­ket, util­i­ties rely on the most cost-effec­tive option in decid­ing which pow­er source ratepay­ers use and pay for. The DOE rule pre­empts that, essen­tial­ly mak­ing ratepay­ers in a num­ber of Mid­west­ern, Appalachi­an and North­east­ern states foot the bill for a bailout of ail­ing coal and nuclear plants. An analy­sis by the research firm ICF finds that the pro­pos­al could cost up to $4 bil­lion a year. A sep­a­rate study, from the non-prof­it group Ener­gy Inno­va­tion, puts the fig­ure as high as $10.6 bil­lion annu­al­ly, vir­tu­al­ly all of which would be paid for by elec­tric­i­ty cus­tomers in the areas cov­ered by the DOE rule.
The rule cov­ers about 40,000 of the nation's 280,000 Megawatts of coal-fired pow­er gen­er­at­ing capac­i­ty, large­ly focus­ing on some­thing called the PJM Inter­con­nec­tion, a region­al elec­tric­i­ty mar­ket con­tain­ing sev­er­al Mid­west, Appalachi­an and North­east states. Mur­ray Ener­gy pro­vides a large por­tion of the coal for coal-fired gen­er­a­tion with­in the PJM mar­ket, which con­tains one of its biggest cus­tomers, FirstEn­er­gy. Politi­co found that FirstEn­er­gy pur­chased around two-thirds of its fuel from Mur­ray Ener­gy in 2015, the most recent year for which data is avail­able. Mur­ray argued in a let­ter to the Depart­ment of Ener­gy that the com­pa­nies' fates were tied, and both would go bank­rupt with­out fed­er­al inter­ven­tion to help FirstEnergy.
FirstEn­er­gy has used a mech­a­nism sim­i­lar to Perry's rule to keep trou­bled coal plants online in Appalachia. In 2013, the com­pa­ny trans­ferred the coal-fired Har­ri­son Pow­er Sta­tion from a sub­sidiary in an unreg­u­lat­ed ener­gy mar­ket to West Virginia's reg­u­lat­ed ener­gy mar­ket. The process, known as ​"re-reg­u­la­tion," sticks util­i­ty cus­tomers with the bill for oper­at­ing a plant they don't need. An analy­sis from the Insti­tute for Ener­gy Eco­nom­ics and Finan­cial Analy­sis (IEEFA) found that — as of Sep­tem­ber 2017 — the trans­fer had cost West Vir­gin­ian ratepay­ers upward of $160 million.
"The phi­los­o­phy behind [the DOE rule] is the same," says IEEFA ener­gy ana­lyst Cathy Kunkel. And though Per­ry has jus­ti­fied the rule on the basis of grid reli­a­bil­i­ty, Kunkel, who co-authored the IEEFA study, says there are already poli­cies in place through region­al trans­mis­sion net­works to keep plants from clos­ing in the event of an emergency.
Per­ry has used the Depart­ment of Energy's own grid reli­a­bil­i­ty study, pub­lished in August, to paint a dire pic­ture of the nation's ener­gy sta­bil­i­ty. But the DOE study's lead author, Ali­son Sil­ver­stein, told Forbes that the rec­om­men­da­tions in Perry's rule make it seem ​"as though they had nev­er read [the study]." She down­played Perry's dire warn­ings about plant shut­downs and threats to reli­a­bil­i­ty, and her own rec­om­men­da­tions based on the report dif­fer dra­mat­i­cal­ly from the DOE's.
The DOE rule would mean that ​"ratepay­er dol­lars that are spent to bail out old plants are not being spent to devel­op more effi­cient forms of ener­gy," Kunkel says. ​"You would effec­tive­ly be crowd­ing out the grid of the future," includ­ing invest­ments in more resilient and cost-effec­tive sys­tems like micro­grids. ​"If you're seri­ous about grid reli­a­bil­i­ty in times of cri­sis, then devel­op micro­grids," she says. ​"Those are the only things that kept pow­er on dur­ing Hur­ri­cane Sandy." Unlike cen­tral sta­tion pow­er gen­er­a­tion, micro­grids—often run on renew­ables — can con­tin­ue oper­at­ing even when util­i­ties' gen­er­a­tion and trans­mis­sion sys­tems fail.
In late July and ear­ly August, Mur­ray and FirstEn­er­gy rep­re­sen­ta­tives pro­posed that the DOE stave off coal plant clo­sures by invok­ing Sec­tion 202© of the Fed­er­al Pow­er Act, intend­ed to give the agency expand­ed author­i­ty in the event of a war, nat­ur­al dis­as­ter or ter­ror­ist attack. Though that request was ulti­mate­ly denied, the DOE rule would per­form a sim­i­lar ser­vice for FirstEn­er­gy: extend­ing a life­line from the fed­er­al gov­ern­ment to trou­bled gen­er­a­tion sources at the expense of util­i­ty customers.
WHEEL­ING AND DEALING
If enact­ed, the plan would be a coup for Mur­ray, whose direct and indi­rect ties to the admin­is­tra­tion are well doc­u­ment­ed. Andrew Wheel­er, a for­mer lob­by­ist for Mur­ray Ener­gy tapped by Trump to serve as deputy admin­is­tra­tor of the EPA, admit­ted dur­ing his Sen­ate con­fir­ma­tion hear­ing that he had attend­ed meet­ings on behalf of Mur­ray with Per­ry and seen the action plan. Wheel­er, who is pic­tured in the March meet­ing, denied involve­ment in the DOE rule's cre­ation. ​"I have not been involved in any­thing the last few months when this issue has been front and cen­ter," he said. Wheel­er said he attend­ed on behalf of Murray.
Mur­ray has heaped glow­ing praise on Trump, Per­ry and EPA admin­is­tra­tor Scott Pruitt, who he calls a ​"star." Speak­ing with Green­wire in Octo­ber, he called the DOE rule pro­pos­al ​"the sin­gle great­est action that has been tak­en in decades to sup­port low-cost reli­able elec­tric pow­er in the Unit­ed States."
His endorse­ments of Trump and sev­er­al senior admin­is­tra­tion offi­cials have been finan­cial, as well. The com­pa­ny poured $200,000 into Trump's pres­i­den­tial cam­paign last year through its PAC, with Mur­ray per­son­al­ly host­ing a fundrais­ing din­ner. Wheel­er told the Wash­ing­ton Post recent­ly that that din­ner, host­ed in Wheel­ing, W.Va., is what won him over to Trump's campaign.
Mur­ray host­ed a sim­i­lar, $2,500-a-head fundrais­ing recep­tion for Per­ry in 2011 dur­ing his bid for the Repub­li­can pres­i­den­tial nom­i­na­tion. ​"We are hav­ing a recep­tion and din­ner for Pres­i­den­tial can­di­date Gov­er­nor James Richard ​"Rick" Per­ry of Texas, who is like­ly to be the Repub­li­can Nom­i­nee to defeat the destruc­tive Barack Oba­ma," a let­ter of invi­ta­tion from Mur­ray states. The invite went on to describe the 2012 race as the ​"like­ly most vital elec­tion for Amer­i­ca in our lifetimes."
"In sum­ma­ry," Mur­ray con­cludes, ​"Gov­er­nor Rick Per­ry, a ​'Rea­gan Repub­li­can,' will attempt to restore con­fi­dence in the Amer­i­can Dream and Amer­i­can Excep­tion­al­ism, and get the Coun­try mov­ing again." In all, Per­ry received six fig­ures in dona­tions from Mur­ray Ener­gy and its employ­ees dur­ing that race, accord­ing to the Cen­ter for Respon­sive Pol­i­tics. Mur­ray has come under legal fire and FEC inves­ti­ga­tion in the past for strong-arm­ing his employ­ees into mak­ing polit­i­cal con­tri­bu­tions to the company's con­ser­v­a­tive PAC. A 2012 memo from Mur­ray, obtained as evi­dence in a law­suit brought by one of his for­mer employ­ees, pres­sures man­agers into com­pelling salaried work­ers to attend a fundrais­ing event for the chairs of the House Ener­gy and Com­merce and Nat­ur­al Resources com­mit­tees, the low­er house bod­ies ​"with the great­est juris­dic­tion over coal."
"What is so dif­fi­cult about ask­ing a well-paid, salaried employ­ee to give us three (3) hours of his [or] her time every two months?" he asks, after bemoan­ing the pre­pon­der­ance of ​"emp­ty chairs" at sim­i­lar events. The email then lists sev­er­al salaried employ­ees whom Mur­ray had not seen at recent fundrais­ers for coal-friend­ly politicians.
The par­al­lels between the DOE lan­guage and Murray's mir­rors an inci­dent that occurred while Scott Pruitt was serv­ing as Oklahoma's Attor­ney Gen­er­al, where he reli­ably went after the EPA. As the New York Times' Eric Lip­ton revealed, Pruitt allowed Devon Ener­gy to draft a com­plaint to the EPA on offi­cial Okla­homa AG let­ter­head. Where in that case lan­guage was tak­en ver­ba­tim from indus­try sources, the lan­guage in Perry's rule is more general.
At this point, the remain­ing details on what else in the action plan have yet to emerge. One prize Mur­ray and oth­er fos­sil fuel indus­try inter­ests have had their eye on is a scale­back of the so-called endan­ger­ment find­ing, the result of a 2007 Supreme Court rul­ing (Mass­a­chu­setts v. EPA), which gives the EPA the author­i­ty and man­date to reg­u­late car­bon diox­ide emis­sions, the lead­ing con­trib­u­tor to human-made cli­mate change.
Whether Trump admin­is­tra­tion reg­u­la­tors set their sites on the endan­ger­ment find­ing or not, what is clear is that the Trump admin­is­tra­tion is close­ly engaged in the busi­ness of pick­ing win­ners and losers in America's ener­gy econ­o­my, and that at least one major cam­paign con­trib­u­tor in the extrac­tive ener­gy busi­ness has the admin­is­tra­tion's ear.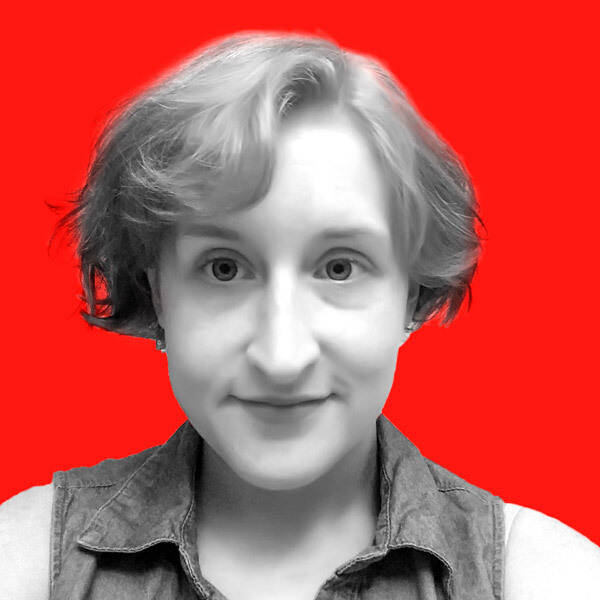 Kate Aronoff
is a Brook­lyn-based jour­nal­ist cov­er­ing cli­mate and U.S. pol­i­tics, and a con­tribut­ing writer at The Inter­cept. Fol­low her on Twit­ter @katearonoff.