The Unlikely Alliance That Could Stop Keystone and Transform the Democratic Party
Natives and ranchers are teaming up to save their water and land from corporate takeover.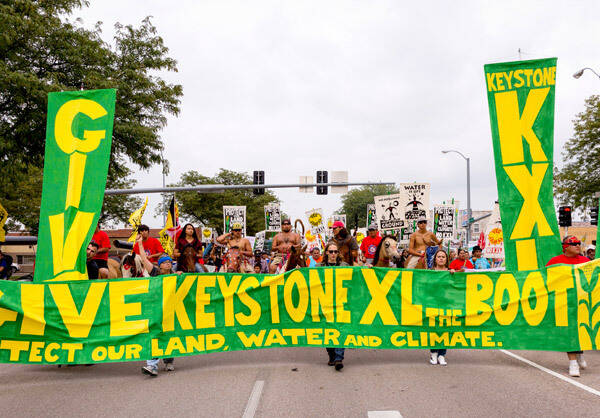 Offi­cial­ly, the fate of one of the most high-pro­file cor­po­rate infra­struc­ture projects in a gen­er­a­tion now rests with an obscure reg­u­la­to­ry body in one of this country's most sparse­ly pop­u­lat­ed states: Nebraska's Pub­lic Ser­vice Com­mis­sion. Unof­fi­cial­ly, the home­grown move­ment that blocked the Key­stone XL pipeline once before is ready to stop it again — even if com­mis­sion­ers give it a green light.
"We can start to think about what running a decolonized nation in 2017 looks like."
A rul­ing isn't expect­ed until Novem­ber, but after the commission's lat­est hear­ings adjourned August 10, Jane Kleeb, one of the pipeline's high­est-pro­file oppo­nents and now the chair of the Nebras­ka Demo­c­ra­t­ic Par­ty — flanked by landown­ers who live along its pro­posed route — made an uncon­di­tion­al pledge: ​"Stand­ing Rock was a dress rehearsal com­pared to what this will be. We are not going to let an inch of for­eign steel touch Nebras­ka soil."
A gaunt­let had been thrown.
It's unclear whether Tran­sCana­da even wants to build the pipeline, with the price of crude oil falling. But the White House has put its clout behind fin­ish­ing both Key­stone XL and the Dako­ta Access Pipeline (DAPL) — the one that sparked last year's his­toric encamp­ments at Stand­ing Rock.
What­ev­er the fate of the pipelines, their polit­i­cal oppo­si­tion is poised to endure. Pipeline resis­tance — ini­tial­ly ener­gized around issues of land and water rights — has sparked a pro­gres­sive pop­ulism in red-state Amer­i­ca, defined by unlike­ly mul­ti-racial alliances and an excite­ment about win­ning elec­toral pow­er. That pop­ulism may just hold the key to trans­form­ing the Demo­c­ra­t­ic Par­ty into a force that fights against cor­po­rate pow­er and for work­ing peo­ple — and wins.
WATER IS LIFE
Faith Spot­ted Eagle was born in 1948 along the Mis­souri Riv­er. One of her first mem­o­ries is of watch­ing her rel­a­tives in the Yank­ton Sioux (Ihank­ton­wan Dako­ta Oyate) tribe flee their land in advance of a man-made flood. They were stand­ing on one of 552 square miles of reser­va­tion land being inun­dat­ed by order of Con­gress under the Pick-Sloan Plan, which autho­rized the Army Corps of Engi­neers and a slew of pri­vate con­trac­tors to take over large swaths of the Mis­souri Riv­er Val­ley. They were mak­ing way for what are now five of the world's largest earth­en dams — dams that dis­placed an esti­mat­ed 3,538 Native peo­ple via emi­nent domain. Spot­ted Eagle, who lives in South Dako­ta, says, ​"My com­plete com­mu­ni­ty was essen­tial­ly killed."
Spot­ted Eagle has emerged as one of the nation's most promi­nent anti-pipeline orga­niz­ers, nur­tur­ing the growth of alliances between Native tribes and groups his­tor­i­cal­ly at odds with Plains Indi­ans over land and resources: white farm­ers and ranchers.
Today's water pol­i­tics in the High Plains are no less tox­ic than in Spot­ted Eagle's youth. The com­pa­ny behind DAPL, which ini­tial­ly con­sid­ered rout­ing the pipeline across the Mis­souri Riv­er just north of the 92-per­cent-white city of Bis­mar­ck, rerout­ed it through land pro­vi­sioned for the Sioux by the 1851 and 1868 Fort Laramie Treaties, in part to pro­tect Bismarck's water sup­ply. The now-oper­a­tional pipeline instead cross­es the Mis­souri Riv­er just upstream from where the reser­va­tion of the Stand­ing Rock Sioux Tribe gets its drink­ing water. The Key­stone XL pipeline, too, would cross over treaty land and the Mis­souri, as well as the mas­sive under­ground Ogal­lala Aquifer, which pro­vides 81 per­cent of the water used in the arid High Plains.
One of the biggest prob­lems with all this is that pipelines tend to leak. There have been almost 9,000 sig­nif­i­cant pipeline inci­dents — explo­sions, leaks and spills — over the last 30 years in the Unit­ed States, involv­ing thou­sands of tem­po­rary evac­u­a­tions and hun­dreds of human deaths. DAPL sprang two leaks before it even came online, although both were quick­ly contained.
Water con­t­a­m­i­na­tion is of spe­cial con­cern for the tribes. If any one phrase cap­tures what has ani­mat­ed the bat­tles against Key­stone XL and DAPL, it's Mni Wiconi, Lako­ta for ​"water is life."
"It's the first med­i­cine," Spot­ted Eagle says. ​"When a baby is being born there's water, and two-thirds of our bod­ies are water, which is a reflec­tion of Moth­er Earth."
Water infra­struc­ture in the rur­al areas on and around reser­va­tions tends to be either dras­ti­cal­ly under­fund­ed or nonex­is­tent. Accord­ing to a 2013 report from the Indi­an Health Ser­vice, a fed­er­al agency, 7.5 per­cent of Native Amer­i­can and Alas­ka Native homes lack safe drink­ing water. Com­bined with reser­va­tions' stun­ning­ly high pover­ty rates (43.2 per­cent at Stand­ing Rock), the destruc­tion of the area's main source of drink­ing water could pro­voke seri­ous health crises.
Water qual­i­ty is also a seri­ous con­cern for farm­ers and ranch­ers, whose liveli­hoods depend on clean water for crops and cat­tle. Fifty-four per­cent of land on the Ogal­lala Aquifer is used for agri­cul­ture, includ­ing the sev­er­al-hun­dred-mile stretch through Nebras­ka and South Dako­ta where many Tran­sCana­da oppo­nents live. Farmer Art Tanderup, an anti-pipeline advo­cate whose land Key­stone would cross, explains that the farm­land on the Ogal­lala is ​"basi­cal­ly a sponge," mak­ing it excep­tion­al­ly vulnerable.
"It would be dev­as­tat­ing," he says of the pos­si­bil­i­ty of a major spill. ​"We would not be able to have drink­ing water here … or to farm or build up topsoil."
Like many farm­ers and ranch­ers, Tanderup first encoun­tered Tran­sCana­da when com­pa­ny rep­re­sen­ta­tives turned up on his doorstep, offer­ing a five-fig­ure sum to lay pipe under his land. (Key­stone XL and DAPL are both under­ground pipeline projects.) To hear many landown­ers tell it, these inter­ac­tions quick­ly turned sour and com­pa­ny rep­re­sen­ta­tives moved to start emi­nent domain pro­ceed­ings against those who didn't accept their offers. Along­side fears of water con­t­a­m­i­na­tion, many in the area object­ed out of prin­ci­ple, see­ing an encroach­ment upon their prop­er­ty rights. In response, sev­er­al landown­ers — work­ing with the statewide non-prof­it Bold Nebras­ka — filed law­suits to halt the TransCanada's emi­nent domain pro­ceed­ings against them. Tran­sCana­da dropped the pro­ceed­ings in late 2015, about a month before the Oba­ma admin­is­tra­tion blocked the pipeline.
Spot­ted Eagle recalls meet­ings in 2013 about Key­stone XL between the tribes and landown­ers. ​"We watched their emo­tion­al trau­ma of their land being tak­en," she says. ​"That's very famil­iar to us. They were fac­ing emi­nent domain. I think a lot of peo­ple had nev­er dealt with that in Amer­i­ca. When we saw that hap­pen­ing, the imme­di­ate thing that came to our mind was that, because of their pain, these could be allies."
As a result of those expe­ri­ences, Spot­ted Eagle and sev­er­al oth­er orga­niz­ers with the Yank­ton Sioux revived the Cow­boy Indi­an Alliance, tak­ing on the man­tle of a 1980s coali­tion against ura­ni­um min­ing and muni­tions test­ing in South Dakota's Black Hills. Since reform­ing, the alliance has been a leader in the Key­stone fight. In 2014, farm­ers and trib­al elders rode side-by-side on horse­back to the Nation­al Mall, where they set up a week­long encampment.
FROM PIPELINES TO BALLOTS
The new ener­gy on the ground in the Great Plains isn't stop­ping with oppo­si­tion to pipelines. In states across the region, coali­tions that formed to chal­lenge the oil indus­try are now push­ing to take local offices.
In Nebras­ka, bat­tling pipelines has primed peo­ple around the state for a broad­er set of pro­gres­sive ideas, while pro­vid­ing invalu­able infor­ma­tion about what works and what doesn't out­side the more lib­er­al Lin­coln and Omaha.
One of the most pub­lic faces of the resis­tance against Tran­sCana­da in Nebras­ka now hap­pens to run the state's Demo­c­ra­t­ic Par­ty. Elect­ed in June 2016, Jane Kleeb has spent the last sev­er­al years dri­ving around the Corn­husker State con­vinc­ing farm­ers and ranch­ers, many of them Repub­li­cans, to join what's become one of this century's biggest anti-cor­po­rate campaigns.
Nebras­ka has had Repub­li­can gov­er­nors since 1999. Since 1995, it has only once elect­ed a Demo­c­rat to Con­gress. Kleeb found­ed the advo­ca­cy group Bold Nebras­ka in 2010, and knows what it means to orga­nize uphill in a red state.
"Gen­er­al­ly, they hate big," Kleeb says of the landown­ers she's met through the course of the Key­stone fight. ​"That's big gov­ern­ment, but that's also big cor­po­ra­tions that want to take their land through emi­nent domain, or big agriculture."
Key­stone, Kleeb says, ​"was the first issue that they saw up close and per­son­al that the politi­cians in office weren't rep­re­sent­ing their best inter­est and were turn­ing their back on a fun­da­men­tal prin­ci­ple of con­ser­vatism: pro­tect­ing indi­vid­ual prop­er­ty rights." Nebraska's rul­ing GOP had been a con­sis­tent boost­er of the project. Tran­sCana­da spent near­ly a mil­lion dol­lars lob­by­ing in Nebras­ka over the course of their push to build Key­stone XL.
An anti-estab­lish­ment ethos is by no means new to Nebras­ka. In the ear­ly 1890s, the People's Par­ty — the Pop­ulists — swept through the Great Plains and the South­ern Black Belt. In 1892, the party's Oma­ha Plat­form includ­ed calls to nation­al­ize the rail­roads, tele­graph lines and phone lines, as well as for the then-utopi­an idea of an eight-hour work­day. Nebras­ka was the epi­cen­ter of the People's Party's agrar­i­an pop­ulism, elect­ing two Pop­ulist gov­er­nors and sev­en con­gress­men. Part of that wave was Demo­c­rat William Jen­nings Bryan, who ral­lied sup­port­ers against ​"East­ern elites" who made it hard­er for farm­ers to bring their crops to mar­ket through high-inter­est loans and monop­oly con­trol of the railroads.
Farm­ing is the core of Nebraskan pride, and today's revived pro­gres­sivism has been primed by increas­ing cor­po­rate dom­i­na­tion over the agri­cul­tur­al sec­tor. That's also what has led sev­er­al of the farm­ers who In These Times spoke with to opt out of con­tracts with the big grow­ers that dom­i­nate the state, like Cargill and ConAgra.
Among them is Jim Knopik, a farmer who lives just west of Fuller­ton and has been deeply involved in the Key­stone fight with Bold Nebraska.
"It's the cor­po­ra­tions ver­sus indi­vid­u­als and small pro­duc­ers," Knopik says. ​"You have your big oper­a­tors who are run­ning four to five thou­sand-acre farms now under one manager."
That Tran­sCana­da would mis­treat farm­ers isn't all that sur­pris­ing to those who've watched Big Ag take over their indus­try. It's also why Knopik and many oth­er rur­al Nebraskans are fans of Bernie Sanders, who won the state's Demo­c­ra­t­ic Primary.
"He thinks about peo­ple as a whole, not just a select­ed few," Knopik says. ​"That's what elect­ed offi­cials are sup­posed to do." His face lights up describ­ing a cam­paign ral­ly for Sanders he attend­ed in Lin­coln, where 1,500 peo­ple were turned away because one of the city's largest audi­to­ri­ums hit capacity.
Kleeb notes one major chal­lenge for the Nebras­ka Demo­c­ra­t­ic Par­ty (NDP) is the nation­al party's dis­in­vest­ment from red states and state par­ties in gen­er­al. She says this not just as the leader of the NDP, but as a mem­ber of both the Demo­c­ra­t­ic Nation­al Committee's Uni­ty Reform Com­mis­sion and the board of direc­tors for Our Rev­o­lu­tion, which grew out of Sanders' campaign.
"Because we had pres­i­dent Oba­ma in office for eight years, peo­ple got very com­fort­able with poli­cies and cul­ture and meth­ods com­ing from the White House," Kleeb says. ​"And it com­plete­ly then starved all of the basic infra­struc­ture that actu­al­ly wins elec­tions at the local level."
While the NDP is back­ing Demo­c­rat Jane Ray­bould in her chal­lenge to incum­bent Sen. Deb Fis­ch­er ®, much of the party's rebuild­ing efforts con­sist of run­ning can­di­dates for hyper-local offices, in many cas­es for the kinds of unsexy posi­tions pipeline fight­ers have become well acquaint­ed with. These include seats on the Nebras­ka Pub­lic Ser­vice Com­mis­sion, now delib­er­at­ing on Keystone's fate. Vir­tu­al­ly any­one who's been deeply involved in anti-Key­stone efforts can rat­tle off intri­cate details about Nebraska's reg­u­la­to­ry pro­ce­dures. As the par­ty attempts to regain lost ground, that knowl­edge could come in handy.
"I've been in pol­i­tics now for 20 years, and this is the first time I feel like peo­ple are com­ing out of the wood­work to say, ​'I want to run,' " Kleeb says. ​"One of the first things we tell new peo­ple is, let's look at Nat­ur­al Resource Dis­trict offices. Let's look at pub­lic pow­er dis­tricts," which con­trol Nebraska's elec­tric util­i­ties. ​"Let's look at the Pub­lic Ser­vice Com­mis­sion. Imme­di­ate­ly peo­ple think of Con­gress, gov­er­nor and state leg­is­la­ture. If you care about ener­gy and cli­mate change and water, though, it's these bod­ies that have real power."
The NDP is look­ing to mount can­di­dates for the two Pub­lic Ser­vice Com­mis­sion seats up for grabs in 2018. While high­ly spe­cial­ized, these posi­tions are key to deter­min­ing every­thing from water qual­i­ty stan­dards to where towns get their power.
Though Democ­rats seem to agree they need a 50-state strat­e­gy that oper­ates between pres­i­den­tial elec­tion cycles, the real­i­ties of get­ting there are thornier. Kleeb laments, ​"The mis­take that Democ­rats and pro­gres­sives have made over the last 20 years is that they have writ­ten off rur­al com­mu­ni­ties as racist and not progressive."
Fol­low­ing Trump's elec­tion, pro­gres­sives have focused on build­ing ​"the resis­tance" in solid­ly blue states like New York and Cal­i­for­nia. This excite­ment tends to ignore the fact that tens of mil­lions of poten­tial pro­gres­sive vot­ers are scat­tered through­out so-called Trump coun­try, too — often in places with lega­cies of anti-estab­lish­ment pol­i­tics that don't fit clean­ly on the left-right spec­trum of Belt­way politi­cos. Indeed, the pri­or­i­ties of today's new strain of rur­al pop­ulism, such as ral­ly­ing for prop­er­ty rights and against for­eign cor­po­ra­tions, might chafe against some vari­ants of coastal left­ism. In this con­text, any one-size-fits-all approach to beat­ing the GOP may well be dead on arrival.
DECOL­O­NIZ­ING GOVERNMENT
In Nebras­ka, the nature of the Key­stone coali­tion has meant that the state's trib­al nations are play­ing an impor­tant role in the state's pro­gres­sive resur­gence. Nebras­ka is one of just three states that has elect­ed Natives to serve on the Demo­c­ra­t­ic Nation­al Com­mit­tee. When Kleeb ran for state par­ty chair, she asked the then-chair of the NDP Native cau­cus, vet­er­an Win­neba­go activist Frank LaMere, to run with her, and he was elect­ed her second-in-command.
Cur­rent Native Cau­cus chair Mechelle Sky Walk­er says the show­down at Stand­ing Rock has been more of a gal­va­niz­ing force in Native com­mu­ni­ties than the one over Key­stone XL. ​"It was total­ly dif­fer­ent," Sky Walk­er says. ​"Stand­ing Rock was ful­ly Native-based. It was one tribe stand­ing up to an oil com­pa­ny, and they asked for help." She made two sup­ply runs to the North Dako­ta encamp­ment before water pro­tec­tors were evict­ed from the site in Feb­ru­ary, and helped orga­nize ral­lies in sup­port at home in Lincoln.
Aside from the myr­i­ad struc­tur­al bar­ri­ers to vot­ing on reser­va­tions, Native vot­ers are under­stand­ably skep­ti­cal about elec­toral pol­i­tics. ​"There's a lot of dis­trust with the state," Sky Walk­er says, relat­ing her expe­ri­ence work­ing for the Nebras­ka state gov­ern­ment. ​"If you look at his­tor­i­cal trau­ma, there's no rea­son in hell why they should trust you." Key to over­com­ing that, she argues, is tak­ing the time to actu­al­ly build in-per­son rela­tion­ships on reservations.
In South Dako­ta, vet­er­ans of the Stand­ing Rock and Key­stone XL fights are fig­ur­ing out how to trans­late that ener­gy into the bal­lot box. Chas Jew­ett, a Lako­ta woman and long­time cli­mate orga­niz­er, has been work­ing with Sanders del­e­gate Alli­son Renville to found a PAC called Dako­tas For Amer­i­ca, aimed at increas­ing vot­er turnout in Indi­an Coun­try and help­ing Native can­di­dates run.
"It wasn't just the most rad­i­cal of us who protest every­thing [at Stand­ing Rock]. It was insti­tu­tion­al, it was pro­fes­sion­al peo­ple in our com­mu­ni­ties," she says. Jew­ett tells me she's seen a lot of inter­est in peo­ple run­ning for office in the months since the evic­tion. ​"We're try­ing to encour­age our peo­ple to jump into races for local and statewide offices, not just trib­al offices," she says. ​"The ideas that have kept [Native peo­ple] alive for the last 500 years can help us all tran­si­tion to a more earth-friend­ly nation."
For her, elec­tions and vot­er turnout efforts are about much more than pipelines or spe­cif­ic poli­cies. They're part of a larg­er push to upend cen­turies of bru­tal dis­crim­i­na­tion. She says, ​"We can start to think about what run­ning a decol­o­nized nation in 2017 looks like."
"I love Amer­i­ca. I think what we've got here is some­thing good and it has poten­tial, but it's not a real­i­ty. If you're com­fort­able in Amer­i­ca, you're part of the prob­lem," she told In These Times over the phone in mid-August. News had just bro­ken that a coun­ter­pro­test­er had been killed at the Unite The Right ral­ly in Char­lottesville, Va. ​"We have two options: We can come togeth­er and see what jus­tice looks like in Amer­i­ca, and have a hard con­ver­sa­tion. Or we con­tin­ue as-is. In South Dako­ta, we're try­ing to have a bet­ter conversation."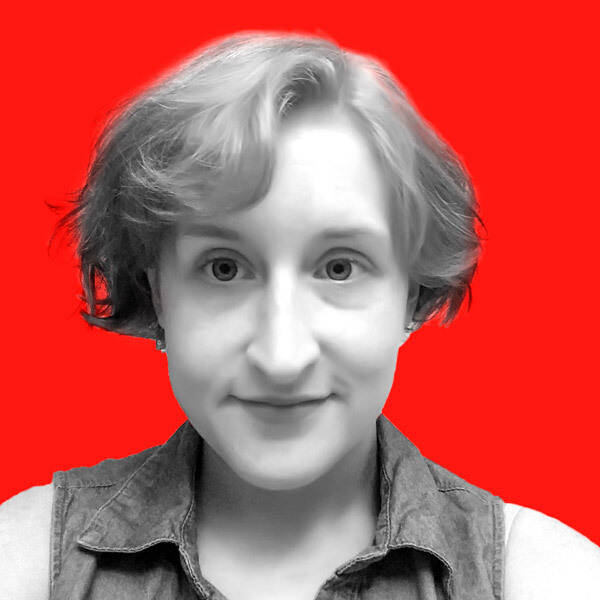 Kate Aronoff
is a Brook­lyn-based jour­nal­ist cov­er­ing cli­mate and U.S. pol­i­tics, and a con­tribut­ing writer at The Inter­cept. Fol­low her on Twit­ter @katearonoff.