Postal Banking Could Become a Reality Even Without Congress. Here's How.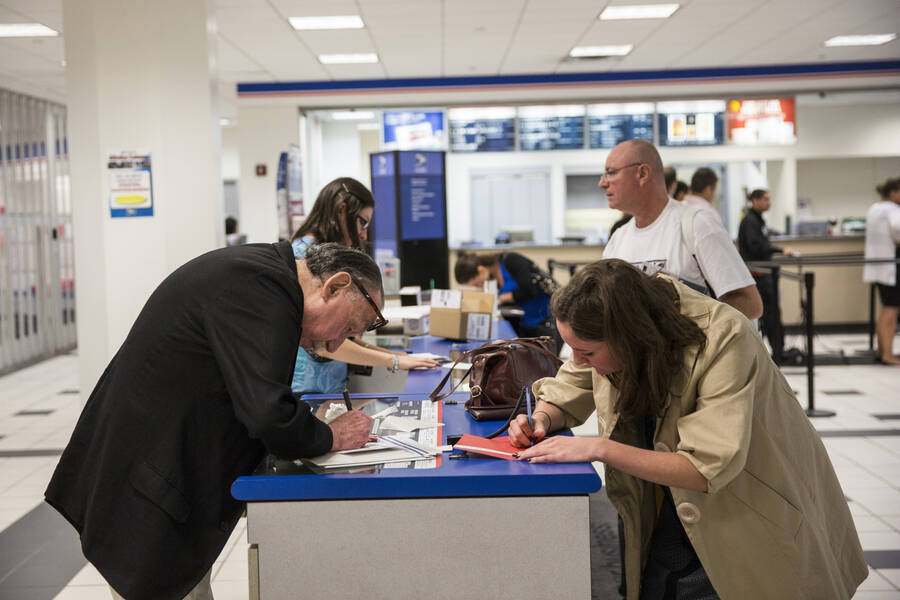 When Sen. Kirsten Gilli­brand (D‑N.Y.) intro­duced leg­is­la­tion last week to estab­lish sim­ple bank­ing ser­vices in every U.S. post office, she con­tin­ued a trend of aspir­ing Demo­c­ra­t­ic pres­i­den­tial can­di­dates using their perch in Con­gress to pro­pose big, pro­gres­sive ideas.
In this case, Gilli­brand was aim­ing to solve a major prob­lem in Amer­i­ca of finan­cial inclu­sion: Over one in four house­holds have lit­tle or no access to bank­ing ser­vices, caus­ing them to use high-cost alter­na­tives like check-cash­ing stores or pay­day lenders, which gouge them with exor­bi­tant fees and cre­ate cycli­cal debt. If the post office, with over 31,000 loca­tions across Amer­i­ca and sig­nif­i­cant trust from cit­i­zens, were to offer sim­ple bank­ing ser­vices as it did from 1911 to 1967, it could poten­tial­ly solve the inclu­sion prob­lem, save bil­lions of dol­lars for vul­ner­a­ble pop­u­la­tions, and help mod­ern­ize and sta­bi­lize the postal sys­tem in an era of elec­tron­ic communication.
But there's one thing miss­ing from most of the large­ly pos­i­tive cov­er­age of the Gilli­brand bill — we already have the build­ing blocks for a postal bank­ing sys­tem in the Unit­ed States ready to go, with­out the need for autho­riza­tion from Con­gress. Or at least we would have it, if the U.S. Postal Ser­vice stuck to the promise it made to one of its biggest unions two years ago.
In 2016, the Amer­i­can Postal Work­ers Union (APWU), rep­re­sent­ing near­ly 200,000 clerks, main­te­nance work­ers and oth­er postal employ­ees, engaged in a qui­et cam­paign to make postal bank­ing a real­i­ty. They took the con­cept to the bar­gain­ing table in their most recent con­tract nego­ti­a­tions. ​"We made the argu­ment that you're ask­ing for cuts, but you haven't looked into new ways we can bring in rev­enue," says Kather­ine Isaac of the Cam­paign for Postal Bank­ing, the APWU's pub­lic coali­tion for the effort.
In July 2016, the APWU and the Postal Ser­vice reached agree­ment on a con­tract, and tucked inside was a Mem­o­ran­dum of Under­stand­ing (MOU) on ​"Enhanced and Expand­ed Ser­vices." The MOU estab­lished a joint labor/​management task force, required to meet month­ly and con­sid­er pilot pro­grams for ​"oppor­tu­ni­ties to increase rev­enue that also pro­vide a pos­i­tive finan­cial con­tri­bu­tion." These includ­ed two spe­cif­ic ideas: ​"mod­ern­iza­tion of mon­ey orders" and ​"expan­sion of inter­na­tion­al mon­ey transfers."
In 2015, the Postal Ser­vice sold $21 bil­lion worth of mon­ey orders, a secure cer­ti­fied check. In recent years, how­ev­er, postal office mon­ey order usage has fall­en off. Mod­ern­iz­ing the ser­vice, as pro­posed by the USPS Office of Inspec­tor Gen­er­al, could include sell­ing mon­ey orders dig­i­tal­ly, enabling per­son-to-per­son mon­ey trans­fers online or through mobile phones, or cre­at­ing pre­paid, reload­able cred­it cards.
A pilot pro­gram could also expand the post office's ​"Dinero Seguro" mon­ey trans­fer ser­vice to 60 loca­tions around the world, through the Uni­ver­sal Postal Union (UPU), a UN agency that coor­di­nates inter­na­tion­al postal ser­vices. In 2016, immi­grants and those with rel­a­tives abroad wired more than $138 bil­lion in remit­tances from the Unit­ed States. But Dinero Seguro cur­rent­ly only reach­es four of the top ten remit­tance mar­kets in the world, and ser­vices a tiny 0.01 per­cent of all trans­ac­tions. The infra­struc­ture for expand­ing inter­na­tion­al mon­ey trans­fers is already built through the UPU, the USPS need only plug in.
Advo­cates see both mon­ey orders and remit­tances as a launch­ing pad for advanc­ing postal bank­ing in the Unit­ed States, under USPS' author­i­ty to expand exist­ing prod­ucts. Such pilot pro­grams would help work out the kinks of postal bank­ing, and cre­ate demand to bring it to more parts of the coun­try. It also doesn't require any­one in Con­gress to give the go-ahead. The Postal Ser­vice can't autho­rize every­thing on its own — short-term loans, for exam­ple, would be a new prod­uct that would prob­a­bly require leg­isla­tive sign-off. But pilots could cre­ate the envi­ron­ment to get Con­gress inter­est­ed in pur­su­ing a nation­al postal bank­ing program.
Accord­ing to the Cam­paign for Postal Bank­ing, the APWU pro­posed three like­ly loca­tions for the pilot pro­grams: Bal­ti­more, Md., Cleve­land, Ohio and the Bronx, New York — where 52 per­cent of house­holds are either unbanked or under­banked. Accord­ing to the 2016 MOU, at least one pilot pro­gram had to be launched with­in a year. But while the joint task force held field hear­ings, the pilots nev­er hap­pened. ​"They're drag­ging their feet," Isaac says.
The union has been work­ing under the radar to nudge the Postal Ser­vice into action. The office of Sen. Eliz­a­beth War­ren (D‑Mass.), who sup­ports postal bank­ing, con­firmed that she recent­ly met with Post­mas­ter Gen­er­al Megan Bren­nan to dis­cuss the issue. But so far Bren­nan hasn't com­mit­ted to anything.
The USPS hasn't respond­ed to a request for com­ment on the MOU or the War­ren meet­ing. In the past, the agency has only said ​"our core func­tion is deliv­ery, not bank­ing," and that it could not move for­ward with­out reg­u­la­to­ry and leg­isla­tive approval. That's a cramped read­ing of the Postal Service's man­date, which clear­ly allows agency man­age­ment to expand and enhance exist­ing ser­vices.
One prob­lem involves the gov­ern­ing body of the Postal Ser­vice, the Board of Gov­er­nors. Incred­i­bly, no appointees have been con­firmed to the nine-mem­ber pan­el, which directs pol­i­cy for the Postal Ser­vice, since 2010. All nine slots are cur­rent­ly vacant, mean­ing Bren­nan and her deputy make up the entire board. That's a lot of pow­er in the hands of one woman who appears reluc­tant to make big deci­sions, espe­cial­ly amid the Postal Service's man­u­fac­tured fis­cal cri­sis from hav­ing to pre-fund health and retire­ment ben­e­fits 75 years out, some­thing no pub­lic agency or pri­vate com­pa­ny must do.
The Cam­paign for Postal Bank­ing is orga­niz­ing in the three pro­posed pilot cities, try­ing to build mass com­mu­ni­ty sup­port for the pro­grams. With the APWU's cur­rent con­tract expir­ing in Sep­tem­ber, postal bank­ing will almost cer­tain­ly come up in the next round of nego­ti­a­tions, giv­en what could be per­ceived as a bro­ken promise.
This is where Sen. Gillibrand's leg­is­la­tion can help. By rais­ing atten­tion to postal bank­ing, Gilli­brand could jump-start the crit­i­cal sup­port nec­es­sary to get pilot pro­grams up and run­ning. She rep­re­sents the Bronx, which seems like a nat­ur­al place to start.
Gilli­brand could also help fill seats on the Postal Ser­vice Board of Gov­er­nors. David Williams, who in 2014, while serv­ing as USPS Inspec­tor Gen­er­al, wrote a cel­e­brat­ed white paper endors­ing postal bank­ing, is one of three active nom­i­nees for a Gov­er­nor slot. In April, he and two oth­er nom­i­nees, Calvin Tuck­er and Robert Dun­can, faced a con­fir­ma­tion hear­ing in the Sen­ate Home­land Secu­ri­ty and Gov­ern­ment Affairs Com­mit­tee. While Gilli­brand isn't on the com­mit­tee, she and oth­er Sen­ate postal bank­ing sup­port­ers could push with­in the Demo­c­ra­t­ic cau­cus for a floor vote.
Sen­ate Democ­rats are often accused of obstruct­ing Trump's nom­i­nees. But advo­cates believe Williams, whose paper was essen­tial to spark­ing renewed inter­est in postal bank­ing, could help advance the pro­gram. ​"We can't imag­ine a bet­ter advo­cate on the Board of Gov­er­nors," Isaac says of Williams.
Both inside and out­side approach­es are crit­i­cal to mak­ing pol­i­cy advances. Postal bank­ing leg­is­la­tion, even if it can­not pass under the cur­rent Con­gress, can expand sup­port and set a goal. But the path of push­ing pilot pro­grams through the APWU con­tract can cre­ate for­ward momen­tum with­out the usu­al Con­gres­sion­al par­ti­san­ship and grid­lock. If these strate­gies can suc­cess­ful­ly join forces, you may soon be able to see bank­ing ser­vices at a post office near you.