Postal Workers to USPS: Don't Shred Our Contract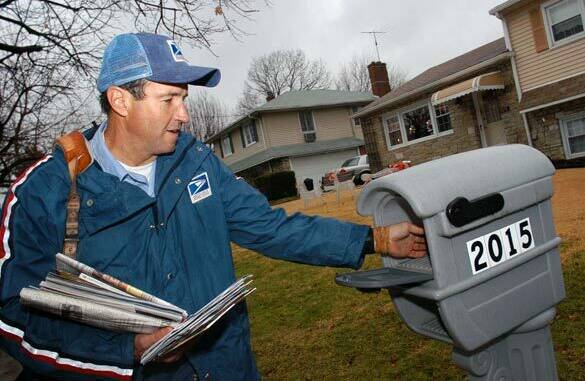 We wanted to make sure you didn't miss the announcement of our new Sustainer program. Once you've finished reading, take a moment to check out the new program, as well as all the benefits of becoming a Sustainer.

The U.S. Postal Service's plans to cut more than 220,000 jobs — that's right, nearly a quarter million — and break a collective bargaining agreement has its employee unions up in arms.
The financially-strapped U.S. Postal Service revealed last week that by 2015 it plans to trim its workforce by nearly one-third, close 300 processing facilities and institute its own health and retirement system to replace existing federal programs, according to several reports. About 100,000 of the jobs are expected to be eliminated through attrition.

The proposal, which requires congressional approval, has drawn concern from unions and labor observers for its potential to further erode the middle class. And it's renewed fears that other employers will soon follow with their own cost-cutting measures.
The decision comes after the USPS has suffered continuous declines in recent years due to drops in mail volume, advertising, an increase toward online communication and private competitors like FedEx and UPS. The postal service makes most of its revenue through postage fees and receives little support from taxpayers.
As a result, the agency posted $8 billion in losses last year and $20 billion in the past four. Moreover, the postal service expects to be insolvent by next month when the fiscal year ends.

The USPS has already implemented a number of cost-cutting moves, including plans to reduce their current career workforce of 583,908. More than 110,000 jobs have been eliminated in the last four years and the AP reports that currently 7,500 administrative staff jobs are also in the process of being removed. In June, the agency stopped funding pension contributions, which it says are over-funded. Almost 3,700 post offices across the country, mostly in rural areas, could be eliminated. Saturday service may also cease.

The agency also plans to reduce labor expenses. Last week, the Washington Post obtained ​"white papers" (PDF link) written by the USPS that seek to withdraw its employees from the Federal Employees Health Benefits Program, essentially because they view as it as too costly and want greater employee contributions.

The postal service also wants legislative changes that would allow collective bargaining agreements to be broken in order to implement layoffs. USPS workers represented by the American Postal Workers Union (APWU) with more than six years experience are protected. The National Association of Letter Carriers​'s (NALC) contract also has a clause restricting layoffs.
There's plenty of disagreement about whether Congress' decision to nullify a labor contract would be unprecedented, and whether it's merely a reflection of the current employment climate or a ploy to get an anemic legislature to find a solution. A USPS spokesman has said that ​"everything is on the table."
Bill Fletcher of the American Federation of Government Employees union tells the Washington Post: ​"When you break a contract, basically what you're saying is that we have left the era of good-faith bargaining and negotiation and entered into employer unilateralism."

University of California at Berkeley labor professor Harley Shaiken told Bloomberg News that the job cuts would be ​"politically damaging" to the Obama administration. He adds: ​"It would make the federal government the largest contract breaker in the country."

The APWU, the NALC and the National Rural Letter Carriers' Association have opposed the post office proposals and viewed it as an attack on their bargaining rights. The unions say that labor costs aren't the source of the USPS's budget crisis.

The labor groups instead point to a congressional mandate from 2006 known as the Postal Accountability and Enhancement Act. The measure requires the postal service to pay for the healthcare benefits of future retirees for the next 75 years, all within a 10-year period at the rate of $5.5 billion annually. It is the only federal agency with such a requirement. The payments started in 2007 and unions cite the pre-funding plan as the reason why the postal office has declared its inability to pay the future healthcare costs by September.

NALC President Fredric V. Roland wrote in an op-ed in the Baltimore Sun that the postal service would have been profitable during the downturn and losses would have been minimized if it weren't for the pre-funding mandate.

The unions, however, are not asking to remove the legislative requirement but are instead pressing legislators to support a bill that would allow payments to be made using funds from a pension surplus. H.R. 1351, introduced by Rep. Stephen Lynch (D‑MA), would address the budget crisis, maintain bargaining rights and avoid further cuts, the APWU and NCLA said.

​"This responsible business move, with zero taxpayer involvement, would leave pensions and retiree health benefits fully funded well into the future while putting the USPS budget back on sound financial footing," Roland said.

Meanwhile, a job that had been a staple for the middle-class mobility is being threatened, echoing similar reverberations in the private sector where Verizon workers are currently on strike. The USPS is scheduled to begin negotiations with the letter carriers union this week and the smaller National Postal Mail Handlers Union next week.
Become a Sustainer
We surveyed thousands of readers and asked what they would like to see in a monthly giving program. Many of you expressed interest in magazine subscriptions, gift subscriptions, tote bags, events and books —and we've added all of those. Some of you said that cost was an issue, so we've kept our starting tier at just $5 a month—less than 17 cents a day.

Now, for the first time, we're offering three different levels of support, with unique rewards at each level, for you to choose from. Check out the new Sustainer program.