The Prisoners Forced To Sue for Soap and Toilet Paper
Prisoners have filed suit against the Wisconsin Department of Corrections due to unsafe living conditions and inadequate medical care.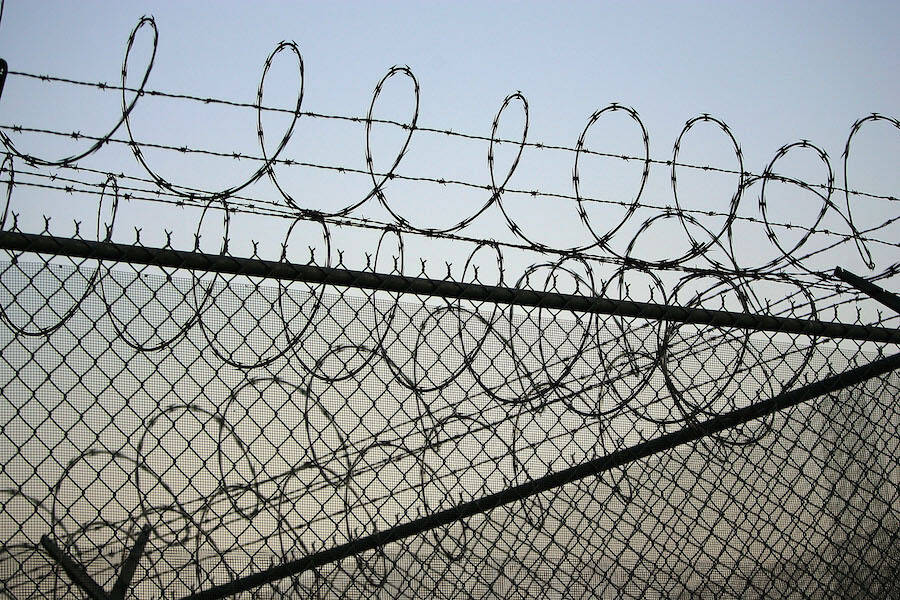 PRAIRIE DU CHIEN, WIS. — Nica­s­io Cuevas Quiles III, a 46-year-old pris­on­er at Prairie du Chien Cor­rec­tion­al Insti­tu­tion (PDCI) two hours west of Madi­son, calls In These Times in Octo­ber 2019 to dis­cuss a civ­il rights com­plaint against the facility's admin­is­tra­tors. Dur­ing the call, Cuevas Quiles rhetor­i­cal­ly asks why pris­on­ers are rationed toi­let paper and no longer issued bars of soap, when the annu­al bud­get of the Wis­con­sin Depart­ment of Cor­rec­tions exceeds $1 billion.
Prison administrators are "telling offenders, 'If you don't perform these duties, we're going to throw you in [solitary confinement],' " Cuevas Quiles says.
"If it's falling on the tax­pay­ers of this bil­lion-dol­lar jug­ger­naut called the Wis­con­sin DOC to main­tain it run­ning, then — "
He's cut off by a robot voice: ​"All calls oth­er than prop­er­ly placed attor­ney calls may be mon­i­tored and recorded."
Cuevas Quiles doesn't miss a beat, waits for the pre-record­ed mes­sage, then con­tin­ues: " — why are we deal­ing with things such as two rolls of toi­let paper and no bars of soap?"
The auto­mat­ed dis­claimers repeat­ed­ly inter­rupt the paid call from PDCI as if to threat­en, We're lis­ten­ing. But Cuevas Quiles is unshaken.
He is one of 10 incar­cer­at­ed co-plain­tiffs who filed suit in fed­er­al court in July 2019, accus­ing PDCI of ​"con­tin­u­ous expo­sure to asbestos and asbestos-relat­ed mate­ri­als, lead, lead fil­ings, radi­um, gross alpha and rust par­ti­cles in the drink­ing water and water sup­ply, the arbi­trary denial of accept­able stan­dards of san­i­tary liv­ing con­di­tions, the arbi­trary denial of access to san­i­tary clean­ing sup­plies to pre­vent the spread of dis­ease and bac­te­ria," and oth­er vio­la­tions at the 70-year-old facil­i­ty, accord­ing to a copy of the complaint.
PDCI, a medi­um-secu­ri­ty prison, hous­es more than 400 adult male pris­on­ers. ​"The issues here at Prairie du Chien are not unique," Cuevas Quiles says. ​"I had orig­i­nal­ly pur­sued this case to bring to light the issues that are pret­ty much preva­lent through­out the entire Wis­con­sin Depart­ment of Corrections."
The suit also charges that plain­tiffs face ​"the denial of prop­er med­ical care and atten­tion to the med­ical issue by staff," increas­ing their risk of ​"can­cer and blind­ness," and that unqual­i­fied cor­rec­tion­al offi­cers are han­dling med­ica­tions, in vio­la­tion of their rights. ​"The ren­der­ing of med­ical ser­vices by unqual­i­fied per­son­nel is delib­er­ate indif­fer­ence," the suit alleges.
The Wis­con­sin Depart­ment of Cor­rec­tions failed to respond to mul­ti­ple inter­view requests from In These Times.
"Cur­rent­ly, the co-plain­tiffs and I are unrep­re­sent­ed by coun­sel," Cuevas Quiles says — the civ­il rights com­plaint was filed with the courts direct­ly. ​"That's because not too many attor­neys want to take on the Wis­con­sin Depart­ment of Corrections."
One of the few sources of out­side sup­port that Cuevas Quiles and his co-plain­tiffs have is the Incar­cer­at­ed Work­ers Orga­niz­ing Com­mit­tee (IWOC), an inter­na­tion­al labor union for pris­on­ers. IWOC's local in Mil­wau­kee con­nect­ed with Cuevas Quiles in Feb­ru­ary 2019 through an email newslet­ter it sends to more than 3,000 pris­on­ers across 31 facil­i­ties in Wis­con­sin. (Cor­rlinks, a for-prof­it com­pa­ny, is con­tract­ed by pris­ons to pro­vide pris­on­ers with email access, for a fee.) While Cuevas Quiles found his co-plain­tiffs him­self, IWOC Mil­wau­kee has helped con­nect him with oth­er sup­port­ers on the inside, as pris­on­ers are not able to email each other.
​"We've been using this newslet­ter to help con­nect peo­ple across insti­tu­tion­al bound­aries by col­lect­ing reports on con­di­tions and updates at var­i­ous insti­tu­tions, then orga­niz­ing, edi­to­ri­al­iz­ing and send­ing the mes­sages back out to the whole list," explains Ethan Simonoff, an orga­niz­er with IWOC Milwaukee.
With the help of IWOC Mil­wau­kee and oth­er pris­on­er orga­niz­ing groups, like Ex-Incar­cer­at­ed Peo­ple Orga­niz­ing and WIS­DOM, Cuevas Quiles was also able to con­nect with local media, draw­ing the ire of prison admin­is­tra­tors. Cuevas Quiles says that, fol­low­ing a radio sto­ry, he was forced out of his work assign­ment in the laun­dry depart­ment, and two of the three com­put­ers pris­on­ers use to file legal doc­u­ments were con­fis­cat­ed. He also says fel­low pris­on­ers have been forced to address haz­ardous con­di­tions with­out prop­er train­ing or equip­ment. IWOC Mil­wau­kee cor­rob­o­rates Cuevas Quiles' charges with sim­i­lar claims by oth­er pris­on­ers at PDCI.
Prison admin­is­tra­tors are ​"telling offend­ers, ​'If you don't per­form these duties, we're going to throw you in [soli­tary con­fine­ment],' " Cuevas Quiles says.
Despite the alleged retal­i­a­tion, Cuevas Quiles describes his co-plain­tiffs and the gen­er­al prison pop­u­la­tion as hope­ful — pend­ing amend­ments, he expects the civ­il rights com­plaint to move for­ward. IWOC Mil­wau­kee came to their aid in Sep­tem­ber 2019 with a call-in cam­paign to PDCI, ask­ing admin­is­tra­tors to cease retaliation.
Back on the call, in the mid­dle of describ­ing how the plain­tiffs have been build­ing strong sup­port­ive bonds togeth­er, the robot inter­rupts Cuevas Quiles with, ​"One minute remaining."
Unde­terred: ​"If the minute goes up, I'll call you right back."
Arvind Dilawar is an inde­pen­dent jour­nal­ist whose work has appeared in Newsweek and Vice.