Private Contractor Accused of Skimping on Prisoner Food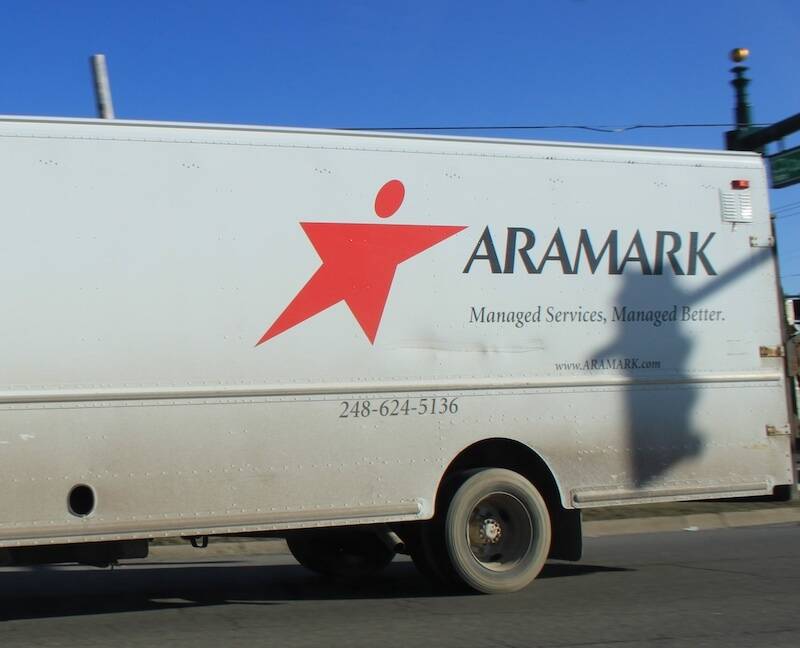 When prisoners in the segregation unit at Westville Correctional Facility in Indiana received their lunch trays last Tuesday, it was, for some of them, a small taste of victory. While ​"savory stroganoff with noodles, mixed vegetables, and enriched bread" might not seem like much, the prisoners say it was their first hot weekday lunch in months. For the previous week, dozens in the unit had been protesting what they saw as inadequate food by refusing the cold sack lunches provided by the prison, according to two inmates who spoke to In These Times on condition of anonymity out of fear of reprisal from the prison .
​"A lot of people didn't believe that we could win," says ​"Jela," (not his real name), one of the prisoners involved in the protest. ​"We proved them wrong."
Barring holidays, prisoners in the maximum security unit had been receiving sack lunches instead of the usual hot meal, five days a week for approximately seven months. Indiana Department of Corrections (DOC) Public Information Officer John Schrader says the switch to the sack lunch program was a response to requests from some prisoners, and was an effort to speed meal times and free up more time for recreation and showers.
But ​"people were losing weight, people were not getting the proper nutrients and calories," charges ​"Malik," another prisoner in the unit, who also asked to be identified by a pseudonym. Each bag contained slices of bread, peanut butter and jelly, and a cookie — ​"not enough," according to Malik and Jela.
In response, say Jela and Malik, prisoners began making dozens of complaints about the program, which they say went unheeded. So more than 40 inmates took part in the protest, which was inspired by prisoner actions in California and Georgia, and organized by shouting between rec rooms.
For their part, corrections officials say they had only heard ​"one or two" complaints about the food before this month. ​"There were a number of complaints we got all at once," says Schrader, ​"and so we said: ​'we'll change what we're doing.'" The Department of Corrections would not confirm the number of prisoners who participated in the protest.
Jela says that the food problem goes further back than the cold lunch program. He claims he has seen the food worsen in quality and amount since responsibility for the menu was handed over to a private company, Aramark, in 2005. Aramark, one of the country's largest foodservice providers, has a multimillion-dollar-a-year contract with the Indiana Department of Corrections that is up for renewal in 2015.
The department claims that putting food services in the hands of a private company has saved the state millions of dollars each year. However, there have been repeated complaints from prisoners. Jela says he took part in another hunger strike to protest the portion cuts shortly after Aramark took over. ​"It's all about profit and all about profit motives; it's not about nutrition or nothing," he says. Jela believes the switch to the cold bag lunches was just the latest in a long line of attempts by the company to cut costs.
Aramark, which provides over a million meals to prisoners in the United States every day, has stood accused of skimping on food before. In 2004, prisoners in New Mexico organized a hunger strike to protest food the company was providing. In 2007, state auditors in Florida found Aramark had been charging for meals it hadn't provided, and in 2009, the poor quality of food supplied by the company was blamed for riots in Kentucky's Northpoint Training Center.
John Schilling, the executive director for contract compliance at the Indiana DOC, insists that the switch to the sack lunches was not a cost-cutting measure. According to Schilling, the state pays Aramark $1.24 for each meal it provides. However, the amount of profit the company makes from each meal is secret. ​"Aramark's pricing is confidential. It's what they call proprietary information," says Schilling. He added that Aramark had expressed concern that the lunch sacks would actually increase costs. Aramark did not respond to a request for comment from In These Times.
Apart from weight loss, Jela charges that poor-quality food has caused mental-health problems for prisoners — a major concern in Indiana's segregation units, where, according to a federal judge's ruling last year, prisoners with mental-health issues are disproportionately represented and do not receive adequate healthcare.
​"When you're in the Supermax, locked-down, you're already socially isolated," says Jela. ​"You're in a refrigerated cell and they're not feeding you, so you take all of that on top of each other. A lot of guys can't take that." Jela says when prisoners in the unit harm themselves ​"they're trying to get some relief, or trying to get moved to a less secure facility, or really crying out for some damn help."
Prisoners in the units are usually locked in their cells for 23 hours a day, with time out for exercise or showers. Jela says in this environment, the lack of food has a debilitating effect. ​"You're not out researching the law, you're not out filing lawsuits, you're not filing complaints, you're not doing a lot of things, because you're too cold and too hungry — so it's a form of control," he says.
Asked for comment, Westville Public Information Officer John Schrader says that medical staff keep a close eye on prisoners' weight: ​"If there's a medical issue… they can document it and see how much a guy gained or lost."
Department of Corrections staff also visit prisons at least twice every four months to check that Aramark is providing the contractually agreed amounts of food. The company is supposed to provide a minimum of 2,500 calories to each prisoner every day. Menus are designed by Aramark's dieticians and approved by Schilling. ​"For the most part we've not had any problems whatsoever with the contract, with the meals being provided, with the nutritional values, with the product," he says.
But according to Kenneth Falk, legal director for the ACLU of Indiana, ​"Prisoners have an acute knowledge of how much they should be getting, and are fairly ingenious in setting up their own measurements to see if in fact they are getting the proper amount." He says prisoners in the segregation unit in another Indiana prison, Wabash Correctional, monitored and recorded portion sizes themselves, sometimes using makeshift measures made from polystyrene cups, and found the food wanting.
Based on their complaints, the Indiana ACLU filed a lawsuit in 2011 against the state's Department of Corrections, claiming that prisoners in the Wabash segregation unit were not receiving adequate food, in violation of their Eighth Amendment rights. The lawsuit alleged that ​"prisoners are receiving significantly less food and calories [than] required by the contract between DOC and Aramark" and were ​"losing significant amounts of weight because of caloric and portion deficiencies." According to the ACLU, complaints from prisoners were ignored, even though the department was aware of the issue.
The case highlighted the particular problems facing people in segregation units. Many of these prisoners are barred from buying additional food from the prison commissary to supplement their meals, and so rely entirely on food from the prison, Falk says.
The ACLU's case was settled last year without going to trial. ​"There was never an admission that anything was wrong and there was never a finding anything was wrong," says Falk, ​"but I think there was enough anecdotal concern that the DOC was willing to implement fairly mild review procedures." Those ​"mild review procedures" involve random checks on portions by correctional staff.
That hasn't stopped Aramark and the Department of Corrections from skimping on food in other prisons, at least not according to Jela, who says restoring hot lunches at Westville was a first step, but with the food still inadequate and its quality still poor, more needs to be done.
George Lavender
is an award-winning radio and print journalist based in Los Angeles. Follow him on Twitter @GeorgeLavender.