Atlantic City Could Be the Next Flint—But Residents Are Fighting To Save Their Water
Chris Christie-appointed officials may soon privatize the city's water utility.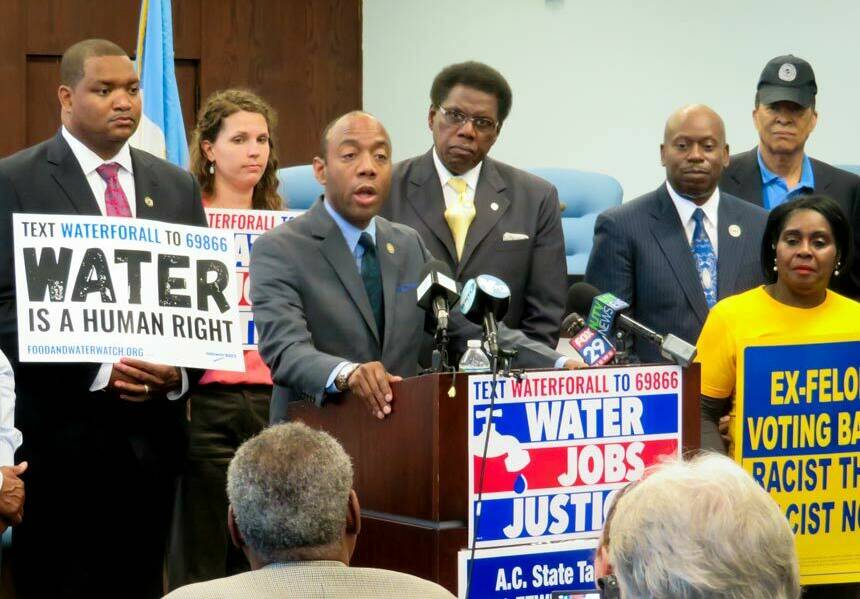 Cost-cut­ting reforms to Flint, Michigan's water sys­tem led to a human­i­tar­i­an cri­sis, one that is still expos­ing the city's dis­pro­por­tion­ate­ly black and poor pop­u­la­tion to dan­ger­ous amounts of lead. But aus­ter­i­ty-mind­ed politi­cians remain unde­terred. In New Jer­sey, Gov. Chris Christie and a bevy of state-appoint­ed offi­cials are now mov­ing to pri­va­tize Atlantic City's water utility.
It's everyday residents—predominantly working-class people of color—who bear the cost of austerity.
City res­i­dents aren't tak­ing this with­out a fight. Eager to keep their water pub­lic, a group of res­i­dents — joined by 40 statewide and nation­al orga­ni­za­tions — have formed a coali­tion called AC Cit­i­zens Against the State Takeover to keep Christie's cronies at bay.
Pol­i­cy­mak­ers point to years of declin­ing tax rev­enue to jus­ti­fy their push to pri­va­tize the Munic­i­pal Util­i­ties Author­i­ty (MUA), which pro­vides water for Atlantic City's 40,000 res­i­dents. Since 2010, the city's tax base has dropped from $20 bil­lion to less than $7 bil­lion, thanks in large part to the five casi­nos that have closed since 2014. (Relaxed gam­bling laws in neigh­bor­ing states have ren­dered South Jer­sey less of a destination.)
To make mat­ters worse, casi­no own­ers are suing the city for mil­lions, claim­ing their prop­er­ties were taxed based on out­dat­ed val­u­a­tions. In an ear­ly such law­suit, Don­ald Trump won a $5.9 mil­lion tax refund in 1994.
In response to the city's dire finan­cial sit­u­a­tion — already, Atlantic City sits in $500 mil­lion of debt — the state gov­ern­ment passed the Munic­i­pal Sta­bi­liza­tion and Recov­ery Act in May 2016, requir­ing city offi­cials to cre­ate a debt-reduc­tion plan. The Christie admin­is­tra­tion reject­ed this plan in Novem­ber, allow­ing the gov­er­nor to install his own appointees with the author­i­ty to break union con­tracts and sell off pub­lic assets, charged with get­ting the city's fis­cal house in order.
The admin­is­tra­tion appoint­ed Jef­frey Chiesa, Christie's for­mer attor­ney gen­er­al, to lead the takeover efforts, a hir­ing that blurs the line between polit­i­cal appoint­ments and pri­vate con­trac­tors. As of mid-May, Chiesa's law firm had billed the state $1.2 mil­lion for less than half a year of work. Ronald Israel, who charges $350 an hour as a part­ner at the firm, billed the state $35 for a six-minute con­fer­ence call. Defend­ing his firm's rec­om­men­da­tion to lay off 100 of the city's fire­fight­ers, Israel told the Press of Atlantic City, ​"If we don't have every­one sac­ri­fic­ing, we're going to be Detroit."
Already Christie's appointees have begun to tam­per: Fol­low­ing a tense debate in late April, the City Coun­cil tabled a vote on whether to pri­va­tize trash col­lec­tion ser­vices. Before they could revis­it the issue, how­ev­er, the state made the deci­sion for them, uni­lat­er­al­ly hand­ing a three-year, $7.2 mil­lion con­tract over to a pri­vate contractor.
With the MUA, the stakes are even high­er. Atlantic City now has clean, drink­able tap water. But res­i­dent and activist Charles Good­man warns, ​"If a pri­vate com­pa­ny comes in, that which hap­pened in Flint could hap­pen here."
Anoth­er con­cern for res­i­dents is cost. Atlantic City res­i­dents pay far less for water than their neigh­bors in adja­cent towns. A recent study from Food & Water Watch found that New Jer­sey res­i­dents who get their water through pri­vate util­i­ties pay an aver­age of $230 more per year than those with pub­lic util­i­ties. That's a big part of why Atlantic City res­i­dents like Good­man tend to oppose sell­ing the MUA off to the high­est bid­der — and why the City Coun­cil hasn't done it already.
Good­man cut his teeth in activism dur­ing the civ­il rights move­ment — sit­ting in as a high school­er to fight racist hir­ing prac­tices at Atlantic City's busi­ness­es — and is now heav­i­ly involved with the city's NAACP, one of the groups spear­head­ing anti-pri­va­ti­za­tion efforts. He trav­eled to Tren­ton last spring with the chap­ter to advo­cate against the state's takeover, speak­ing at pub­lic hear­ings he feels were more show than sub­stance. ​"The ini­tial fight was to let peo­ple in Tren­ton know you can't come over here and roll over us," he says.
In New Jersey's guber­na­to­r­i­al race, the Demo­c­ra­t­ic front-run­ners have come out strong­ly against the takeover. Still, pub­lic sen­ti­ment alone won't stop the water com­pa­nies. Accord­ing to Zach Cor­ri­g­an, senior attor­ney at Food & Water Watch, water com­pa­nies see the util­i­ty as a gold mine. ​"When you have a city that's in finan­cial dis­tress, the util­i­ty [is] treat­ed as if it's a fire sale," he says. ​"Who­ev­er bids … is able to get a real­ly cheap deal out of fear that the city is going out of business."
To pre­vent that, AC Cit­i­zens Against the State Takeover is col­lect­ing sig­na­tures to get two ini­tia­tives on the Novem­ber bal­lot that would require a pub­lic ref­er­en­dum before any move to pri­va­tize the water sys­tem. To get there, they've held week­ly con­fer­ence calls with res­i­dents since Octo­ber 2016, and in March began host­ing door-to-door can­vass­ing dri­ves every weekend.
No small part of the fight, Good­man says, is edu­cat­ing res­i­dents about what's actu­al­ly hap­pen­ing. The state's deci­sion-mak­ing is shroud­ed in secre­cy, with Chiesa and his team issu­ing few dis­patch­es to the press. And, after a mora­to­ri­um on pri­va­ti­za­tion expired in May, an ini­tial deci­sion on the MUA's sale could come any day. ​"This is not the actions of a state that wants to have lots of pub­lic input," Cor­ri­g­an says.
Ulti­mate­ly, whether it's casi­no mag­nates dodg­ing tax­es or unelect­ed offi­cials pri­va­tiz­ing util­i­ties, it's every­day res­i­dents — pre­dom­i­nant­ly work­ing-class peo­ple of col­or — who bear the cost of aus­ter­i­ty. As Good­man puts it, ​"That mon­ey has to come from somewhere."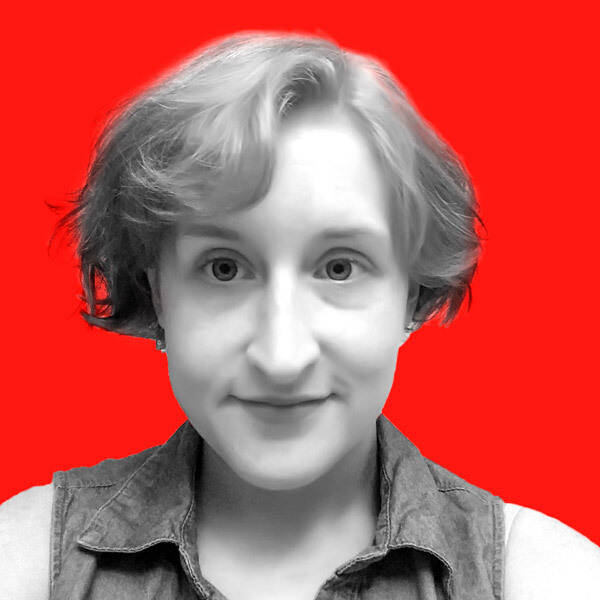 Kate Aronoff
is a Brook­lyn-based jour­nal­ist cov­er­ing cli­mate and U.S. pol­i­tics, and a con­tribut­ing writer at The Inter­cept. Fol­low her on Twit­ter @katearonoff.