A Left Sub-caucus in Congress Could Help Push Medicare for All
Back in 1991, Bernie Sanders helped create the Congressional Progressive Caucus. Now, a sub-caucus within the CPC could help rally the progressive Left.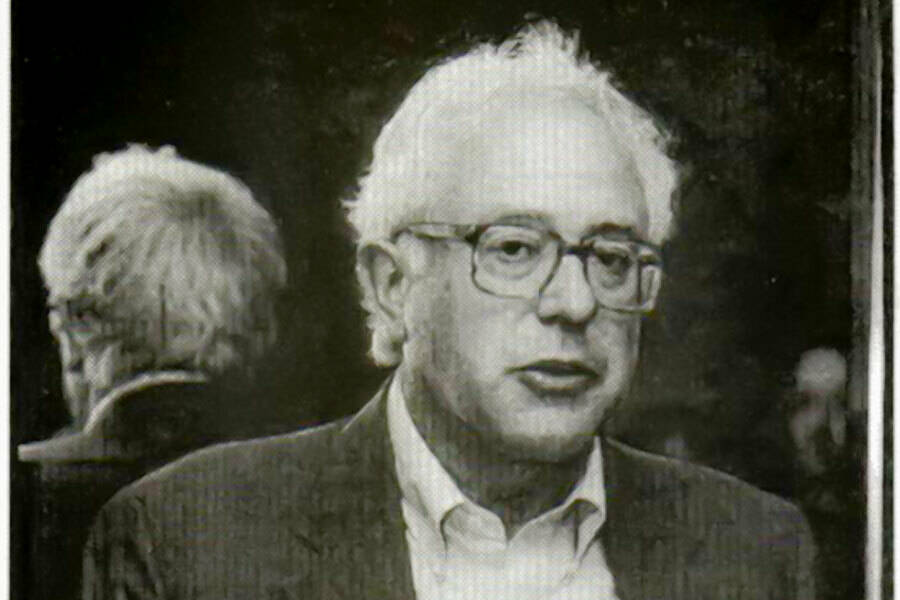 After her June 2018 vic­to­ry over incum­bent Rep. Joe Crow­ley in New York's Demo­c­ra­t­ic pri­ma­ry, Alexan­dria Oca­sio-Cortez (D‑N.Y.) float­ed the idea of orga­niz­ing a left cau­cus with­in the Con­gres­sion­al Pro­gres­sive Cau­cus (CPC).
'The terms may have changed in 2018, but the debate is the same.'
"If you can carve out a sub-por­tion, a sub-cau­cus of the Pro­gres­sive Cau­cus … but one that oper­ates as a bloc, then you could gen­er­ate real pow­er," said Oca­sio-Cortez on Jacobin pod­cast The Dig. Though she lat­er clar­i­fied that this was a ​"casu­al" idea and not a ​"draft­ed plan," it has gen­er­at­ed excite­ment on the Left.
A sim­i­lar idea lay behind the 1991 cre­ation of the CPC by five mem­bers of the House: Ron Del­lums (D‑Calif.), Lane Evans (D‑Ill.), Peter DeFazio (D‑Ore.), Max­ine Waters (D‑Calif.) and Bernie Sanders (I‑Vt.). They were soon joined by Bar­ney Frank (D‑Mass.) and Nan­cy Pelosi (D‑Calif.), among oth­ers, in a cau­cus formed to counter the tepid cor­po­rate lib­er­al­ism of Clin­ton Democrats.
In In These Times' May 1995 cov­er sto­ry, ​"Life of the Par­ty," John Can­ham-Clyne explored how the CPC mobi­lized against the sig­na­ture leg­is­la­tion of House Speak­er Newt Gin­grich (R‑Ga.), the Con­tract with Amer­i­ca, which was nur­tured in the bull­shit of the rightwing Con­ser­v­a­tive Oppor­tu­ni­ty Soci­ety. This was a group of about a dozen House mem­bers that col­lab­o­rat­ed with the much larg­er con­ser­v­a­tive Repub­li­can Study Com­mit­tee (the GOP equiv­a­lent of the CPC). Can­ham-Clyne wrote:
Soon after the [1980] elec­tion a group of young House Repub­li­cans began hold­ing week­ly meet­ings ded­i­cat­ed to build­ing a con­ser­v­a­tive major­i­ty. Led by Newt Gin­grich, they coa­lesced around a vision of a free-mar­ket mer­i­toc­ra­cy dubbed the ​"Con­ser­v­a­tive Oppor­tu­ni­ty Society."

Four­teen years lat­er, the sec­ond wave of the Rea­gan Rev­o­lu­tion is crest­ing in the House of Rep­re­sen­ta­tives, fed by the ideas and ener­gy of Gin­grich and his con­ser­v­a­tive colleagues.
Can­ham-Clyne went on to write that if the GOP's red wave in the 1994 midterms ​"rep­re­sents the high tide of a well-orga­nized con­ser­v­a­tive move­ment," it was being coun­ter­act­ed by the ​"strong under­tow [that] has gath­ered beneath it thanks to the resilient House Pro­gres­sive Cau­cus." The cau­cus, he wrote, was gain­ing pow­er as ​"rifts in the Demo­c­ra­t­ic Par­ty become more pronounced":
With the Democ­rats in dis­ar­ray, the Pro­gres­sive Cau­cus alone has fash­ioned a broad intel­lec­tu­al and leg­isla­tive response to the Repub­li­can agen­da. Their 11-point man­i­festo, titled ​"The Pro­gres­sive Promise: Fair­ness," calls for a crack­down on cor­po­rate crime, the clos­ing of dozens of tax loop­holes for cor­po­ra­tions, an increase in the min­i­mum wage, sin­gle-pay­er health care, deep cuts in defense and intel­li­gence spend­ing, and a $127.2 bil­lion invest­ment over two years in infra­struc­ture repair and envi­ron­men­tal cleanup.
The par­al­lels between 1995 and today are strik­ing, with the Demo­c­ra­t­ic Party's pro­gres­sive and cen­trist wings at odds, par­tic­u­lar­ly over health­care. Can­ham-Clyne wrote:
Gin­grich and the Repub­li­cans have exploit­ed pop­ulist dis­con­tent by denounc­ing the ​"lib­er­al elite," rail­ing against big gov­ern­ment and appeal­ing to anti-immi­grant sen­ti­ment. But many pro­gres­sives believe that focus­ing on bread-and-but­ter issues such as cor­po­rate wel­fare and health­care reform offers a chance to redi­rect pop­ulist sen­ti­ment. … House pro­gres­sives feel that the skit­tish­ness of par­ty lead­ers is cost­ing the Democ­rats impor­tant polit­i­cal oppor­tu­ni­ties. The health­care bat­tle was a case in point. The sin­gle pay­er option, unlike Clinton's unwieldy ​"man­aged care" plan came equipped with for­mi­da­ble grass­roots appeal among the elder­ly, the mid­dle class and the work­ing poor — con­stituen­cies that make up a major­i­ty of Americans.
The terms may have changed in 2018, but the debate is the same. Sin­gle-pay­er par­ti­sans are ral­ly­ing under the ban­ner of Medicare for All, which is where Ocasio-Cortez's sub-cau­cus, should it come to fruition, could play a promi­nent role.
The Repub­li­can far Right has long under­stood the pow­er of ide­o­log­i­cal­ly cohe­sive cau­cus­es. In 2015, they formed the Free­dom Cau­cus, most of whose known mem­bers also belonged to the Repub­li­can Study Com­mit­tee. (Since the names of all of the Free­dom Cau­cus mem­bers are not pub­lic, the exact num­ber of U.S. Rep­re­sen­ta­tives who belong to this secret soci­ety is unknown.) In 2015, the Free­dom Cau­cus suc­cess­ful­ly purged for­mer Rep. John Boehn­er (R‑Ohio) as House Major­i­ty Leader.
With the 2018 midterms, the CPC has grown from 78 to 98 mem­bers (includ­ing Bernie Sanders) — or 40 per­cent of House Democ­rats — too large to serve as a cohe­sive vot­ing bloc on many issues. But, if Rep. Oca­sio Cortez's idea catch­es hold, the Pro­gres­sive Cau­cus may soon be leav­ened with new, left ener­gy — a sub-cau­cus that, if it can hold itself togeth­er and vote as a bloc, could wield con­sid­er­able influ­ence in a Demo­c­ra­t­ic House. Sin­gle pay­er, any­one? A 70 per­cent tax on all income over $10 mil­lion? Free col­lege education?
The times seem ripe for a sub-cau­cus nam­ing contest.