The People's Advocate?
The race in New York for Bill de Blasio's replacement has gotten interesting--because of Letitia James.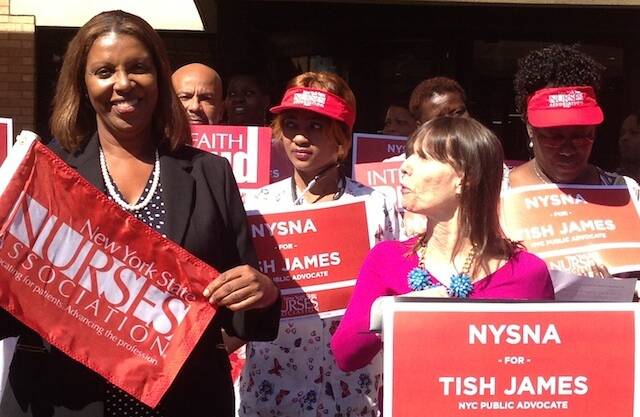 We wanted to make sure you didn't miss the announcement of our new Sustainer program. Once you've finished reading, take a moment to check out the new program, as well as all the benefits of becoming a Sustainer.

You can be forgiven for not paying much attention until now to the Public Advocate race in New York City — or even for not having heard of the office before the current holder, Bill de Blasio, rocketed to the top of the mayoral polls.
'Tish's "speak truth to power" thing gets her in trouble,' a neighborhood insider told the New York Times. But James is running a grassroots campaign in a year when grassroots, not ultra-rich, is a good thing to be.
The Public Advocate is a strange office, it's true. The city Board of Elections' website describes it as ​"the city's ​'ombudsman,' " — the person responsible for handling complaints about public services and providing information to the public. The Public Advocate also would serve as mayor in the mayor's absence and in the case of a vacancy, fill that role until a special election can be held. That means it's an office with fewer concrete responsibilities (and a current budget of just $2.2 million) but a fairly large platform, and a bully pulpit that is meant to serve, to some degree, as a check on the other offices.
Perhaps that's why this year's race, while under the radar, has been hotly contested. Leading the polls for Tuesday's Democratic primary (the deciding election in NYC) despite a funding disadvantage, candidate Letitia James — known as ​"Tish" by the many activists and organizers who back her — tells In These Times she sees the office as ripe opportunity to ​"attack disparity in incomes" in the city and to ​"bring government to the people." If she wins, she will be the first black woman elected to citywide office in New York City.
James is currently a member of the City Council representing Brooklyn's 35th district, which encompasses Fort Greene, Clinton Hill, Prospect Heights, Bedford-Stuyvesant, and Crown Heights (including my apartment.) I first met her — or rather, first heard her, her voice ringing over the crowd — at a rally for fast food workers after the first round of strikes last November. Before the fast food strikes became the place to be seen for liberal politicians, James was there; likewise, before Anthony Weiner and others took to marching with healthcare workers to save hospitals, James was there. In the mid-2000s, she took up the cause of Brooklyn residents displaced by the Atlantic Yards/​Barclay's Center construction project and in 2011, lent her voice to the battle to remove billboards likening abortion to genocide of black babies.
James has earned the endorsements of many local unions, including both of the major New York City SEIU locals (1199 and 32BJ), the Transit Workers Union Local 100, and the New York City Central Labor Council. New York Communities for Change (NYCC) and the Working Families Party (WFP) are backing her as well.
​"Days before the primary, Council Member Tish James spent the entire day standing with striking fast food workers in New York City. This is just one example of her commitment to working people in New York City," says Amelia Adams, deputy director of NYCC. ​"Throughout her time in the city council Tish has been an advocate for affordable housing, for ending racial profiling in policing and for keeping hospitals throughout New York City open. She will be a public advocate in the truest sense of the term."
Speaking to In These Times September 4, her voice still hoarse from leading an August 29 rally for fast food workers, James discussed her plans for the advocate's office. The job, she says, would let her issue performance audits on city agencies — including, she noted, the NYPD — and make appointments to city planning boards, where she could prioritize issues like affordable housing and development. It would also allow her both to propose legislation in the City Council and to initiate litigation to hold the city accountable.
With the expanded budget she hopes for under a new mayor, James said she'd like to have a unit dedicated to civic engagement, particularly around education, and an office of the Public Advocate in all five boroughs, not just in Manhattan, to be accessible to the whole city. She spoke of using the office's platform to work on a wealth of issues, from language accessibility and immigration to renovating playgrounds and parks, from early childhood education to health care and the continuing existence of crisis pregnancy centers.
James is acutely aware of what she referred to as the ​"feminization of poverty" in New York City. She pointed out that the average fast food worker is actually a woman over the age of 28 with a child, and she argued for paid sick leave as a policy that would specifically help working mothers. She also noted that she fought Bloomberg when he wanted to close day-care centers and supports full-day pre‑K for the whole city.
Her support of the battles to keep hospitals open in the city, from Long Island College Hospital near her Brooklyn district to a Labor and Delivery unit recently closed in the Bronx won her one of the first-ever endorsements from the New York State Nurses Association, whose executive director, Jill Furillo, said, ​"Letitia James has stood with patients and caregivers in snowstorms and heat waves to keep hospitals open for care. She has fought to protect access to quality care for New York's most vulnerable patients."
She calls her years as a Legal Aid attorney a ​"baptism by fire" that shaped her entire career in public service. The experience particularly helped her when it came to this year's long battle over stop-and-frisk, she says, teaching her to analyze and apply the Constitution and making her a passionate defender of the rights contained in it — particularly the Fourth Amendment, which she says the city violated repeatedly. She called it ​"an honor and a privilege" to override Mayor Bloomberg's veto on August 22 and pass the Community Safety Act, which would curb profiling and install an Inspector General to monitor the police department.
​"Most African-American and Latino men unfortunately have experienced a perverse rite of passage in the city of New York," James noted. ​"90 percent of them were absolutely innocent. It's just unconscionable that anyone could defend such a practice."
Her willingness to fight has not endeared her to everyone in the City Council; the New York Times' Fort Greene/​Clinton Hill blog noted in 2012 that she ranked way down the list when it came to discretionary funding — the money doled out by the Council Speaker for members to use as they see fit. The speaker, of course, is mayoral candidate Christine Quinn, whom James has clashed with over multiple issues.
​"Tish's ​'speak truth to power' thing gets her in trouble," a neighborhood insider told the Times. City politics blogger Mary Alice Miller noted in 2011 that when James fought Mayor Bloomberg's ultimately-successful attempt at a third term, Quinn removed James from the Contracts committee and relegated her to Sanitation. Maybe just a parenthetical (James credited her loss of her committee spot to her role in pushing for investigations of the CityTime scandal, where consultants billed the city hundreds of thousands to create a computerized payroll project that ballooned into an ​"overbudget fiasco".) But James regained prominence after 2010's famous snow-removal debacle, which saw outer-borough residents (including me) trapped in their homes for days after a December storm clogged streets and stopped trains, and budget cuts at the Sanitation Department left the city without enough snowplow drivers to do the job.
Perhaps the biggest fight of James's Council career was the battle over the Atlantic Yards development project, a struggle memorialized in the documentary Battle for Brooklyn, in which she plays a prominent role. James refers to as the project ​"a textbook case of how not to do development in the City of New York." The project, which included the use of eminent domain to clear neighborhood residents from their homes, was supposed to create jobs and housing for low-income residents of the neighborhood in addition to the Barclays Center sporting arena and proposed high-rise buildings. At press time, only the arena has been built and, James pointed out, not one unit of affordable housing. I asked her what lessons she took from that fight, and she had quite a few. The city's Economic Development Corporation needs to be overhauled, she said, to make sure that city subsidies provide living-wage jobs to those in the affected communities and create affordable housing along with private profits. It's also critical to have better oversight of land use in the city and better analysis of environmental impact. Communities, she stressed, should have some say in how they are developed.
James is topping the polls despite being out-fundraised by two of her three main opponents, state Sen. Daniel Squadron and former Wall Streeter Reshma Saujani, who have, as Alex Pareene noted at Salon, been attacking each other's money and posh connections while using their comparatively fat campaign coffers on flashy TV ads. Despite all that money flowing, James' closest rival in the polls is Cathy Guerriero, an adjunct professor at Teachers College at Columbia University and the Steinhardt School of Education at New York University. Guerriero is proposing to make the office of Public Advocate into something of a ​"think tank" and has scored endorsements from several unions, including the police officers. She opposed the City Council's passage of bills designed to crack down on stop-and-frisk.
As Alec MacGillis wrote at The New Republic, public financing helps candidates without big-money backers make the most of every dollar, matching each donated dollar up to $175 per person with $6 in public funds. The city also caps individual donations at $4,950, meaning that the donating punch of a lower-income voter is much closer to that of the wealthy. The matching system boosts the power of the small donors who helped lift James to her first victory, in 2003, when she ran on the Working Families Party ticket and became the first third-party candidate to win a city council seat since the 1970s — with 77 percent of the vote.
The Working Families Party is more often known for cross-endorsing progressive Democrats than running its own candidates, building power by pushing Democrats to the left and holding them accountable. James' win brought them their first independent victory and proof that they could take on the city's power brokers. Bill Lipton, the WFP's New York state director who ran James's 2003 Council campaign, tells In These Times, ​"Tish is a powerhouse who has been a leader on virtually every progressive victory in New York City in the last decade."
But even with public financing and the WFP backing her again, James's campaign has less money than Saujani or Squadron. And the outcome is far from certain: Although she's in the lead, 51 percent of likely voters say they're undecided on this race.
What James does have on her side are a wealth of endorsements from groups that are willing to put some time and sweat into their candidates — from Planned Parenthood to NYCC to powerful unions like SEIU Local 1199 — and some name and face recognition from her continuing appearances at protests, rallies and small gatherings. She's running a grassroots campaign in a year when grassroots, not ultra-rich, is a good thing to be, when promises to tax the rich and end stop and frisk have swept candidates to the top of the polls rather than gotten them laughed out of the race.
And so the woman who surprised everyone by winning as a third-party candidate ten years ago might just surprise everyone again.
Be a Sustainer
We surveyed thousands of readers and asked what they would like to see in a monthly giving program. Now, for the first time, we're offering three different levels of support, with rewards at each level, including a magazine subscription, books, tote bags, events and more—all starting at less than 17 cents a day. Check out the new Sustainer program.
Sarah Jaffe is a Type Media Center Fellow, co-host (with Michelle Chen) of Dissent magazine's Belabored podcast, and a columnist at The New Republic and New Labor Forum. She was formerly a staff writer at In These Times and the labor editor at AlterNet. Her previous book is Necessary Trouble: Americans in Revolt, which Robin D.G. Kelley called ​"The most compelling social and political portrait of our age." You can follow her on Twitter @sarahljaffe.