Pussy Riot Prisoners Sent to Soviet-Era Camps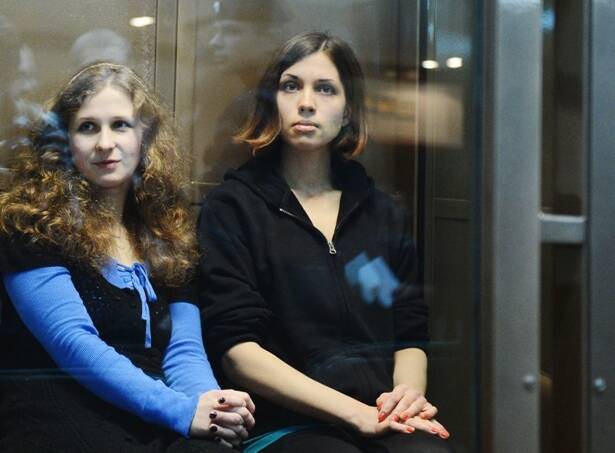 The two remain­ing pris­on­ers from the activist punk band Pussy Riot, Maria Alyokhi­na,
24
, and Nadezh­da Tolokon­niko­va,
22
, have been sent to penal colonies to serve the remain­der of their two-year prison sen­tences, which are sched­uled to end in March
2014
. Pussy Riot tweet­ed Mon­day that the prison camps they were sent to
&
ldquo;are the harsh­est camps of all the pos­si­ble choic­es.
&
rdquo;
The women were sen­tenced to two years in jail last month after being con­vict­ed of
&
ldquo;hooli­gan­ism moti­vat­ed by reli­gious hatred
&
rdquo; for a Feb­ru­ary protest in which they burst into Moscow
&
rsquo;s main cathe­dral and per­formed a
&
ldquo;punk prayer.
&
rdquo;
&
nbsp;The song called for the Vir­gin Mary to rid Rus­sia of Vladimir Putin, who was begin­ning a con­tro­ver­sial March elec­tion that would lead him to his third term as the pres­i­dent of Russia
&
mdash;despite Rus­si­a's two-term lim­it.Dur­ing an Octo­ber
10
appeal hear­ing, the judge decid­ed that Alyokhi­na and Tolokon­niko­va should fin­ish out their two-year sen­tences, despite the women
&
rsquo;s insis­tence that their actions were polit­i­cal­ly moti­vat­ed. A third jailed mem­ber, Yeka­te­ri­na Samut­se­vich, has her sen­tence sus­pend­ed on the basis that she played a small­er role in the protest.On Mon­day, defense lawyer Vio­let­ta Volko­va told the Agence France-Presse (AFP) that Alyokhi­na was sent to a wom­en's prison camp in the Siber­ian region of Perm, while Tolokon­niko­va was sent to a camp in Mor­dovia, in cen­tral Rus­sia. AFP news explains: The Perm region in the Urals Moun­tains and Mor­dovia in cen­tral Rus­sia host a vast net­work of prison camps dat­ing back to the Sovi­et era and infa­mous for their tough con­di­tions.
&
hellip; The Perm region, where tem­per­a­tures can fall as low as minus
50
degrees Cel­sius in win­ter, housed Stal­in-era labour camps, one of which has been turned into a muse­um about the his­to­ry of polit­i­cal repres­sion.
&
hellip; Mor­dovia is a region dot­ted with lakes that is chiefly known for its prison camps dat­ing back to the Stal­in era. In the
1930
s and ​
'
40
s, the prison pop­u­la­tion here num­bered
23
,
000
pris­on­ers, accord­ing to the region­al prison ser­vice's web­site.The prison camps are also notably far from Moscow, where the women had peti­tioned to serve their sen­tences in order to stay close their fam­i­lies. Tolokon­niko­va has a
4
‑year-old daugh­ter named Gera, and Alyokhi­na has a
5
‑year-old son, Fil­ipp. Mor­dovia is about
400
miles from Moscow, while Perm is about
900
miles away. Lev Pono­mary­ov of the For Human Rights move­ment
&
nbsp;tells the Moscow Echo, ​
"
Evi­dent­ly the women have been sent to dis­tant colonies so it's hard­er for the Pussy Riot mem­bers to con­tact rel­a­tives and lawyers, and also it's hard­er for the pub­lic to check on their fate.
&
rdquo;As if this didn
&
rsquo;t already seem like the plot of a Sovi­et spy nov­el, The Guardian reports that the pub­lic and the women
&
rsquo;s fam­i­lies and lawyers are in the dark about the wom­en's cur­rent
&
nbsp;where­abouts and spe­cif­ic prison-camp des­ti­na­tions.
&
nbsp;