In Mayoral Runoff, Rahm Emanuel's Corrupt Governance Has Finally Caught Up With Him
It's become increasingly clear to Chicagoans that Rahm Emanuel is out for himself and his rich friends, not for us.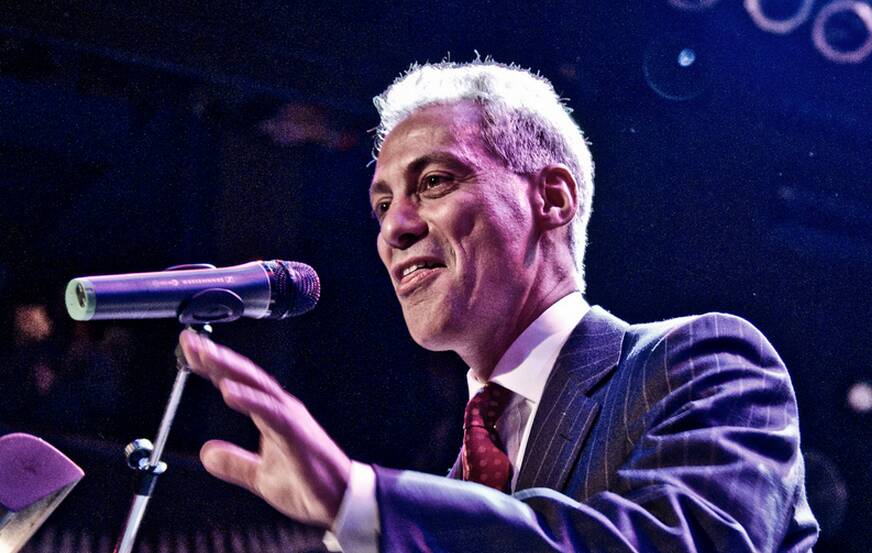 On Tues­day, Chicagoans vot­ed them­selves a reprieve. With 45.4 per­cent of the vote, May­or Rahm Emanuel end­ed the first round of his first reelec­tion bid almost five points below what he need­ed to avoid a runoff elec­tion in April — and three points below his per­for­mance in the last major pre-elec­tion poll. ​"May­or 1%" will face sec­ond-place fin­ish­er Jesus ​"Chuy" Gar­cía, the soft-spo­ken, com­pas­sion­ate Cook Coun­ty board mem­ber who pro­claimed him­self with a Chicagoan lilt the ​"neigh­bor­hood guy" — who over-per­formed the poll.
In their way, these Emanuel messages, as misleading as they were, are heartening. This was Karl Rove's trademark election strategy: attack, with brazen audacity, your opponents' biggest, most taken-for-granted strength. In this case it was García and Fioretti's unimpeachable probity, and the fact that they are out to help ordinary Chicagoans, not themselves.
Per­haps what turned some vot­ers against Rahm at the last minute — or moti­vat­ed them to go to the polls in the first place on a cold Chica­go day that start­ed out in the sin­gle dig­its — was an Elec­tion Day exposé that appeared in the British paper the Guardian by inves­ti­gate reporter Spencer Ack­er­man. ​"The Dis­ap­peared" revealed the exis­tence of Homan Square, a for­lorn ​"black site" that the Chica­go Police oper­ate on the West Side.
There, Chicagoans learned — many for the first time — arrestees are locked up for days at a time with­out access to lawyers. One vic­tim was 15 years old; he was released with­out being charged with any­thing. Anoth­er, a 44-year-old named John Hub­bard, nev­er left — he died in cus­tody. One of the ​"NATO 3" defen­dants, lat­er acquit­ted on most charges of alleged ter­ror plans dur­ing a 2012 Chica­go protest, was shack­led to a bench there for 17 hours.
It ​"struck legal experts as a throw­back to the worst excess­es of Chica­go police abuse, with a post‑9/​11 feel to it," the Guardian report­ed. And for a can­di­date, Rahm Emanuel, who ran on a mes­sage he was turn­ing the page on the old, mal­odor­ous ​"Chica­go way," the piece con­tributed to a nar­ra­tive that proved devastating.
Indeed, the may­or faced a drum­beat of out­stand­ing jour­nal­is­tic exposés all through­out the cam­paign. The Chica­go Sun-Times report­ed on Deb­o­rah Quaz­zo, an Emanuel school board appointee who runs an invest­ment fund for com­pa­nies that pri­va­tize school func­tions. They dis­cov­ered that five com­pa­nies in which she had an own­er­ship stake have more than tripled their busi­ness with the Chica­go Pub­lic Schools since she joined the board, many of them for con­tracts drawn up in the sus­pi­cious amount of $24,999 — one dol­lar below the amount that required cen­tral office approval. (Chica­go is the only munic­i­pal­i­ty in Illi­nois whose school board is appoint­ed by a may­or. But activists suc­ceed­ed — in an ardu­ous accom­plish­ment against the obstruc­tion attempts of Emanuel back­ers on the city coun­cil—to get an advi­so­ry ref­er­en­dum on the bal­lot in a major­i­ty of the city's wards call­ing for an elect­ed rep­re­sen­ta­tive school board. Approx­i­mate­ly 90 per­cent of the vot­ers who could vote for the mea­sure did.)
The Chica­go Tri­bune report­ed that of Emanuel's top 106 con­trib­u­tors, 60 of them received favors from the city. Anoth­er in-depth inves­ti­ga­tion dis­cov­ered that City Hall had lied repeat­ed­ly about a sig­na­ture ini­tia­tive of the Emanuel years, auto­mat­ed cam­eras that issue tick­ets for the run­ning of red lights. The admin­is­tra­tion insist­ed the cam­eras led to a 47 per­cent decline in ​"T‑bone" crash­es, when the true num­ber was 15 per­cent — and they also caused a cor­re­spond­ing 22 per­cent increase in rear-end col­li­sions. That rein­forced sus­pi­cions that the cam­eras weren't installed for the safe­ty of ​"the chil­dren," as Emanuel sanc­ti­mo­nious­ly insists, but are a rev­enue grab, a regres­sive tax that falls dis­pro­por­tion­ate­ly on the poor.
The Inter­na­tion­al Busi­ness Times dis­cov­ered that Emanuel was evad­ing his own, much-trum­pet­ed exec­u­tive order ban­ning cam­paign con­tri­bu­tions from city con­trac­tors by shov­el­ing $38 mil­lion in city resources to his donors via ​"direct vouch­er pay­ments," a sketchy loop­hole that lets busi­ness­es get city mon­ey with­out bids or con­tracts — with­out, in fact, any way of doc­u­ment­ing what the mon­ey is used for.
And a joint inves­ti­ga­tion between pub­lic radio sta­tion WBEZ and the mag­a­zine Cat­a­lyst Chica­go demon­strat­ed that the Chica­go Pub­lic Schools CEO Emanuel hired, Bar­bara Byrd-Ben­nett, was able to juke the sta­tis­tics on high school grad­u­a­tion rates — which sup­pos­ed­ly went from 70 to 85 per­cent over the last decade — by con­tract­ing with for-prof­it online edu­ca­tion com­pa­nies that demand­ed very lit­tle work from stu­dents, while still allow­ing them to receive diplo­mas from the last school they attended.
All the while, Emanuel's ubiq­ui­tous com­mer­cials — he spent $7 mil­lion of his $15 mil­lion war chest on tele­vi­sion—and mail­ers paint­ed Emanuel as a hero­ic reformer, an Eleanor Roo­sevelt respon­si­ble for show­er­ing poor­er Chicagoans with favors, and cast his two most promi­nent oppo­nents, each of them coura­geous reform­ers, as old-school Windy City grifters.
In the mail­ers, Alder­man Bob Fioret­ti, who became such a thorn in the administration's side he was ger­ry­man­dered out of his own ward, was scored for vot­ing for the infa­mous deal to pri­va­tize Chicago's park­ing meters — even though the pre­vi­ous May­or Richard M. Daley sold it to alder­men under scream­ing­ly false pre­tens­es and the cur­rent may­or has passed up an oppor­tu­ni­ty to sue to get the uncon­sti­tu­tion­al con­tract abro­gat­ed. Gar­cía was attacked for once owing the coun­ty back prop­er­ty tax­es — an error, Gar­cía coun­tered, that result­ed from get­ting a tax break he did not request on a home inher­it­ed from his dead moth­er. He prompt­ly fixed the error.
The way the Emanuel ad shame­less­ly put it? Gar­cía claimed an ​"ille­gal" favor for ​"two hous­es at the same time to avoid pay­ing over $8,000 in tax­es." The tag: ​"Chuy Gar­cía: Out for him­self. Not us."
In their way, these Emanuel mes­sages, as mis­lead­ing as they were, are heart­en­ing. This was Karl Rove's trade­mark elec­tion strat­e­gy: attack, with brazen audac­i­ty, your oppo­nents' biggest, most tak­en-for-grant­ed strength. In this case it was Gar­cía and Fioretti's unim­peach­able pro­bity, and the fact that they are out to help ordi­nary Chicagoans, not themselves.
This is not just a back­hand­ed trib­ute to García's integri­ty. It sug­gests a strat­e­gy for Gar­cía to slay Goliath when he and Rahm go head-to-head in the April runoff.
Look at it this way: hav­ing pur­chased the ser­vices of the best research dirty mon­ey can buy, what Emanuel's focus group wiz­ards dis­cov­ered was that Chica­go vot­ers care about cor­rup­tion. They're des­per­ate to get rid of the old sor­did ​"Chica­go way." Which is why the Emanuel cam­paign spent so much time and ener­gy tag­ging his oppo­nents as rep­re­sen­ta­tives of that brand of politics.
It sug­gests Gar­cía has his work cut out for him in the six weeks he has left: to bela­bor what is increas­ing­ly becom­ing obvi­ous to Chicagoans — that Rahm Emanuel is a fla­grant­ly cor­rupt may­or, out for him­self, and nev­er for us.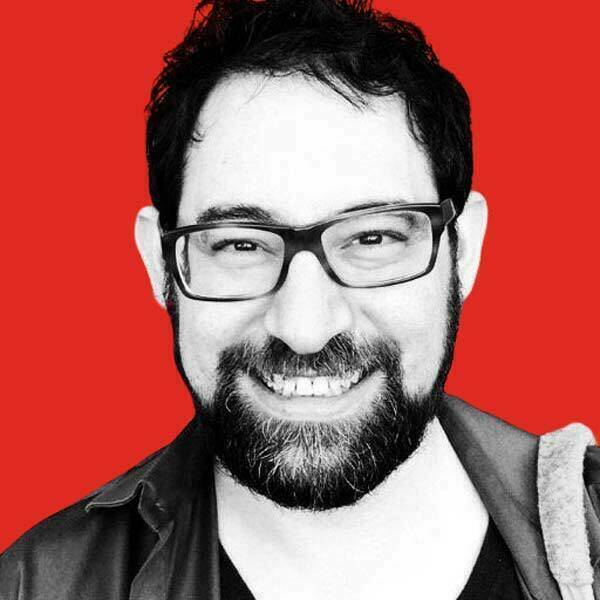 Rick Perl­stein
, an
In These Times
con­tribut­ing edi­tor, is the author of
The Invis­i­ble Bridge: The Fall of Nixon and the Rise of Rea­gan
(
2014
),
Nixon­land: The Rise of a Pres­i­dent and the Frac­tur­ing of Amer­i­ca
(
2008
), a
New York Times
best­seller picked as one of the best non­fic­tion books of the year by over a dozen pub­li­ca­tions, and
Before the Storm: Bar­ry Gold­wa­ter and the Unmak­ing of the Amer­i­can Con­sen­sus
, win­ner of the
2001
Los Ange­les Times
Book Award for his­to­ry. His book
Rea­gan­land
is forth­com­ing from Simon and Schus­ter in August.