As Rahm Emanuel Argues Yet Again for CPS Cuts, It's Time to Stop Believing His Cries of 'Crisis'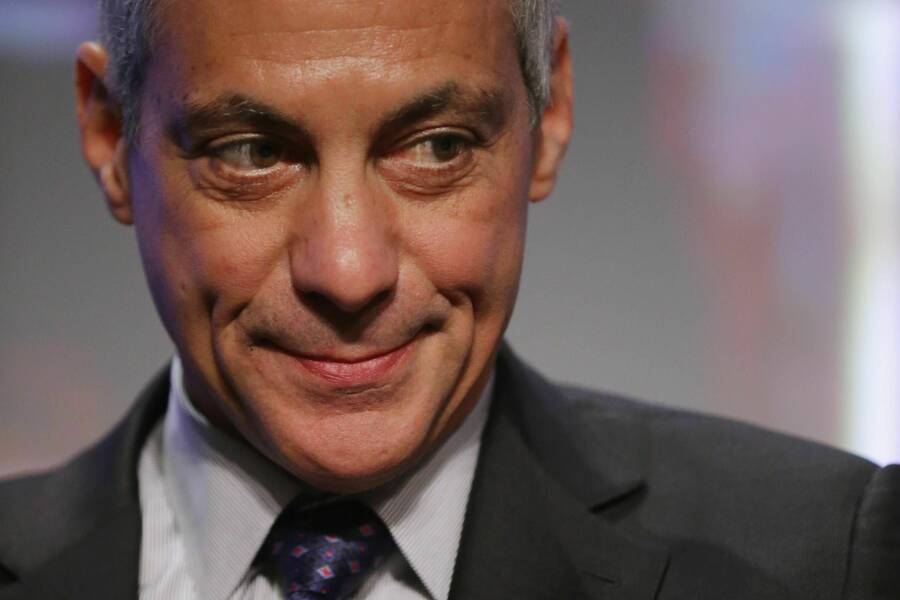 For years, May­or Rahm Emanuel has been try­ing to con­vince Chicagoans that their city, one of the cen­ters of glob­al cap­i­tal, can­not afford qual­i­ty pub­lic schools for their chil­dren. Again and again, the may­or has cried bud­get cri­sis to jus­ti­fy clos­ing schools, lay­ing off edu­ca­tors, cut­ting spe­cial edu­ca­tion, and bul­ly­ing the teach­ers union.
But now, as May­or Emanuel reads from the same play­book yet again, like the boy who cried wolf, peo­ple have stopped buy­ing his story.
A big rea­son why the may­or's tale of bud­get cri­sis rings false is the large sum of mon­ey sit­ting in the city's tax incre­ment financ­ing (TIF) funds. Due to a lack of trans­paren­cy in these funds, it is hard to know exact­ly how much mon­ey is uncom­mit­ted to spe­cif­ic projects, but the esti­mat­ed amount ranges from $100 – 350 mil­lion. Unlike most cities, which plan devel­op­ment and then find the fund­ing for it, Chica­go first takes the mon­ey, then decides who deserves it.
TIFs are a bit dif­fi­cult to wrap your head around, but what's most impor­tant to know is that the mon­ey essen­tial­ly becomes a slush fund for the may­or to use at his dis­cre­tion. This approach cuts out all com­mu­ni­ty account­abil­i­ty and deci­sion-mak­ing. And espe­cial­ly in a city with a polit­i­cal his­to­ry of crony­ism like Chicago's, it means that clout and con­nec­tion enter into the equa­tion, mov­ing deci­sions away from what is good for the neigh­bor­hood to instead what is good for an indi­vid­ual devel­op­er or elect­ed official.
Every cent of TIF mon­ey comes from prop­er­ty tax­es, the same rev­enue stream that is sup­pose to fund our schools. Instead of putting that mon­ey into our schools, May­or Emanuel has giv­en it away to wealthy devel­op­ers like Lar­ry Levy.
Mr. Levy is a mul­ti­mil­lion­aire CEO, who has spread out numer­ous polit­i­cal con­tri­bu­tions to Emanuel allies, includ­ing the cur­rent CEO of Chica­go Pub­lic Schools, For­rest Clay­pool. At the same time that Emanuel is threat­en­ing lay­offs to thou­sands of teach­ers, Mr. Levy has received $30 mil­lion in TIF funds to sub­si­dize his new down­town sky­scraper. At a time of great finan­cial cri­sis in our pub­lic schools, with­hold­ing that mon­ey from edu­ca­tion is bad eco­nom­ic pol­i­cy — and bad for our city.
Chicagoans haven't been hap­py in recent years about their mon­ey being hand­ed over to wealthy devel­op­ers. In 2012, CME Group, under mount­ing pub­lic pres­sure from Grass­roots Col­lab­o­ra­tive and oth­er groups, includ­ing a deliv­ery of a gold­en toi­let to their office, was forced to give back $15 mil­lion in TIF funds. Addi­tion­al­ly, CNA Group had to give back $13 mil­lion and Bank of Amer­i­ca $5.4 mil­lion in TIF funds under pres­sure for fail­ing to meet job num­bers they had promised.
Last year, May­or Emanuel was forced to admit how unjust the down­town TIFs are. In July, he froze sev­en down­town TIF dis­tricts, bring­ing $250 mil­lion back into the city's cof­fers with $125 mil­lion going back to Chica­go Pub­lic Schools. That the may­or can pull a quar­ter of a bil­lion dol­lars from sev­en TIFs attests to both the pow­er of TIF pro­grams and just how much mon­ey is rolled up in the city's TIF program.
Alder­men have begun to rebel against the syphon­ing off of Chica­go Pub­lic School dol­lars to the TIF pro­gram. Alder­man Car­los Ramirez-Rosa intro­duced a res­o­lu­tion call­ing for TIF dol­lars to be moved back to CPS. This res­o­lu­tion is in sup­port of the Dis­tressed Schools TIF Sur­plus Act, which would move all avail­able TIF funds into Chica­go Pub­lic Schools dur­ing times of eco­nom­ic dis­tress. Two weeks ago, com­mu­ni­ty res­i­dents and mem­bers of the Grass­roots Col­lab­o­ra­tive, includ­ing the Chica­go Teach­ers Union, gath­ered out­side of River­point Plaza to draw atten­tion to this egre­gious mis­man­age­ment of pub­lic dollars.
May­or Emanuel and his appoint­ed board are choos­ing to lay off teach­ers, slash spe­cial edu­ca­tion and make oth­er dras­tic school cuts. We can­not let the may­or con­tin­ue to pro­tect wealthy devel­op­ers at the expense of Chicago's children.