Rahm Emanuel Is a Union-buster. So Why Are Chicago Unions Backing Him?
Most of the city's labor movement is laying low or supporting the mayor in the upcoming election, despite his well-known anti-worker policies.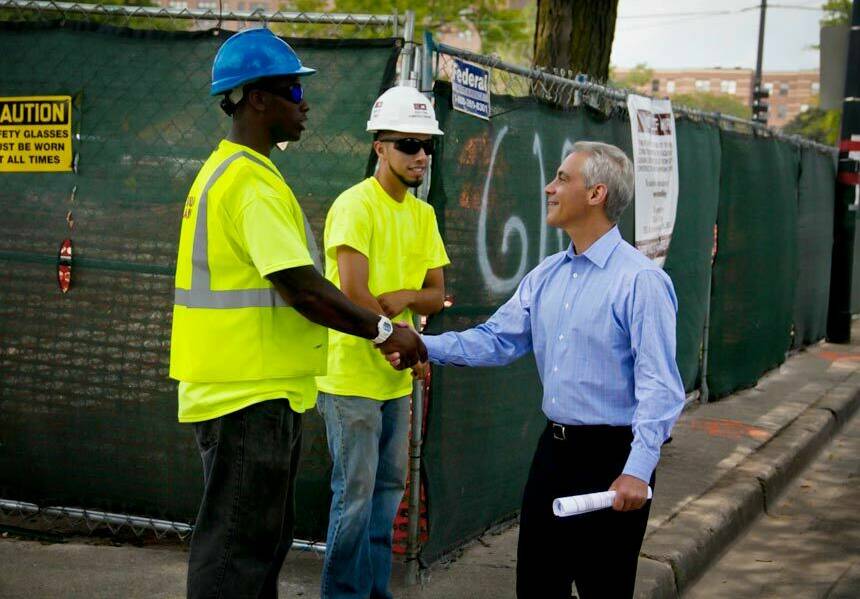 When Rahm Emanuel strode into office as may­or of Chica­go in 2011, one of his first tar­gets was the Chica­go Teach­ers Union (CTU). He sought and obtained state leg­is­la­tion lim­it­ing the right of Chica­go teach­ers to strike. But he lost dou­bly in the fall of 2012: The CTU suc­cess­ful­ly mobi­lized its mem­bers to go on strike, then won both a good con­tract and the bat­tle for pub­lic sup­port. Yet Emanuel still closed 49 pub­lic schools and expand­ed char­ter schools the fol­low­ing spring. Mean­while, oth­er pub­lic employ­ee unions moved into the mayor's crosshairs as he dras­ti­cal­ly cut and pri­va­tized city jobs and ser­vices, often with help from a Demo­c­ra­t­ic gov­er­nor and state legislature.
'Nothing would make us happier than to take Rahm out. But ... if we're going to take a shot at the king, we've got to kill him.'
Emanuel stands for re-elec­tion Feb­ru­ary 24 in a non-par­ti­san pri­ma­ry against four chal­lengers (and if no one wins 50 per­cent of the vote plus one, there will be a run-off between the top two on April 7). Polls sug­gest Chicagoans are not sat­is­fied with their may­or, but most observers give him the odds because of his finan­cial advan­tage — as of ear­ly 2015, he had a $11 mil­lion war chest, 10 times that of any opponent.
In the­o­ry, labor could be an impor­tant part of these cal­cu­la­tions. Chica­go is a more union­ized city than most, and union endorse­ments typ­i­cal­ly come with cred­i­bil­i­ty, mon­ey and an army of cam­paign work­ers. But despite Emanuel's anti-union record, unions are divid­ed about how to deal with ​"May­or 1%," as Kari Lydersen's biog­ra­phy of Emanuel is titled.
Emanuel earned that sobri­quet not only for the mil­lions he made work­ing for an invest­ment bank and his gift for con­vinc­ing the rich to emp­ty their pock­et­books for the Demo­c­ra­t­ic Par­ty, but also his dis­dain for unions. ​"Fuck the UAW," he infa­mous­ly said when serv­ing as Obama's chief of staff dur­ing the auto bailout. He also large­ly shares the world­view of the finan­cial and cor­po­rate elite: Give the hard back of the free-mar­ket hand to Jane and Joe Six­pack, the soft palm of friend­ly gov­ern­ment to needy businesses.
Emanuel's lead­ing — but still long­shot— oppo­nent is his oppo­site on most counts. Cook Coun­ty Com­mis­sion­er Jesus ​"Chuy" Gar­cia, a for­mer alder­man and state sen­a­tor, has been a mem­ber of three dif­fer­ent unions and strong­ly sup­ports labor.
"My roots are with work­ing-class peo­ple," Gar­cia said in an inter­view with In These Times. ​"I under­stand what work­ing-class fam­i­lies need. … Chica­go would be bet­ter served by a may­or who has that back­ground and would work with unions." He says that Emanuel's attempts ​"to break the CTU" were ​"heart­less" and ​"spite­ful." Those are harsh words from a man who comes off as mod­est, self-effac­ing and ​"gen­uine"— as Amal­ga­mat­ed Tran­sit Union Local 308 Pres­i­dent Robert Kel­ly said while endors­ing him. Gar­cia sup­ports the Fight for 15, wants to strength­en neigh­bor­hoods and their infra­struc­ture and wants to replace the may­oral appoint­ment of school board mem­bers with a board elect­ed by Chicagoans (a major demand of the CTU).
You might imag­ine that unions would ral­ly behind a seem­ing­ly pro-labor chal­lenger to an incum­bent with an anti-union record. But as of ear­ly Jan­u­ary, Chicago's unions were divid­ed between Gar­cia, Emanuel and neu­tral­i­ty for a vari­ety of rea­sons — some pecu­liar to Chica­go, oth­ers typ­i­cal of the U.S. labor movement's elec­toral strategy.
Broad shoul­der unions
Chicago's unions, riv­en with thug­gish polit­i­cal squab­bles in the late 19th cen­tu­ry, grew more uni­fied, pro­gres­sive and pow­er­ful in the first part of the 20th. They often sup­port­ed labor and social­ist par­ty can­di­dates and wel­comed orga­niz­ers like William Z. Fos­ter, a Com­mu­nist Par­ty leader who led ambi­tious union­iza­tion cam­paigns in the Chica­go meat-pack­ing and steel industries.
But dur­ing the reign of May­or Richard J. Daley from 1955 to 1976, the Chica­go Fed­er­a­tion of Labor (CFL) was dom­i­nat­ed by con­ser­v­a­tive unions such as the build­ing trades, who were close­ly tied to the Demo­c­ra­t­ic machine. Unions became more con­cerned with trans­ac­tions than with soci­etal trans­for­ma­tion. A may­or could win much of labor's sup­port sim­ply by point­ing to the cranes on the sky­line and not­ing the num­ber of jobs involved. But as pub­lic employ­ees orga­nized, they formed a large new bloc of union work­ers with a big, but dif­fer­ent, stake in local pol­i­tics. For pro­fes­sion­als like teach­ers and nurs­es, city poli­cies affect not only the num­ber of their jobs but also the char­ac­ter of their work and the lives of the peo­ple they serve.
Too often, a nar­row per­spec­tive — look­ing only at jobs, a sin­gle pol­i­cy deci­sion or a cal­cu­la­tion about who is like­ly to win — back­fires for labor. Case in point: Rahm Emanuel.
When Emanuel ran for Con­gress from Chica­go in 2002, he was up against Nan­cy Kaszak, an expe­ri­enced, pro­gres­sive, pro-labor state leg­is­la­tor who opposed the anti-work­er NAF­TA trade deal. Emanuel, on the oth­er hand, had helped Bill Clin­ton ram NAF­TA through Con­gress the decade before. Most of the city's labor move­ment backed Emanuel, how­ev­er. As the state AFL-CIO's polit­i­cal direc­tor Bill Loo­by said at the time, ​"She had the good labor record, but he had the record of know­ing his way around Wash­ing­ton." Labor helped cre­ate its own lat­ter-day neme­sis. When Emanuel ran for may­or in 2011, labor split its sup­port among Emanuel and oth­er can­di­dates, but the CFL remained neutral.
As the 2015 elec­tion drew near, the prospects for a strong chal­lenger to Emanuel dimmed. U.S. Rep. Jesse Jack­son, Jr., head­ed off to prison for mis­us­ing cam­paign funds. Toni Preck­win­kle, the cau­tious, mod­er­ate­ly pro­gres­sive and respect­ed African-Amer­i­can pres­i­dent of the Cook Coun­ty Board of Com­mis­sion­ers, resist­ed the many suit­ors try­ing to draw her into the race. White pro­gres­sive alder­man Bob Fioret­ti threw his hat in the ring. But the mod­est excite­ment around Fioret­ti seems to be gen­er­at­ed main­ly by his sta­tus as not-Rahm.
There was one poten­tial can­di­date with the mox­ie and the under­stand­ing of pub­lic pol­i­cy issues to take on the may­or: CTU Pres­i­dent Karen Lewis. In an August Chica­go Tri­bune poll, vot­ers chose the strong-willed, sharp-wit­ted and com­mu­ni­ty-ori­ent­ed union leader over Emanuel 43 to 39 per­cent. Mem­bers of union house­holds backed Lewis 56 to 31 per­cent — a sig­nal to union lead­ers who were listening.
On the verge of declar­ing her can­di­da­cy in Octo­ber, Lewis sud­den­ly fell ill with a brain tumor and with­drew from the race. With CTU encour­age­ment, Gar­cia announced his can­di­da­cy. He could quick­ly call on an expe­ri­enced group of pro­gres­sives from his time as an alder­man­ic sup­port­er of pre­vi­ous Chica­go may­or Harold Wash­ing­ton, but his has not been a house­hold name in Chica­go politics.
Still, he has a strong backer in the intense­ly polit­i­cal CTU, which con­tributed $52,600 to his cam­paign, while its nation­al office, the Amer­i­can Fed­er­a­tion of Teach­ers, gave $250,000. Gar­cia won finan­cial and polit­i­cal sup­port from anoth­er large local in late Decem­ber. The Ser­vice Employ­ees Inter­na­tion­al Union (SEIU) Health Care Illi­nois Indi­ana (HCII) backed Gar­cia with a $250,000 con­tri­bu­tion, despite a deci­sion by the SEIU Illi­nois State Coun­cil to remain neu­tral. Two small­er unions, the Amal­ga­mat­ed Tran­sit Union Local 308 and the Unit­ed Elec­tri­cal Work­ers West­ern Region, also endorsed Garcia.
Will the rest of Chica­go labor jump on the band­wag­on? "[CFL Pres­i­dent] Jorge [Ramirez] wants a strong, inde­pen­dent labor move­ment, but he doesn't see tak­ing on Rahm as the way to do it," says one pub­lic sec­tor union polit­i­cal orga­niz­er. ​"His­tor­i­cal­ly, Chica­go has been a strong union town. So most of the unions feel com­fort­able where they are. Why should they be bold? ​'We've got jobs. Our kids have jobs. Why should we have strong pro­gres­sive demo­c­ra­t­ic union­ism?' " The CFL made no endorse­ment in the may­oral elec­tion. On top of that, the influ­ence of the build­ing trades unions, with its large­ly white and sub­ur­ban mem­ber­ship, makes Chica­go labor more con­ser­v­a­tive, espe­cial­ly about the role of gov­ern­ment, and less in tune with com­mu­ni­ties of color.
Emanuel is like­ly to pick up sup­port from most of the Team­sters, who sup­port­ed him last elec­tion; most of the build­ing trades, who appre­ci­ate the city's new tall build­ings; and osten­si­bly the police and fire unions, who seem fair­ly sat­is­fied with their new con­tracts (with the excep­tion of the police sergeants' union, which endorsed Fioret­ti). The usu­al­ly pro­gres­sive Local 1 of UNITE HERE, the hotel and restau­rant work­ers union, which joined the fight against Emanuel's school clo­sures, donat­ed $25,000 to Emanuel, who attend­ed a union town hall meet­ing in Decem­ber 2013, leav­ing the union with the impres­sion it will be an inte­gral part of his plans to pro­mote tourism and the hotel industry.
A num­ber of unions remained neu­tral or pub­licly unde­clared as of ear­ly Jan­u­ary: the Amer­i­can Fed­er­a­tion of State, Coun­ty and Munic­i­pal Employ­ees (AFSCME), Unit­ed Food & Com­mer­cial Work­ers (UFCW), the Illi­nois Nurs­es Asso­ci­a­tion and Nation­al Nurs­es Unit­ed, indus­tri­al unions (steel, auto and oth­ers), and SEIU Local 1 (build­ing services).
But some may jump into the race if Garcia's cam­paign takes off. Sources famil­iar with the think­ing of SEIU Local 1's lead­ers say there was enthu­si­asm for Preck­win­kle and Lewis, but less for Gar­cia — even though they see him as a friend — because he entered the race so late that his cam­paign does not seem viable. ​"If Chuy were even 30 per­cent viable, we'd be with him," one source said. ​"Noth­ing would make us hap­pi­er than to take Rahm out. But we're not tilt­ing at wind­mills. If we're going to take a shot at the king, we've got to kill him."
AFSCME is back­ing five mem­bers of the city council's pro­gres­sive cau­cus, as well as one social­ist can­di­date, Jorge Muji­ca, but will remain neu­tral in the may­oral race, says spokesper­son Anders Lin­dall, who notes that the union has not endorsed a may­oral can­di­date since Harold Wash­ing­ton. It's not hard to see AFSCME's dilem­ma: On the one hand, Emanuel has cut city ser­vices and jobs, as well as work­ers' pen­sions, and his hos­til­i­ty to work­ing coop­er­a­tive­ly with employ­ees and their unions sharp­ens their griev­ances. On the oth­er, Garcia's record as a Cook Coun­ty com­mis­sion­er, where he sup­port­ed Toni Preck­win­kle while she car­ried out cuts to coun­ty jobs and pro­posed cuts to coun­ty pen­sions, makes it hard for some munic­i­pal union­ists to embrace him.
Near­ly every­one in the labor move­ment would agree that uni­ty among unions is good. But in prac­tice, unions tend to sup­port uni­ty only if every­one agrees with the cor­rect — that is, their — view. Prin­ci­ples are noble, but, lead­ers ask, aren't unions here to pro­tect their mem­bers' inter­ests. And what's more impor­tant than a job?
So the debate goes on, and will con­tin­ue with vari­a­tions. But the labor move­ment would ben­e­fit from the kind of broad vision that made the ear­ly-20th-cen­tu­ry CFL, under the lead­er­ship of pro­gres­sive union­ist John Fitz­patrick, the mod­el for Amer­i­can union­ism. That vision of a soci­ety with work­ers demo­c­ra­t­i­cal­ly in con­trol helped the CFL to orga­nize half the city's work­force by 1910, to pio­neer union­iza­tion of occu­pa­tions from jan­i­tors to school teach­ers and to pro­mote pro­gres­sive polit­i­cal ideas.
As much as pos­si­ble, unions need an open, demo­c­ra­t­ic dis­cus­sion with oth­er unions and their mem­bers about such long-range polit­i­cal goals, whether trans­ac­tion­al or trans­for­ma­tion­al— not deals cut in back rooms with just a few union lead­ers or rep­re­sen­ta­tives of the boss (both still too com­mon in union affairs). The dis­cus­sion needs to tran­scend fault lines exploit­ed by employ­ers and anti-work­er politi­cians, such as between pri­vate sec­tor unions (espe­cial­ly the build­ing trades) and pub­lic sec­tor unions — while there are still unions and pro-union politi­cians to make such a debate mean­ing­ful. And debate about the direc­tion of the city — and coun­try — needs to engage the labor move­ment with com­mu­ni­ty and pro­gres­sive groups in year-round efforts to build pow­er that go beyond elec­tion-time door-knocking.
With encour­age­ment from nation­al AFL-CIO lead­ers, that trans­for­ma­tion is begin­ning to hap­pen in many places around the coun­try. In Chica­go, the CTU has tak­en the lead.
"The prob­lem with labor gen­er­al­ly is that it's way too timid polit­i­cal­ly," says Jesse Sharkey, act­ing pres­i­dent of the CTU. ​"Democ­rats and Repub­li­cans don't rep­re­sent our inter­ests, and we need a polit­i­cal orga­ni­za­tion of our own." To this end, the CTU has joined with SEIU's HCII local and the com­mu­ni­ty groups Action Now and Grass­roots Illi­nois Action to form Unit­ed Work­ing Fam­i­lies, an inde­pen­dent polit­i­cal orga­ni­za­tion that will not just endorse can­di­dates at elec­tion time but also work year-round to hold elect­ed lead­ers account­able. Sim­i­lar­ly, Nation­al Nurs­es Unit­ed has allied with the People's Lob­by, a Chica­go-based mem­ber­ship orga­ni­za­tion, to form Reclaim Chica­go, which is cur­rent­ly work­ing on alder­man­ic races.
A new wave of dis­con­tent from black, Lati­no and white work­ing-class neigh­bor­hoods may be emerg­ing to replace the old anti-machine, mid­dle-class reform pol­i­tics of decades past. This new move­ment may not be strong enough to oust Rahm Emanuel this year, but some day — con­tra the old adage by the famous­ly cor­rupt Alder­man Pad­dy Bauler — Chica­go just might be ready for reform.
AFSCME is a spon­sor of In These Times. Spon­sors have no role in edi­to­r­i­al content.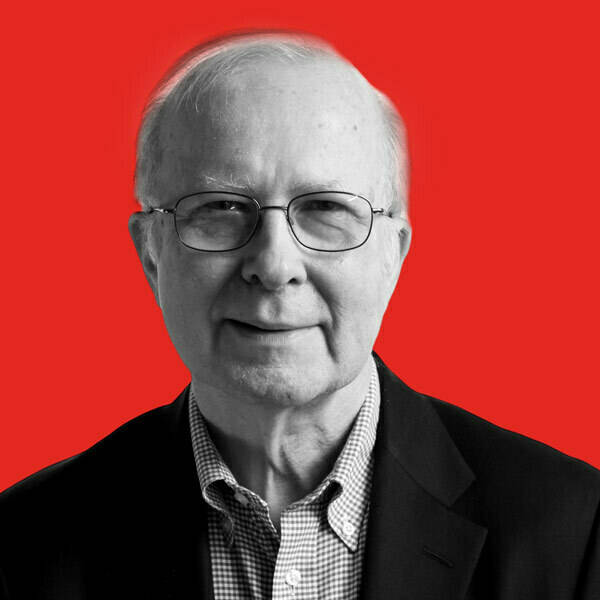 David Moberg, a senior edi­tor of In These Times, has been on the staff of the mag­a­zine since it began pub­lish­ing in 1976. Before join­ing In These Times, he com­plet­ed his work for a Ph.D. in anthro­pol­o­gy at the Uni­ver­si­ty of Chica­go and worked for Newsweek. He has received fel­low­ships from the John D. and Cather­ine T. MacArthur Foun­da­tion and the Nation Insti­tute for research on the new glob­al economy.