Re-United Nations
U.S. admits U.N. role necessary for laying the electoral groundwork in Iraq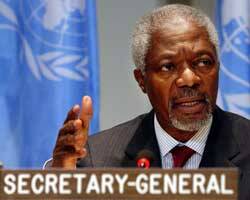 At the end of Jan­u­ary, Kofi Annan called off the ​"strike" the Unit­ed Nations declared in Iraq and agreed to return some staff to ​"ascer­tain the views of a broad spec­trum of Iraqi soci­ety in the search for alter­na­tives that might be devel­oped to move for­ward to the for­ma­tion of a pro­vi­sion­al government."
Annan's deci­sion rep­re­sents a new bal­ance of pow­er, one in which the Unit­ed States admits that the Unit­ed Nations has a gen­uine­ly ​"vital" role — one the Bush admin­is­tra­tion hith­er­to denied, pre­fer­ring to push through a new hand­picked régime.
It is begin­ning to look as if there may be real elec­tions in Iraq this year, induced iron­i­cal­ly by the pres­i­den­tial elec­tion here — and the tough­ness of Shia Aya­tol­lah Ali al-Sis­tani. He has been insist­ing, after more prac­ti­cal than the­o­log­i­cal research, that elec­tions are pos­si­ble and that no Amer­i­can-nom­i­nat­ed gov­ern­ment would be legit­i­mate with­out them. Al-Sis­tani has assem­bled experts who showed that, between ID cards and ration cards, the logis­tics of reg­is­tra­tion for vot­ers were emi­nent­ly prac­ti­ca­ble. At the very least, he argues, the new Iraqi gov­ern­ment should escape from the stig­ma of quis­ling­hood that being picked by the Unit­ed States would confer.
Annan made his deci­sion very slow­ly and delib­er­ate­ly. It fol­lowed pres­sure from the Iraqis across the polit­i­cal spec­trum but result­ed most­ly from Washington's change of heart. At the last minute, Coali­tion Admin­is­tra­tor Paul Bre­mer — who orig­i­nal­ly stayed away from the Jan­u­ary meet­ing between the Unit­ed Nations and the Iraqi Gov­ern­ing Coun­cil (IGC) — turned up with a beguil­ing smile. U.N. par­tic­i­pants remarked on how ​"extra­or­di­nar­i­ly polite" the U.S. del­e­ga­tion was, which points to both the poor state of rela­tions before and Washington's des­per­ate need for an exit strat­e­gy now.
The Amer­i­cans told oth­er diplo­mats that every­thing was now on the table — except the timetable itself. Bush has to declare vic­to­ry on June 30 and pull out before Democ­rats start push­ing on Iraq. At stake is the for­ma­tion of the Tran­si­tion­al Leg­isla­tive Coun­cil, to which the Unit­ed States wants to hand over pow­er (nom­i­nal­ly, at least) this sum­mer — and arguably the 2004 pres­i­den­tial election.
Bre­mer and the Pen­ta­gon decid­ed that elec­tions were not ​"fea­si­ble," so they opt­ed for ​"cas­cad­ing cau­cus­es" in each gov­er­norate. Since most Amer­i­cans have dif­fi­cul­ty under­stand­ing the Iowa cau­cus­es, it is not sur­pris­ing that this pro­pos­al went down like a pork steak with many Iraqis. The process is com­plex — and could, with­out too much cyn­i­cism, look like Amer­i­cans des­ig­nat­ing their own successors.
Indeed, Bremer's real prob­lem was not the fea­si­bil­i­ty of elec­tions but their desir­abil­i­ty. The fear is that the wrong peo­ple could end up get­ting elect­ed. To be fair, it is not just the expe­di­ent friends of democ­ra­cy in the Pen­ta­gon who have such wor­ries. Expe­ri­ence in oth­er tran­si­tion coun­tries shows the gen­uine per­ils of let­ting the first rush of post-tyrant elec­tions set arrange­ments and par­ties in stone. With the mosa­ic of reli­gious, eth­nic and trib­al dif­fer­ences in Iraq, it will be a chal­lenge to cre­ate a demo­c­ra­t­ic state that respects minor­i­ty rights.
How­ev­er, British observers sug­gest that the major­i­ty Shia are not nec­es­sar­i­ly either as sec­tar­i­an or as mono­lith­ic a bloc as many fear. British spokes­men have lent cre­dence to al-Sistani's case by admit­ting that elec­tions are fea­si­ble. As Win­ston Churchill said, democ­ra­cy is the worst form of gov­ern­ment — except for all the others.
Iraqis seem to agree: Accord­ing to one poll, 60 per­cent of Iraqis object to the U.S. occu­pa­tion, and only 12 per­cent sup­port it. So, any long term Iraqi gov­ern­ment has to derive its author­i­ty from a more halal source than Bush and Bremer.
As al-Sis­tani sug­gests, that means the new gov­ern­ment must have the bless­ing of the Iraqi peo­ple through elec­tions or some oth­er arrange­ment that is legit­imized by the Unit­ed Nations rather than by the Amer­i­can-led coali­tion. That explains the Amer­i­can and IGC pres­sure on Annan and the Unit­ed Nations to bless the timetable and all its details.
The meet­ing at U.N. Head­quar­ters revealed a con­ver­gence of views and inter­ests. The Amer­i­cans, despite their tra­di­tion­al­ly Pan­gloss­ian announce­ments that they had dis­suad­ed al-Sis­tani, are now so des­per­ate to get out before the pres­i­den­tial elec­tion that they are pre­pared — indeed eager — to let in the Unit­ed Nations and com­pro­mise with the Ayatollah.
The san­er part of the coali­tion, rep­re­sent­ed by the British and the State Depart­ment, had worked hard to per­suade Annan that if he fol­lows his own and his staff's incli­na­tions to stay out until the offi­cial end of the occu­pa­tion, it would be dif­fi­cult to shoe­horn the Unit­ed Nations in after con­sti­tu­tion­al arrange­ments have solid­i­fied. With that call echoed by a broad sec­tion of Iraqis, from the IGC to the Aya­tol­lah, there appeared to be a gen­uine win­dow of oppor­tu­ni­ty for the Unit­ed Nations and Annan has now decid­ed to take it.

Ian Williams
is the author of
Desert­er: Bush's War on Mil­i­tary Fam­i­lies, Vet­er­ans and His Past,
now avail­able from Nation Books.