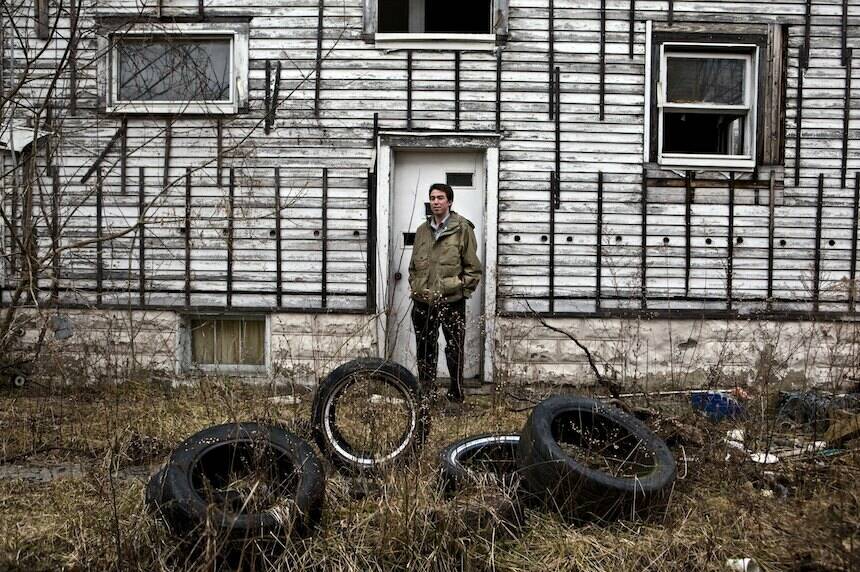 Among the chal­lenges fac­ing Democ­rats in the 2020 pres­i­den­tial elec­tion, per­haps none is more daunt­ing than how to simul­ta­ne­ous­ly mobi­lize their base of urban, African-Amer­i­can vot­ers and appeal to way­ward, white work­ing-class vot­ers who defect­ed to Trump in 2016. As counter-intu­itive as it may sound, how­ev­er, repa­ra­tions — a mea­sure increas­ing­ly pop­u­lar in address­ing the first con­stituen­cy — may also unlock the door to the second.
As economic growth nationally soared to unparalleled heights amidst the turbo-charged global boom of the 1990s, whole regions were left in the dust.
Con­ven­tion­al wis­dom has it that pro­pos­als for racial repa­ra­tions — i.e., some form of direct aid to the vic­tims of a lega­cy of slav­ery fol­lowed by Jim Crow dis­crim­i­na­tion — will only add to the party's elec­toral dilem­ma. It fur­ther feeds a nar­ra­tive that one can­not address the wish­es of white and black work­ers at the same time. Long smol­der­ing in polit­i­cal lim­bo before it was revived in a 2014 essay by Ta-Nehisi Coates, repa­ra­tions con­tin­ues to draw trac­tion from sev­er­al can­di­dates on the pro­gres­sive wing of the par­ty. Julian Cas­tro, Kamala Har­ris, and Eliz­a­beth War­ren all expressed ear­ly sup­port for the basic con­cept, even if they left the details to lat­er elab­o­ra­tion. Such argu­ments, left to them­selves, will like­ly only fuel the revolt of those whom one for­mer Ohio Repub­li­can Par­ty leader del­i­cate­ly called the ​"white work­ing-class tra­di­tion­al Demo­c­ra­t­ic vot­er." To get white res­i­dents of rust belt com­mu­ni­ties on board with racial jus­tice, one bold response would be for Democ­rats to acknowl­edge that their own neolib­er­al poli­cies have been harm­ful to these com­mu­ni­ties. The most dra­mat­ic way to do so would be for Democ­rats to bor­row the con­cept of repa­ra­tions, pledg­ing at once to address racial dis­crim­i­na­tion and to rein­vest in these areas to help all res­i­dents strug­gling from the eco­nom­ic col­lapse of the region.
The hem­or­rhag­ing of white vot­ers start­ed in the 1960s as both a racial and eco­nom­ic response to the new social move­ments and tar­get­ed wel­fare spend­ing for the poor and minori­ties. By the 1970s, as stagfla­tion (or slow growth accom­pa­nied by ris­ing prices) was exac­er­bat­ed by the 1973 oil shock and accom­pa­ny­ing reces­sion, the great mid­dle-class esca­la­tor to which the Demo­c­ra­t­ic Par­ty had long staked itself notice­ably stalled. In the cir­cum­stances, the high­er tax­es gen­er­at­ed both by the Viet­nam War and Great Soci­ety fur­ther inflamed white reac­tionary vot­ing trends. White blue-col­lar defec­tions from an affir­ma­tive-action-iden­ti­fied par­ty con­tin­ued into the mid-1970s, when then-Sen. Joe Biden fend­ed off talk of repa­ra­tions. ​"I don't feel respon­si­ble for the sins of my father and grand­fa­ther," he explained, ​"and I'll be damned if I feel respon­si­ble to pay for what hap­pened 300 years ago."
In 2016 Trump effec­tive­ly added immi­gra­tion and trade issues to the per­ceived race-based threats affect­ing work­ing-class com­mu­ni­ties. Between his ​"Build the Wall!" and ​"I'm fight­ing Chi­na to get you bet­ter jobs" rhetoric, the pres­i­dent has con­struct­ed a pow­er­ful if dan­ger­ous mag­net to take advan­tage of Mid­dle Amer­i­can eco­nom­ic resent­ments. In May, the New York Times quot­ed a Youngstown alu­minum plant fore­man, ​"Peo­ple pour­ing over the bor­der is unac­cept­able. We're fund­ing every­body on the plan­et. I'm tired of it."
It is easy to fend off such com­plaints as mere racist scape­goat­ing. Rather than dis­miss white work­ers' claims as irre­deemably hos­tile, how­ev­er, Demo­c­ra­t­ic strate­gists would do bet­ter to rec­og­nize in such expressed resent­ment an unre­quit­ed plea from declin­ing pop­u­la­tion cen­ters for nation­al atten­tion. Make no mis­take about it. The Unit­ed States has its dev­as­tat­ed areas, and they include many for­mer Demo­c­ra­t­ic Par­ty strong­holds. For exam­ple, the Youngstown, Ohio, area has suf­fered a vir­tu­al free fall of pop­u­la­tion since the 1970s, and accord­ing to the Brook­ings Insti­tu­tion is today among the cities with the high­est per­cent­age of cit­i­zens liv­ing in con­cen­trat­ed pover­ty. And of course it is not alone: Detroit, effec­tive­ly ground zero of dein­dus­tri­al­iza­tion, went from 1.8 mil­lion peo­ple in 1950 to 700,000 by 2010, before fil­ing for bank­rupt­cy in 2013. Mean­while, Cleve­land, where the GOP con­ven­tion nom­i­nat­ed can­di­date Trump in 2016, com­pet­ed with Detroit for des­ig­na­tion as the biggest cities with the high­est pover­ty rates. The decline of white work­ing-class sup­port for the Democ­rats in Ohio and Michi­gan is cred­it­ed with help­ing to turn the states red in 2016.
How to respond? Democ­rats might begin by accept­ing some respon­si­bil­i­ty for the region­al eco­nom­ic deba­cle. As eco­nom­ic growth nation­al­ly soared to unpar­al­leled heights amidst the tur­bo-charged glob­al boom of the 1990s, whole regions were left in the dust. No, it was not undoc­u­ment­ed immi­grants (or oth­er minori­ties or even steel­work­ers in Chi­na) who set ​"Rust Belt" com­mu­ni­ties on a down­ward course, but it was Demo­c­ra­t­ic as well as Repub­li­can law­mak­ers who presided over the deba­cle and did pre­cious lit­tle about it. Glob­al­iza­tion and free trade, gen­er­al­ly cham­pi­oned through both the Clin­ton and Oba­ma admin­is­tra­tions (not to men­tion their GOP coun­ter­parts), let wages slip, unions col­lapse and indus­tri­al plan­ning go by the boards.
Beyond gen­er­al­ly pro­gres­sive eco­nom­ic pro­grams like Medicare for All and the Green New Deal, Democ­rats need a mes­sage for the com­mu­ni­ties that since the 1970s have tak­en such a vicious hit in pop­u­la­tion, jobs and morale. More­over, on pure­ly prag­mat­ic grounds, so long as we have a polit­i­cal sys­tem based on geo­graph­i­cal dis­tricts for the House of Rep­re­sen­ta­tives, geo­graph­ic (i.e. state) par­i­ty in the U.S. Sen­ate and Elec­toral Col­lege suprema­cy at the end of the pres­i­den­tial bal­lot, pro­gres­sives will need to treat places (as well as the social groups in them) as sov­er­eigns deserv­ing protection.
As an extend­ed region, the Rust Belt deserves a form of region­al repa­ra­tions. Depend­ing on the lev­el of vic­tim­iza­tion — to be defined by a mea­sure of job and pop­u­la­tion loss, pover­ty rates and envi­ron­men­tal degra­da­tion — these com­mu­ni­ties stretch­ing from West Vir­ginia and Penn­syl­va­nia in the East to Ohio, Michi­gan, Indi­ana, Illi­nois and parts of Iowa in the Mid­west and again extend­ing to old tex­tile and fur­ni­ture-man­u­fac­tur­ing cen­ters like north­ern Geor­gia and west­ern North Car­oli­na deserve their own form of affir­ma­tive action. A 2017 study by Michael Lind and Joel Kotkin, ​"The New Amer­i­can Heart­land: Renew­ing the Mid­dle Class by Revi­tal­iz­ing Mid­dle Amer­i­ca," though designed for oth­er pur­pos­es, offers some poten­tial pol­i­cy cues. They point par­tic­u­lar­ly to a need for fed­er­al R&D dol­lars in sci­ence and tech­nol­o­gy and direct aid for infra­struc­ture (espe­cial­ly via revi­tal­ized sea­ports and inland water­ways) as well as indi­rect aid via the tax code for state and local pub­lic-pri­vate part­ner­ships. The small city of Colum­bus, Ind., with its atten­tion to an integri­ty of design in both schools and pri­vate busi­ness­es, a wel­com­ing atmos­phere for its for­eign-born res­i­dents and train­ing for skilled work­ers, serves as a mod­el that could be expand­ed upon for tar­get­ed mixed-use development.
Of course we must not set the needs of de-indus­tri­al­iza­tion vic­tims against those suf­fer­ing from racial oppres­sion. And, giv­en Youngstown's 43%, Cleveland's 50%, not to men­tion Detroit's 79% cen­tral city black pop­u­la­tion, we are usu­al­ly talk­ing about over­lap­ping demo­graph­ic groupings.
The ques­tion real­ly is whether the Democ­rats are pre­pared to take a deter­mined and con­vinc­ing step in both direc­tions at once. To be sure there will be no cure overnight, but it is not too late to call out and then address America's cri­sis of inter­nal under­de­vel­op­ment. A big-tent par­ty will not like­ly elim­i­nate ten­sion, let alone ban­ish white racism, with­in its dis­af­fect­ed flock. Only by call­ing itself to account, how­ev­er, can it also expect its par­ti­sans to rise to the occa­sion. If the Demo­c­ra­t­ic Par­ty, respond­ing to gen­uine social pain and need, brought a white work­ing class immis­er­at­ed by dein­dus­tri­al­iza­tion and the black vic­tims of struc­tur­al racism into real dia­logue, might we again see an elec­toral realign­ment wor­thy of the term?
Leon Fink
is the author of
The Long Gild­ed Age: Amer­i­can Cap­i­tal­ism and the Lessons of a New World Order
(
2015
) and edi­tor of the jour­nal
Labor: Stud­ies in Work­ing-Class His­to­ry
.