Rethinking 'Rules for Radicals'
In 2014, would Saul Alinsky himself even be playing by the book?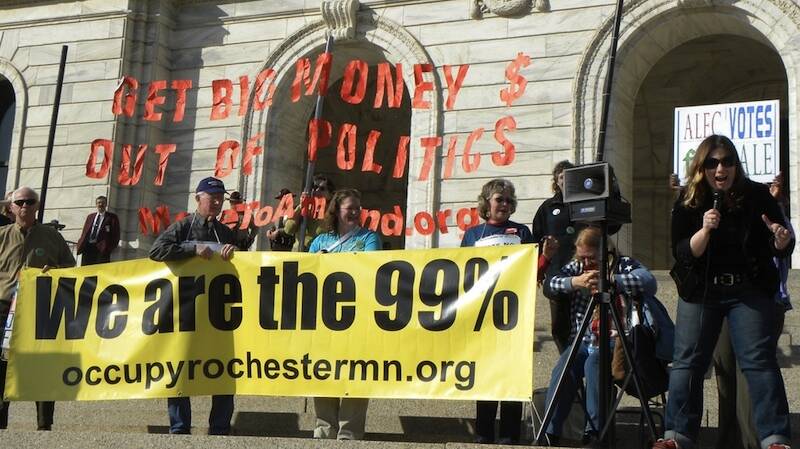 Although Saul Alin­sky, the found­ing father of mod­ern com­mu­ni­ty orga­niz­ing in the Unit­ed States, passed away in 1972, he is still invoked by the right as a dan­ger­ous har­bin­ger of loom­ing insur­rec­tion. And although his land­mark book, Rules for Rad­i­cals, is now near­ly 45 years old, the prin­ci­ples that emerged from Alin­sky's work have influ­enced every gen­er­a­tion of com­mu­ni­ty orga­niz­ers that has come since.
The desire to re-examine maxims such as "build organizations, not movements" is an exciting development—one that opens the door to interaction between those focused on building long-term "people's organizations," as Alinsky called them, and those exploring the dynamics of strategic nonviolence and disruptive mass mobilization.
The most last­ing of Alin­sky's pre­scrip­tions are not his well-known tac­ti­cal guide­lines — ​"ridicule is man's most potent weapon" or ​"pow­er is not only what you have, but what the ene­my thinks you have." Rather, they are embed­ded in a set of orga­ni­za­tion­al prac­tices and pre­dis­po­si­tions, a defined approach to build­ing pow­er at the lev­el of local com­mu­ni­ties. Hang around social move­ments for a while and you will no doubt be exposed to the laws of Chica­go-style com­mu­ni­ty orga­niz­ing: ​"Don't talk ide­ol­o­gy, just issues. No elec­toral pol­i­tics. Build orga­ni­za­tions, not move­ments… Focus on neigh­bor­hoods and on con­crete, winnable goals."
Vet­er­an labor writer David Moberg recent­ly offered this list when reflect­ing on the work of Nation­al Peo­ple's Action, or NPA, one of today's lead­ing coali­tions of com­mu­ni­ty-based groups. Giv­en that NPA's dynam­ic exec­u­tive direc­tor, George Goehl, was trained by Shel Trapp — a promi­nent Alin­sky dis­ci­ple — it is no sur­prise that tra­di­tion­al com­mu­ni­ty orga­niz­ing prin­ci­ples are still reflect­ed in the bot­tom-up, door-to-door method­olo­gies of NPA affil­i­ates in 14 states.
At the same time, under Goehl's lead­er­ship, Nation­al Peo­ple's Action is also doing many things dif­fer­ent­ly. His coali­tion is now embrac­ing a big-pic­ture vision (talk­ing about coop­er­a­tive own­er­ship of busi­ness and pub­lic con­trol of finance), and it is mak­ing for­ays into elec­toral pol­i­tics (form­ing a lob­by­ing arm to do leg­isla­tive advo­ca­cy and pos­si­bly even to run can­di­dates). In push­ing beyond Alin­sky's tra­di­tion­al rules, Goehl is moti­vat­ed not only to win con­crete reforms with­in the exist­ing polit­i­cal sys­tem but to devel­op, Moberg writes, the ​"vision, strat­e­gy, and full arse­nal of polit­i­cal weapons need­ed to roll back decades of cor­po­rate con­ser­v­a­tive vic­to­ries and to cre­ate a more demo­c­ra­t­ic econ­o­my and government."
Goehl's ambi­tion is not unique. Oth­er com­mu­ni­ty orga­niz­ers who expe­ri­enced the Occu­py move­ment were impressed by the mas­sive momen­tum for change it cre­at­ed — even if much of its force proved fleet­ing. Efforts such as the 99% Spring and Occu­py Our Homes were steps by com­mu­ni­ty-based groups toward inte­grat­ing their tra­di­tion­al orga­niz­ing mod­els with the social move­ment ener­gy that had blos­somed in Zuc­cot­ti Park and beyond.
The desire to re-exam­ine max­ims such as ​"build orga­ni­za­tions, not move­ments" is an excit­ing devel­op­ment — one that opens the door to inter­ac­tion between those focused on build­ing long-term ​"peo­ple's orga­ni­za­tions," as Alin­sky called them, and those explor­ing the dynam­ics of strate­gic non­vi­o­lence and dis­rup­tive mass mobilization.
It is also one that Alin­sky him­self may well have supported.
Look­ing back at the ori­gins of many foun­da­tion­al prin­ci­ples asso­ci­at­ed with the Alin­skyite orga­niz­ing tra­di­tion, it becomes clear that some were not as deeply root­ed in the founder's think­ing as oth­ers — and that he might have pressed for recon­sid­er­a­tion of cer­tain com­mand­ments that have grown hal­lowed since the 1960s. These dis­crep­an­cies raise an intrigu­ing ques­tion: If Alin­sky were alive today, would he be break­ing his own rules?
In recent years, Saul Alin­sky has become known for of his con­nec­tions to promi­nent fig­ures inside Wash­ing­ton, D.C. In the 1980s, Barack Oba­ma cut his polit­i­cal teeth as an orga­niz­er in an Alin­skyite com­mu­ni­ty orga­ni­za­tion, an ini­tia­tive on the South Side of Chica­go known as the Devel­op­ing Com­mu­ni­ties Project. Hillary Clin­ton's under­grad­u­ate the­sis at Welles­ley Col­lege was enti­tled, ​"There is Only the Fight: An Analy­sis of the Alin­sky Mod­el." Because of these links, Glenn Beck fea­tured Alin­sky promi­nent­ly on his maps of left­ist con­spir­a­cy in Amer­i­ca, and Newt Gin­grich reg­u­lar­ly used the orga­niz­er as a foil on the cam­paign trail in 2012.
There is some irony to these belt­way asso­ci­a­tions, giv­en that Alin­sky built his rep­u­ta­tion as an anti-estab­lish­ment rad­i­cal work­ing square­ly out­side the domain of elec­toral pol­i­tics. A Chica­go native and son of Russ­ian-Jew­ish immi­grants, Alin­sky got his start orga­niz­ing in the 1930s, inspired by CIO and Unit­ed Mine Work­ers leader John L. Lewis. In spite of men­tor­ing from Lewis, Alin­sky was con­vinced that the labor move­ment had grown lethar­gic and that Amer­i­can democ­ra­cy need­ed ​"peo­ple's orga­ni­za­tions" based out­side the work­place — cit­i­zens' groups with roots in local communities.
In his first attempt to cre­ate such a group he found­ed the Back-of-the-Yards Neigh­bor­hood Coun­cil, an effort to orga­nize the eth­ni­cal­ly diverse work­ers who lived behind the meat­pack­ing plants fea­tured in Upton Sin­clair's muck­rak­ing 1906 nov­el, The Jun­gle. To fight the slum con­di­tions fac­ing this com­mu­ni­ty, Alin­sky packed the offices of bureau­crats with hun­dreds of res­i­dents and rout­ed march­es past the homes of local offi­cials. ​"Many con­fronta­tions and sev­er­al months lat­er," author Mary Beth Rogers writes, ​"Back of the Yards claimed cred­it for new police patrols, street repairs, reg­u­lar garbage col­lec­tion, and lunch pro­grams for 1,400 children."
By 1940, with the help of fund­ing from wealthy lib­er­al Mar­shall Field III, Alin­sky had cre­at­ed a non­prof­it known as the Indus­tri­al Areas Foun­da­tion, or IAF, tasked with spurring orga­ni­za­tion in oth­er urban neigh­bor­hoods. In the 1950s, Alin­sky and Fred Ross worked through the IAF-sup­port­ed Com­mu­ni­ty Ser­vice Orga­ni­za­tion to improve liv­ing con­di­tions for Mex­i­can-Amer­i­cans in Cal­i­for­nia; there, Ross recruit­ed a young orga­niz­er in San Jose named Cesar Chavez and anoth­er in Fres­no named Dolores Huer­ta. (Only after years of train­ing did Chavez and Huer­ta leave to form what would become the Unit­ed Farm Workers.)
Among Alin­sky's oth­er promi­nent cam­paigns, he would work in the 1960s with black res­i­dents in Chicago's Wood­lawn neigh­bor­hood to fight exploita­tive land­lords and to chal­lenge school over­crowd­ing, and he would help com­mu­ni­ty mem­bers in Rochester, N.Y., com­pel the East­man Kodak Com­pa­ny to cre­ate a hir­ing pro­gram for African-Amer­i­can workers.
Alin­sky taught through sto­ries, usu­al­ly exag­ger­at­ed, always enter­tain­ing. In 1971 writer Nat Hentoff stat­ed, ​"At 62, Saul is the youngest man I've met in years." Play­boy inter­view­er Eric Nor­den agreed. ​"There is a tremen­dous vital­i­ty about Alin­sky, a raw, com­bat­ive ebul­lience, and a con­sum­ing curios­i­ty about every­thing and every­one around him," Nor­den wrote. ​"Add to this a mor­dant wit, a mon­u­men­tal ego cou­pled with an abil­i­ty to laugh at him­self and the world in gen­er­al, and you begin to get the mea­sure of the man."
Alin­sky's first book, Reveille for Rad­i­cals became a best­seller when pub­lished in 1946; it blast­ed lib­er­al-mind­ed char­i­ty efforts and called for an indige­nous Amer­i­can rad­i­cal­ism based in cit­i­zen action. Rules for Rad­i­cals: A Prag­mat­ic Primer for Real­is­tic Rad­i­cals came in 1971, near the end of Alin­sky's life, and remains pop­u­lar. It was recent­ly cir­cu­lat­ed by Repub­li­can Dick Armey's orga­ni­za­tion Free­dom­Works to Tea Par­ty mem­bers curi­ous about the book's meth­ods, even if they are opposed to its goals. Its first chap­ter begins: ​"What fol­lows is for those who want to change the world from what it is to what they believe it should be. The Prince was writ­ten by Machi­avel­li for the Haves on how to hold pow­er. Rules for Rad­i­cals is writ­ten for the Have-Nots on how to take it away."
Frank Bar­dacke, author of a sweep­ing his­to­ry of the Unit­ed Farm Work­ers, recounts how Alin­sky's prin­ci­ples for build­ing pow­er solid­i­fied into an iden­ti­fi­able orga­niz­ing tra­di­tion: ​"With Saul as the foun­tain­head, com­mu­ni­ty orga­niz­ing has become a cod­i­fied dis­ci­pline, with core the­o­ret­i­cal propo­si­tions, rec­og­nized here­sies, dis­ci­ples, fall­en neo­phytes, and splits." He quotes Heather Booth, founder of the Mid­west Acad­e­my, an Alin­skyite train­ing cen­ter for orga­niz­ers, who calls Alin­sky ​"our Sig­mund Freud."
​"What Booth means is that both Freud and Alin­sky found­ed schools of thought," Bar­dacke explains, ​"but there is anoth­er, deep­er link: the role of train­ing and lin­eage. Just as psy­cho­an­a­lysts trace their pedi­gree back to the grand mas­ter (they were either ana­lyzed by Freud or by some­one who was ana­lyzed by Freud, or by some­one who was ana­lyzed by some­one who…), so Alin­skyite and neo-Alin­skyite orga­niz­ers trace their train­ing back to Alin­sky himself."
Alin­sky's influ­ence today is felt not just in the IAF or Goehl's NPA — whose mem­ber groups range from Com­mu­ni­ty Voic­es Heard in New York, to POW­ER in Los Ange­les, to Iowa Cit­i­zens for Com­mu­ni­ty Improve­ment. It is also present in net­works such as PICO, DART, USAction/​Citizen Action, the Gamaliel Foun­da­tion, and the for­mer branch­es of ACORN. Col­lec­tive­ly these orga­ni­za­tions claim sev­er­al mil­lion mem­bers, and the tra­di­tion has spread inter­na­tion­al­ly as well, with orga­niz­ing train­ings tak­ing place in Europe, South Africa and the Philip­pines. Each of the net­works, writes soci­ol­o­gist David Walls, is ​"indebt­ed, in greater or less­er degree, to Alin­sky and his ear­ly orga­niz­ing pro­grams in Chica­go through IAF."
The prin­ci­ple of ​"no elec­toral pol­i­tics" took hold in the Alin­skyite tra­di­tion based on the idea that com­mu­ni­ty orga­ni­za­tions should be prag­mat­ic, non­par­ti­san, and ide­o­log­i­cal­ly diverse — that they should put pres­sure on all politi­cians, not express loy­al­ty to any. His­to­ri­an Thomas Sug­rue writes that Alin­sky ​"nev­er had much patience for elect­ed offi­cials: Change would not come from top-down lead­er­ship, but rather from pres­sure from below. In his view, politi­cians took the path of least resis­tance." Alin­sky him­self was not anti-state — as soci­ol­o­gist P. David Finks writes, for him ​"the prob­lem was not so much get­ting gov­ern­ment off our backs as get­ting it off its rear end" — but the focus of his efforts was out­side the elec­toral are­na. The IAF's lin­ger­ing pride in its ​"inde­pen­dent, non­par­ti­san" sta­tus reflects its desire to recruit mem­bers from across the polit­i­cal spec­trum in any giv­en com­mu­ni­ty, not mere­ly to engage the usu­al sus­pects of pro­gres­sive activism.
This ​"non­par­ti­san" avoid­ance of ide­ol­o­gy also relates to per­haps the most inter­est­ing pre­cept in the Alin­skyite tra­di­tion: the one which dis­tances com­mu­ni­ty orga­niz­ing from mass mobi­liza­tions. As Rut­gers soci­ol­o­gy pro­fes­sor and for­mer ACORN orga­niz­er Arlene Stein wrote in 1986, ​"com­mu­ni­ty orga­niz­ers today tend gen­er­al­ly to shun the term move­ment, pre­fer­ring to see them­selves engaged in build­ing orga­ni­za­tion."
Why would some­one pro­mot­ing social change see them­selves as wary of move­ments? There are sev­er­al rea­sons, and the way in which the terms ​"move­ment" and ​"orga­ni­za­tion" are under­stood con­nect to some defin­ing aspects of the Alin­skyite model.
Ed Cham­bers, Alin­sky's suc­ces­sor as IAF direc­tor, express­es an aver­sion to move­ments as a part of his long-term com­mit­ment to com­mu­ni­ty mem­bers. As he writes in his book Roots for Rad­i­cals, ​"We play to win. That's one of the dis­tinc­tive fea­tures of the IAF: We don't lead every­day, ordi­nary peo­ple into pub­lic fail­ures, and we're not build­ing move­ments. Move­ments go in and out of exis­tence. As good as they are, you can't sus­tain them. Every­day peo­ple need incre­men­tal suc­cess over months and some­times years."
Alin­sky, too, saw a dan­ger in expect­ing quick upheavals. He argued, ​"Effec­tive orga­ni­za­tion is thwart­ed by the desire for instant and dra­mat­ic change…. To build a pow­er­ful orga­ni­za­tion takes time. It is tedious, but that's the way the game is played — if you want to play and not just yell, ​'Kill the umpire.'" Before enter­ing a neigh­bor­hood, Alin­sky planned for a sus­tained com­mit­ment. He would not hire an orga­niz­er unless he had raised enough mon­ey to pay for two or more years of the staffer­'s salary.
Beyond set­ting expec­ta­tions for time­frame, a ded­i­ca­tion to ​"orga­ni­za­tions not move­ments" is reflect­ed in sev­er­al oth­er Alin­skyite norms. These include the tra­di­tion's con­nec­tion to church­es and oth­er estab­lished insti­tu­tions, its selec­tion of bot­tom-up demands rather than high-pro­file nation­al issues, and its atti­tude toward vol­un­teers and free­lance activists.
Alin­sky believed in iden­ti­fy­ing local cen­ters of pow­er — par­tic­u­lar­ly church­es — and using them as bases for com­mu­ni­ty groups. The mod­ern IAF con­tin­ues to fol­low this prin­ci­ple, serv­ing as a mod­el of ​"faith-based" organizing.
Instead of pick­ing a gal­va­niz­ing, moral­ly loaded, and pos­si­bly divi­sive nation­al issue to orga­nize around — as would a mass move­ment — Alin­sky advo­cat­ed action around nar­row local demands. Mark War­ren's Dry Bones Rat­tling, a study of the IAF, explains: ​"As opposed to mobi­liz­ing around a set or pre­de­ter­mined issues, the IAF brings res­i­dents togeth­er first to dis­cuss the needs of their com­mu­ni­ty and to find a com­mon ground for action." Prac­tic­ing what is some­times called ​"stop sign orga­niz­ing," those work­ing in this vein look for con­crete, winnable projects — such as demand­ing that city offi­cials place a stop sign at a dan­ger­ous inter­sec­tion. The idea is that small vic­to­ries build local capa­bil­i­ties, give par­tic­i­pants a sense of their pow­er, and spur more ambi­tious action.
They also meet some of the imme­di­ate needs of the com­mu­ni­ty — far prefer­able, in Alin­sky's view, to social move­ments' far-off calls for free­dom and jus­tice. Through­out his career, Alin­sky spoke the lan­guage of self-inter­est. He looked to build demo­c­ra­t­ic pow­er among com­mu­ni­ty mem­bers seek­ing to improve the con­di­tions of their own lives. He was sus­pi­cious of vol­un­teer activists who were moti­vat­ed by abstract val­ues or ide­ol­o­gy, peo­ple drawn to high-pro­file moral cru­sades. That move­ments were full of such peo­ple did not sit well with the Alin­skyites. As Cham­bers writes: ​"Activists and move­ment types are mobi­liz­ers and enter­tain­ers, not demo­c­ra­t­ic orga­niz­ers. Their script is their per­sona and their cause. They tend to be over­in­ter­est­ed in them­selves. Their under­stand­ing of polit­i­cal­ness is super­fi­cial or media-dri­ven. They lack disinterestedness."
More­over, Cham­bers con­tends, move­ment activists' expec­ta­tions for change are far too short-term: ​"Their time frame is imme­di­ate. ​'What do we want?' ​'Free­dom.' ​'When do we want it?' ​'Now!' ​'No jus­tice, no peace,'" he explains dis­mis­sive­ly. ​"Move­ment activists appeal to youth, frus­trat­ed ide­al­ists, and cyn­i­cal ide­o­logues, ignor­ing the 80 per­cent of mod­er­ates who com­prise the world as it is…. Orga­niz­ing is gen­er­a­tional, not here today, gone tomorrow."
Cham­ber­s's view may seem harsh, but it is not atyp­i­cal of those drawn to com­mu­ni­ty orga­niz­ing. As Stein explains, "[T]he revival of Alin­sky-style orga­ni­za­tions in the 1970s and 1980s often defined itself against the social move­ments of the pre­vi­ous decade — espe­cial­ly the civ­il rights, wom­en's, and stu­dent anti­war move­ments — which it tend­ed to view as pro­mot­ing col­lec­tive iden­ti­ty for­ma­tion over the achieve­ment of strate­gic goals."
Patient base-build­ing, long-term strat­e­gy, incre­men­tal local wins. These ingre­di­ents would con­tribute to a last­ing and influ­en­tial orga­niz­ing mod­el. They would also, in the tur­bu­lent 1960s, put Alin­sky at the cen­ter of an activist cul­ture clash.
At the same time that Alin­sky became a pop­u­lar speak­er on 1960s cam­pus­es, his vision of orga­niz­ing put him at odds with many of the era's lead­ing activists — both its stu­dent mil­i­tants and its more high-pro­file lead­ers, such as Mar­tin Luther King, Jr. In 1965 and 1966, ten­sions between ​"orga­ni­za­tion" and ​"move­ment" sur­faced when King and his South­ern Chris­t­ian Lead­er­ship Coun­cil came to Chica­go, Alin­sky's home turf, to mount their first North­ern civ­il rights drive.
Dur­ing the cam­paign, Nicholas von Hoff­man, a close Alin­sky lieu­tenant, had a chance encounter with King in Mem­phis, Tenn., in the hos­pi­tal where activist James Mered­ith had been tak­en after being shot while march­ing in sup­port of black vot­er reg­is­tra­tion. Von Hoff­man gave King his advice about Chica­go: ​"I told him I thought it could suc­ceed if he was pre­pared for trench war­fare, which would demand tight, tough orga­ni­za­tion to take on the Daley oper­a­tion," von Hoff­man writes. ​"I added it could not be done in less than two years."
Von Hoff­man was not con­vinced that King was lis­ten­ing. He knew that the SCLC — com­ing off of mobi­liza­tions in Birm­ing­ham and Sel­ma — had grown accus­tomed to much short­er cam­paigns, some­times last­ing just months. Nor was he impressed by King's deci­sion to move his fam­i­ly into an apart­ment in one of Chicago's poor­est neigh­bor­hoods, which von Hoff­man dis­missed as a ​"dra­mat­ic ges­ture" of lit­tle util­i­ty. ​"Orga­niz­ing is akin to string­ing beads to make a neck­lace," von Hoff­man argued. ​"It demands patience, per­sis­tence, and some kind of design. King's cam­paign in Chica­go was short on beads and bereft of design."
Alin­sky and von Hoff­man regard­ed the SCLC leader as a ​"one-trick pony" who relied too heav­i­ly on media-seek­ing march­es, and they held his team in low regard. As von Hoff­man con­tend­ed, King and the out­siders he brought into Chica­go ​"were, as far as I could tell, a hodge­podge of young white ide­al­ists, col­lege kids, and sum­mer sol­diers, most of whom had no knowl­edge of the peo­ple they were sup­posed to recruit. In the South the youth­ful white ide­al­ists were use­ful civ­il rights can­non fod­der; in Chica­go they were dead weight."
Von Hoff­man not­ed the con­trast with his tra­di­tion: ​"It was the antithe­sis of an Alin­sky oper­a­tion where out­side vol­un­teers were gen­er­al­ly shooed away not only because they got in the way but also because they did­n't have any skin in the game," he wrote. ​"Laud­able as it is to vol­un­teer to help oth­er peo­ple wres­tle with their prob­lems, effec­tive orga­ni­za­tions are built with peo­ple who have direct and per­son­al inter­est in their success."
This type of analy­sis reflect­ed Alin­sky's broad­er cri­tique of civ­il rights orga­niz­ing. In a 1965 inter­view he argued, ​"The Achilles' Heel of the civ­il rights move­ment is the fact that it has not devel­oped into a sta­ble, dis­ci­plined, mass-based pow­er orga­ni­za­tion." He believed the move­men­t's vic­to­ries owed much to uncon­trol­lable world-his­tor­i­cal forces, to ​"the incred­i­bly stu­pid blun­ders of the sta­tus quo in the South and else­where," and to the con­tri­bu­tions of church institutions.
He added, with King as his unnamed sub­ject: ​"Peri­od­ic mass eupho­ria around a charis­mat­ic leader is not an orga­ni­za­tion. It's just the ini­tial stage of agitation."
For Alin­sky, stress­ing the impor­tance of strong orga­ni­za­tion was also a mat­ter of bridg­ing a gen­er­a­tion gap. Those yelling ​"kill the umpire," in his view, were the mem­bers of the New Left. Alin­sky felt that peo­ple his age were par­tial­ly respon­si­ble for the youths' igno­rance. In writ­ing Rules for Rad­i­cals, he sought to com­mu­ni­cate with 1960s activists whom he saw as suf­fer­ing from a lack of men­tor­ing — the result of a miss­ing gen­er­a­tion of orga­niz­ers. ​"Few of us sur­vived the Joe McCarthy holo­caust of the 1950s," Alin­sky wrote, ​"and of those there were even few­er whose under­stand­ing and insights had devel­oped beyond the dialec­ti­cal mate­ri­al­ism of ortho­dox Marx­ism. My fel­low rad­i­cals who were sup­posed to pass on the torch of expe­ri­ence and insights to a new gen­er­a­tion just were not there."
As a con­se­quence, young left­ists were too eas­i­ly seduced by quick fix­es, Alin­sky believed. In an after­ward to a 1969 reis­sue of his first book, Reveille for Rad­i­cals, he wrote, ​"The approach of so much of the present gen­er­a­tion is so frac­tured with ​'con­fronta­tions' and crises as ends in them­selves that their activ­i­ties are not actions but a dis­charge of ener­gy which, like a fire­works spec­ta­cle, briefly lights up the skies and then van­ish­es into the void."
The cre­ation of an alter­na­tive method­ol­o­gy — what Stein describes as ​"a high­ly struc­tured orga­niz­ing mod­el spec­i­fy­ing step-by-step guide­lines for cre­at­ing neigh­bor­hood orga­ni­za­tions" — was an under­stand­able response, and one that has shown great strengths. But, in recent decades, we may have seen its lim­i­ta­tions as well.
The ques­tion is whether too close an adher­ence to a hard­ened mod­el has cre­at­ed missed oppor­tu­ni­ties — chances to inte­grate struc­ture-based orga­ni­za­tion and momen­tum-dri­ven move­ments, and to har­ness the pow­er of both.
It turns out that many of the rules of the Alin­skyite tra­di­tion come less from the founder him­self and more from his suc­ces­sors' sub­se­quent cod­i­fi­ca­tion of his ideas.
After Alin­sky's death, IAF lead­ers Ed Cham­bers, Richard Har­mon, and Ernesto Cortes sat down to assess the fac­tors that con­tributed to the fail­ure of ear­li­er orga­niz­ing dri­ves. As author Mary Beth Rogers writes, they iden­ti­fied sev­er­al ​"pat­terns that cre­at­ed insta­bil­i­ty, inef­fec­tive­ness, and even­tu­al dis­so­lu­tion." Among them: ​"Move­ments that depend­ed on charis­mat­ic lead­ers fell apart in the absence of the leader;" ​"orga­ni­za­tions formed around a sin­gle issue died when the issue lost its poten­cy;" and ​"orga­ni­za­tions that played to the pub­lic spot­light con­fused their desire for media atten­tion with their strat­e­gy for change."
Clear­ly, the IAF heavy­weights were crit­i­cal of the social move­ments of the New Left. But, more sur­pris­ing­ly, their assess­ment also indict­ed Alin­sky's own work.
While the found­ing father had plant­ed seeds for orga­ni­za­tions through­out the coun­try, only a hand­ful sur­vived for longer than three years. As IAF orga­niz­er Michael Gecan writes in his book Going Pub­lic, ​"Alin­sky was extra­or­di­nar­i­ly effec­tive as a tac­ti­cian, writer, speak­er and gad­fly. He was the first the­o­rist and expo­nent of cit­i­zen orga­niz­ing in urban com­mu­ni­ties." But, ​"While Alin­sky had many gifts and strengths… he did not cre­ate orga­ni­za­tions that endured."
This chal­lenge would be left to his suc­ces­sors, in par­tic­u­lar Ed Cham­bers. ​"That was Cham­ber­s's crit­i­cal con­tri­bu­tion to the world of cit­i­zens orga­niz­ing and to Amer­i­ca as a whole," Gecan writes. ​"He had a tal­ent for teach­ing peo­ple how to orga­nize pow­er that last­ed." Cham­bers' sys­tem­iza­tion of the Alin­sky mod­el would involve for­mal­iz­ing process­es for recruit­ing and groom­ing orga­niz­ers, rely­ing less on large foun­da­tions for fund­ing, improv­ing work­ing con­di­tions to reduce burn-out, and strength­en­ing ties to faith-based groups. Oth­er net­works of com­mu­ni­ty orga­ni­za­tions would fur­ther the mod­el by bring­ing local groups into nation­al coali­tions and cre­at­ing their own train­ing pro­grams to refine and spread the rules of grass­roots power-building.
In many respects, these were nec­es­sary changes. Yet they may have come at the cost of some of Alin­sky's orig­i­nal cre­ativ­i­ty. In their focus on build­ing for the long term and cre­at­ing strong orga­ni­za­tion­al struc­tures, sub­se­quent com­mu­ni­ty orga­niz­ing lead­ers have grown less sen­si­tive than their tra­di­tion's founder to the poten­tial of excep­tion­al moments of mass mobilization.
In truth, Alin­sky was far less rigid than the ​"rules" attrib­uted to him might sug­gest. Nicholas von Hoff­man, in a mem­oir about his time with Alin­sky, describes his for­mer men­tor as ​"one of the least dog­mat­ic and most flex­i­ble of men. Alin­sky believed that lib­er­ty was to be rede­fined and rewon by every gen­er­a­tion accord­ing to its cir­cum­stances and the demands of the time." For his part, Alin­sky liked to tell a sto­ry, pos­si­bly apoc­ryphal, of sit­ting in on a uni­ver­si­ty exam designed for stu­dents of com­mu­ni­ty orga­ni­za­tion. ​"Three of the ques­tions were on the phi­los­o­phy and moti­va­tions of Saul Alin­sky," he claimed. ​"I answered two of them incorrectly!"
This flex­i­bil­i­ty affect­ed his view of elec­tions. Alin­sky's biog­ra­ph­er, San­ford Hor­witt, notes that the orga­niz­er had plans to run a can­di­date for Con­gress in a 1966 elec­tion on Chicago's South Side, and he sent staffers from Wood­lawn to serve on the cam­paign of an anti-machine chal­lenger. Hor­witt quotes von Hoff­man, who says, ​"A lot of peo­ple, espe­cial­ly those who turned ​'com­mu­ni­ty orga­niz­ing' into a kind of reli­gion, now take it as gospel from Saul Alin­sky… that one nev­er gets direct­ly involved in elec­toral pol­i­tics. Well, he nev­er thought that."
More impor­tant­ly, Alin­sky's take on mass mobi­liza­tion was not one-dimen­sion­al. One of the most inter­est­ing moments in his career came when he attempt­ed to inte­grate the ener­gy of a social move­ment with the work of one of his com­mu­ni­ty organizations.
While orga­niz­ing in the Wood­lawn neigh­bor­hood in ear­ly 1961, von Hoff­man got a call from a civ­il rights activist tak­ing part in the Free­dom Rides, a protest designed to chal­lenge seg­re­gat­ed inter­state bussing in the South. The rid­ers were vio­lent­ly attacked in Alaba­ma — one of their bus­es was burned in Annis­ton, and they were beat­en by a mob in Mont­gomery. Hav­ing just been released from a New Orleans hos­pi­tal, the activist and some of his fel­low par­tic­i­pants con­tact­ed von Hoff­man to express inter­est in mak­ing their first pub­lic appear­ance in Chicago.
Von Hoff­man was ini­tial­ly hes­i­tant — wary that the event would not advance local orga­niz­ing and mind­ful of pre­vi­ous civ­il rights ral­lies in Chica­go that drew only a hand­ful of pick­eters. Yet he arranged for a talk to be held in a large gym­na­si­um in St. Cyril's Church. As Hor­witt writes, ​"On a Fri­day night, two hours before the pro­gram was to start, the gym was emp­ty and von Hoff­man was ner­vous — his ini­tial fears seemed about to be con­firmed. An hour lat­er, an elder­ly cou­ple arrived, and then, to von Hoff­man's total amaze­ment, so many peo­ple turned up that there was no room left in the gym, in the foy­er, or on the stairs."
Von Hoff­man arranged for loud­speak­ers to broad­cast the talk to the hun­dreds of peo­ple in the streets out­side the venue. Lat­er, he left the event reel­ing. Far more peo­ple had come than his group could have pos­si­bil­i­ty mobi­lized through its orga­ni­za­tion­al struc­tures, and the issue had gen­er­at­ed a pro­found ener­gy in the com­mu­ni­ty. He woke up Alin­sky with a mid­dle-of-the-night phone call and explained what hap­pened. Von Hoff­man said, ​"I think that we should toss out every­thing we are doing orga­ni­za­tion­al­ly and work on the premise that this is the moment of the whirl­wind, that we are no longer orga­niz­ing but guid­ing a social movement."
To his sur­prise, Alin­sky respond­ed by say­ing, ​"You're right. Get on it tomorrow."
The Wood­lawn orga­ni­za­tion sub­se­quent­ly held its own ver­sion of the Free­dom Rides — a bus car­a­van to reg­is­ter black vot­ers. The event, Hor­witt recounts, pro­duced ​"the largest sin­gle vot­er-reg­is­tra­tion ever at City Hall," star­tled the city's pow­er-bro­kers, gen­er­at­ed much greater pub­lic­i­ty than Wood­lawn's typ­i­cal actions, and set the stage for fur­ther civ­il rights activism by the group. In crit­i­ciz­ing Mar­tin Luther King sev­er­al years lat­er, Alin­sky was not try­ing to write off the civ­il right move­ment as a whole. A devo­tee of head­line-grab­bing direct action, he rec­og­nized its accom­plish­ment. And yet he sought to present its lead­ers with the chal­lenge of insti­tu­tion­al­iza­tion — a ques­tion which King him­self grap­pled with in his lat­er years and which is vital in think­ing about how orga­niz­ing mod­els might be integrated.
Alin­sky under­stood some­thing impor­tant when he embraced ​"the moment of the whirl­wind." He saw that using mass mobi­liza­tion to pro­duce spikes in social unrest is a process that fol­lows a dif­fer­ent set of rules than con­ven­tion­al orga­niz­ing. Many of its prin­ci­ples — embrac­ing demands with wide sym­bol­ic res­o­nance, chan­nel­ing ener­gy and par­tic­i­pa­tion from a broad­er pub­lic, artic­u­lat­ing self-inter­est in moral and vision­ary terms — are the oppo­site of the prin­ci­ples that dri­ve local com­mu­ni­ty orga­niz­ing. And yet Alin­sky was will­ing to exper­i­ment with their possibilities.
For­mer ACORN orga­niz­er Stein argues that such open­ness became a rar­i­ty among Alin­sky's dis­ci­ples. The Alin­skyite orga­ni­za­tions of recent decades, she writes, ​"often fail to grasp the pos­si­bil­i­ties of mobi­liza­tion when they occur." Because of this, they have undu­ly lim­it­ed them­selves. ​"The great social move­ments of Amer­i­can his­to­ry — labor, pop­ulist, civ­il rights, wom­en's (to name some of the most impor­tant ones)," Stein argues, ​"cap­tured the inter­est and imag­i­na­tion of vast num­bers of peo­ple by offer­ing them mate­r­i­al ben­e­fits as well as the expe­ri­ence of com­mu­nal sol­i­dar­i­ty in an indi­vid­u­al­is­tic Amer­i­can cul­ture. In plac­ing ​'orga­ni­za­tion' ahead of ​'move­ment,' ACORN and groups like it" miss this. They dis­count modes of orga­niz­ing that tap the trans­for­ma­tive pos­si­bil­i­ty of going beyond the most local, con­crete or winnable demands.
Whether it is the glob­al jus­tice protests of 1999 and 2000, the mas­sive immi­grant rights march­es of 2006, or the rapid spread of Occu­py Wall Street across the coun­try in 2011, vet­er­an orga­niz­ers are often caught off guard by move­ment out­breaks. As a result, they have few ideas for how to guide and ampli­fy these efforts — or how to har­ness the ener­gy of peak moments in order to pro­pel their ongo­ing organizing.
For­tu­nate­ly, in the wake of Occu­py, an increas­ing num­ber of peo­ple are inter­est­ed in pre­cise­ly this chal­lenge. Those now seek­ing ways to com­bine struc­ture- and momen­tum-based orga­niz­ing mod­els have much fer­tile ter­rain to explore. This will mean open­ing dia­logue between the worlds of ​"resource mobi­liza­tion" and ​"dis­rup­tive pow­er"; and it will involve allow­ing those immersed in labor and com­mu­ni­ty orga­niz­ing cul­tures to com­pare their meth­ods with the insights into mass mobi­liza­tion that come out of tra­di­tions of strate­gic non­vi­o­lence and civ­il resistance.
In pur­su­ing this work, they can take inspi­ra­tion from a mas­ter of rad­i­cal prag­ma­tism. For while the split between orga­ni­za­tions and move­ments is real, the true spir­it of Alin­sky is in break­ing the rule that keeps them divided.
This piece is reprint­ed with per­mis­sion from Wag­ing Non­vi­o­lence.