Reviving Manufacturing Would Help All of Us—Not Just White Men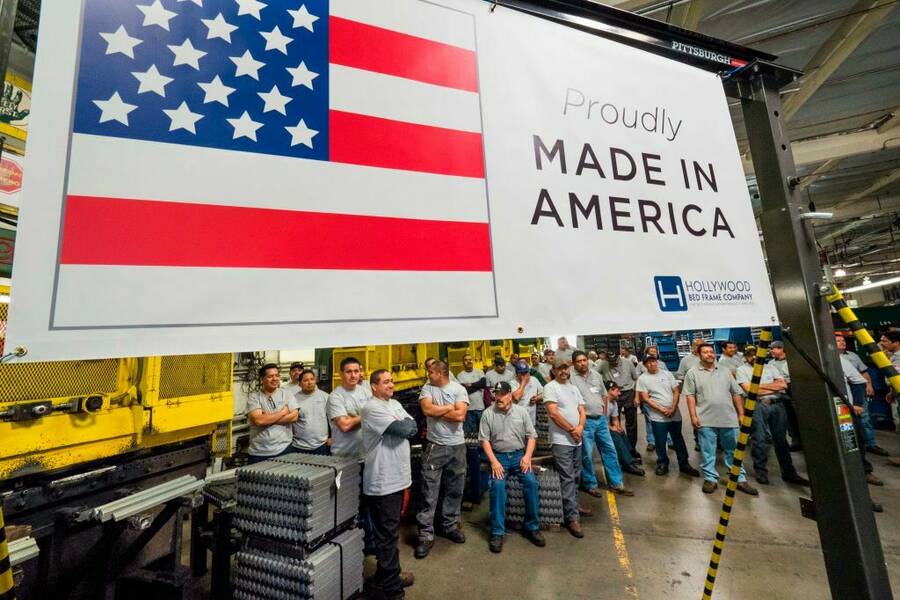 Man­u­fac­tur­ing, once near­ly a third of U.S. gross domes­tic prod­uct, has dwin­dled to around 12 per­cent, a punch to the gut for the Amer­i­can work­ing class. Indeed, the suf­fer­ings of that sector's for­mer work­ers — and of those who live in once-thriv­ing fac­to­ry towns — may be respon­si­ble for Don­ald Trump's extra­or­di­nary and cat­a­stroph­ic vic­to­ry over Hillary Clin­ton in November.
A bil­lion­aire fix­ing to wage a hor­rif­ic war on the work­ing class now that he is pres­i­dent — by gut­ting its health­care and labor rights — Trump nonethe­less seemed to be lis­ten­ing to these for­got­ten peo­ple dur­ing his cam­paign. He went to their towns. He spoke with com­pas­sion about opi­oid addic­tion. He promised to ​"Make Amer­i­ca Great Again," a racist slo­gan, to be sure, but also a seduc­tive one, imply­ing that under Trump, Amer­i­can work­ers would enjoy the pros­per­i­ty of bygone man­u­fac­tur­ing days. We would make things again and feel proud of ourselves.
It was all bull­shit, of course. Trump's idea of indus­tri­al pol­i­cy is to exag­ger­ate how many jobs in Indi­anapo­lis he saved with a phone call and some tweets. Louis Uchitelle, by con­trast, is seri­ous about what the issue means for Amer­i­can work­ers. In his crisp, per­sua­sive and deeply report­ed book, Mak­ing It: Why Man­u­fac­tur­ing Still Mat­ters, the vet­er­an jour­nal­ist argues that domes­tic man­u­fac­tur­ing is cru­cial to the wel­fare of the U.S. work­ing class and that the fed­er­al gov­ern­ment should inter­vene deci­sive­ly to ensure the sector's health.
With­out man­u­fac­tur­ing, the ​"labor force par­tic­i­pa­tion rate" in the Unit­ed States — peo­ple either employed or active­ly look­ing for jobs — has declined dra­mat­i­cal­ly since 1998, as mil­lions of laid-off work­ers have sim­ply dropped out of the work­force. Not only those work­ers, but many of their chil­dren, have been unable to find good jobs. Uchitelle recalls that when he start­ed report­ing on the sec­tor in the 1980s, line work­ers often told him that their chil­dren would ​"do bet­ter" than they had, mean­ing they would make more money.
"That did not hap­pen," Uchitelle writes, ​"and grad­u­al­ly the expres­sion — and the expec­ta­tion — have both disappeared."
The lib­er­al pun­di­toc­ra­cy — because of Trump's cyn­i­cal use of the man­u­fac­tur­ing issue, as well as its own con­tempt for work­ers — has been a font of mis­in­for­ma­tion on this sub­ject ever since the elec­tion. Syn­di­cat­ed colum­nist Jill Fil­ipovic exco­ri­at­ed an old order in which ​"white men" with­out col­lege degrees enjoyed ​"unearned ben­e­fits." Writ­ing in Slate, Jamelle Bouie claimed that jour­nal­ists and politi­cians pay more atten­tion to the woes of man­u­fac­tur­ing work­ers than they should. Why is that? Because, Bouie crows, those work­ers are ​"most­ly white and most­ly male." Paul Krug­man picked up this bit of insight and trum­pet­ed it glee­ful­ly in his New York Times col­umn. But these demo­graph­ic gen­er­al­i­ties, while crude­ly true, are breath­tak­ing­ly beside the point. About a third of man­u­fac­tur­ing work­ers are women, and African-Amer­i­can men are slight­ly over­rep­re­sent­ed in the sec­tor ver­sus their share of the over­all work­force. Don't these work­ers also matter?
When elite pun­dits gas on in this man­ner, they ignore many of the Amer­i­cans most dev­as­tat­ed by the loss of fac­to­ries: black work­ers in major cities and the black peo­ple who live in such cities. Uchitelle's book con­vinc­ing­ly argues that the fed­er­al government's fail­ure to stop jobs from mov­ing, not only from Detroit to Chi­na, but from urban neigh­bor­hoods to rur­al areas, is a ​"civ­il rights" issue.
On this and oth­er points, Uchitelle makes a per­sua­sive case that, con­trary to what we are always told, the loss of man­u­fac­tur­ing in the Unit­ed States was nev­er a nat­ur­al or inevitable phe­nom­e­non, but a polit­i­cal one. Gov­ern­ments heav­i­ly sub­si­dize this sec­tor, he explains, as they do in all advanced nations that claim man­u­fac­tur­ing as a sig­nif­i­cant share of their econ­o­my. We, the tax­pay­ers, already sub­si­dize fac­to­ries so sig­nif­i­cant­ly, Uchitelle argues, that they are part­ly pub­lic insti­tu­tions. It would be rea­son­able, then, to insist that they serve the public.
We could sub­si­dize, and pro­vide hefty incen­tives for, oper­at­ing in cities where unem­ploy­ment is high, allow­ing unions and nego­ti­at­ing fair con­tracts, hir­ing black work­ers, and, per­haps most crit­i­cal­ly, agree­ing not to pack up in 10 years and move over­seas. As it is, he observes, a patch­work of local sub­si­dies sim­ply pits munic­i­pal­i­ties against one anoth­er, wast­ing pub­lic mon­ey in a bid­ding war to tem­porar­i­ly lure jobs to one small town or sub­urb over another.
The Amer­i­can work­ers suf­fer­ing from the loss of man­u­fac­tur­ing are not only those left unem­ployed, but those who find work in much low­er pay­ing, non-union sec­tors, like retail. But since, as Uchitelle argues, much of what made man­u­fac­tur­ing great in the past was unions, it's rea­son­able to ask: Do work­ers real­ly need this sec­tor to pros­per? Can't any sec­tor make the work­ing class great again, with enough polit­i­cal might? Can't work­ers, through union orga­niz­ing and liv­ing wage poli­cies, win bet­ter pay and ben­e­fits through the grow­ing ser­vice and health­care sectors?
Sure­ly, a day­care work­er con­tributes more to soci­ety than a per­son who makes tele­vi­sions — and we can all agree that it's sex­ist that she isn't reward­ed with the respect and com­pen­sa­tion that the lat­ter work­er once enjoyed. For­mer fac­to­ry work­ers employed at Wal­mart have some­times told me they pre­ferred retail work — less repet­i­tive, more social — but wished it paid bet­ter. Fac­to­ry labor is also hard on work­ers' bod­ies. A mid­dle-aged black Uber dri­ver in Chica­go, who'd worked in that city's fac­to­ries for years, told me, prais­ing his new gig, ​"This is bet­ter. The wear and tear is all on the car, not on me." Could Uber dri­vers and Wal­mart cashiers ever become part of a pros­per­ous work­ing class like the assem­bly work­ers of the past?
Of course, the labor left must assume yes, and fight like hell to make it hap­pen. But it's clear there are struc­tur­al chal­lenges. Work­ers orga­nized for decades to make man­u­fac­tur­ing work pay. Unions have been try­ing for years to orga­nize these new sec­tors, with some suc­cess­es, but it's clear­ly an even steep­er climb.
As Uchitelle makes clear, part of the rea­son for this is that fac­to­ry work is much more ​"pro­duc­tive" than labor per­formed in stores, restau­rants or taxis, which in eco­nom­ic terms means that it gen­er­ates far more wealth for the employ­er. In 2015, prof­its per employ­ee in the man­u­fac­tur­ing indus­try were more than dou­ble those in retail and more than nine times those of the hotel and restau­rant indus­try. That means there is more mon­ey that can be expro­pri­at­ed by the workers.
Uchitelle also men­tions the mul­ti­pli­er effect of man­u­fac­tur­ing: Man­u­fac­tur­ing cre­ates many oth­er jobs out­side fac­to­ries, includ­ing in trans­port, con­struc­tion, retail or finance. (Uchitelle's own father, a tex­tile bro­ker, had such a job). Every dol­lar gen­er­at­ed by the man­u­fac­tur­ing indus­try gen­er­ates at least $1.48 else­where in the econ­o­my, more than any oth­er sec­tor. A retail dol­lar, by con­trast, has a broad­er eco­nom­ic impact of just 54 cents.
Uchitelle notes, too, the sol­i­dar­i­ty of work­ing side-by-side on the assem­bly line, mak­ing things togeth­er, as a pow­er­ful dri­ver of the union pow­er of the past. Addi­tion­al­ly, when work­ers per­form­ing man­u­al labor are so pro­duc­tive and cre­at­ing so much wealth for the larg­er econ­o­my, as man­u­fac­tur­ing work­ers were 50 years ago, they are more val­ued and there is broad­er soci­etal polit­i­cal sup­port for their unions and for com­pen­sat­ing them well.
Uchitelle ends on a pes­simistic note: We need a nation­al indus­tri­al pol­i­cy but are unlike­ly to get one. Sur­pris­ing­ly, he doesn't say much about the oppor­tu­ni­ty we have now (after elect­ing a dif­fer­ent fed­er­al gov­ern­ment, clear­ly) to rein­vig­o­rate the sec­tor along clean­er, green­er lines, mak­ing things like solar pan­els, lithi­um bat­ter­ies, elec­tric cars and wind turbines.
I don't want to give Trump any pol­i­cy advice — I just want him to go away — but as econ­o­mists like Bob Pollin of the Uni­ver­si­ty of Mass­a­chu­setts-Amherst have argued, a ​"Green New Deal" could cre­ate jobs and help address pol­lu­tion and the cli­mate cri­sis all at once. While the plan­et can't vote, oth­er imme­di­ate ben­e­fi­cia­ries would include dis­placed white Trump vot­ers as well as the black and immi­grant urban fac­to­ry work­ers who have nev­er been part of what might gen­er­ous­ly be called Trump's vision.
Apart from Uchitelle's con­vinc­ing argu­ments for the eco­nom­ic impor­tance of man­u­fac­tur­ing, he also sug­gests that when we don't make things we take less pride in our­selves as Amer­i­cans. Many of us — includ­ing this review­er — feel strong­ly that it's a slip­pery slope from the pro-union ​"buy Amer­i­can" exhor­ta­tions of the 1980s to xeno­pho­bia and Trump­ism. Still, we shouldn't dis­miss the role of phys­i­cal­ly mak­ing things in fos­ter­ing social cohe­sion and a cul­ture of respect for the work­ing class. There's also some­thing healthy about a coun­try in which at least some of the work­force is engaged in build­ing tan­gi­ble stuff that we can all see.
When domes­tic man­u­fac­tur­ing pros­pers, objects you use every day — the car you dri­ve, the shoes you wear — become pro­pa­gan­da for work­ing-class labor and achieve­ments. And while Uchitelle — a for­mer New York Times reporter — is too respectable to say so, that may be one rea­son why man­u­fac­tur­ing has been cen­tral to most large-scale social­ist projects. It may also be why Trump won.