Workers Say Trump's Labor Secretary Nominee Is a Habitual Violator of Labor Law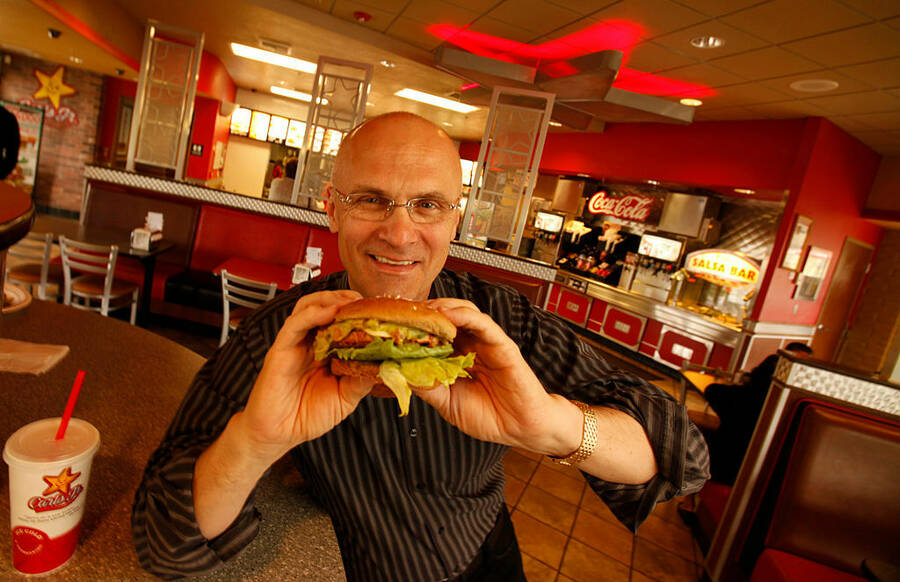 Andrew Puzder, Don­ald Trump's nom­i­nee for labor sec­re­tary, is unique­ly unqual­i­fied for that job. As sec­re­tary, he'd be charged with enforc­ing health and safe­ty, over­time and oth­er labor laws. But as CEO of CKE Restau­rants, the par­ent com­pa­ny of Hardee's and Car­l's Jr., he's made his con­sid­er­able for­tune from vio­lat­ing these very same laws, accord­ing to a report by the Restau­rant Oppor­tu­ni­ties Cen­ters (ROC) Unit­ed released this week.
ROC, which advo­cates for restau­rant work­ers nation­wide, sur­veyed 564 CKE work­ers, 76 per­cent of them women. In dis­cussing the results of the sur­vey, it's impor­tant to note that while ROC sur­veyed a large num­ber of work­ers, the respon­dents are peo­ple who chose to fill out a sur­vey dis­trib­uted by a work­ers' rights orga­ni­za­tion, which they learned about through their social media net­works. Still, ROC report­ed ​"unprece­dent­ed" inter­est in the sur­vey among work­ers at CKE and their eager­ness to be part of the study, and the expe­ri­ences they report­ed, are strik­ing reminders that by tap­ping Puzder, Trump has made clear that his admin­is­tra­tion will be a dystopi­an night­mare for U.S. workers.
A recent nation­al sur­vey among non-man­age­r­i­al women work­ing in fast food found that 40 per­cent of such women have expe­ri­enced sex­u­al harass­ment on the job. Under Puzder, the prob­lem could wors­en: A whop­ping 66 per­cent of female CKE work­ers ROC sur­veyed had faced sex­u­al harass­ment. Harass­ment came from super­vi­sors, co-work­ers or — most often — cus­tomers, and took the form of sex­u­al com­ments, grop­ing, unwant­ed sex­u­al texts and pres­sure for dates.
CKE is known for its sex­ist adver­tis­ing, which depicts women in skimpy biki­nis devour­ing cheese­burg­ers. And, cer­tain­ly, imagery con­tributes to the cul­ture, but when harass­ment is as per­va­sive as it appears to be at CKE, there are usu­al­ly more struc­tur­al prob­lems at play. Com­pa­nies in which women are harassed are gen­er­al­ly places in which women — indeed, work­ers in gen­er­al — are not val­ued or respect­ed, and in which work­ers lack any insti­tu­tion­al means to stand up for their rights.
In such com­pa­nies, women are often not paid and pro­mot­ed fair­ly. And, as one might expect, near­ly one in five of the CKE work­ers ROC sur­veyed said he or she had faced dis­crim­i­na­tion at work, most com­mon­ly on the basis of gen­der, age or race.
Of the CKE employ­ees who par­tic­i­pat­ed in the ROC sur­vey, near­ly one-third said they did not get meal breaks that are man­dat­ed by law; around one-fourth had been ille­gal­ly forced to work off the clock or had time­cards altered; almost one-third had been ille­gal­ly deprived of over­time pay.
The ROC sur­vey also found wide­spread health and safe­ty vio­la­tions. Near­ly one-third of those sur­veyed said they had become sick or injured on the job. Work­ers described an envi­ron­ment of slip­pery floors, fre­quent grease burns and many said they had to do dan­ger­ous tasks — like clean­ing a hood over a hot char broil­er, for instance — with­out prop­er pro­tec­tive equipment.
Appoint­ing Puzder as labor sec­re­tary is like invit­ing Tony Sopra­no to serve as attor­ney gen­er­al. Let's hope this ene­my of work­ing peo­ple will face humil­i­a­tion and defeat when his con­fir­ma­tion goes before the Sen­ate. His hear­ing, orig­i­nal­ly set for next Tues­day, may now be post­poned until Feb­ru­ary. That delay would give labor — mean­ing any­one who works for a liv­ing — more time to mobi­lize against him. Let's get started.